These lovely layered mini trifles will wow your guests and can be made up a day ahead.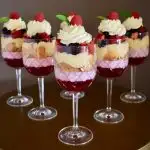 The Christmas table isn't quite complete without a Christmas Trifle.
These layered, individual Mini Trifles can be made up a day ahead and are always a huge hit.
And the best thing about a Mini Christmas Trifle is that you can have it all to yourself.
No battling with the family member who takes too much of the jelly!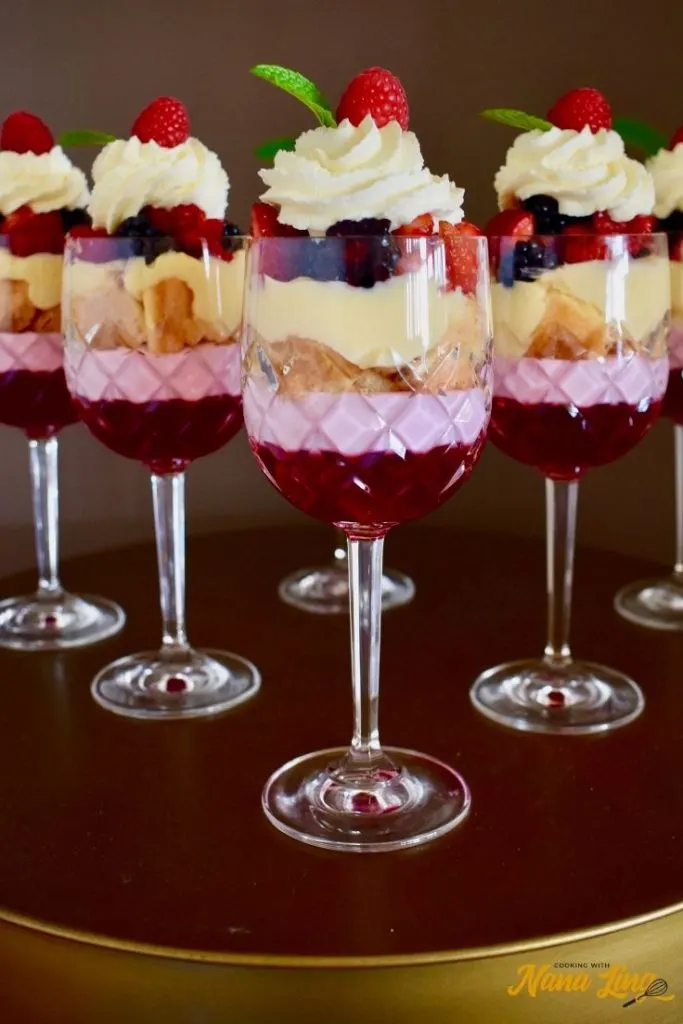 The magic of flummery
This recipe has all the key ingredients you'd expect in a trifle, including custard, sponge, alcohol and jelly.
I've also added another layer of loveliness to make these individual desserts extra special.
The special secret ingredient in these Mini Trifles is… flummery!
What is Flummery?
It has a long history but the jelly version we know today was a product of World War II thriftiness.
It's a creamy and sweet dessert that is affordable, using just two simple ingredients.
The recipe I've used here is Nana Ling's handwritten recipe from the early 1940s.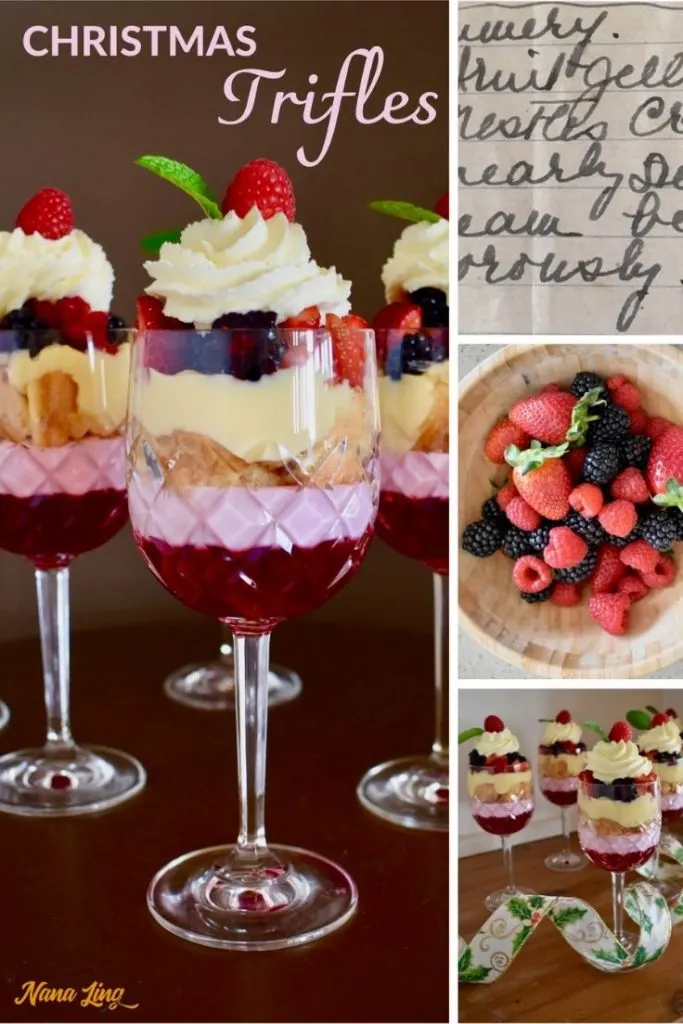 Mini Trifles: the other ingredients
The other ingredients are the usual ingredients, and it's the combination of these that make trifles so special.
So, what are these ingredients?
You'll need:
raspberry jelly crystals (or your preferred flavour)
cream
sponge
port, sherry or muscat (or juice for a non-alcoholic version)
custard (bought or home-made)
strawberries, raspberries and blackberries (or whatever berries or fruit are in season)
custard powder
mint leaves (or another green edible) for decorating.
For the sponge layer, I used Italian sponge fingers from the supermarket (the ones that are used to make Tiramisu).
This makes the recipe perfect for the busy Christmas rush.
However, you can substitute these for real Sponge Cake.
I made custard from custard powder, but again you could substitute with store-bought custard or go all out with your own egg custard.
For the alcohol, I used a Hunter Valley Muscat.
Go ahead and experiment here too, though, with traditional port, sherry or another favourite liqueur.
Secrets for trifle-making success
Here are my not-so-secret tips for making a truly wonderful trifle:
1. Fresh Berries
This trifle recipe uses fresh berries, and they truly make the other layers taste even better.
Wash and dry the fruit before using it in the recipe.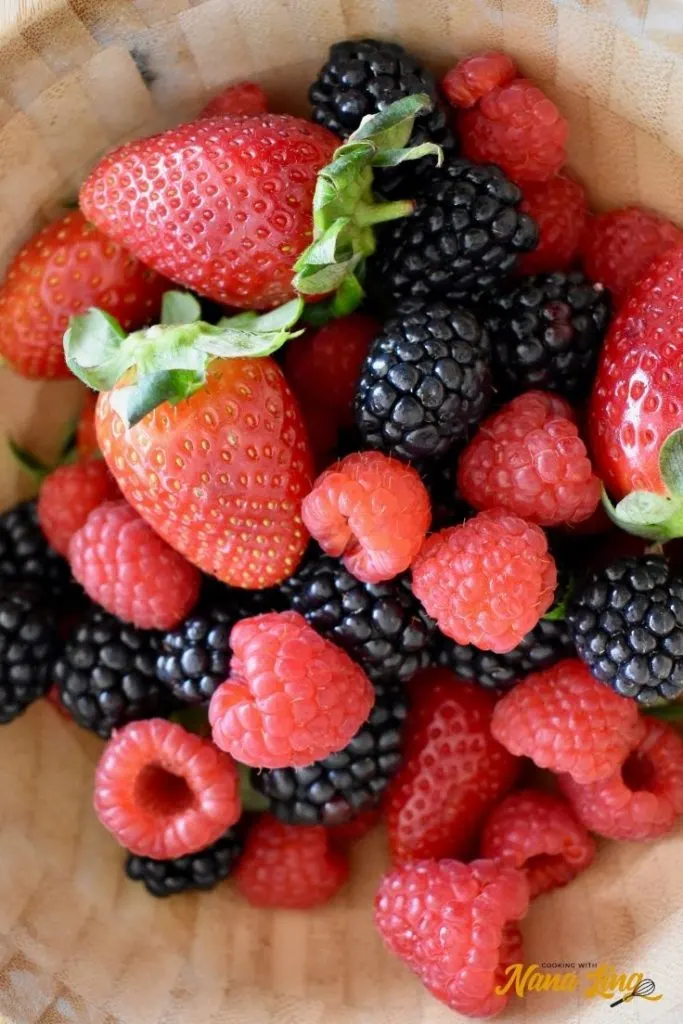 2. Get your timing right
You can make up this recipe a day ahead.
However, for it to be at its best in terms of both looks and taste, a few hours in the fridge before serving is ideal. This gives your trifle enough time for the flavours to settle in while still retaining its fresh appearance.
3. Even layers
Take care constructing your trifle so you get consistent and even layers.
You might need to press down on the sponge a little or use a spoon to even out the custard.
4. Contrasting colours
If you opt for a different flavour jelly or different fruit, think about how the colours and flavours will work together.
The beauty of this dessert is definitely found in the layers and contrast!
5. Your serving glasses
Presentation is everything.
Use your fanciest glasses for this dessert and make sure you clean them to sparkling beforehand.
If you're making the non-alcoholic version for kids, you could use clear plastic glasses.
Looking for more festive favourites?
Check out these other popular Christmas desserts: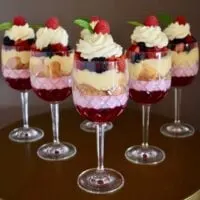 Mini Trifles
These lovely layered mini trifles will wow your guests and can be made up a day ahead.
Print
Pin
Rate
Ingredients
85

grams

jelly crystals

(1 packet Aeroplane jelly if you're in Australia)

125

mls

cream

(tinned cream, thickened cream or heavy cream)

12

pieces

Tiramisu sponge fingers

(about 1 cup fresh sponge chopped in small squares)

1/2

cup

port, sherry or muscat

(or juice for a non-alcoholic version)

1 1/2

cups

custard

(bought or home-made)

400

grams

berries

(I used strawberries, raspberries and blackberries)

200

mls

thickened cream

(known as heavy cream in US)

1

teaspoon

custard powder

mint leaves

for decorating
Instructions
Make up jelly following the instructions. This should make about 2 cups of jelly.

Use 1 1/4 cups of the liquid jelly mixture to fill the bottoms of 6 small dessert dishes or wine glasses.

Put the 6 glasses and remaining mixture into the fridge.

When the remaining mixture is close to setting (but still able to be poured (this may take 1-2 hours), combine the mixture with cream and beat on high for 4 minutes.

The jelly in the cups should almost be set by this stage. Carefully pour the jelly and cream mixture (flummery) to add another layer to each of the glasses.

Allow to set.

Crush sponge fingers in a tray and then pour over port, sherry or muscat. Substitute juice if you'd prefer a kids or non-alcoholic version of the trifle.

Add sponge fingers as the next layer and then pour a layer of custard in each glass.

Add chopped berries as another layer, reserving 6 berries for decorating.

Whip thickened cream and custard powder until the cream forms stiff peaks.

Pipe cream onto top of layers and decorate each trifle with a berry and mint leaf.
Notes
This recipe can be made up to a day ahead.
Nutrition
Calories:
339
kcal
|
Carbohydrates:
26
g
|
Protein:
4
g
|
Fat:
23
g
|
Saturated Fat:
14
g
|
Cholesterol:
114
mg
|
Sodium:
95
mg
|
Potassium:
237
mg
|
Fiber:
2
g
|
Sugar:
11
g
|
Vitamin A:
955
IU
|
Vitamin C:
2
mg
|
Calcium:
142
mg
|
Iron:
1
mg