These tasty little vegetarian fritters are great for lunch, snacking or served as a canape.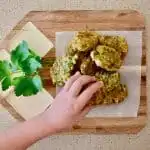 My mother-in-law, Faye, was a fabulous cook, and would often land on our doorstep with a plate of something. Often, that plate was filled with these delicious little parsley fritters – still warm.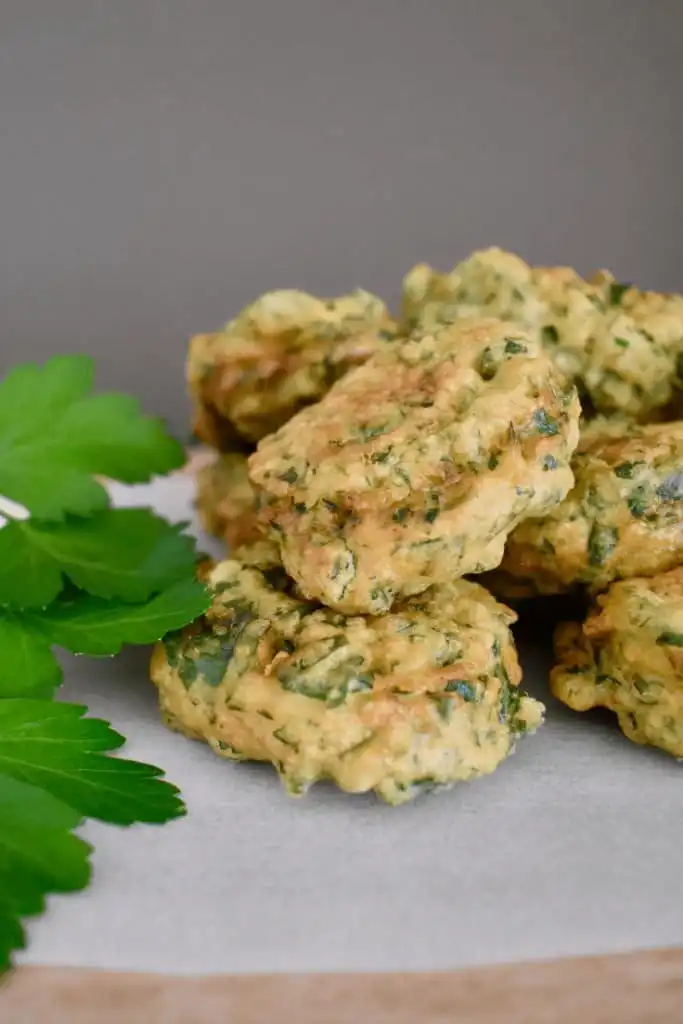 Faye lived all her life in Australia and had a broad Australian accent, reflecting the years she spent growing up in country NSW. Her ancestry was Lebanese, though, and her cooking repertoire spanned all the way from country NSW to the Middle East. Tabouli and kafta would often be followed by scones or bread and butter pudding.
I've never found these delicious little fritters on the menu in any Lebanese restaurant, but Faye told me her mother had always made them and had taught her the recipe. She showed me how to make them, and they've always been a hit with my kids and wider family.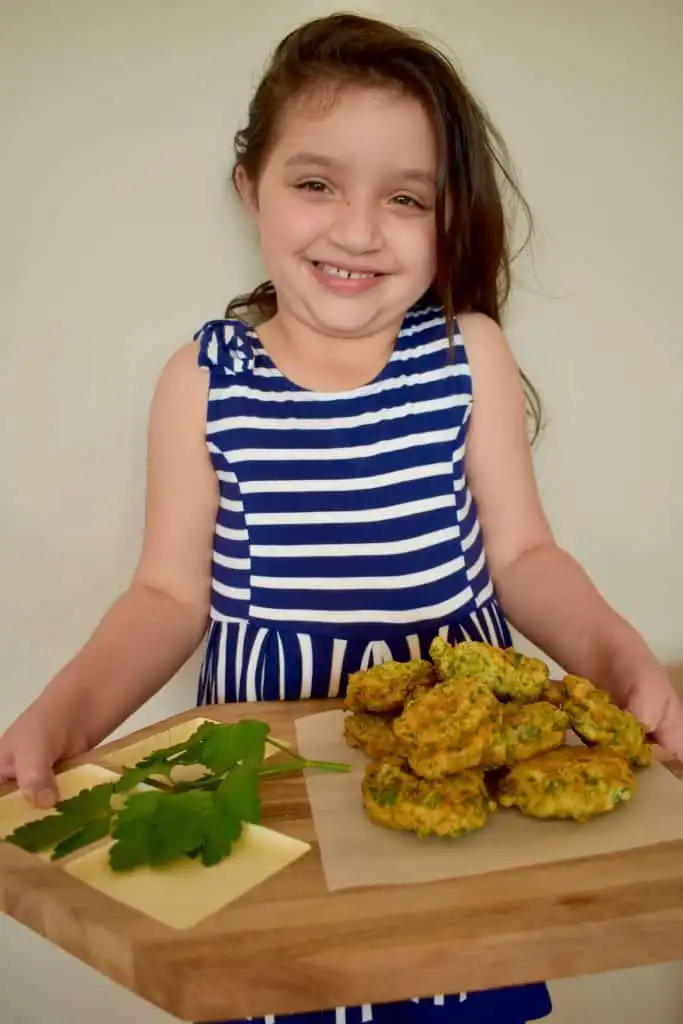 Our "Aussie" cooking traditions
Australia is one of the most multicultural populations in the world with more than 300 different ancestries.
And our food traditions are all the more richer thanks to this diverse mix of people.
I read an interview with the great Aussie food writer Margaret Fulton this week after she sadly passed away. She was describing food trends and the impact of different cultures on Aussie food:
"But with stir fries you didn't have – you very seldom had a Chinese mother or a Thai mother or a Vietnamese mother that was going to tell you how it should be. So you started with a fresh idea, and it didn't matter that it wasn't the way it should be because it was … it ended up being the way you liked it… And we were adding flavours like soy sauce and oyster sauce, and various things that we were a bit unfamiliar with. But we… liked the taste of and it gives the food a good taste. So what has been happening in the community, food changes with the needs and people are beginning to go to a Thai restaurant or a Vietnamese restaurant and they've becoming familiar with a totally different kind of food. And because there is no terms of reference as to how it should be … there would be if you were a Vietnamese or a Thai, but when you're sort of Australian and have an Anglo-Saxon background, or a Spanish background, or something else, you're just enjoying this beaut food and you're not restricted by traditions, your traditions."
What I took from this is that it's a good thing to experiment and not be afraid of different cuisines. If it tastes good, go for it – and don't worry that you may not be using ingredients as they were originally used or that you may not be preparing a dish exactly as it's always been prepared. In this way, food evolves and we get to shape our Australian cuisine exactly to our liking.
What do you think?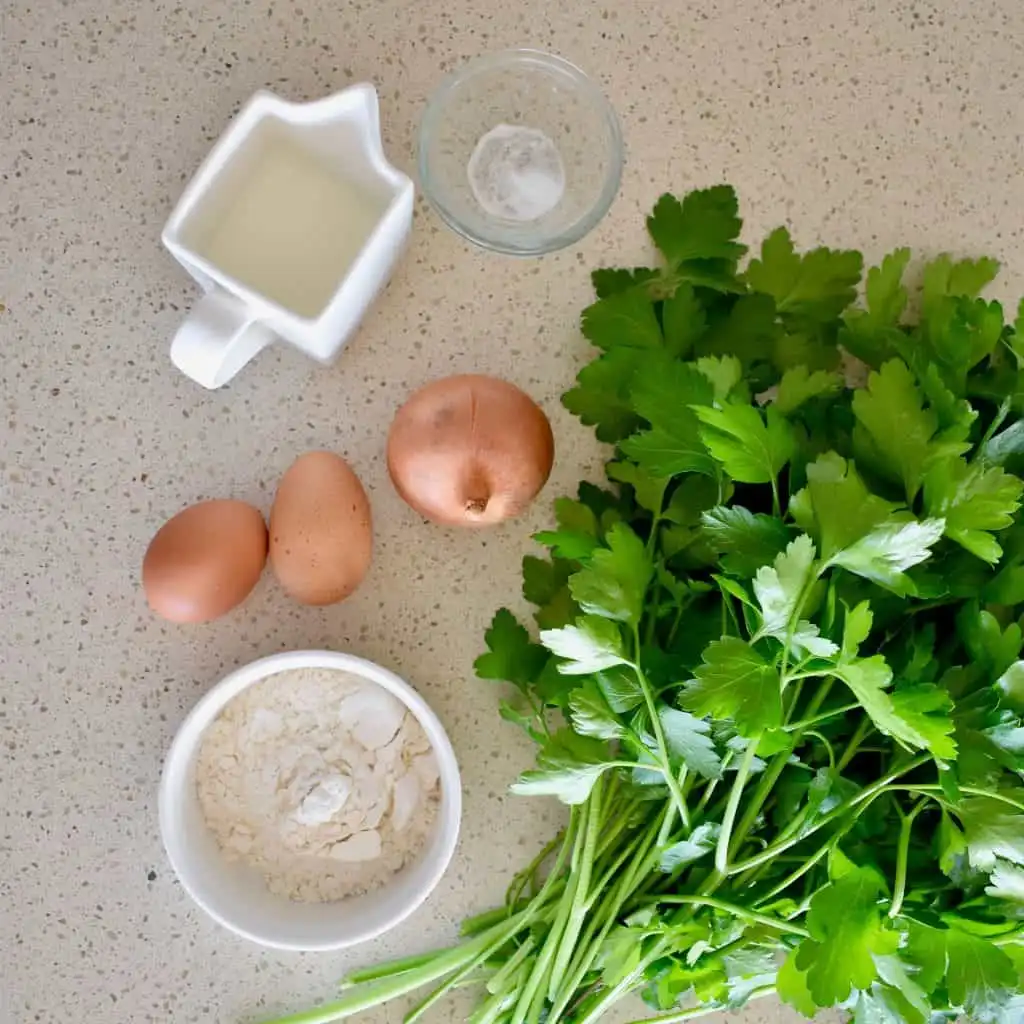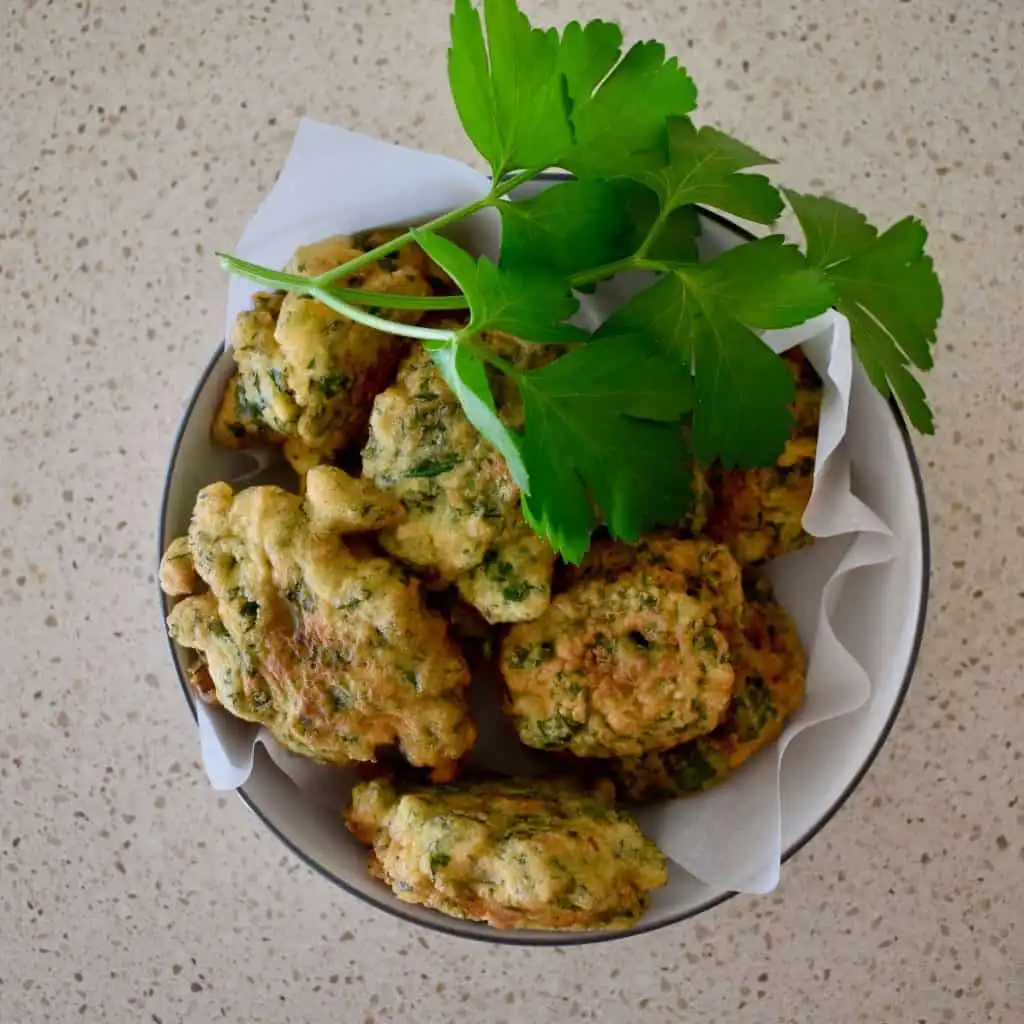 Great as a quick lunch, sneaky snack or party food
Although we often think more international flavours didn't arrive on our shores until the post-war era, Nana Ling's pre-war and WWII era recipe book often included "Spanish" this or "Russian" that. I think Aussies have always had an appetite for new and interesting food.
I've included this recipe here as it's definitely become part of my family cooking. It's a simple and versatile vegetarian dish, packed with flavour. I sometimes cook up a batch for lunch or to serve on a platter at a party.
I think Nana Ling would have warmly welcomed this parsley fritters recipe, if only I could have shared it with her.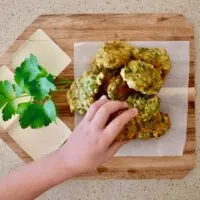 Faye's Parsley Fritters
These tasty little vegetarian fritters are great for lunch, snacking or served as a canape.
Print
Pin
Rate
Ingredients
1

cup

chopped flat-leaf parsley

1/2

medium

onion

2

eggs

1/2

cup

milk

3/4

cup

SR flour

1/2

teaspoon

salt

1

pinch

bicarb soda
Instructions
Finely chop the onion and add to the parsley.

Whisk eggs and add to the mixture.

Add milk and stir to combine.

Add all of the dry ingredients and stir well to combine. The mixture should be a little thicker than cake batter consistency.

Shallow fry dessert spoonfuls of the mixture in vegetable oil, turning half way through cooking so the fritters are a golden colour.
Nutrition
Calories:
47
kcal
|
Carbohydrates:
7
g
|
Protein:
2
g
|
Fat:
1
g
|
Saturated Fat:
1
g
|
Cholesterol:
28
mg
|
Sodium:
135
mg
|
Potassium:
39
mg
|
Fiber:
1
g
|
Sugar:
1
g
|
Vitamin A:
55
IU
|
Vitamin C:
0.3
mg
|
Calcium:
18
mg
|
Iron:
0.5
mg