Classic Recipes Served With a Side of Nostalgia
From sweet to savoury, from family favourites to forgotten gems, here you'll find recipes worth keeping. Expect traditional recipes we've loved for generations, simple ingredients, clear instructions – and a few sweet memories and fun facts from the archives thrown in for good measure.
Let's start by sampling some of the most popular recipes
And can I tempt you with the latest recipes?
Next, let me introduce myself
I'm Libby from the Hunter Valley, Australia. Welcome to my busy kitchen. I'm an experienced and dedicated home cook and enthusiastic retro recipe collector.
I'm also a professional content creator and write for some of Australia's biggest brands.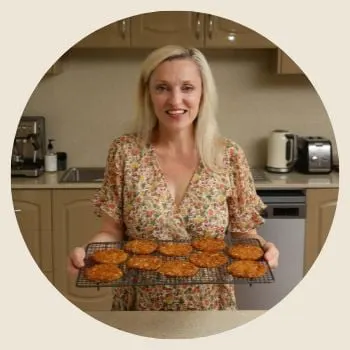 Who's Nana Ling? My great grandmother, who recorded and collected recipes from the early 1900's – and gave me the inspiration to start this blog 100 years later. Thanks, Nana Ling!
Be sure to check out her gorgeous handwriting in the handwritten recipe collection.
Want to spend some time with me in the kitchen every week?
Of course you do! Sign up for the FREE weekly newsletter and get all the latest recipes plus I'll send you a copy of my Nana's Favourites mini recipe ebook!
And let's get social on your favourite social platform:
Okay, ready to get stuck into the recipes?
There are four fun ways to explore the recipes at Cooking with Nana Ling:
1. SEARCH all of the recipes
2. Explore the COLLECTIONS
I've created collections to help you experiment with a favourite ingredient, use up excess produce or just find some inspiration. Explore the collections now.
3. BROWSE all of the recipes
Make a cuppa, sit back and just browse through all of the recipes I've ever created, from the latest through to the oldest.
4. NAVIGATE the recipes by category
I'm super proud that Cooking with Nana Ling has been featured in
But what makes me even happier, is the magic I can bring to other people's kitchens
"A beautiful recipe. Nana Ling's recipes are so easy to follow and the end results are perfect."

Marilyn (Sultana Cake Recipe)
"I have never left a recipe review before, but I had to tell you that your sauce is a huge hit here in the Midwest/USA! This one is going in my "Family Favorites-Never Fail" recipe box."

Cindy (Tomato Sauce Recipe)
"This jelly slice is delicious and five star on taste and presentation."

Julie (Jelly Slice)
"I made this relish with 4kg of Port Macquarie farm fresh tomatoes. My 90 year old mother and I shared the cooking experience and it was great fun. It was definitely worth the effort, this relish is absolutely delicious."

Carmel (Tomato Relish Recipe)
"I've been searching for the perfect scone recipe for a long time. So many recipes promise light & fluffy but don't deliver. This one stands up to its promise!"

Beverly (Buttermilk Scones Recipe)
"Soooooo yum! I've made 6 batches in the last 3 weeks. Everyone wants some! Love it!"

Tania (Anzac Slice Recipe)
"I am very new to baking despite being on the wrong side of 50! I was terrified of making a Pavlova but followed your recipe and instructions to the letter and it was a real success, crisp but not too crisp on the outside and soft and fluffy marshmallow on the inside so a big thank you from Belfast, Northern Ireland."

Jayne (Pavlova Recipe)
"I was so delighted to find your recipe. This is a recipe that I grew up with and had missed placed the recipe. I have made it and it is just how l remember, yummy 😋"

Lisa (Hedgehog Slice Recipe)
"Wonderful biscuits. Have made this recipe 4 times, hubby can't stop eating them!"

Wendy (Cornflake Cookies Recipe)
"My aunt used to make this during the war. When I was wearing short pants/trousers. Now coming up to 90 I'm so glad to make this the old fashioned way, instead of using Carnation milk."

Col (Coconut Ice Recipe)
"Baked these last night, absolutely beautiful and came together so perfectly. Definitely will make again. X"

Emily (Butterfly Cakes Recipe)