This old fashioned Mock Chicken recipe is a firm family favourite.
All of my aunts and cousins will think of just one person when this recipe is mentioned: our Nan MacDonald, Nana Ling's daughter.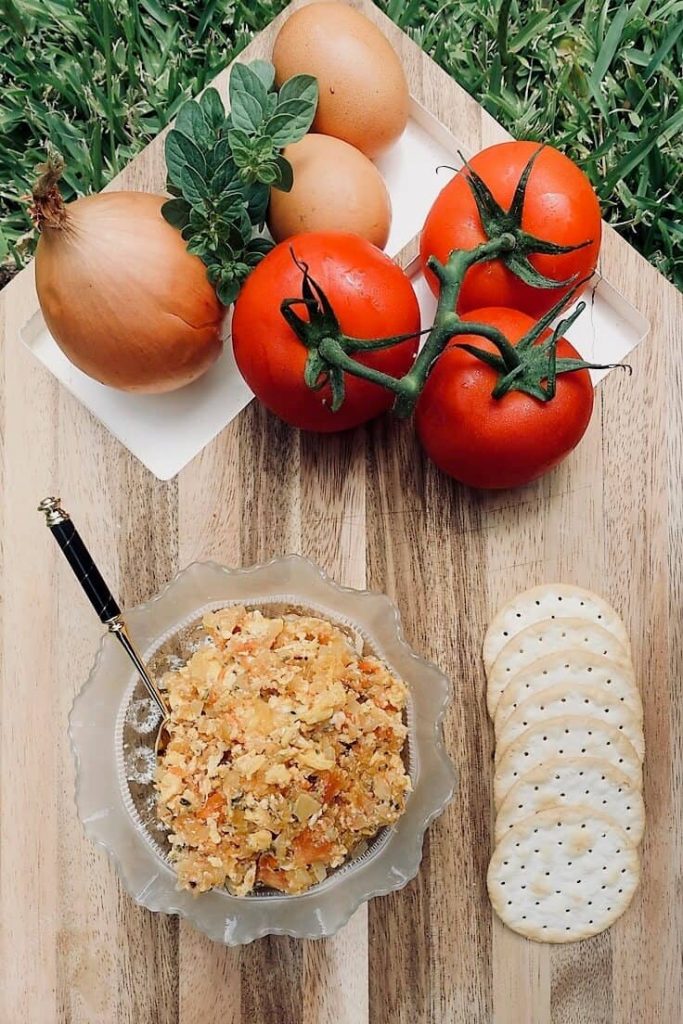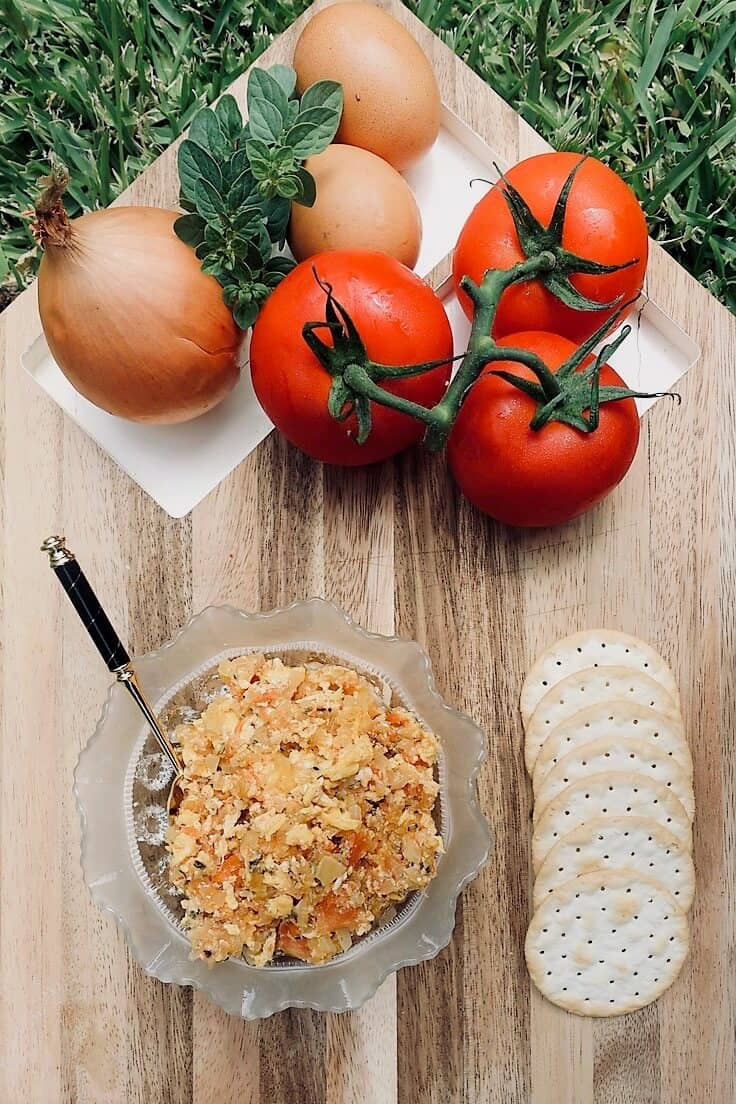 Nan Mac, as we all called her, would turn up at our family gatherings with both arms weighed down by her cooking.
You could be sure that amongst the goodies, you'd find these two things: a dish of Mock Chicken and a perfectly baked and decorated sponge cake.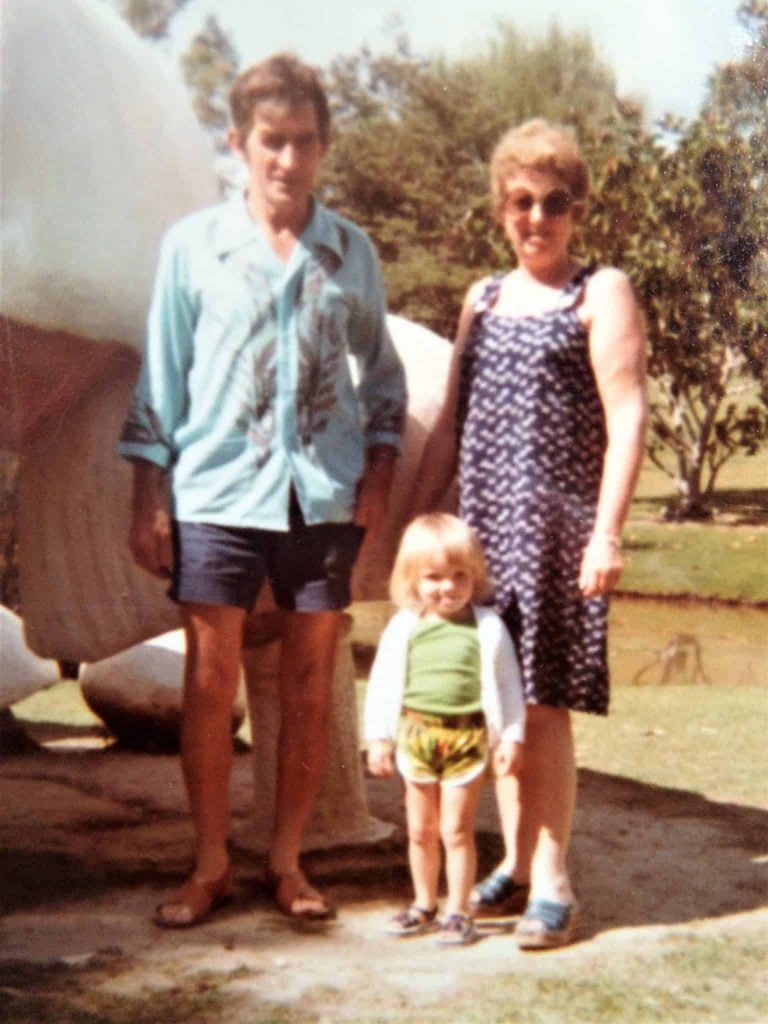 The Mock Chicken disappeared fast. Most of us didn't know what went into, we just knew it tasted great piled on top of a Jatz cracker.
It seems I may have found the source of this much-loved recipe in Nana Ling's recipe book. A recipe for "Mock Fowl".
What is Mock Chicken?
Mock chicken doesn't contain any chicken, but the recipe does include an egg!
It can be used the same way as chicken, and enjoyed with some veges, on a sandwich or on a cracker.
It was popular at a time when chicken and other meats may have been a luxury.
Nana Ling's recipe is dated December 1941, a time when Australia had just declared war on Japan and learnt that 645 crewmen had been lost with the sinking of the HMAS Sydney following a battle with a German raider off the Western Australian coast.
It's not surprising that I've stumbled across quite a few "mock" recipes in her notebook. Rationing of food and clothes happened in Australia from 1942.
Are we falling in love with this depression-era dish again?
Although it may have been a meat substitute during poorer times, it definitely isn't a poor substitute, taste-wise.
O course, these days mock meat is popular for entirely different reasons, too. Vegetarianism has been on the rise in Australia and the western world in recent years, with many people switching for weight loss and health-related reasons.
Perhaps Mock Chicken is ripe for a comeback? I can almost see Nana Ling and Nan Mac smiling at that thought!
Note: This recipe calls for a peeled tomato. If you're a little stumped on how to peel a tomato (like I certainly was), check out our how-to post.
Nana Ling's Mock Chicken recipe
Keep scrolling for the tested and tweaked version.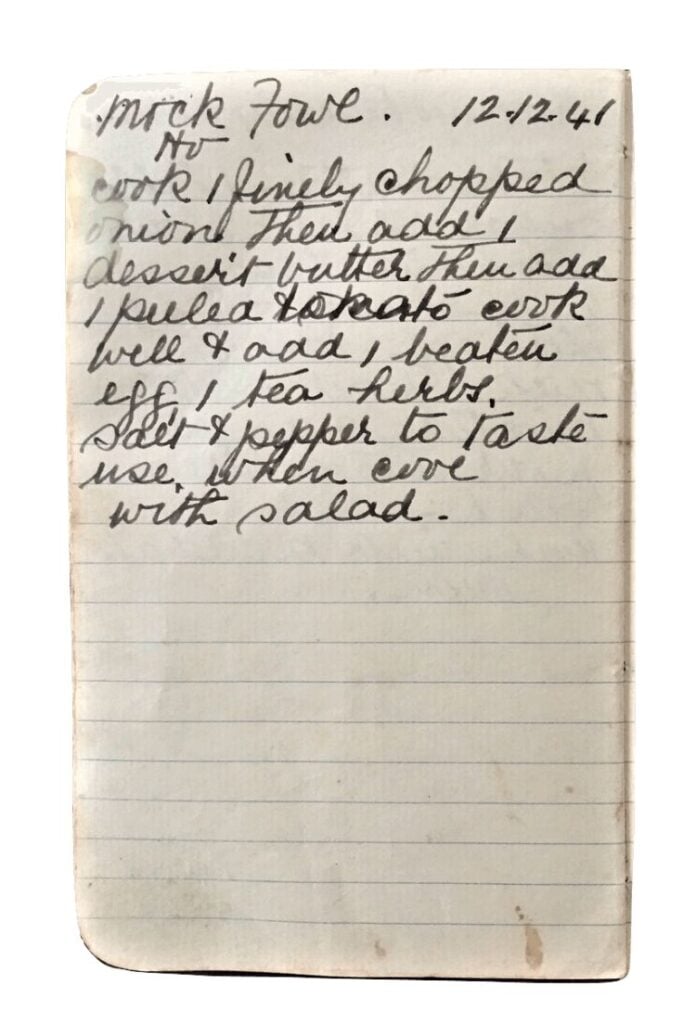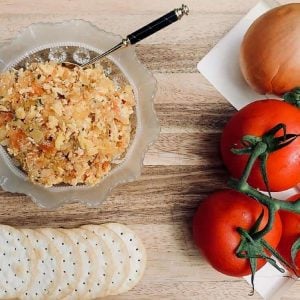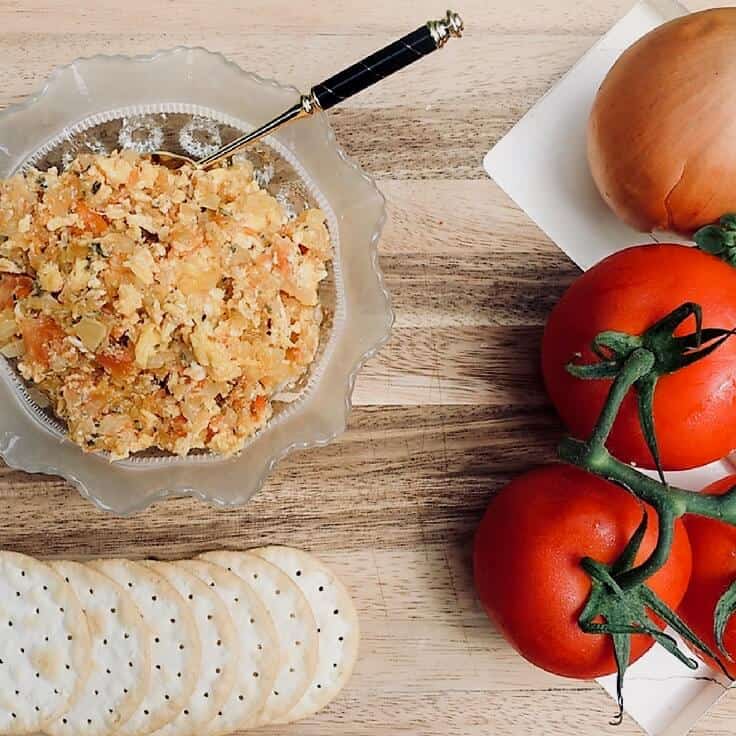 Mock Chicken
This mock chicken recipe has been handed down for 4 generations and is a firm family favourite
Print
Pin
Rate
Ingredients
1

small

onion

1

tomato

1

dessert spoon

butter

1

egg

1

teaspoon

mixed herbs
Instructions
Peel tomato and chop. Set aside.

Add finely chopped onion to a frying pan and cook until clear.

Add butter and tomato to pan and cook well.

Beat egg and add to mixture along with herbs. Cook and stir in salt and pepper to taste.

Serve cool.
Notes
Aunty Judy's recipe tips:
Let the mixture cool slightly for about 5 mins, then use a stick blender for a few seconds to create a smoother-textured Mock Chicken

You can also add a tablespoon of grated cheese to the ingredients (Nan Mac did this – maybe their generation had times a little better to add the cheese to recipe).
You can serve Mock Chicken as a meal with a side salad, as suggested in Nana Ling's recipe book, enjoy it with crackers, use it as a sandwich filling and more. Get creative! I'd love to hear other ways you serve Mock Chicken in the comments below.
Learn how to peel a tomato here.
Nutrition
Calories:
120
kcal
|
Carbohydrates:
11
g
|
Protein:
7
g
|
Fat:
5
g
|
Saturated Fat:
1
g
|
Cholesterol:
165
mg
|
Sodium:
78
mg
|
Potassium:
454
mg
|
Fiber:
2
g
|
Sugar:
6
g
|
Vitamin A:
1260
IU
|
Vitamin C:
22
mg
|
Calcium:
53
mg
|
Iron:
1.1
mg