Out of all the wonderful bakery treats, Chocolate Eclairs have to be one of the all-time favourites.
These little oblong pastries filled with cream and topped with a glossy chocolate icing may have originated in France, but they've made themselves quite at home in bakeries around Australia.
And while I love a Chocolate Eclair from the bakery, I reckon you can't beat these homemade ones.
The recipe: Chocolate Eclairs
The Eclair may have originated as the fancy-sounding "pain a la duchesse" during the 19th century in France, but this recipe comes straight from the pages of my Nan Mac's handwritten recipe book.
Nan Mac was Nana Ling's only daughter and spent all of her life in the Hunter Valley, just like Nana Ling. She kept Nana Ling's recipe collection for all those years and even added to it – though her handwritten recipe notes aren't quite as extensive or organised as Nana Ling's.
She also didn't date her recipes, though the front cover of the book tells me she was married (so after the early 1940's) and still living out in the bush at Buttai (so before the early 1960's when they moved into "town" aka Kurri Kurri).
Perhaps someone who recognises this style of exercise book might be able to help with dating it? If you have a good idea of the era, I'd love to hear from you in the comments below.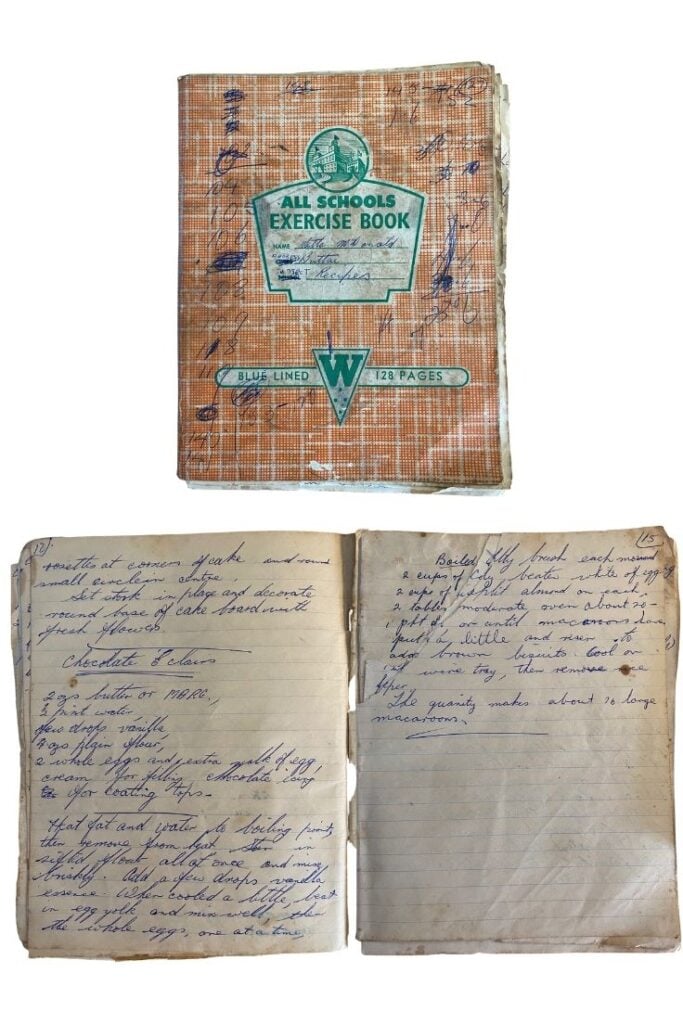 While it may not be as impressive as Nana Ling's recipe collection, Nan Mac's still contains some absolute gems – and this Chocolate Eclairs Recipe is one of them.
And it's surprisingly easy to make this popular treat.
What is an Eclair?
An Eclair is a pastry made with choux dough – yes, the same dough used for profiteroles – and is generally filled with cream and topped with chocolate icing. While profiteroles are a ball shape, Eclairs are an oblong shape.
The key to great Eclairs is getting the choux pastry right and then baking it until it is crisp on the outside and hollow on the inside.
Making Chocolate Eclairs: Choux Pastry tips
The step-by-step instructions are below in the recipe card, however I want to highlight these points to keep in mind when making the choux pastry:
heat water and butter until butter melts and mixture begins to boil, removing the saucepan straight away when the mixture starts to boil

Nan Mac says to stir in the flour all at once and "briskly" and she's spot on here as I've read elsewhere that this helps the flour cook evenly
cook the flour mixture very briefly again over the stovetop, for about 30 seconds
let the mixture cool for about 10 minutes before beating in the egg yolk and then both eggs, one at a time, until you have a thick glossy paste.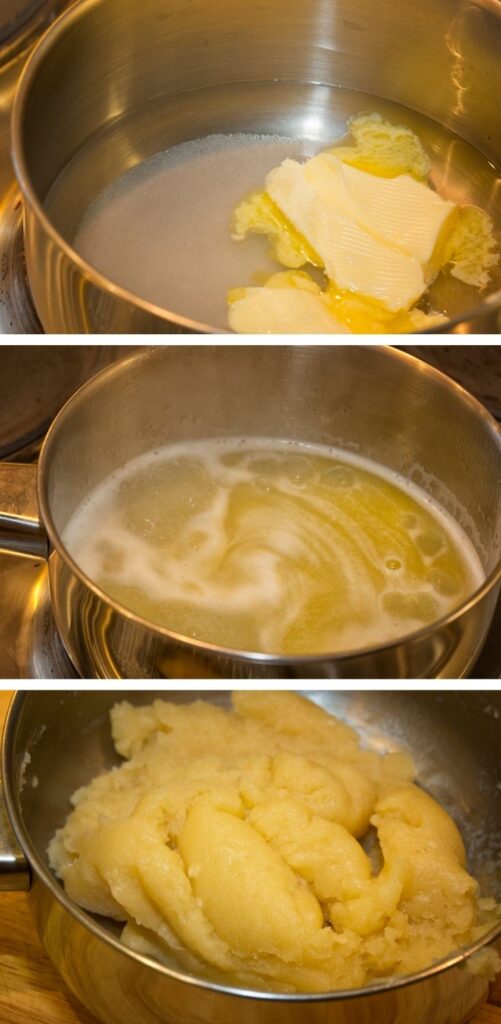 Getting the shape right
Eclairs have that perfect oblong shape, and there are a few tricks involved in getting it right.
First, use a 2cm piping nozzle – ideally open star or french star shape. This helps to maintain the shape of the eclair and reduce cracking of the pastry.
If you only have a round nozzle, simply scrape the eclairs, once piped, with a fork to create ridges.
Next, get a measuring tape so you can pipe 6 eclairs that are 13 cm in length.
Pipe onto a baking tray covered with baking paper, holding the piping bag at about a 45 degree angle.
Make each end of the eclairs a little fuller, only very slightly, and use a knife or kitchen scissors to finish piping each eclair.
Baking off your Eclairs
To get that lovely crispy outside and hollow inside, there is a two-step baking process.
First, bake for 25 minutes in a moderately hot oven. After removing from the oven, allow the pastries to cool for 10 minutes and then cut Eclairs in half horizontally, leaving one long edge intact.
Then, return Eclairs to the oven for another 3 minutes. Allow to cool completely before filling and icing.
The final steps: filling and icing
So, once the eclairs are completely cool, you can fill and ice them.
The filling here is simply cream and a little sugar, whipped together until stiff peaks form. Use a closed star shape nozzle to pipe the cream into the Eclairs and then place into the fridge while you make the icing.
The icing is made by pouring heated cream over choc chips (dark or milk – your choice) and stirring until combined. Then, pour the icing into a shallow tray or onto a dinner plate and carefully dip the top of each Eclair into the icing.
How long do Eclairs last?
Make Eclairs up as close as possible to serving time for best results.
They do last up to a day in a sealed contained in the fridge – if you're lucky enough to have leftovers!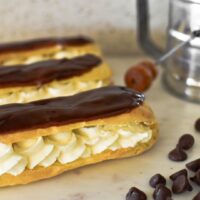 Chocolate Eclairs
Make your favourite bakery treat at home with this easy-to-follow Chocolate Eclairs Recipe.
Print
Pin
Rate
Ingredients
70

grams

butter

1

cup

water

(250 ml)

1/4

teaspoon

vanilla extract

1

cup

plain flour

(sifted) (125 grams)

2

eggs

(whisked)

1

additional

egg yolk
Cream Filling
300

ml

thickened cream

(a little extra if you like a generous amount of cream)

1

tablespoon

icing sugar
Chocolate Icing
1/3

cup

dark chocolate chips

(or milk chocolate if preferred)

1/3

cup

thickened cream
Instructions
Pre-heat oven to moderately hot (190 degrees Celsius, fan-forced).

In a saucepan, heat water and butter until butter melts and mixture begins to boil. Remove from heat.

Stir in sifted flour (adding flour all at once) and mix in briskly using a wooden spoon. Return to heat for 30 seconds, continuously stirring. Remove from heat and stir in vanilla extract.

Transfer mixture to a bowl and leave to cool for 10 minutes.

Beat in egg yolk and then each egg, one at a time until combined. You can use a wooden spoon or slowest speed on a stand mixer.

Using a 2cm piping nozzle (ideally open star shape) and piping bag, pipe 6 x 13 cm long eclairs onto baking trays lined with baking paper. Make each end of the eclairs a little fuller, and use a knife or kitchen scissors to finish piping each eclair.

Bake for 25 minutes. Remove from oven (leaving oven on) and allow to cool for 10 minutes.

Using a bread knife, cut eclairs in half horizontally, leaving one long edge intact. Return to oven for 3 minutes, then remove and allow eclairs to cool completely on a cooling rack.
Cream Filling
Whip thickened cream and icing sugar until stiff peaks form.

Using a 2cm piping nozzle (ideally closed star shape) and piping bag, fill each eclair with cream following a wave pattern down the length of the eclair. Place each eclair back onto the tray and place into fridge until you're ready to glaze the eclairs.
Chocolate Icing
Place chocolate chips in a bowl.

Heat cream in a saucepan until it starts to boil.

Pour heated cream over chocolate chips. Stir a little then leave for a couple of minutes. Stir again until combined.

Pour chocolate topping onto a large shallow tray, dinner plate or similar.

Carefully dip the top of each éclair into the glaze. Allow glaze to drip off the éclair for 30 seconds before inverting and placing back onto the tray. Once each éclair is glazed, fill any gaps in the glaze by using a teaspoon to add additional glaze. Place into fridge to set and store in fridge.
Nutrition
Calories:
459
kcal
|
Carbohydrates:
25
g
|
Protein:
6
g
|
Fat:
38
g
|
Saturated Fat:
24
g
|
Polyunsaturated Fat:
2
g
|
Monounsaturated Fat:
10
g
|
Trans Fat:
1
g
|
Cholesterol:
168
mg
|
Sodium:
141
mg
|
Potassium:
157
mg
|
Fiber:
1
g
|
Sugar:
5
g
|
Vitamin A:
1304
IU
|
Vitamin C:
1
mg
|
Calcium:
87
mg
|
Iron:
1
mg