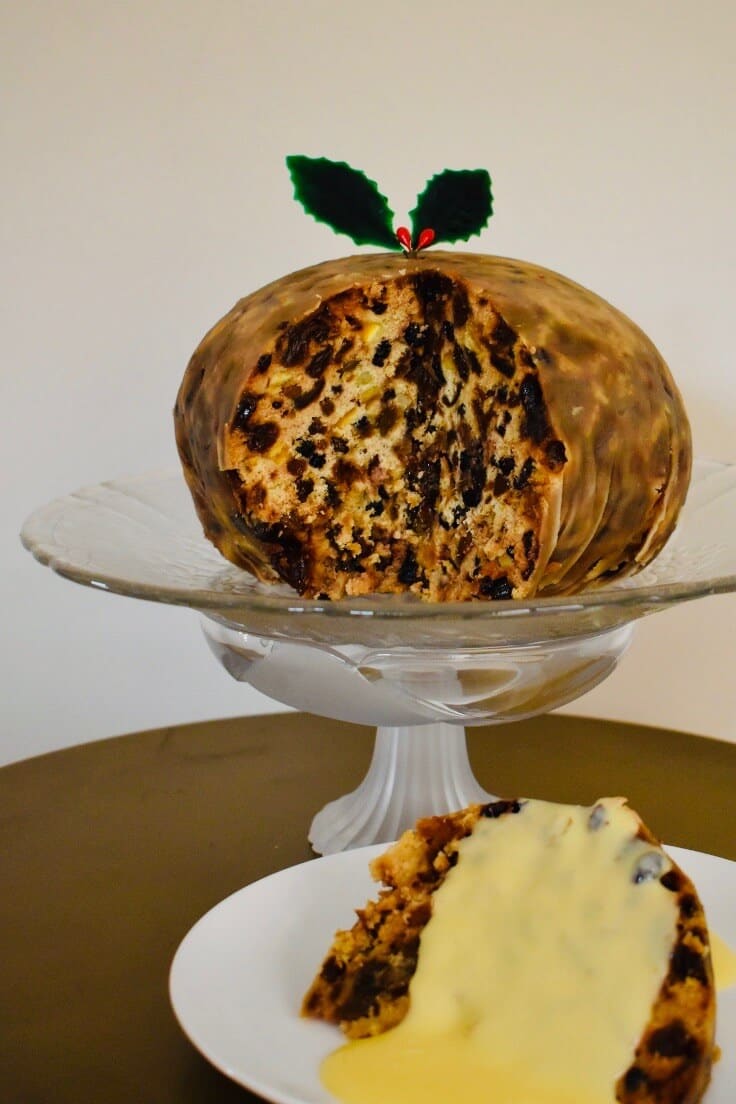 It's often steaming hot in Australia on Christmas day, but the traditional Christmas pudding – served hot with custard – is still on plenty of Christmas dessert menus.
Christmas Pudding: memories by the mouthful
The first mouthful transports me straight back to my early Christmases, sitting around fold-up tables with my cousins at my Nan and Pop Mac's house.
The air-conditioner would be working hard and my mum and her four sisters would be working even harder to help Nan deliver a hot Christmas lunch with all the trimmings.
I have so many lovely memories of these magical Christmas days, and I can still see Nan pulling out the huge pudding wrapped in its cloth from the pot of boiling water.
I'm sure many of my cousins only ate the pudding to try and find one of the sixpences which had been pushed into the pudding (and would be swapped for a modern-day coin by Nan).
But I always savoured the pudding itself, served with a generous amount of custard.
Plum Pudding: a Christmas tradition
Christmas pudding, also known as plum pudding, is a Christmas tradition from the UK.
It apparently originated in the 14th century then fell out of favour before being brought back into vogue by King George in the early 1700s. Thanks, King George!
And thanks also to the ancestors who brought this tradition across about 17,000 kilometres to Australia, and then persisted with it despite it not really fitting with the local climate.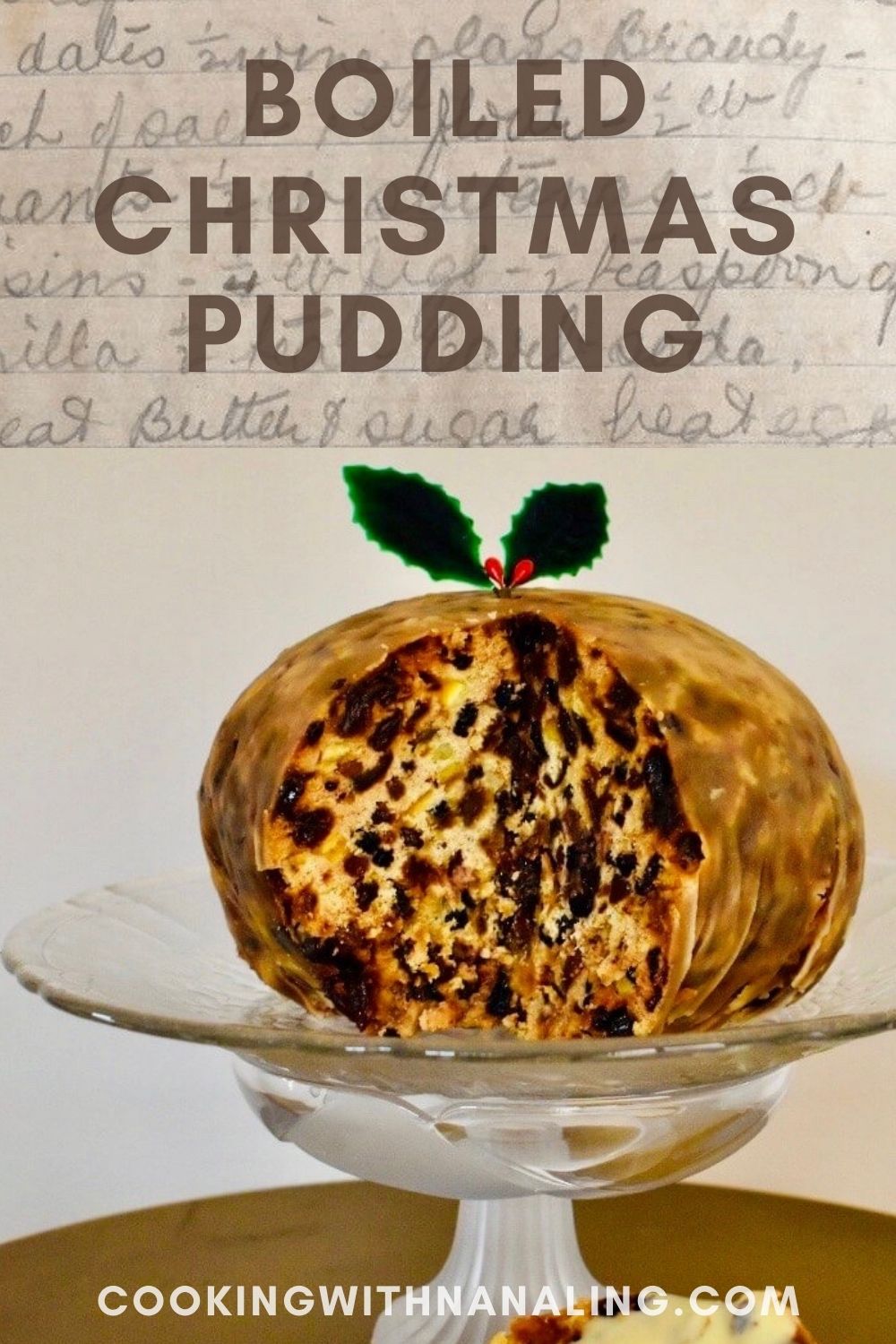 Christmas with Nana Ling
Just as I remember wonderful Christmas days with my Nan and Pop Mac, my mum remembers her early Christmases with Nana Ling (Nan Mac's mum). She recalls their hot Christmas lunch prepared in a wood fuel stove (sans air conditioning!).
She often talks about Nana Ling's Christmas cake decorated with tiny silver cachous, and the dusty floorboards of Nana Ling's house on a property near Maitland.
My Christmas pudding tradition
A year ago, just before Christmas, was the first time I pulled out Nana Ling's handwritten recipe books to have a go at cooking up one of the recipes.
I found this plum pudding recipe and uploaded it, along with my first successful attempt at cooking a plum pudding, to Instagram. It was then that the idea for this blog started to grow.
I'm so pleased that I'm cooking this pudding again this year and adding it to my growing collection of recipes on the blog.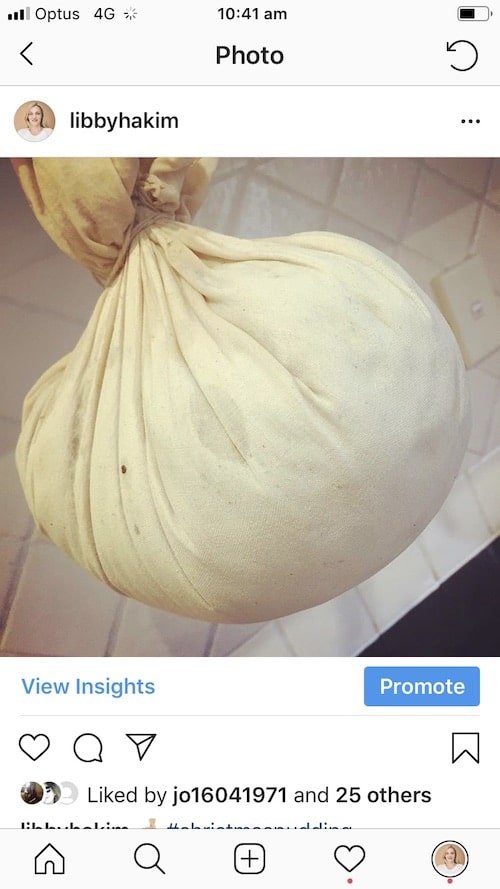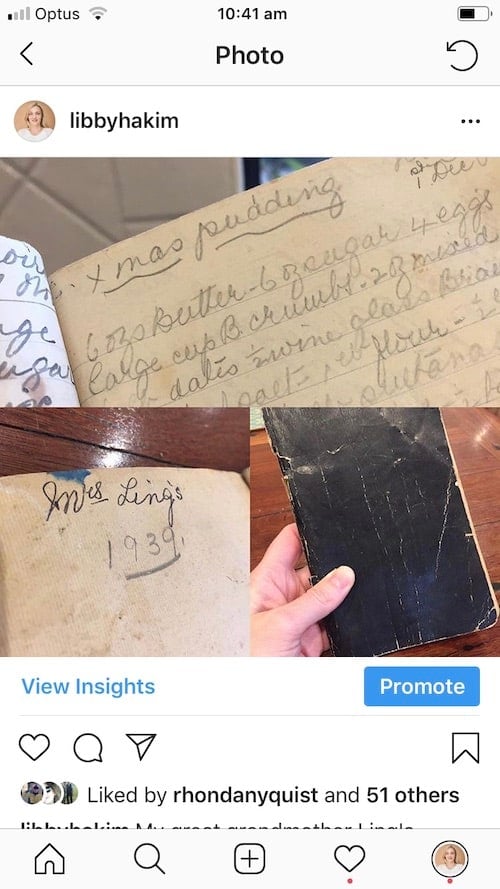 Nana Ling's Christmas Pudding recipe
Keep scrolling for the tested and tweaked version.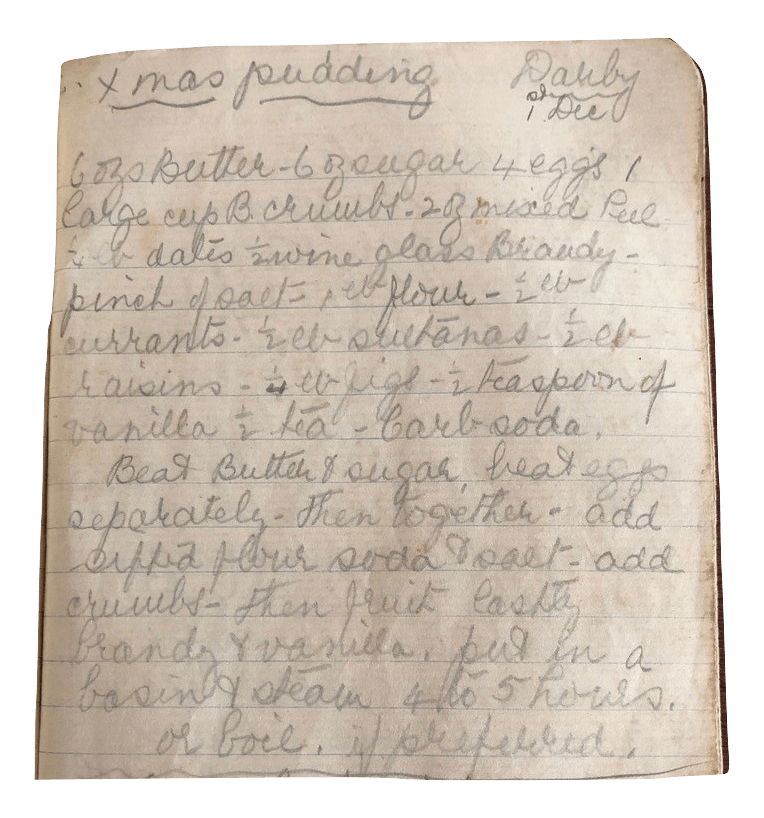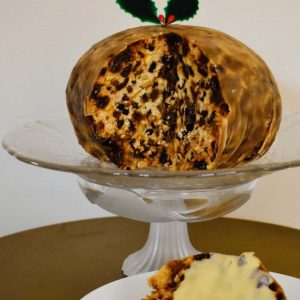 Boiled Christmas Pudding
A traditional boiled Christmas pudding recipe.
Print
Pin
Rate
Ingredients
175

grams

butter

175

grams

caster sugar

4

medium-large

eggs

1

cup

breadcrumbs

60

grams

mixed peel

120

grams

chopped pitted dates

1/2

wine glass

brandy

pinch

salt

450

grams

plain flour

230

grams

currants

230

grams

sultanas

230

grams

raisins

120

grams

figs

1/2

teaspoon

vanilla essence

1/2

teaspoon

bicarb soda
Instructions
Pudding mixture
Beat butter and sugar on med-high in a stand mixer until a pale colour.

Beat eggs and then add to mixture. Beat further until well combined.

Add sifted flour, salt and bicarb soda. Beat on low speed until combined.

Add bead crumbs and stir with a spoon to combine.

Add fruit and stir again to combine.

Add vanilla and brandy and stir to combine.
Boiling pudding
Prepare a large boiler or saucepan by filling 2/3 - 3/4 with water. You want enough room for the pudding to be able to move around in the water as it's cooking. Put on the stove and bring water to boil.

Soak a clean calico pudding cloth in another bowl of boiling water from the kettle for 5 minutes.

Wring out excess water (you may need gloves) and spread out on kitchen bench.

Use about 1/3 cup plain flour and sprinkle in a 30-40cm diameter circle. Make sure flour is most concentrated towards centre and lighter towards the outside of the circle. Rub flour into the cloth.

Pour pudding mixture onto centre of cloth. Pull the edges up and work into a nice round shape. Make sure there is no gap at the top where you've gathered the edges together.

Secure the gathered edges as close to the pudding as possible with kitchen string. Secure well and make sure there's a loop so you can hand the pudding to dry out once it's cooked.

Place pudding in boiling water and cook for 2 1/2 hours. Make sure the water continues to boil and you keep it topped up with additional water if necessary.

Once cooked, hook string from where you've secured the pudding cloth into a wooden spoon and gently lift from the boiling water.

Hold over the sink or somewhere that the pudding can drip a little. Within a minute or so you should see the pudding cloth drying in spots.

Hang the pudding somewhere safe and dry for one day to cool and dry out.

After a day of drying out, take the pudding down. Cut open the ties and take a look at the top of the pudding. You should see a skin has formed around the pudding. Scrape away any excess flour from the top of calico pudding cloth and tie to secure again.

Leave the pudding out (no need to hang again) in a dry place for a couple of days to dry out completely.

Store pudding in fridge (still in cloth) until ready to be re-heated.

To re-heat, take out of fridge and leave to stand for 6-12 hours. Immerse in a pot of boiling water for 1-2 hours and then hang for half an hour before cutting away ties and gently unwrapping the pudding. Invert onto a serving plate and enjoy with custard.
Nutrition
Calories:
6971
kcal
|
Carbohydrates:
1295
g
|
Protein:
118
g
|
Fat:
177
g
|
Saturated Fat:
100
g
|
Cholesterol:
1210
mg
|
Sodium:
3089
mg
|
Potassium:
7775
mg
|
Fiber:
72
g
|
Sugar:
619
g
|
Vitamin A:
5921
IU
|
Vitamin C:
33
mg
|
Calcium:
916
mg
|
Iron:
49
mg