A recipe for the classic favourite, Lemon Lime and Bitters.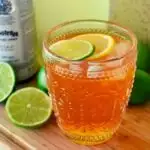 Lemon Lime and Bitters is one of the most refreshing drinks around, and this recipe creates a beautiful "house made" version of this popular mixed drink.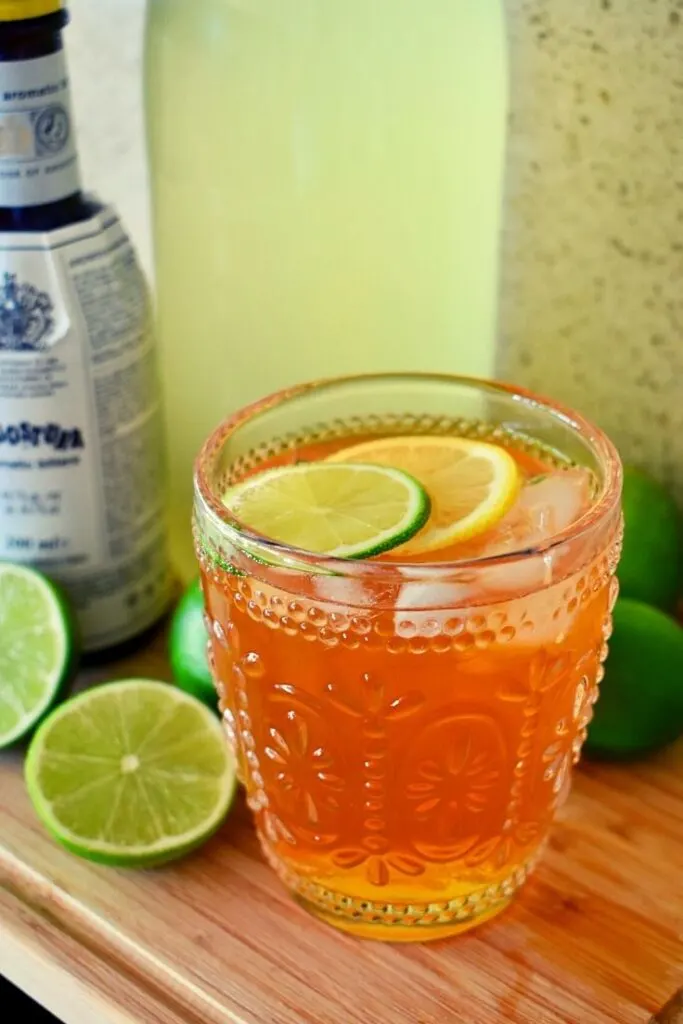 Lemon Lime Bitters: Australia's (second) favourite drink
It's been reported that Lemon Lime and Bitters has been around since colonial times, where it gained popularity as an alternative to Pink Gin.
The refreshing flavours cemented its popularity, with the same report indicating it's a drink often ordered with meals and second only in popularity to Coca Cola.
A recipe for Lemon Lime and Bitters
This recipe can be adjusted to take into account your sweetness preferences.
It also has a secret ingredient you won't find anywhere else!
That ingredient is Nana Ling's Lime Cordial. It's super easy to whip up your own batch of this lovely cordial, and you can use it in so many ways.
Of course, you can also use a store-bought cordial.
But if you have plenty of limes around, why not make up a batch of your own homemade cordial today.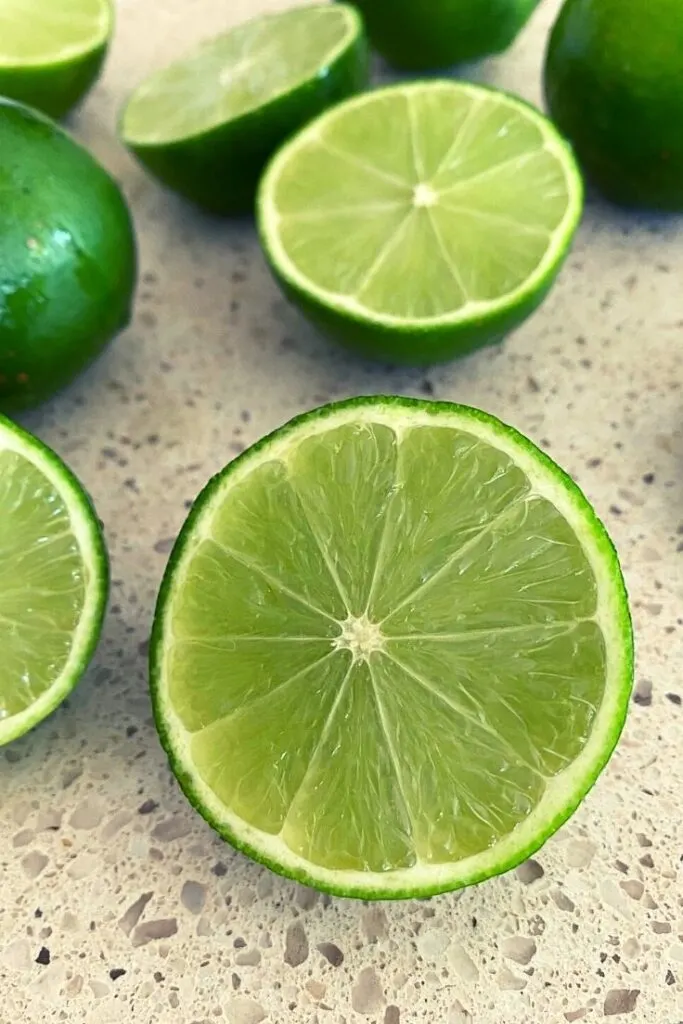 Is Lemon Lime and Bitters alcoholic?
The answer here is: yes and no!
Bitters was created as a medicinal tincture, designed to alleviate stomach ailments, by Dr Johann Siegert. (It was his son, though, who established the Angostura Bitters brand that we still use today in drinks.)
It is indeed a herbal alcoholic mixture, though, and contains 35-45% alcohol.
However, since only a tiny amount of bitters is added, many consider Lemon Lime Bitters to be a non-alcoholic drink.
Consider, for instance, that a teaspoon of vanilla essence probably contains more alcohol than a glass of this mixed drink.
However, while Lemon Lime and Bitters is often considered non-alcoholic, it's not a zero alcohol drink.
So, it's not entirely clear whether we should call it alcoholic or non-alcoholic.
But one thing is clear. It's a wonderfully refreshing drink that many of us love!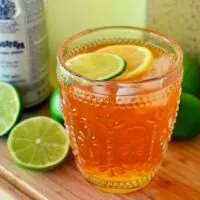 Lemon Lime and Bitters
A recipe for the classic favourite, Lemon Lime and Bitters.
Print
Pin
Rate
Equipment
standard size drinking glass
Ingredients
4-5

ice cubes

1

teaspoon

lime cordial

1

squeeze

fresh lime or lemon juice

1/2

teaspoon

bitters

2/3

cup

lemonade or soda water

(or enough to top up the glass)

slice

lemon and lime

(to garnish)
Instructions
Add the first four ingredients in the order above in a drinking glass.

Use lemonade or soda water, or a combination of both, to adjust the drink to your preferred sweetness.

Garnish with a lemon and lime slice.
Nutrition
Calories:
94
kcal
|
Carbohydrates:
22
g
|
Sodium:
13
mg
|
Potassium:
2
mg
|
Sugar:
20
g
|
Vitamin A:
1
IU
|
Vitamin C:
1
mg
|
Calcium:
2
mg