A festive favourite, this is one of the best old-fashioned rum balls recipes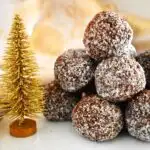 This Rum Balls recipe uses good ol' Aussie Weetbix as a base ingredient.
(If you don't have weetbix in your country (or cupboard), don't fear. You can use 140 grams of a wheat breakfast cereal instead of weetbix.)
I researched several old-fashioned Rum Balls recipes to come up with a recipe that delivers perfectly soft and delicious balls of rum bliss.
So, ready to Rum Ball?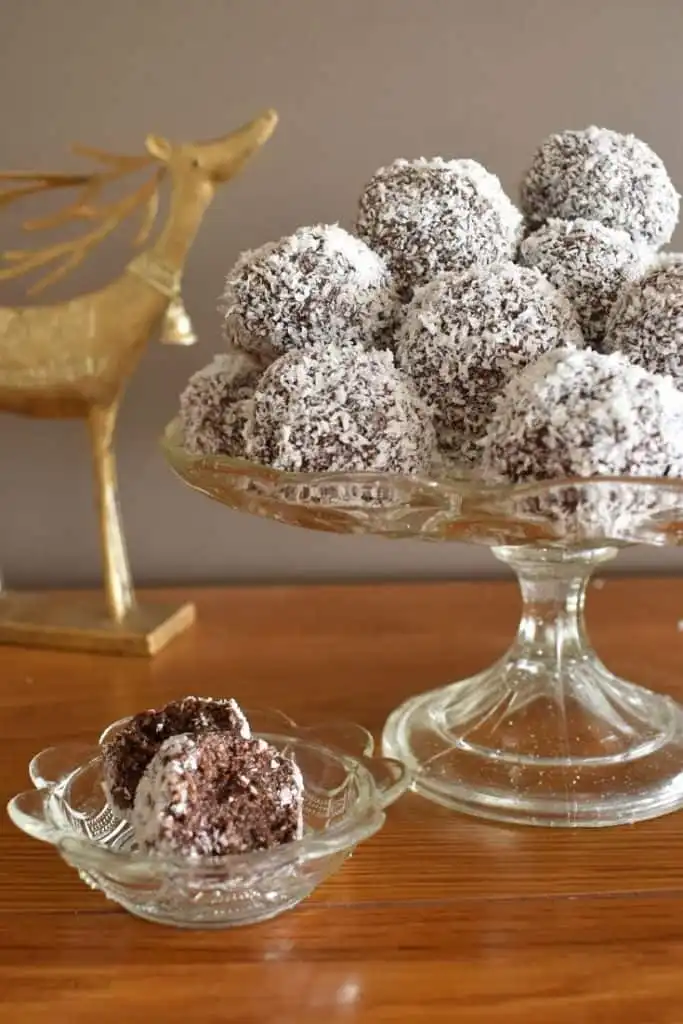 An Aussie Christmas tradition
Rum Balls have been a part of Christmas for as far back as I can remember.
It shouldn't be too surprising that we Aussies love a little rum. Our first permanent hospital was financed thanks to a 45,000 gallon rum deal!
And in 1808, Governor William Bligh tried to regulate the colonial trade of spirits and was overthrown from government by the military – in an event now described as the "Rum Rebellion".
And a few years ago there was another type of rum rebellion when one of the major supermarkets "quietly ditched" this classic Christmas ball due to "changing consumer preferences".
Well, my preferences haven't changed. I love rum balls. Are you with me?
And rather than heading to the supermarket, it's really easy to just roll your own.
Searching for the perfect Rum Balls recipe
I searched old newspapers, Nana Ling's handwritten recipe books, old home cooking supplements and vintage recipe books to find the perfect rum balls recipe.
But I wasn't quite satisfied with any I came across.
I turned to my mum and she shared some recipes she'd collected during her time working in bakeries.
Still, not quite what I was looking for.
One of my mum's recipes used cake crumbs and while it may guarantee a lovely soft texture, it's an ingredient that doesn't really translate well for home cooks these days.
However, the recipe did offer some other interesting ingredients that I thought would be perfect to add to my own recipe.
Creating the best ever rum balls recipe
So, armed with plenty of other recipes, I set about creating my very own.
The weetbix recipes are often criticised for being on the dry side, so I wanted to avoid that problem and now I had a plan – and a couple of extra little ingredients – to do just that.
The recipe here is a mash-up of old rum balls recipes. I've borrowed from here and there to create a perfect rum balls – with weetbix – recipe.
The ingredients
You'll need these ingredients to make rum balls:
weetbix (or another wheat breakfast cereal)
rum
desiccated coconut
cocoa powder
dried diced apricot
strawberry or raspberry jam
sweetened condensed milk.
Keep scrolling for the recipe card at the bottom of this post to find the precise quantities for the ingredients.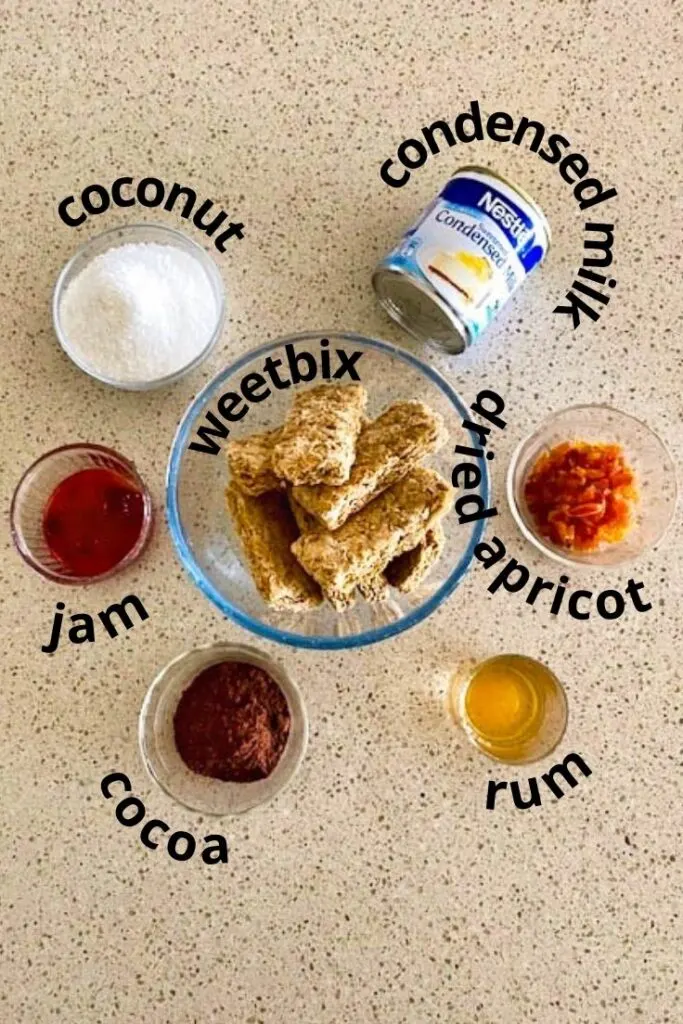 Making these yum balls of rum
Making this recipe is a fun and straightforward process.
First, you get your hands into crushing mode. Make sure your weetbix or other cereal resembles fine crumbs.
You could also use a rolling pin or food processor – but it's just as easy to crush them up with your hands.
Place the weetbix crumbs into a large bowl and then sprinkle over the rum.
Add the rest of the ingredients and mix away.
Now, get ready to roll. Your small balls of rum bliss should be rolled again and coated in coconut. Place your rum balls on a tray lined with baking paper and place in fridge for at least a couple of hours to set.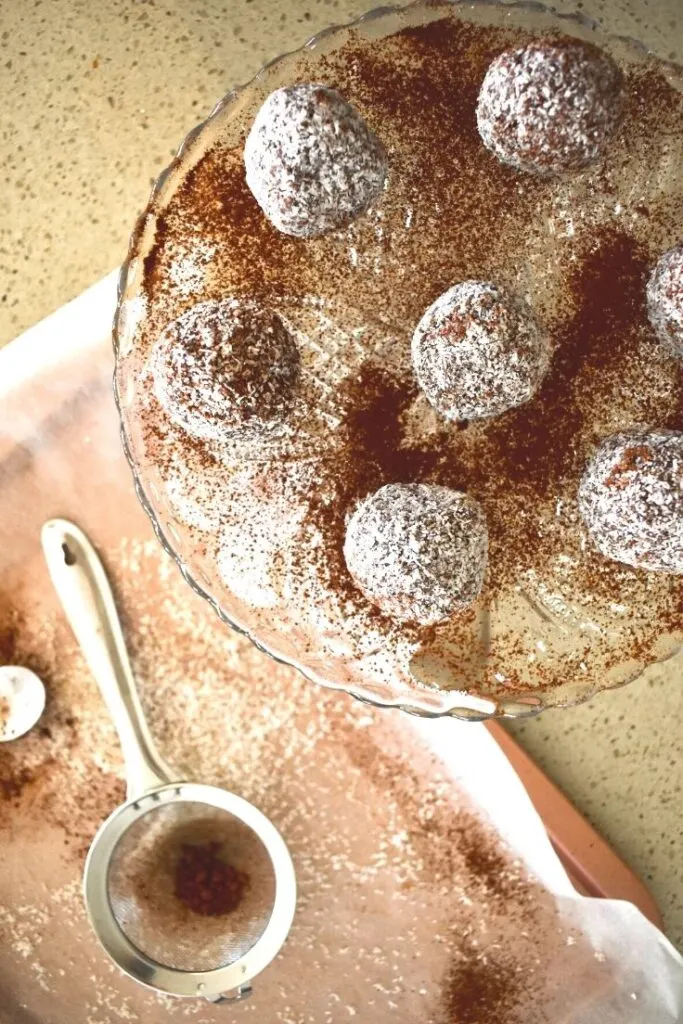 Rum Ball Variations
While I think this is the perfect recipe, here are a few ideas to mix things up:
add glace cherries or dried diced cranberries instead of dried apricots
add orange marmalade instead of strawberry or raspberry jam
add some chopped almonds or hazelnuts to the mix
add a little cinnamon or cardamon in with the cocoa powder.
Rum Balls FAQs
Q. What is the best way to store rum balls?
In an airtight container in the fridge. They'll last a couple of weeks (if you can resist eating them sooner!)
Q. Should you enjoy these delicious little treats cold or at room temperature?
Either easy is fine. I prefer taking them out of the fridge an hour or so before serving and enjoying them at room temperature.
Q. Can you freeze rum balls?
Yes, you can freeze rum balls for up to a couple of months.
Q. Can you get drunk on rum balls?
I've never heard of anyone getting drunk on rum, though I do know someone who was overcome by fumes when making rum balls (Hi, Mum!).
I guess it really depends also on how many you eat! There would be 1-2 ml of rum in each rum ball if you use this recipe. That doesn't sound like the stuff that creates hangovers. Keep in mind though, that roadside alcohol breath tests will likely pick up even small traces of alcohol.
Q. I've run out of rum. What else can I use?
You could also use Bourbon, Brandy, Port or any other spirit that you enjoy.
If you have rum extract, use 1 tablespoon mixed with 1 tablespoon of fruit juice.
If you're looking for a non-alcoholic option, almond or vanilla extract would work well. Use 1 tablespoon mixed with 1 tablespoon of fruit juice.
Looking for more Christmas treats?
You'll find trifle, mini Christmas Cakes and more in the growing Cooking with Nana Ling Christmas collection.
Or more ball recipes?
Check out my recipes for Tim Tam Balls, Fruit Salad Balls, Pineapple Balls, Apricot Balls, Midori Balls, Christmas Balls and Snowballs.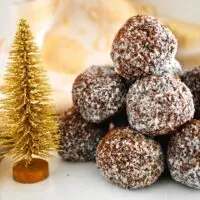 Rum Balls
A festive favourite, this is one of the best old-fashioned rum balls recipes
Print
Pin
Rate
Servings:
20
balls approx
Ingredients
8

weetbix

(use 140 grams of a wheat breakfast cereal if you don't have weetbix in your country)

2

tablespoons

rum

3/4

cup

desiccated coconut

3

tablespoons

cocoa

1/4

cup

dried diced apricot

1

tablespoon

strawberry or raspberry jam

395

grams

condensed milk

(1 tin)

3/4

cup

desiccated coconut

(additional for rolling)

1

teaspoon

cocoa

optional (additional for dusting)
Instructions
Crush weetbix to a fine consistency.

Sprinkle rum over weetbix.

Add remaining ingredients and stir well to combine.

Roll into small balls and coat by rolling in additional coconut.

Place balls on a tray lined with baking paper and place in fridge for at least a couple of hours to set.

Store in the fridge in an airtight container and enjoy cold or at room temperature.

Serve dusted with cocoa (optional).
Nutrition
Calories:
99
kcal
|
Carbohydrates:
12
g
|
Protein:
2
g
|
Fat:
5
g
|
Saturated Fat:
4
g
|
Cholesterol:
6
mg
|
Sodium:
25
mg
|
Potassium:
115
mg
|
Fiber:
1
g
|
Sugar:
11
g
|
Vitamin A:
96
IU
|
Vitamin C:
1
mg
|
Calcium:
50
mg
|
Iron:
1
mg