Nearly everyone has a go-to Spaghetti Bolognese Recipe. It's one of the most popular pasta dishes around, if not THE most popular.
It's the dinner we often crave on a cool night, and perfect for freezing or heating up again the next day.
This recipe is based on one that was originally intended for the 1960's Australian home cook. But with a few tiny tweaks, I think it's the perfect recipe for today.
So simple – much easier than the many recipes I've tried over the years – and packed with that rich tomato flavour.
Yes, I have a new go-to Spaghetti Bolognese Recipe and I'd love to share it with you here!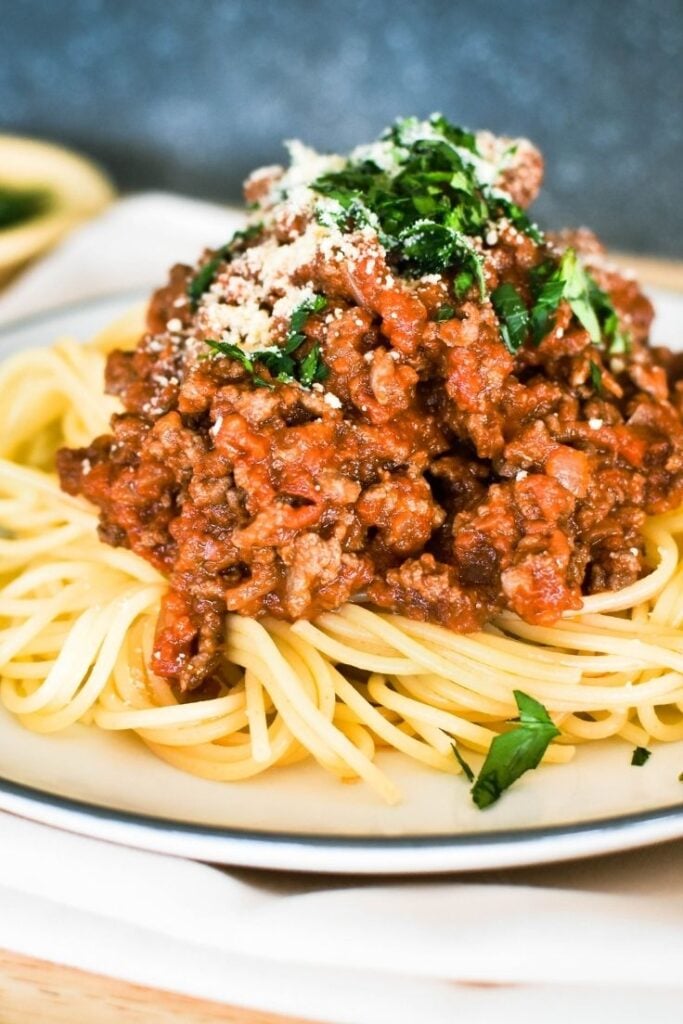 Spag bol: our Australian take on Classic Italian cooking
Okay, so while I am claiming this recipe is pretty damn delicious, I am not claiming that it is a traditional or authentic Italian recipe.
Much has been written about how Australians have taken "Ragù Bolognese" and turned it into our very own dish, affectionately abbreviated to "Spag Bol".
And there are so many different versions of our Aussie Spaghetti Bologense.
While I love our Aussie version of this pasta dish, many of the recipes I come across have so many ingredients. I'm talking 15 to 20 or more ingredients.
It can be scary looking through the ingredient list, and then the process can take many hours in the kitchen.
Well, it seems the 1960s home cook didn't have time for too much fuss.
And I'm feeling like I can relate to that right here in the 2020's.
The original Spaghetti Bolognese recipe
The original recipe on which this one is based has been tucked away in Nana Ling's collection for more than 55 years.
But it's back. Not too many ingredients. Only an hour of simmering. It's been tested, tweaked and is ready for a comeback.
It's from an Australian Women's Weekly supplement called "Complete Cookery Course" which promised ways to "cook and serve the exciting variety of pastas which are now available."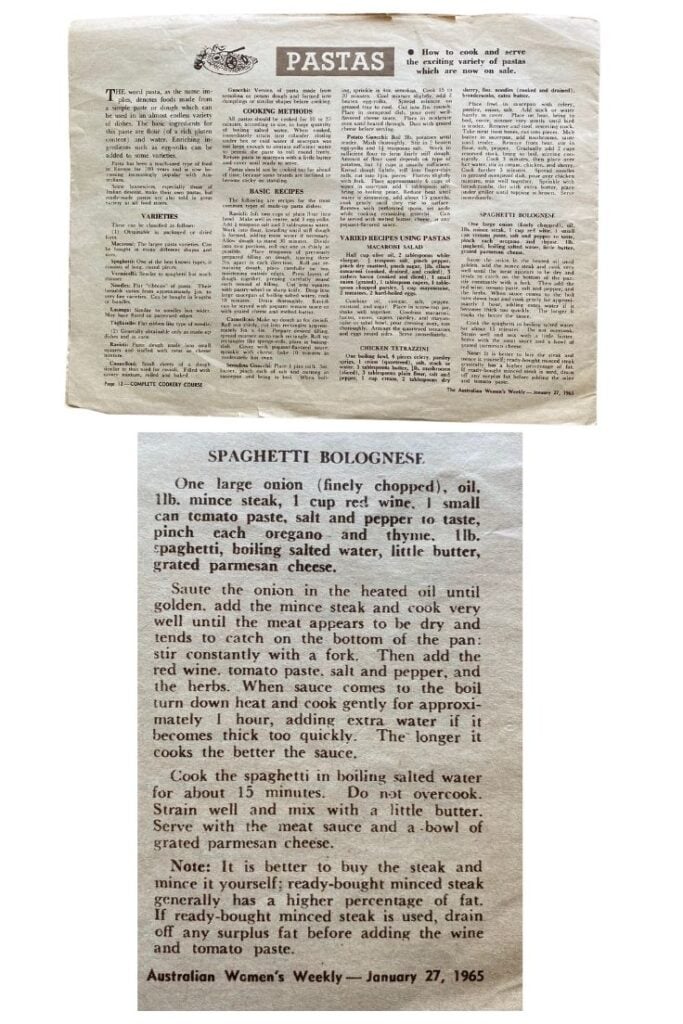 Remember, I've updated the original recipe so keep scrolling to the recipe card at the end of this post for all the details.
The ingredient list
The ingredient list is a little shorter than other recipes you might have stumbled across.
But the ingredients come together so nicely and this bolognese sauce is truly a flavour-packed one.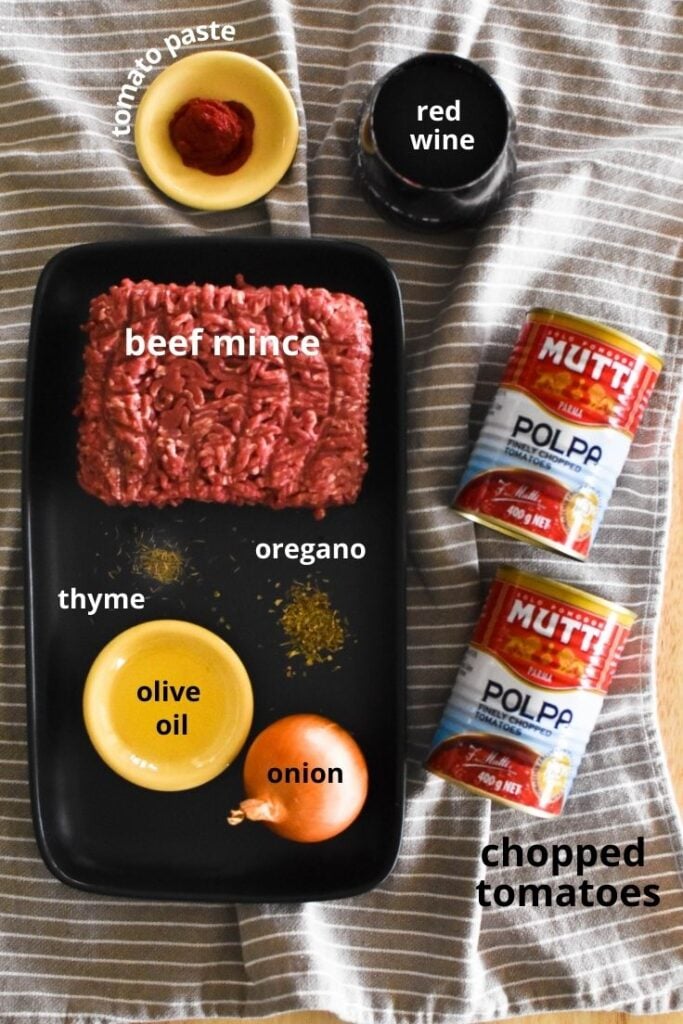 Making Spaghetti Bolognese
Once you have gathered all your ingredients and a large frying pan, start by chopping the onion.
Then you add the oil to the frying pan and saute the onion over medium heat.
Increasing the heat to med-high, add the mince and cook. Chop the mince as it cooks with a large, flat wooden spoon until the meat is cooked.
Add thyme, oregano, red wine, tomato paste and chopped tomatoes. Stir away and then turn down heat and simmer.
Add salt and pepper to taste and continue simmering for one hour.
It's that easy!
If your sauce dries out too quickly during the process, add a little water and keep simmering.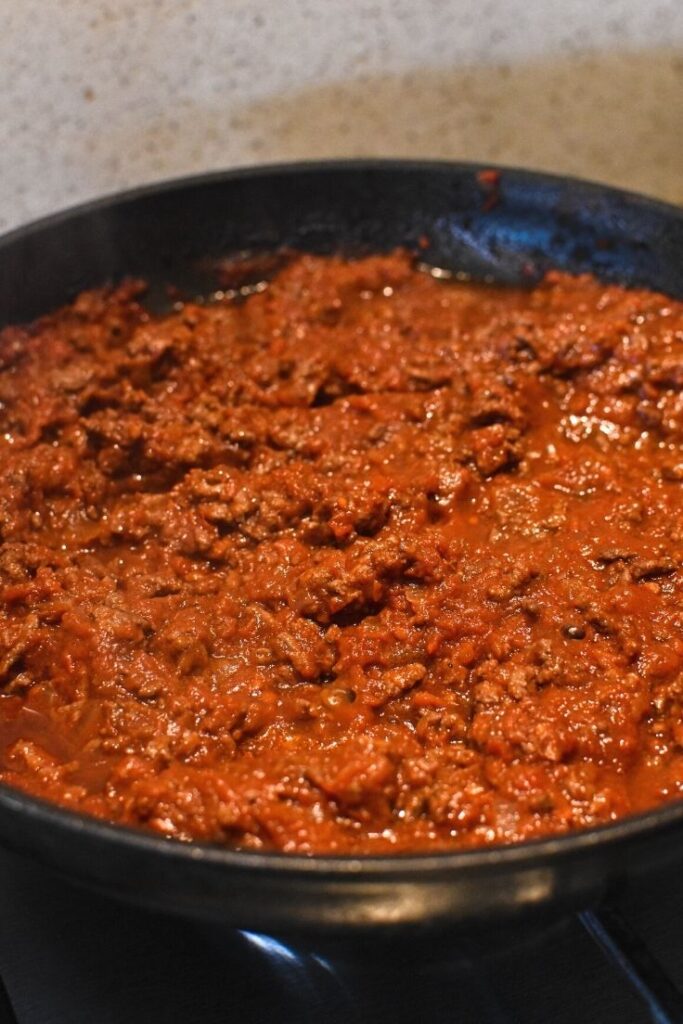 Serving your Spaghetti Bolognese
Serve warm with spaghetti. I've suggested boiling up 500 grams of dried spaghetti here, but you can use your preferred spaghetti or even another type of pasta.
Dollop the sauce on top, mix it through the spaghetti before serving or plate it up whichever way you please.
You can also add a little grated parmesan and chopped parsley for added flavour and appeal.
Leftovers can be frozen in an airtight container for up to a few months. When ready to use, thaw in the fridge overnight and then re-heat in a saucepan or frying pan with a little water added.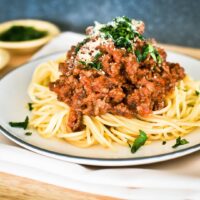 Spaghetti Bolognese
An old-fashioned recipe for spaghetti bolognese. Simple and tasty!
Print
Pin
Rate
Ingredients
500

grams

beef mince

(ideally, premium mince)

1

large

onion

1

tablespoon

olive oil

1

pinch

dried oregano

(or one teaspoon chopped fresh oregano)

1

pinch

dried thyme

(or one teaspoon chopped fresh thyme)

1

cup

red wine

1

tablespoon

tomato paste

800

grams

tinned finely chopped tomatoes

salt and pepper

500

grams

dried spaghetti

2-3

tablespoons

grated parmesan

1

tablespoon

fresh parsley, chopped

1/2

teaspoon

additional olive oil

(for spaghetti)
Instructions
Place tablespoon of oil in a large saucepan and place over medium heat.

Finely chop the onion and add to saucepan. Saute until onion is starting to turn a golden colour.

Increase heat to med-high and add mince. Cook, chopping mince with a wooden spoon (ideally, one that has a flat edge), until meat is cooked and there is no liquid in the pan.

Add thyme, oregano, red wine, tomato paste and chopped tomatoes. Stir well to combine and turn heat down until mixture is at a steady simmer.

Add salt and pepper to taste and then continue simmering for one hour.

Check on sauce and stir from time to time during the process. Add additional water if the mixture becomes too thick, too quickly.

Boil spaghetti according to directions. Once ready, add a little additional olive oil and serve with bolognese sauce. Sprinkle with a little grated parmesan and chopped parsley.
Nutrition
Calories:
932
kcal
|
Carbohydrates:
108
g
|
Protein:
41
g
|
Fat:
32
g
|
Saturated Fat:
11
g
|
Polyunsaturated Fat:
2
g
|
Monounsaturated Fat:
14
g
|
Trans Fat:
2
g
|
Cholesterol:
91
mg
|
Sodium:
453
mg
|
Potassium:
1181
mg
|
Fiber:
7
g
|
Sugar:
11
g
|
Vitamin A:
331
IU
|
Vitamin C:
23
mg
|
Calcium:
160
mg
|
Iron:
7
mg