Canary Pudding is a traditional English steamed pudding. A bright and sweet dessert that's comforting and easy to make.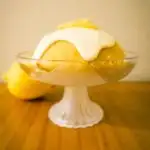 Canary Pudding is a traditional English steamed pudding.
This bright and sweet dessert is comforting and so easy to make.
If you don't have a pudding bowl you can use a small pyrex bowl.
And if you don't have a steamer, there's a way around that too!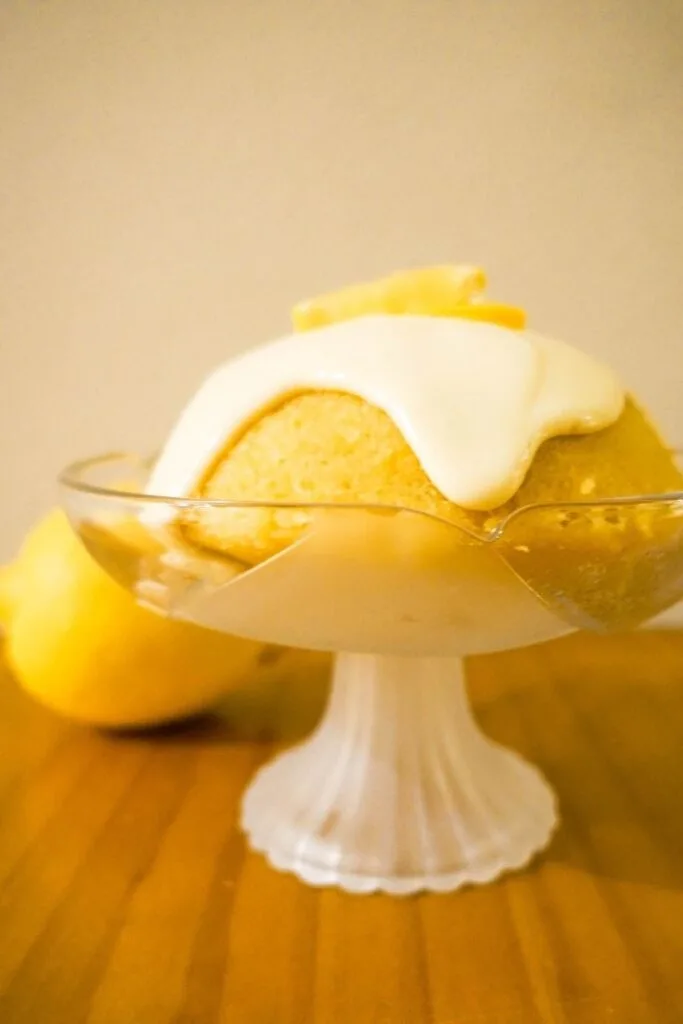 Winter is definitely made more bearable by little comforts like open fires, hot chocolate, and… puddings.
I find those packet self-saucing puddings quite tempting, but when I steamed up this Canary Pudding from scratch I was impressed by the difference.
I patted myself on the back and said, "Now THIS is a pudding!"
It's not quite as easy as a packet pudding, but a homemade steamed pudding is certainly worth the effort and this Canary Pudding recipe is quite easy to follow.
Canary Pudding: a little history
The original recipe is dated May 1940, however my research shows that canary puddings reached the heights or their popularity in Australia in the earlier 1900's.
The earliest reference I can find to this recipe in Australian newspapers is during the Victorian era. I wonder if Queen Victoria was one to indulge in a little Canary Pudding?
In earlier times, though, puddings weren't really considered an indulgence.
Puddings were seen in a different, more nutritional, light.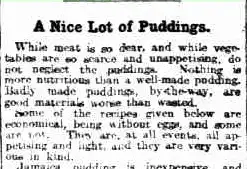 "While meat is so dear, and while vegetables are so scarce and unappetising, do not neglect the puddings. Nothing is more nutritious than a well-made pudding."
The Mail (Adelaide), 3 April 1915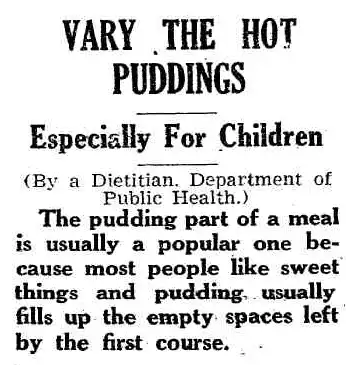 "The best puddings are those that supply materials for body building as well as satisfying appetite. These are milk puddings, fruit puddings and those containing egg. So use these as often as you can, particularly for children."
The Armidale Express, 25 August 1947
Do you have all the ingredients?
The entire ingredient list and quantities can be found in the recipe card at the end of this post.
You should have most of the ingredients on hand.
The only thing I didn't have was the lemon essence, which I found among the other cooking essences at the supermarket.
Oh, and the creme fraiche for the sauce was another thing I had to add to the shopping list.
Do you need a steamer?
This is a steamed pudding, so a saucepan steamer, as pictured below in the recipe card, makes things easy.
However, you can also simply use a large saucepan or boiler with a small heatproof container placed in the bottom (on which you sit the pudding, with the water level sitting just below your pudding).
Do you need a pudding bowl?
I made this recipe just when the cold weather hit Sydney.
I could not get my hands on a pudding bowl – shopkeepers either looked at me blankly or told me they'd just sold out.
Instead, I used a small pyrex bowl. This worked perfectly well.
By coincidence, a couple of days later not one but two lovely pudding bowls found their way to me.
My dear neighbour, Joyce, sadly passed away a couple of months ago at the the age of 97 years. She was a wonderful neighbour and a superb cook.
Whenever I'd do something nice for her, she'd always outdo me. I took some fresh cherries over to her a few years ago and later that day she delivered layered cherry jelly for my kids to enjoy.
So, when her daughter asked me if I'd like to look through some of Joyce's kitchen things, I was keen to take a peak. At the very top of the pile of things to be thrown out were two lovely pudding bowls. Thank you, Joyce!
Here's a picture to give you an idea of the (minimal) difference between a pudding bowl and mixing bowl (the mixing bowl is in the middle of my two newly-acquired pudding bowls):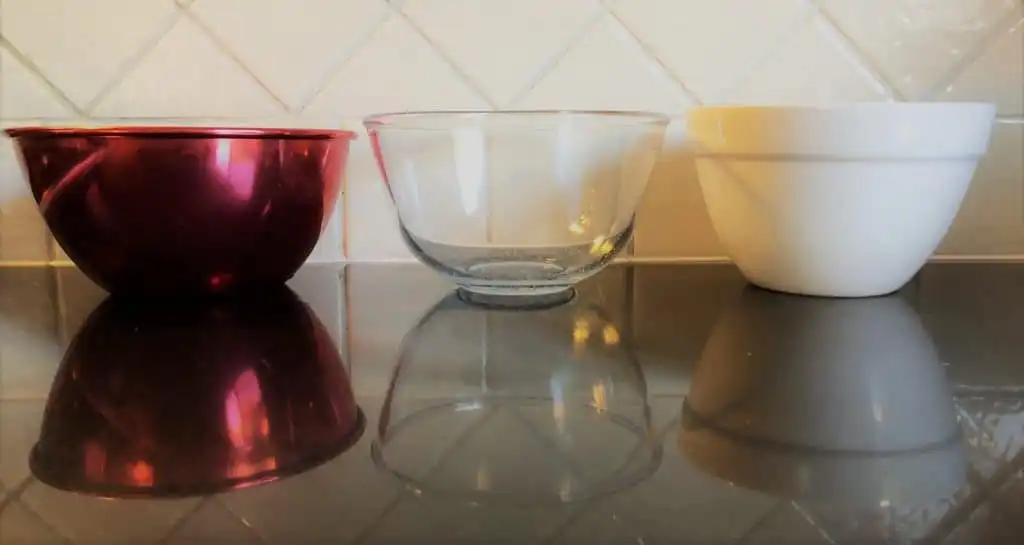 Nana Ling's Canary Pudding recipe
Here's a copy of the original recipe from Nana Ling, dated 24 May 1940.
Keep scrolling for the tested and tweaked version in the recipe card below this original recipe.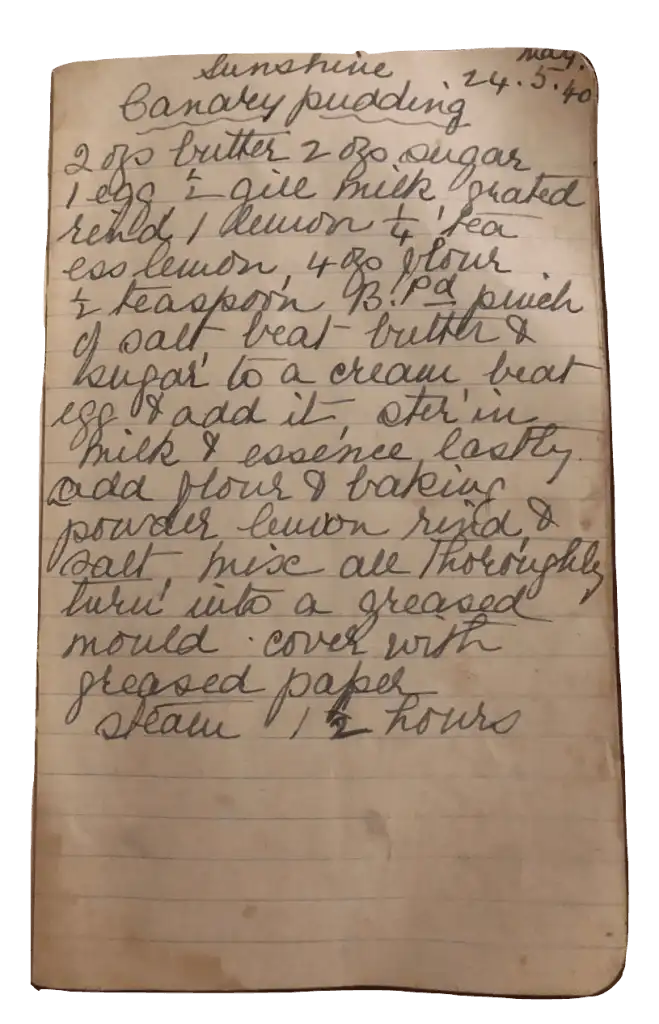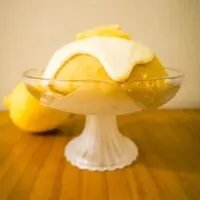 Canary Pudding
Canary Pudding is a traditional English steamed pudding. A bright and sweet dessert that's comforting and easy to make.
Print
Pin
Rate
Equipment
1 small pudding bowl

(or pyrex bowl)
Ingredients
Pudding
60

grams

butter

60

grams

caster sugar

1

egg

60

ml

milk

1

lemon

(grated rind only)

1/4

teaspoon

lemon essence

115

grams

plain flour

1/2

teaspoon

baking powder

pinch

salt
Sauce
1/3

cup

creme fraiche

1/3

cup

custard
Instructions
Pudding
Beat butter and sugar to a cream.

Beat egg and add to mixture.

Add milk and lemon essence and mix well.

Add lemon rind, salt and sifted flour and baking powder. Mix well.

Grease a small pudding bowl or pyrex bowl.

Cover with greased paper and tie down.

Steam for one and a half hours.

Once cooked, use a knife to carefully free the pudding from the edges of the bowl before turning out onto a plate.
Sauce
Whisk creme fraiche and custard together.

Pour over pudding and top with a slice of lemon.
Notes
How to steam a pudding
If you don't have a steamer, put a small heatproof dish in the bottom of a saucepan.
Fill with water to just below the top of the small dish and bring to the boil.
Sit pudding bowl on top of small dish, turn down to a simmer and cover.
Nutrition
Calories:
221
kcal
|
Carbohydrates:
30
g
|
Protein:
4
g
|
Fat:
10
g
|
Saturated Fat:
6
g
|
Cholesterol:
58
mg
|
Sodium:
100
mg
|
Potassium:
135
mg
|
Fiber:
1
g
|
Sugar:
12
g
|
Vitamin A:
334
IU
|
Vitamin C:
10
mg
|
Calcium:
62
mg
|
Iron:
1
mg