Honey Joys are the sweet, crunchy and golden treats many of us first discovered at a kids party many years ago.
If you're looking for the best Honey Joys recipe, you're in the right place.
We've perfected the recipe to deliver this one. Add it to your favourites collection.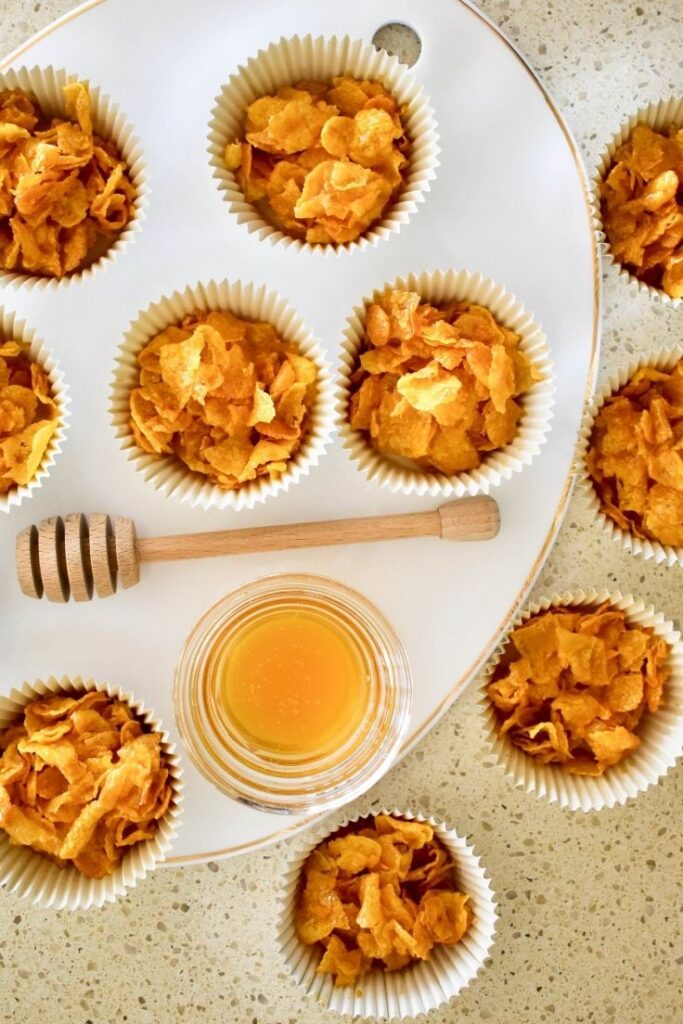 Honey Joys: an age-old treat we still love today
Recently, there was some debate about what Aussies call these cornflake treats in patty cases that are made with honey, butter and sugar.
The consensus was… Honey Joy! That's certainly the name that I knew them by. Honey crackles, honey suckles and cornflake cakes just don't reflect the delight that these little treats bring.
Now I've always been a fan of Honey Joys and I sometimes make them up as lunchbox treats for my daughters.
Along with honey, the other key ingredient in this recipe is, of course, Corn Flakes. Kellogg's first started making Corn Flakes here in Australia back in 1924.
Early the next year, their marketing department started to spend some serious cash on newspaper ads. The message was health and nourishment, while the target audience was broad. Ads featured men, women and children.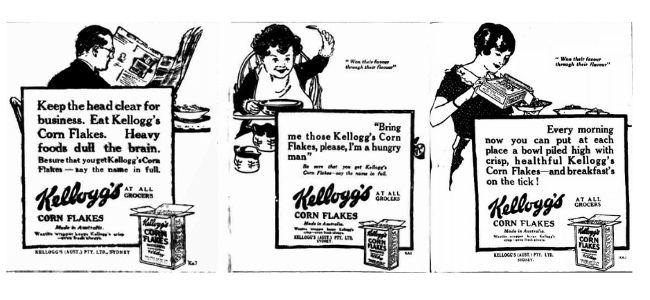 It wasn't long, though, before we started making Corn Flakes a little naughtier.
By July 1938, Corn Flakes were being mixed with butter, honey and sugar to create Honey Joys, with a recipe appearing in Melbourne's The Argus newspaper at that time.
And, of course, we're still enjoying the quick and easy option of Corn Flakes for breakfast today (and can you believe there are even quicker and easier options now with breakfast snack bars?!?)
Our search for the BEST Honey Joys recipe
Looking through newspaper recipe records shows that we've tried to make the basic recipe even better by adding sultanas or vanilla essence at various times.
During the depression and WWII era, we continued our obsession with this sweet treat by substituting lard for butter.
Fast forward to today, and I'm putting fresh, local honey in the spotlight. I'm sticking to the basic recipe but upping the honey a little and dialling down the sugar a fraction.
I've tested the recipe several times to make sure the clusters stick together nicely.
They do.
Phew… because there's nothing worse than losing part of your Honey Joy as you're eating it. Except perhaps when it sticks to the bottom of the patty case – that shouldn't happen either with this recipe.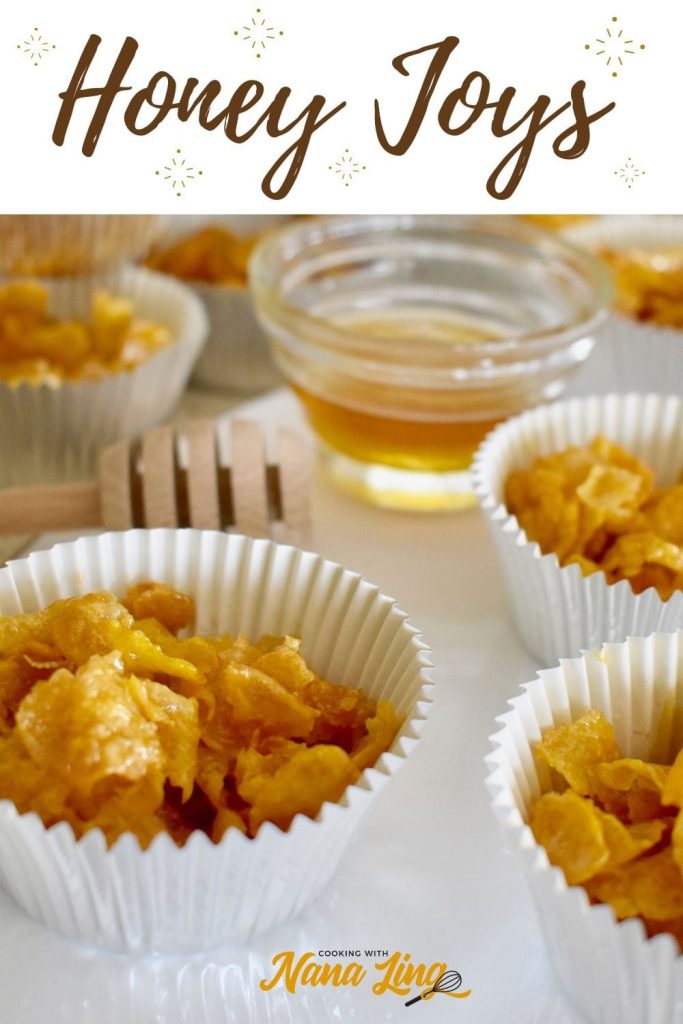 Making Honey Joys
To make these delicious little treats, you'll need just four ingredients:
Corn Flakes
butter
caster sugar
honey.
You can find the precise ingredients in the recipe card at the end of this post.
You'll also need about 20 patty pans.
You melt the butter, sugar and honey in a large saucepan and bring to a boil before adding the cornflakes to the saucepan and stirring quickly to combine.
You then spoon the mixture into patty pans and place into a cool oven for 7 minutes.
See the recipe card below for precise instructions.
Your Honey Joys questions
How long do Honey Joys last?
They're lucky to last a few days in our house. You can store them in an airtight container for a few days, and another few days longer if you keep them in the fridge.
They're best when made the day before eating.
How should I store Honey Joys?
Store them in an airtight container. In warm weather or if you want them to last a little longer, keep them in the fridge.
Can I freeze Honey Joys?
I do not recommend freezing this treat.
Another happy honey recipe
If you love Honey Joys, you might also love our sweet and crunchy Honey Biscuits recipe.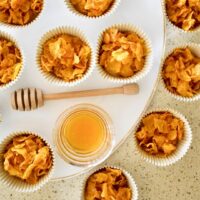 Honey Joys
The quintessential Australian party food, Honey Joys are a golden favourite of home cooking.
Print
Pin
Rate
Ingredients
4 1/2

cups

Corn Flakes

80

grams

butter

1/4

cup

caster sugar

2

tablespoons

honey
Instructions
Preheat oven to 160 degrees celsius (fan-forced).

Line 16 cupcake tins with patty pans.

Melt butter, sugar and honey in a large saucepan, stirring regularly. You want the saucepan to be large enough that you can add the cornflakes to the saucepan.

Once melted, bring the mixture to a frothy boil but remove from heat as soon as it reaches this point.

Add the cornflakes to the mixture in the saucepan and stir quickly to combine.

Spoon into patty pans and place into oven for 7 minutes.

Once removed from oven, allow to cool.
Nutrition
Calories:
84
kcal
|
Carbohydrates:
12
g
|
Protein:
1
g
|
Fat:
4
g
|
Saturated Fat:
3
g
|
Cholesterol:
11
mg
|
Sodium:
93
mg
|
Potassium:
13
mg
|
Fiber:
1
g
|
Sugar:
6
g
|
Vitamin A:
266
IU
|
Vitamin C:
2
mg
|
Calcium:
1
mg
|
Iron:
2
mg