An Easter version of Bread and Butter Pudding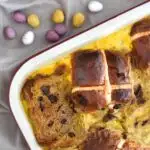 This lovely Easter treat uses an old-fashioned bread and butter pudding recipe to add a little magic to traditional hot cross buns.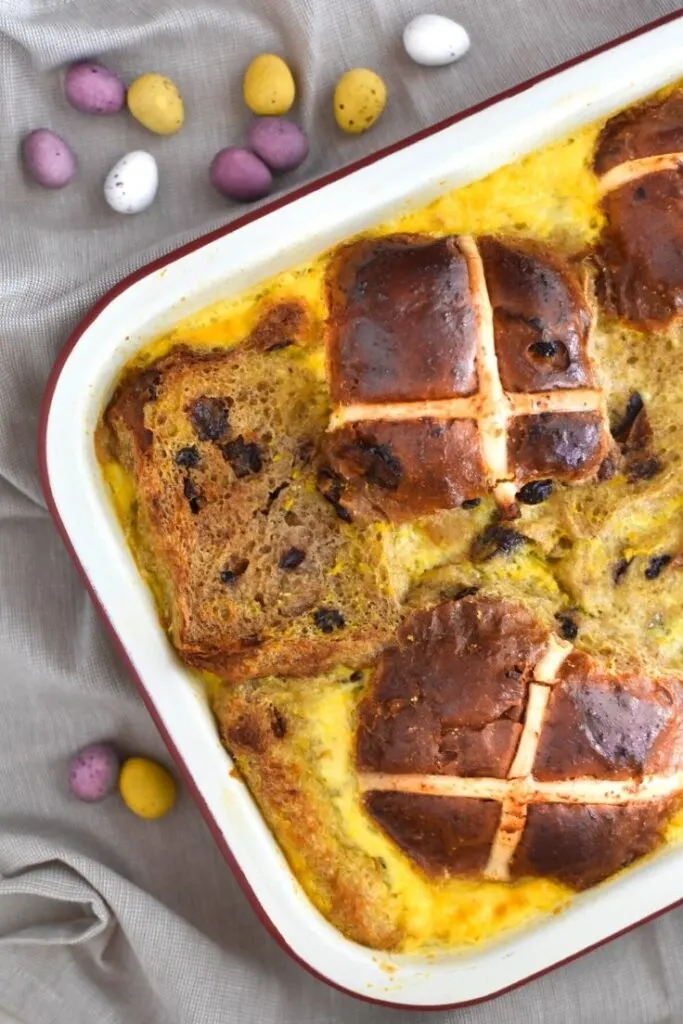 Hot cross buns: first a little history
"Hot cross buns.
Hot cross buns.
One a penny, two a penny.
Hot cross buns."
Remember the rhyme?
If you do, perhaps you also remember a time when Hot Cross Buns were a little more special than they seem to be today.
Today, we shake our heads and take to social media to vent our frustrations when the major supermarkets start stocking these buns from Boxing Day.
"Crazy!" we say as we watch commercialism eat away at the little buns many have long held sacred.
Indeed, these little buns date back further than Christianity.
While Christians may see the cross as representing the crucifixion of Jesus and the spices as representing the spices used to embalm him at his burial, the buns also held a certain mystique in earlier times.
Saxons, Druids, Phoenicians, Greeks and Romans ate buns marked with a cross in honour of certain goddesses, with the cross representing the four quarters of the moon.
What we now know as a "traditional" hot cross bun, with the fruit and spices, is said to trace back to a 14th-century monk at the Cathedral of St Albans, who used yeast and cinnamon to create buns which were delivered to the poor.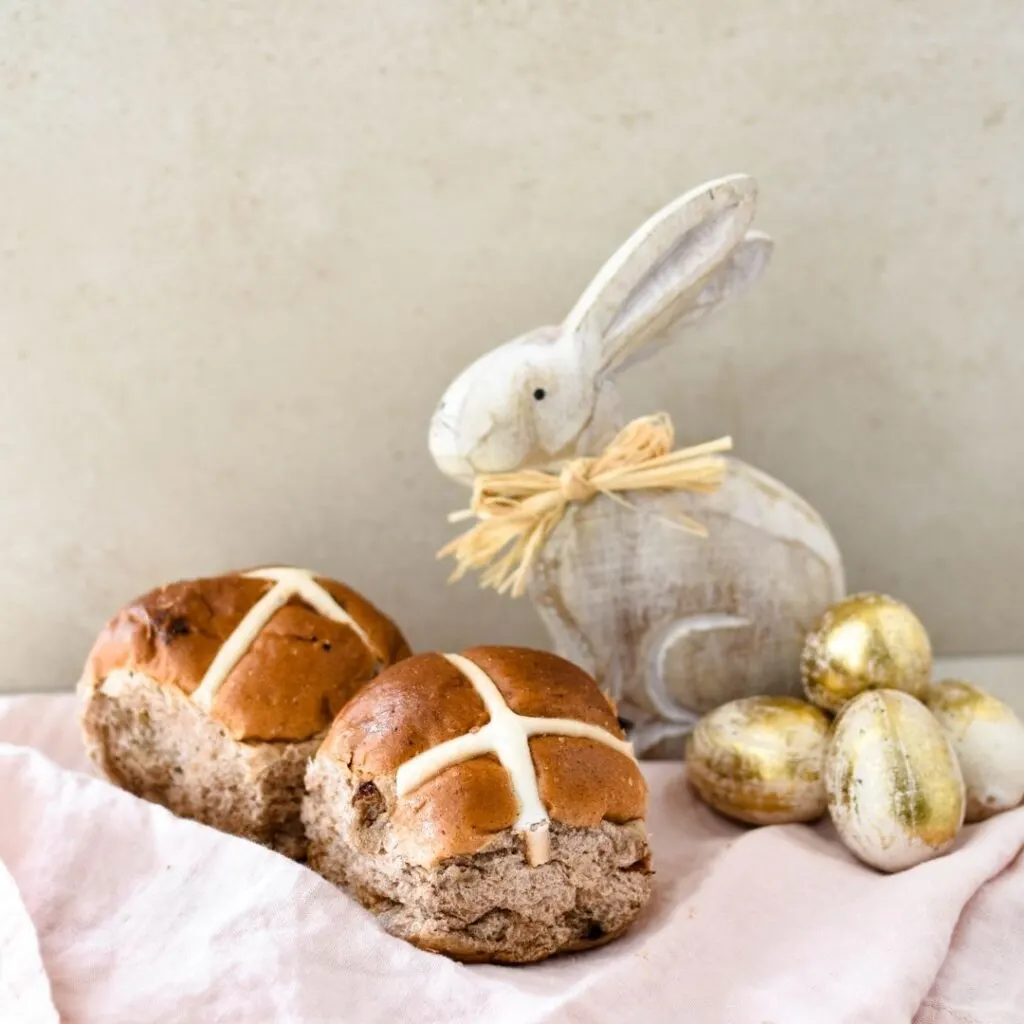 By the late 16th century, Queen Elizabeth I considered the buns so holy that they were only allowed to be sold on Good Friday, at Christmas and at burials. Outside this time, those caught baking hot cross buns would have to give all of the buns to the poor.
I wonder how the big supermarkets would react to that idea being re-introduced?
Even in the 1950s, hot cross buns retained their magic. In the picture below, a baker has made the front page of the Brisbane Telegraph two days before Good Friday in 1954 as he gets "ready for the big demand."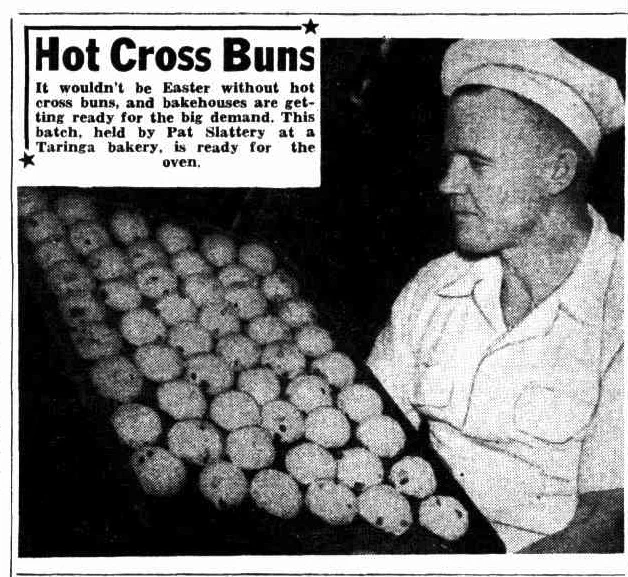 Bringing the magic back: Hot Cross Bun Pudding
So, enough history. Let's talk about today's Hot Cross Buns.
As we've already covered, they're plentiful and available from at least Boxing Day in many countries. In some places, they're available year round.
They're so lovely toasted with plenty of butter, but here I've made them a little extra special with my Nan Mac's Bread and Butter Pudding recipe. Instead of bread, I've just substituted four traditional hot cross buns.
Simply cut the buns into three pieces, with a top, middle and bottom. You then butter the pieces and arrange in a greased baking dish.
The remaining ingredients include:
milk powder
sugar
vanilla extract
boiling water
eggs.
Mix the remaining ingredients together and pour over your hot cross buns.
It's then a case of placing the baking dish in a larger dish filled with 1-2cm of water and baking for half an hour.
Enjoy your pudding straight from the oven, or re-heated, with a little ice-cream. Magic!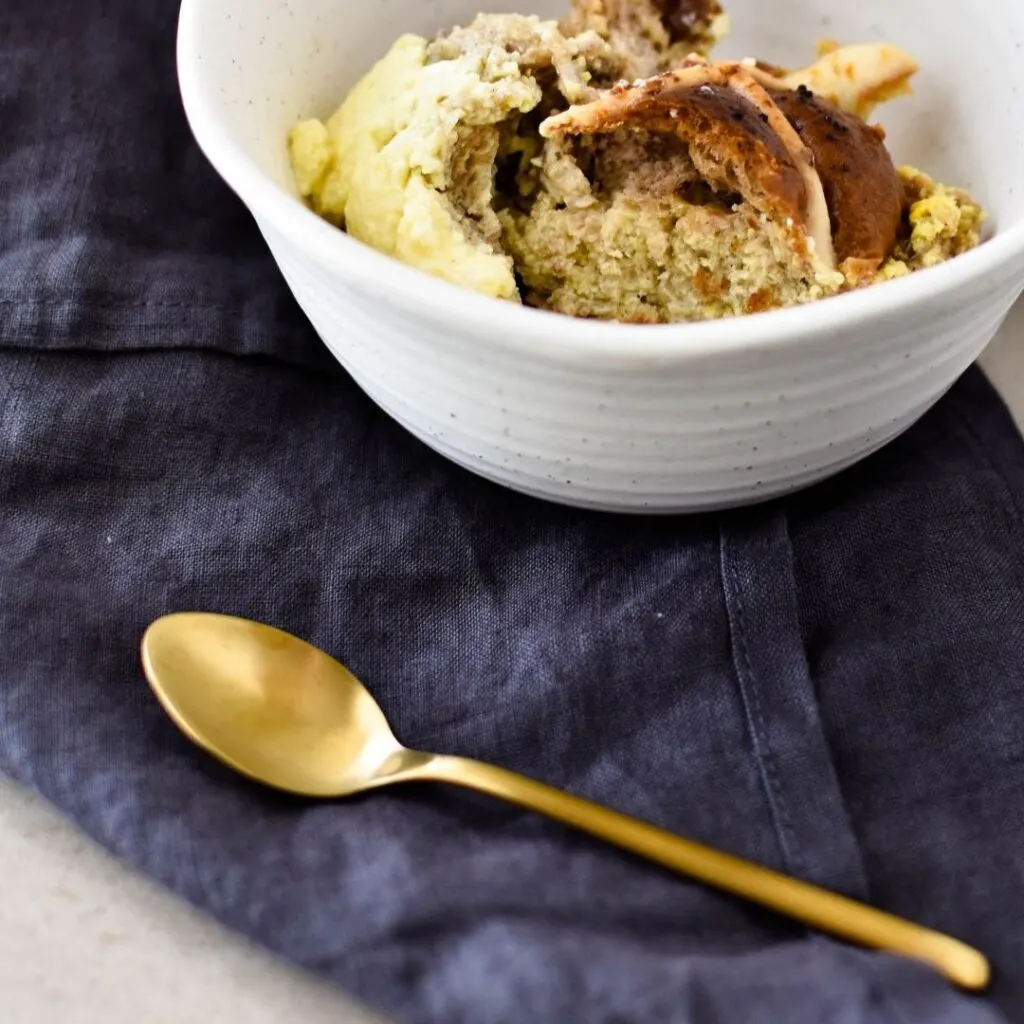 Nan Mac's Bread and Butter Pudding Recipe
This recipe was written out by hand by my Dad, David, with Nan Mac dictating the recipe. Keep scrolling for the tested and tweaked version.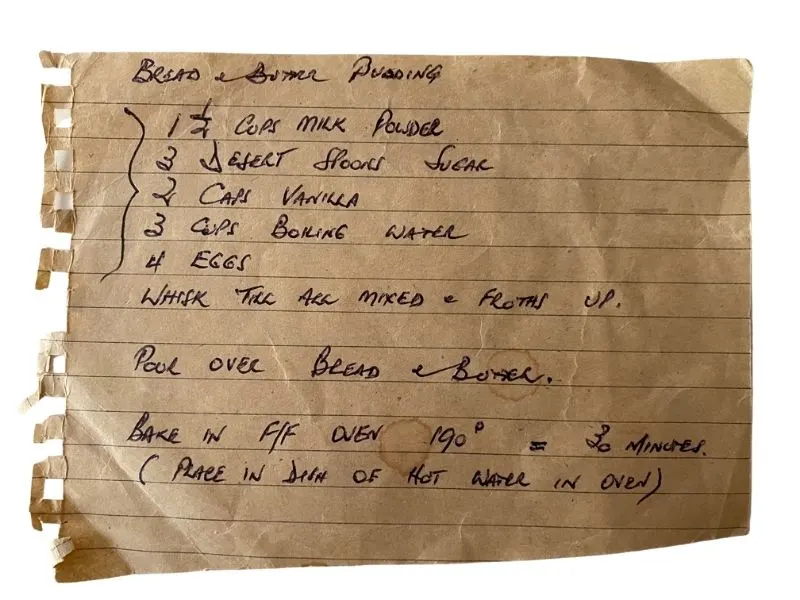 Hot Cross Bun Pudding
An Easter version of Bread and Butter Pudding
Print
Pin
Rate
Ingredients
4

hot cross buns

(approx 290 grams)

60

grams

butter

1 1/2

cup

milk powder

1 1/2

tablespoons

sugar

1

teaspoon

vanilla extract

3

cups

boiling water

4

eggs
Instructions
Pre-heat oven to 190 degrees celsius.

Grease a medium-sized baking dish (approx 28 x 23 cm).

Slice hot cross bun into three pieces (top, middle, bottom) and spread each piece with butter. Layer pieces in the baking dish, using the tops as the top layer.

Combine remaining ingredients and whisk until frothy.

Pour mixture over hot cross buns.

Place baking dish into a larger baking dish filled with 1-2cm of water.

Place into oven and cook for 30 minutes.

Once cooked, remove from oven and serve warm with ice cream.
Nutrition
Calories:
216
kcal
|
Carbohydrates:
12
g
|
Protein:
9
g
|
Fat:
15
g
|
Saturated Fat:
9
g
|
Trans Fat:
1
g
|
Cholesterol:
121
mg
|
Sodium:
182
mg
|
Potassium:
352
mg
|
Sugar:
12
g
|
Vitamin A:
530
IU
|
Vitamin C:
2
mg
|
Calcium:
236
mg
|
Iron:
1
mg