Why would you want to make butter at home when you can buy it at the supermarket?
Good question.
I decided to have a go at making my own butter because:
I was simply curious about how it was done "back in the day".
I was keen to compare the taste with what's on the shelf.
I wanted to put my new KitchenAid mixer through its paces.
Now that I've made my own butter, I'll give you three more reasons why you might like to make your own butter:
It's fun.
It's fairly simple.
It TASTES phenomenal.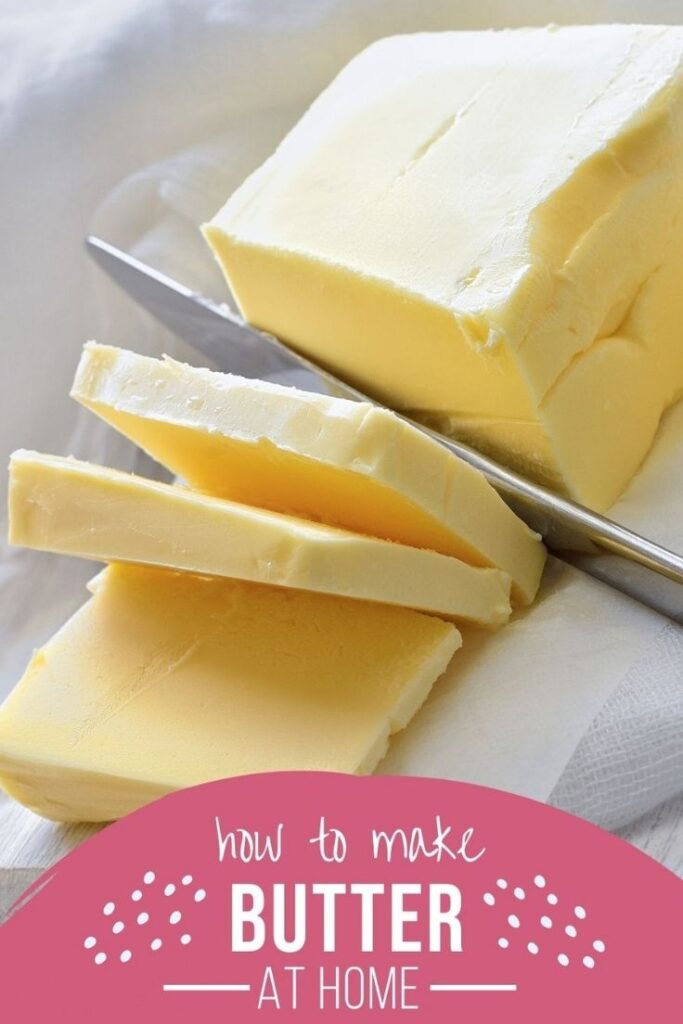 Ready to get started?
Here's what you'll need:
500ml thickened cream
Stand mixer (preferably with a cover, but you can also use a tea towel)
spatula
2 cups cold water (I placed ice in the water and removed the ice before using the water)
couple of pinches of salt (if you prefer salted butter).
Nice-to-haves
These things aren't necessary for butter making, but if you start making your own butter regularly (like I plan to) they may come in very handy:
Butter paddles
Butter storage
Seven easy steps
Step 1
Pour the 500ml of thickened cream into your stand mixer bowl. Use the whisk attachment.
Step 2
Whip that cream! Keep going if it looks like this – it's not ready yet.
Step 3
Whip it good! After about 3-5 minutes you'll notice the butter separating and leaving behind buttermilk.
Step 4
Drain out the buttermilk (and keep it – see some ideas below for using it in other cooking).
Step 5
Flush out the rest of the buttermilk by adding iced water (2 cups, adding about 1/2 cup at a time) and continuing to whip the butter. Remove the liquid (but don't retain) after adding each time. This bit is the most messy – I used a tea towel as well as the KitchenAid cover.
Step 6
Keep going until the liquid is mostly clear. Don't overbeat or you'll end up with whipped butter.
Step 7
Squeeze the remaining liquid from the butter using your spatula.
At this stage, you can now add a pinch or two of salt and mix in (if you'd like salted butter).
Voila! Butter!
Place your homemade butter in the fridge.
Butter making in Nana Ling's time
Of course, back in Nana Ling's day people often made butter for reasons other than curiosity or because they wanted something lovelier than store-bought butter.
I spoke to my Aunty Kay – who grew up in "the bush" near Maitland with Nana Ling, her grandmother, close by – about her memories of butter making:
"We made butter when we had an abundance of cream or when the cow was milking well. Sometimes it was made out of necessity if we hadn't been able to get to town or there was just no money to buy butter.
An alternative was to use dripping on our bread or toast.
When the cow was milked, Nan would put the milk in a large bowl and place it in the fridge (a kerosene fridge back then). A very thick cream would form on top, sometimes an inch thick. It'd then be scooped off and we would make the butter.
We used a hand whisk or what we called an egg beater which is one of those hand beaters. Our hands would get tired so we would all take turns. Once the power was connected the butter was then made in the mixmaster.
We used the buttermilk mainly in scones as far as I remember, especially fried scones.
I remember getting my own butter pat for either my birthday or Christmas. This was a thin piece of wood in the shape of a paddle. Mine had thin ridges down it so you could put a pattern on the butter. You'd pat it into a square then put the pattern on it. I did a checker pattern."
What's left?
When you make butter, what's left is the buttermilk!
Using the above steps, you should end up with about 3/4 – 1 cup fresh buttermilk.
Here are some ideas so you don't waste that lovely leftover buttermilk:
Any butter makers out there?
Have you made butter using our guide? Do you have any other butter-making tips and tricks? I'd love to hear from you! Comment below.