Sweet, buttery and crumbly, these traditional cookies are made with a few simple ingredients.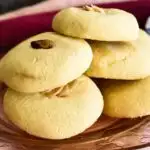 These Lebanese Butter Cookies are deliciously sweet and crumbly, with a delicate buttery flavour.
In Lebanon, Ghraybes are often made for special occasions, such as weddings, Eid and Christmas. Perfect with tea and coffee, they're also a popular gift throughout the year.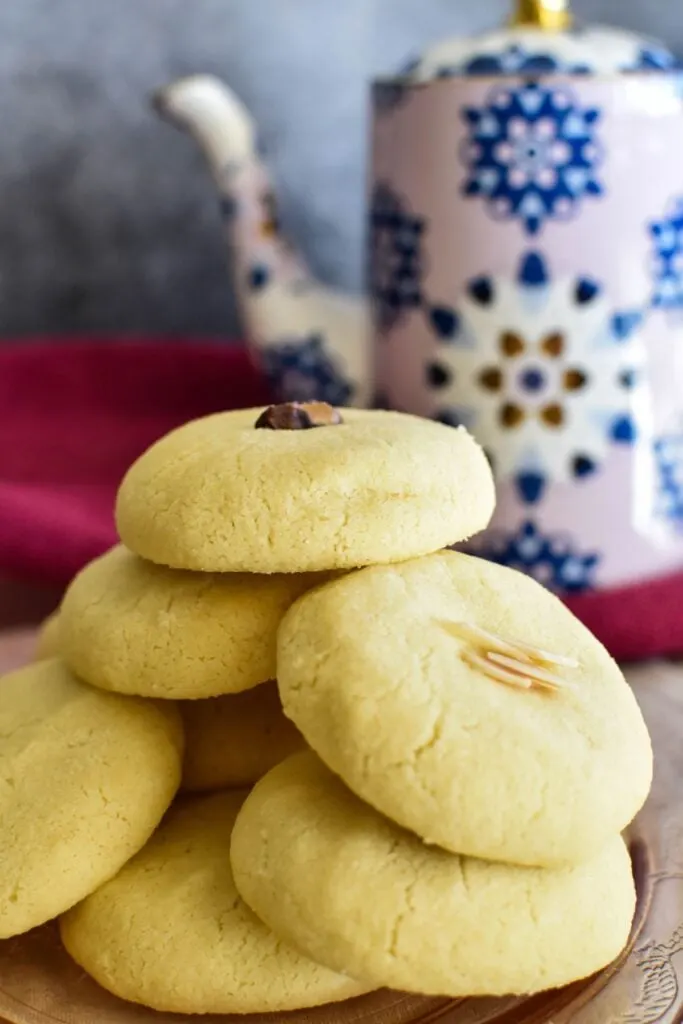 The Recipe for Lebanese Butter Cookies
Ghraybes are believed to have originated in Lebanon or the surrounding region many centuries ago.
The basic recipe has been passed down through generations and has evolved over time, and this version is the one my Lebanese Australian mother-in-law, Faye, taught me.
It's a recipe that holds a very special place in my heart and the hearts of my family members. Faye would make these often – like nearly every week – and we all loved them.
Now that she's gone, these delicious little biscuits are filled with more than sweetness. They're packed with beautiful memories of a vibrant, warm, fun and loving lady.
I spent a lot of time in the kitchen with Faye, and she loved teaching me all about Lebanese food and culture.
I've already shared her Parsley Fritters recipe, and with Mother's Day coming up I started wondering why I hadn't yet shared her Lebanese Butter Biscuits recipe.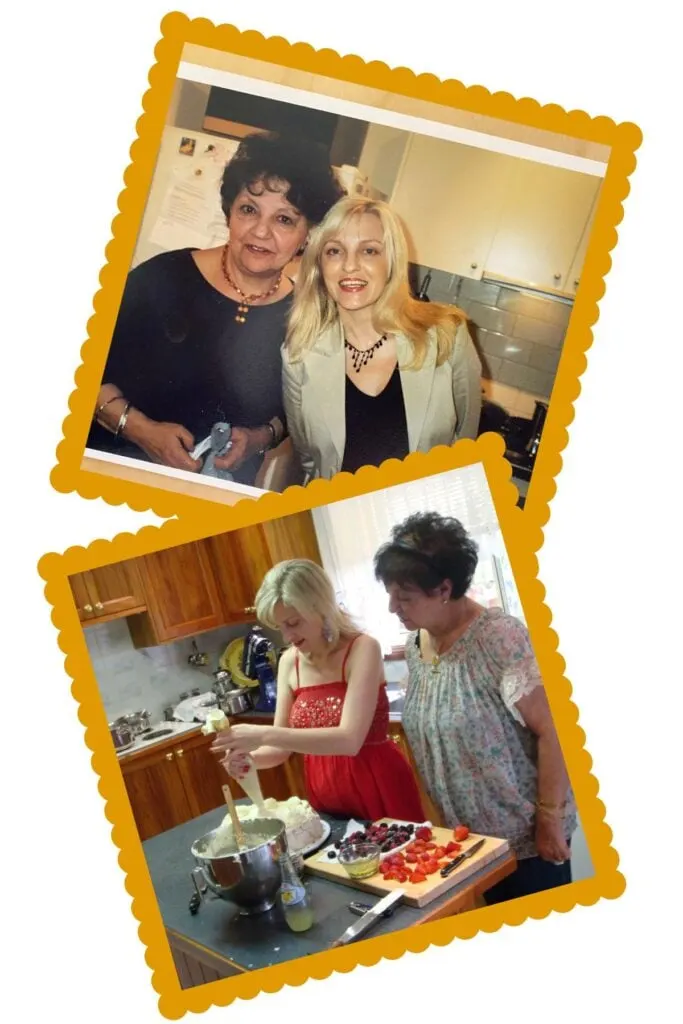 The Ingredients for Lebanese Butter Cookies
To make these cookies you'll need:
ghee (clarified butter)
icing sugar
caster sugar (superfine sugar)
plain flour (all purpose flour)
baking powder
If desired, you can also add an almond, pistachio or other nut to the top of the biscuit.
Ingredient quantities can be found in the recipe card at the end of this post.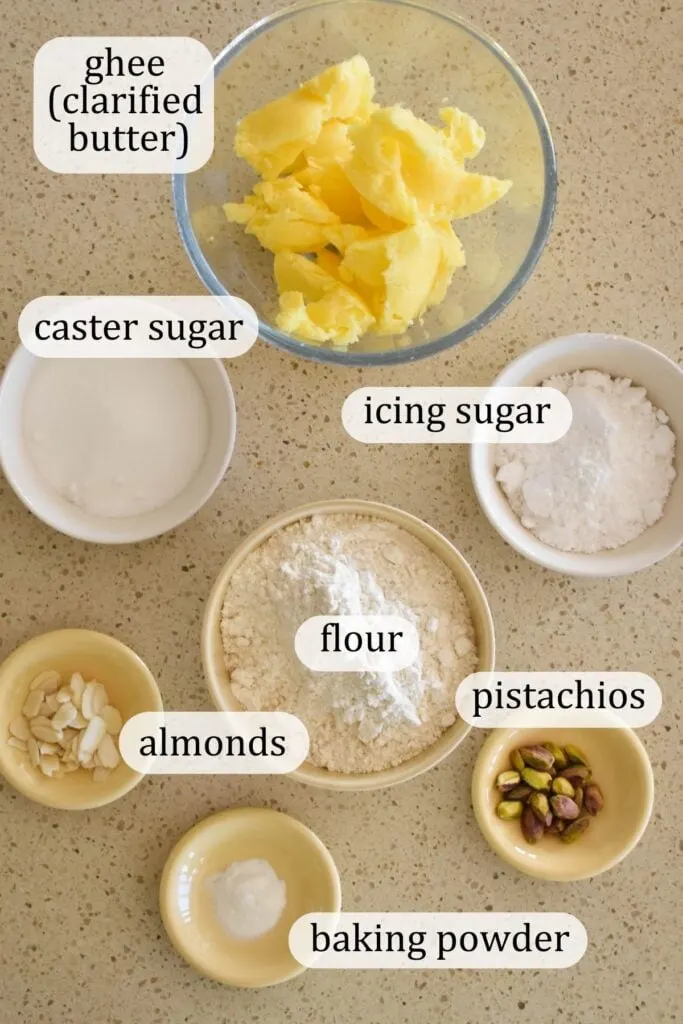 What is ghee?
Actually, the reason I haven't shared this recipe earlier is because of this ingredient – ghee, also known as clarified butter.
It used to be a little hard to find outside of Middle Eastern or Indian stores. However, now most supermarkets also stock it.
Ghee is made by simmering butter until the milk solids separate from the butterfat, which is then strained to create a clear golden liquid.
It has a nutty, rich, and slightly sweet flavour.
With a high smoke point, it is often used for frying and sautéing as well as in baked goods and desserts.
Ghee is usually sold in a tin, as pictured below, though I have also seen it in a plastic container with a screw top lid.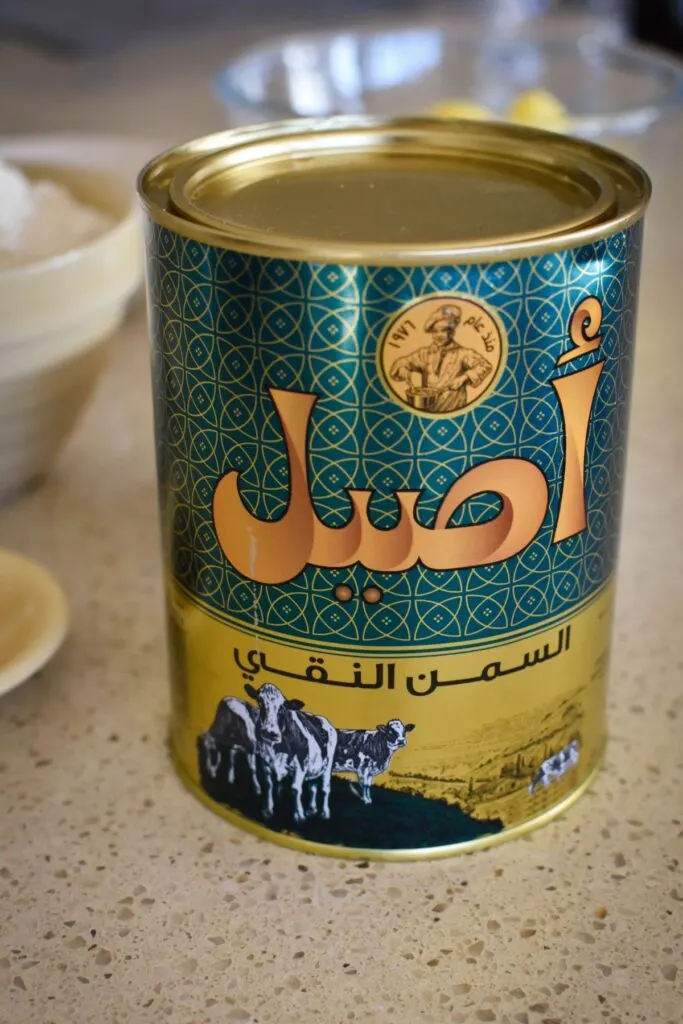 There's also the option of making your own ghee from unsalted butter.
How to make Lebanese Butter Biscuits
Prepping
Ghee is generally stored in the fridge once opened. If it's in the fridge, ideally you should take the ghee out of the fridge about an hour in advance as it will be easier to scoop out of the tin.
When you're ready to start the Lebanese Butter Cookies recipe, line two baking trays with baking paper and pre-heat the oven to 160 degrees celsius.
Mixing
Beat the ghee in a stand mixer for about 10 minutes or until it is light and fluffy.
Once you've achieved the light and fluffy stage with the ghee, you won't be using your stand mixer again. Grab your spatula instead.
Stir in icing sugar and caster sugar with a spatula – making sure you've sifted the icing sugar to remove any lumps.
Next, sift the flour and baking powder together and then stir into the mixture with a spatula until combined and dough holds together.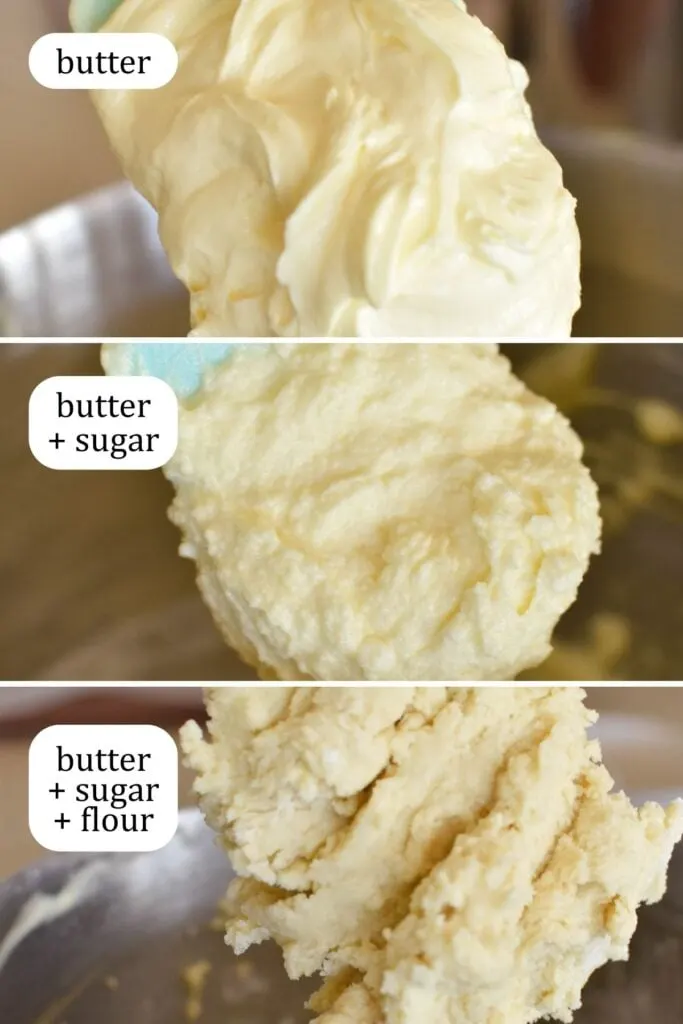 Rolling
Roll tablespoons of mixture into balls with your hands. If the mixture is too sticky, put a little flour onto your hands and try again. If it's still too sticky, add a little extra flour to the mixture.
Place the balls of mixture onto the baking tray at least 3cm apart.
Use two fingers to flatten the balls a little.
Add a nut to the top of some or all of the biscuits, if desired.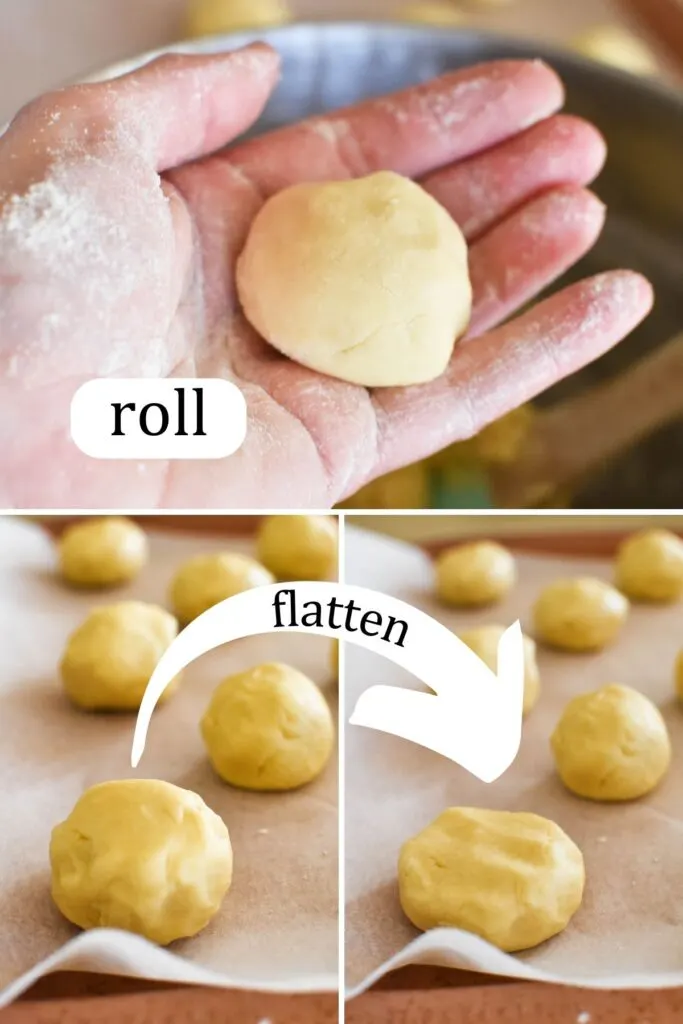 Baking
Bake for 20 minutes.
Allow to cool on trays.
Ensure the biscuits are absolutely cooled before transferring to an airtight container. If still the tiniest bit warm, they will be quite delicate and soft, and easily damaged.
Note that the cookies won't change colour much during the cooking process.
Variation ideas
My mother-in-law would substitute a sweetener such as Splenda for the sugar, to make sugar-free Lebanese Ghyrabes.
She would also sometimes add a little aniseed spice with the flour.
I personally love them just as they are, but you could also experiment with adding rosewater, cardamom, cinnamon or other flavours.
Recipe FAQs
Q. How long will Lebanese Butter Cookies keep?
They should last up to 2 weeks stored in an airtight container – but I bet they'll disappear long before that!
Q. Can I use normal butter?
No. They won't be the same. Use ghee.
Q. Why do you add baking powder when most recipes don't?
My mother-in-law made them with a little SR flour (which contains baking powder) and plain flour combined, so I of course make them that way. I actually like the texture more when the baking powder is added.
Q. Do you have any other Lebanese recipes?
The only other one I've shared is Faye's Parsley Fritters recipe.
I often cook Lebanese food and sweets and plan to share more in the future.
Q. Do you have any other cookie/biscuit recipes?
Yes! If you like this recipe, you might also like my recipes for Scottish Shortbread, Passionfruit Melting Moments, Amaretti Biscuits, Cornflake Cookies and Honey Biscuits.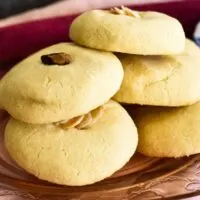 Lebanese Butter Cookies (Ghraybe)
Sweet, buttery and crumbly, these traditional cookies are made with a few simple ingredients.
Print
Pin
Rate
Ingredients
1

cup

ghee (clarified butter)

(225 grams)

1/2

cup

icing sugar, sifted

(confectioners/powdered sugar)

1/2

cup

caster sugar

(superfine sugar)

2

cups

plain flour

(all purpose flour)

1/2

teaspoon

baking powder

small

handful

flaked or blanched almonds, pistachios or other nuts
Instructions
Line baking trays with baking paper and pre-heat oven to 160 degrees celsius.

Beat ghee in a stand mixer for 10 minutes or until it is light and fluffy.

Stir in icing sugar and caster sugar with a spatula.

Sift flour and baking powder together and then stir into the mixture with a spatula until combined and dough holds together.

Roll tablespoons of mixture into balls with your hands. If the mixture is too sticky, put a little flour onto your hands and try again. If it's still too sticky, add a little extra flour to the mixture.

Place balls of mixture onto the baking tray at least 3cm apart. Use two fingers to flatten the balls a little.

Add a nut to the top of some or all of the biscuits, if desired
Nutrition
Calories:
173
kcal
|
Carbohydrates:
20
g
|
Protein:
1
g
|
Fat:
10
g
|
Saturated Fat:
6
g
|
Polyunsaturated Fat:
0.4
g
|
Monounsaturated Fat:
3
g
|
Cholesterol:
26
mg
|
Sodium:
1
mg
|
Potassium:
26
mg
|
Fiber:
0.4
g
|
Sugar:
9
g
|
Calcium:
7
mg
|
Iron:
1
mg