An old-fashioned ice cream recipe using junket.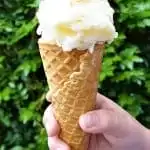 Ice cream must be the world's favourite frozen treat.
We're absolutely spoilt for choice these days, with an extensive range of flavours available in the aisles of our local supermarket.
But visiting the local supermarket isn't as much fun as making your very own homemade ice cream!
This is our old fashioned junket ice cream recipe.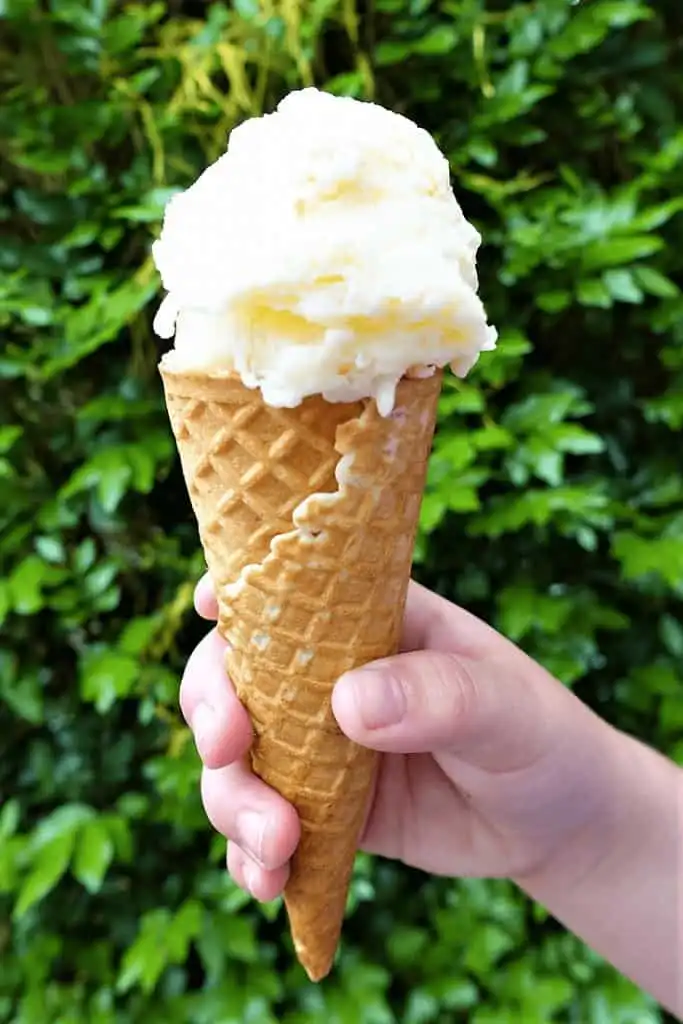 An old-fashioned junket ice cream recipe
Back in 1941 – the date of this homemade ice cream recipe – the range may not have been as wide, but I'm sure ice cream was as loved as it is today.
Perhaps more so judging by the number of recipes in Nana Ling's notebook – I counted five different recipes in her collection!
This recipe doesn't contain eggs but it does contain junket.
We attempted this recipe without an ice cream maker.
While domestic ice cream makers have indeed been around since the 1800s, I think it's a safe bet that they weren't as prevalent back in 1940.
I'm pretty sure Nana Ling didn't have one on hand in her kitchen in the 1940s.
Quality ingredients for homemade ice cream
What Nana Ling did have back in 1941 was access to quality ingredients. Nana Ling had her own cow!
So, that's where we started with this recipe for old fashioned homemade ice cream – with quality ingredients.
The Australian company Made by Cow claims to be the first company in the world to sell safe-to-drink raw milk. It's about four times the cost of regular milk but about 100 times as tasty!
After investing in this quality milk, and resisting the temptation to just drink it all down, we set to work.
The results of our old-fashioned ice cream experiment
The ice cream was lovely and the taste factor was excellent, though it was a little more "icy" than the creamy ice cream we're used to.
Perhaps we need to refine our technique (this blog post here gives some great tips on avoiding the dreaded ice crystals)?
Perhaps we should have followed the traditional method of placing the mixture in an ice bucket and stirring continuously for at least half an hour?
Perhaps we should just invest in a domestic ice cream maker for next time?
Perhaps making ice cream without an ice cream maker is darn hard and that's why Nana Ling has five recipes in her collection?
Who knows?
But if you'd like to give our recipe a go, scroll down for Nana Ling's recipe and then the converted and tested recipe.
I'd love to hear about your experience making homemade ice cream (and any tips or tricks) in the comments.
And if you'd like more sweet summer recipes, check out our Frozen Chocolate Bananas, Baked Peaches, Mango Pudding and Pavlova Grazing Board.
Nana Ling's Homemade Ice Cream recipe (using junket)
Keep scrolling for the tested and tweaked version.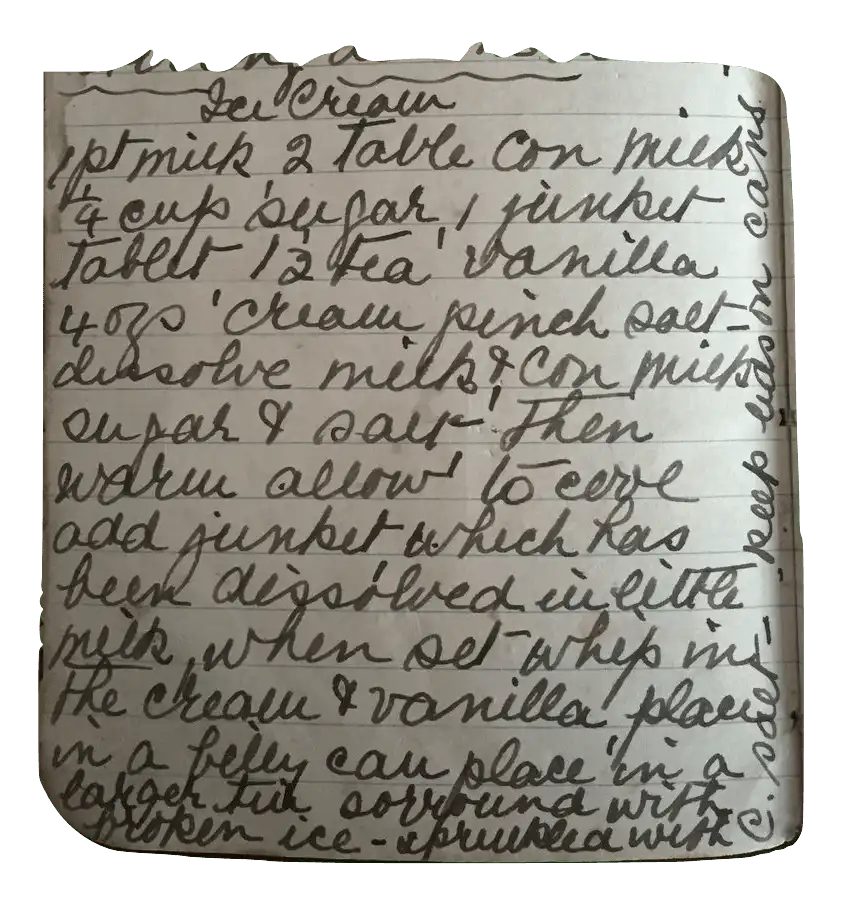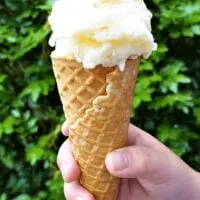 Homemade Ice Cream
An old-fashioned ice cream recipe using junket.
Print
Pin
Rate
Ingredients
570

ml

milk

2

tablespoons

condensed milk

1/4

cup

sugar

pinch

salt

1

junket tablet

1

tablespoon

milk

(for junket tablet)

115

ml

thickened cream

1 1/2

teaspoons

vanilla essence
Instructions
Combine and dissolve milk, condensed milk, sugar and salt.

Warm mixture without boiling and then allow to cool to lukewarm temperature.

Dissolve junket tablet in tablespoon of milk. This may take a few minutes.

Add junket to mixture and allow to set. This may take up to half an hour.

When set, whip in cream and vanilla essence.

Cover and place in freezer. From time to time, take out of freezer and quickly stir well before placing back into freezer (to help prevent ice cream becoming too icy).

Alternatively, place container in a larger container filled with ice and sprinkled with salt. Stir continuously for 30 minutes and then cover and place in the freezer.
Nutrition
Calories:
109
kcal
|
Carbohydrates:
10
g
|
Protein:
2
g
|
Fat:
7
g
|
Saturated Fat:
4
g
|
Cholesterol:
23
mg
|
Sodium:
35
mg
|
Potassium:
99
mg
|
Sugar:
10
g
|
Vitamin A:
272
IU
|
Vitamin C:
1
mg
|
Calcium:
85
mg