A simple and wonderful old-fashioned baked peaches recipe.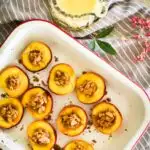 Peach season is a great time of the year, and this old-fashioned Baked Peaches recipe will make you love peach season more than ever.
It's hard to imagine during winter, but there comes a time when summer fruits are so abundant that you start thinking about ways to enjoy them other than just in their natural packaging.
This Baked Peaches recipe is super easy and a great way to enjoy peaches during the festive season.
How lucky are we in Australia that Christmas coincides with peach season?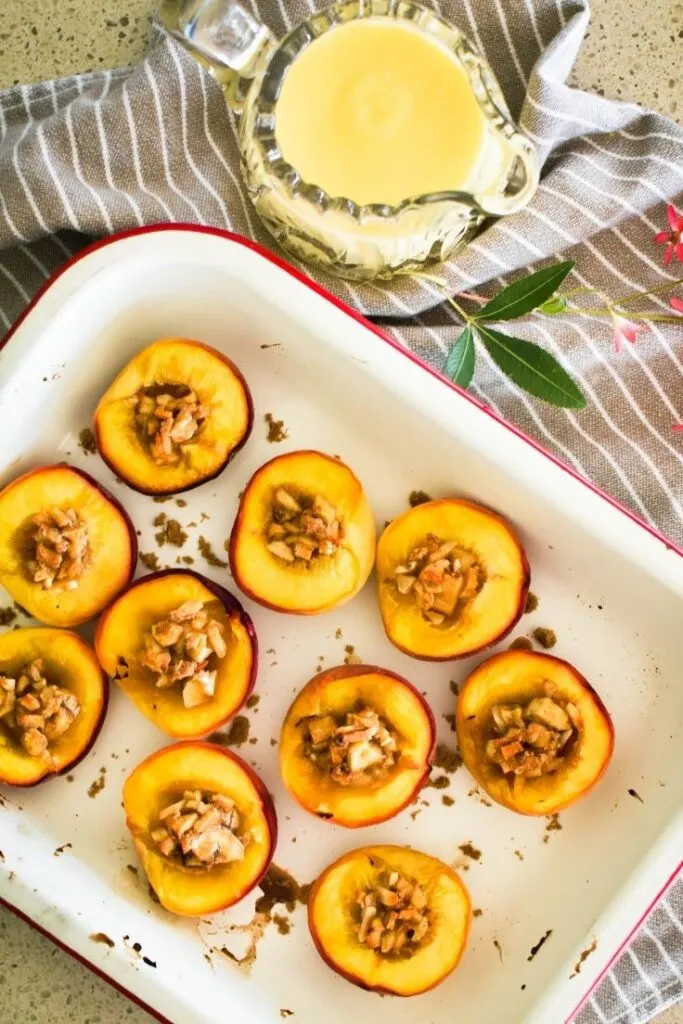 Which peaches work best for Baked Peaches?
Peaches can be clingstone, freestone or somewhere in between.
Clingstone peaches have seeds that cling to the flesh of the fruit whereas freestone peaches have seeds that easily come away from the flesh.
This recipe requires the peaches to be cut in half and the seed removed, so using a freestone variety will make this task easier.
However, supermarket varieties are often clingstone as these fruits are easier to eat.
You can use clingstone peaches here, and I used them when testing this recipe. It's just a little more fiddly to halve the peaches and remove the seeds. But still completely do-able.
I've included tips on halving and de-seeding peaches below.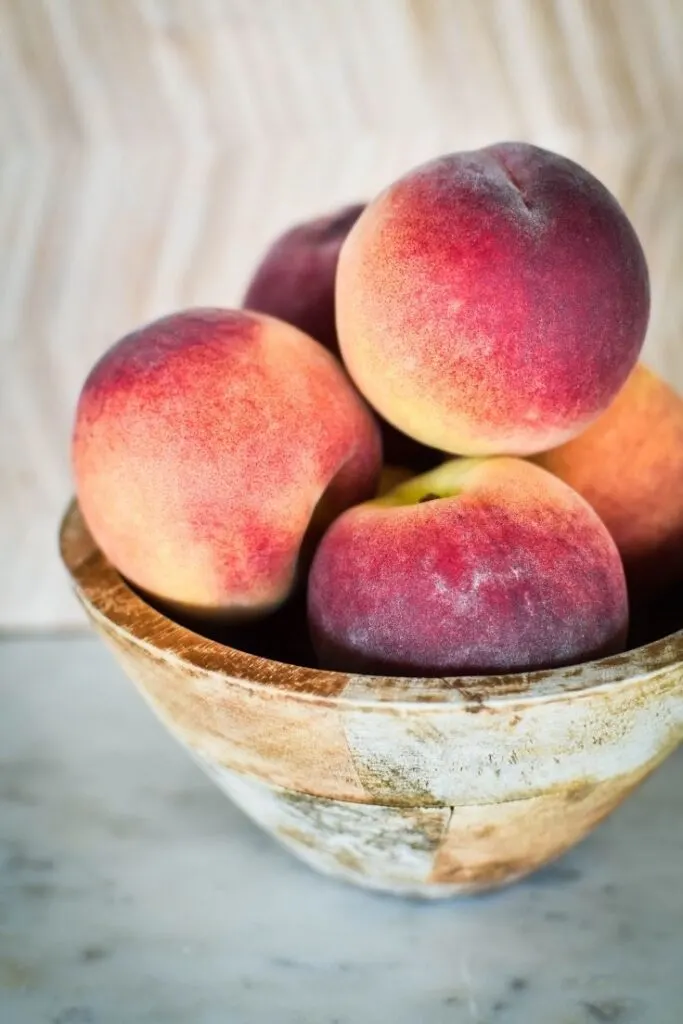 The recipe from 1943: Baked Peaches
This recipe is based on one recorded by Nana Ling in January 1943.
She would have been knee-deep in peach season back then and living on many acres in Buttai, near Maitland.
Mum often tells me about the sprawling orchard they had out there, and the wonderful stone fruits. I can practically see the trees laden with fruit and taste the peaches when she talks about it.
One of Nana Ling's sons wrote a memoir and talks about how there was no fruit fly back then to upset the season, too.
Ahh, the good ol' days!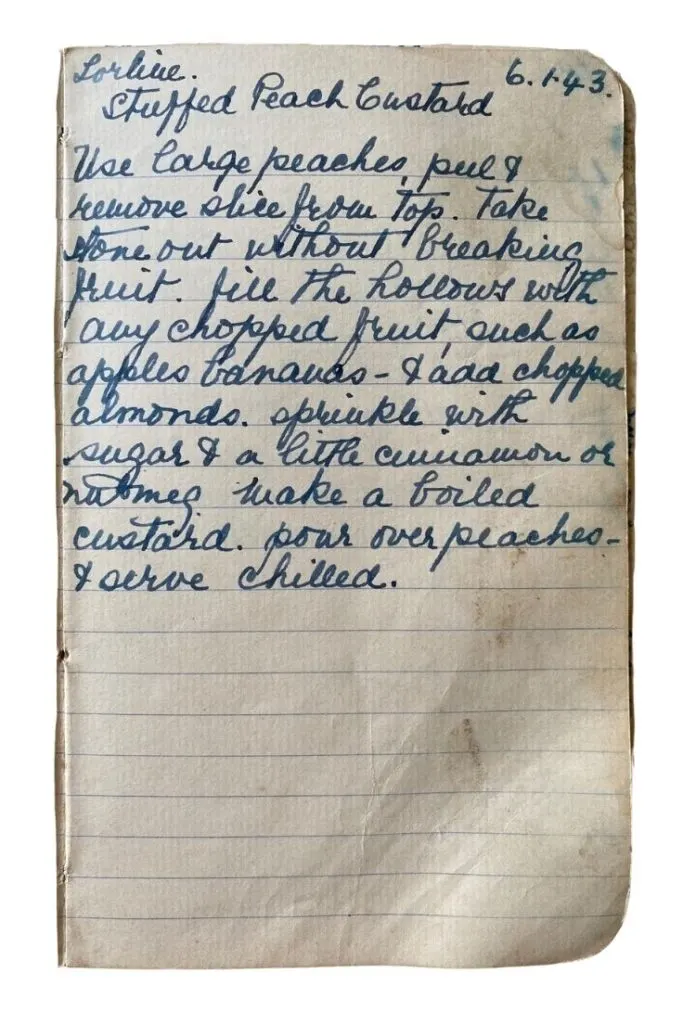 The ingredients for Baked Peaches
This recipes uses half a kilo of fresh, ripe peaches. Any variety will do.
You'll also need:
banana
apple
blanched almonds
brown sugar
cinnamon
nutmeg.
Making Baked Peaches
Wash and dry peaches before splitting in half and removing the seed.
Use a sharp knife to cut in half and then twist each half in opposite directions to pull apart into halves.
If you're using a clingstone peach, this process may be a little more difficult.
If the halves aren't separating, run the knife around the split again and, using your fingers, gently pry the halves apart moving around the entire length of the split. Then attempt to twist the halves apart again.
To remove the seed from a clingstone peach, use a teaspoon to gently dig it out.
You then chop the apple and banana, mix in the almonds, spices and half the sugar, and spoon the mixture into the hollows left by the seeds.
Finally, sprinkle the peaches with the remaining sugar and place into a moderate oven for 40 minutes.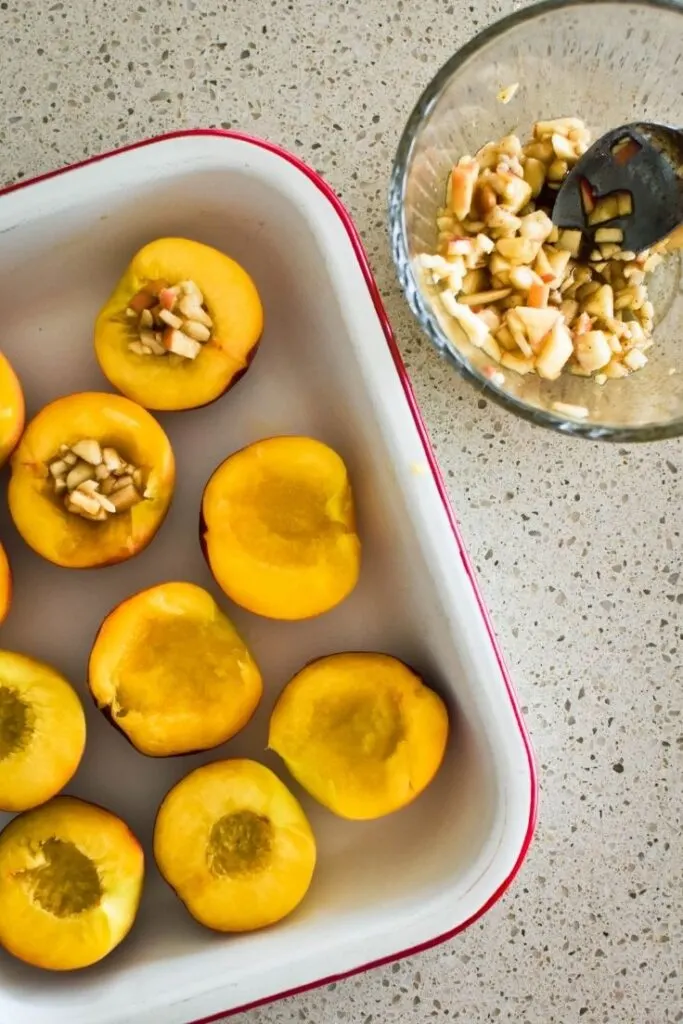 Enjoying your Baked Peaches
You can enjoy this beautiful summer dessert warm or cold.
It's absolutely wonderful served with brandy custard. Serving the peaches like this makes a perfect dessert for Christmas.
However, you can also enjoy the peaches with store-bought custard, ice cream or yoghurt.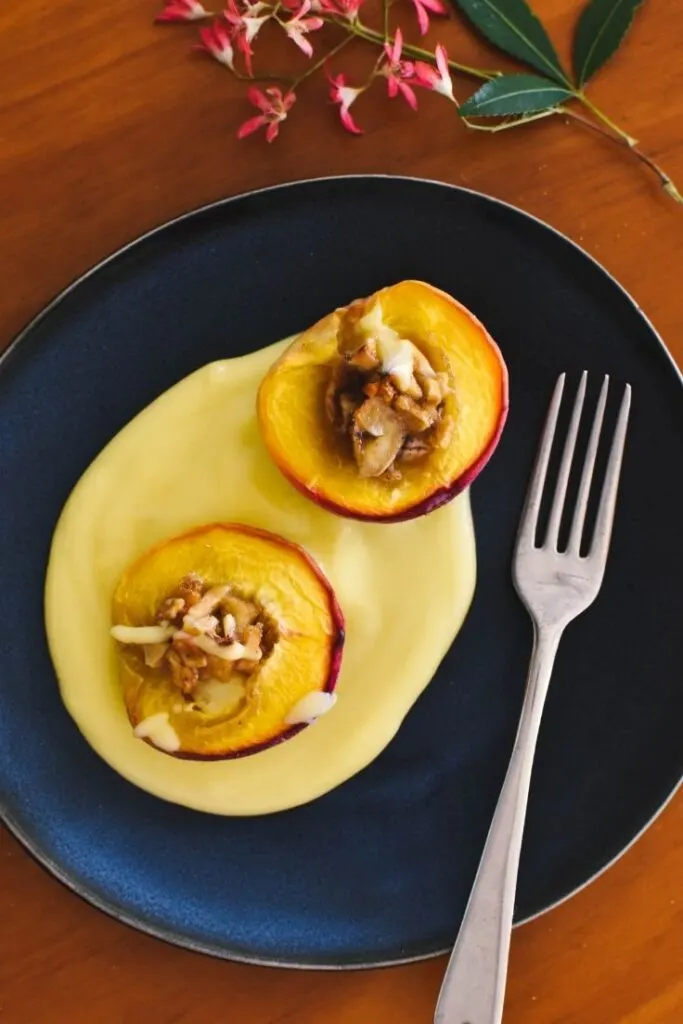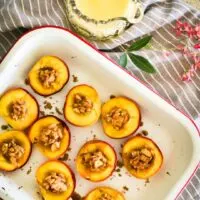 Baked Peaches
A simple and wonderful old-fashioned baked peaches recipe.
Print
Pin
Rate
Ingredients
500

grams

fresh peaches

1/2

banana

1/4

apple

1

tablespoon

chopped blanched almonds

2

tablespoons

brown sugar

pinch

cinnamon

pinch

nutmeg
Instructions
Pre-heat oven to moderate (180 degrees celsius, fan-forced).

Leave skin on peaches and cut in half using a small, sharp knife. Twist each half in opposite directions to break into halves. Remove the stone.

Place peaches, flat side up, on a baking tray.

Chop banana and apple into small pieces and place in a bowl. Add almonds, nutmeg, cinnamon and half of the brown sugar and stir to combine.

Spoon the mixture into the area where the peach seed has been removed.

Sprinkle peaches with remaining sugar.

Place in oven and cook for 40 minutes.

Serve warm or cold with custard, ice cream or yoghurt.
Notes
You'll need half a kilo of fresh peaches for this recipe. It's easier to use freestone peaches, but you can use clingstone too.
The post contains tips on halving the peaches if you're using clingstone fruits.
This recipe is perfect paired with Brandy Custard.
Nutrition
Calories:
105
kcal
|
Carbohydrates:
23
g
|
Protein:
2
g
|
Fat:
2
g
|
Saturated Fat:
1
g
|
Polyunsaturated Fat:
1
g
|
Monounsaturated Fat:
1
g
|
Sodium:
2
mg
|
Potassium:
327
mg
|
Fiber:
3
g
|
Sugar:
19
g
|
Vitamin A:
423
IU
|
Vitamin C:
10
mg
|
Calcium:
20
mg
|
Iron:
1
mg