An easy recipe for Orange and Poppy Seed muffins that'll taste even better than your local cafe's.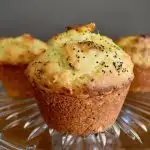 Do you love your local cafe's Orange and Poppy Seed muffins? This recipe will help you re-create your favourite treat at home.
It's so simple to bake up a batch of your own and, dare I say, the results so good that you may decide to skip the cafe for good.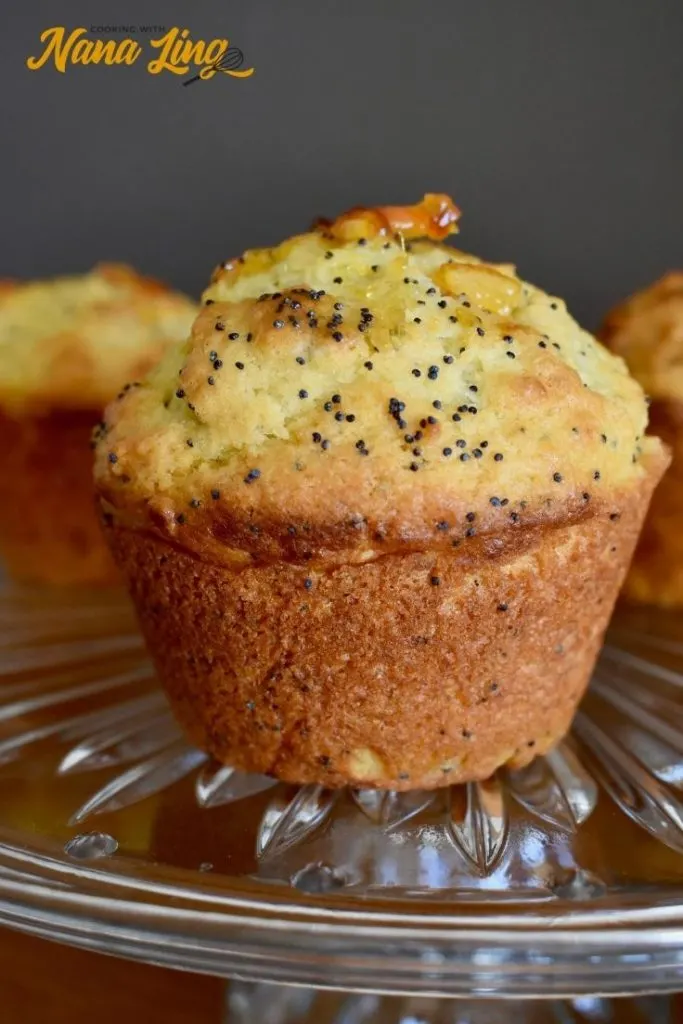 Orange and Poppy Seed Muffins: love at first bite
I forget exactly when I discovered the Orange and Poppy Seed Muffin, but whenever it was, it was surely love at first bite.
The warm, fluffy, zesty inside. The crisp, sweet, orange-y, exterior. The ever-so-subtle nutty flavour of the poppy seeds – not to mention the big health benefits that attach to these little seeds.
Out of all the wonderful muffin flavours out there, this one is surely a top contender for "best ever" muffin.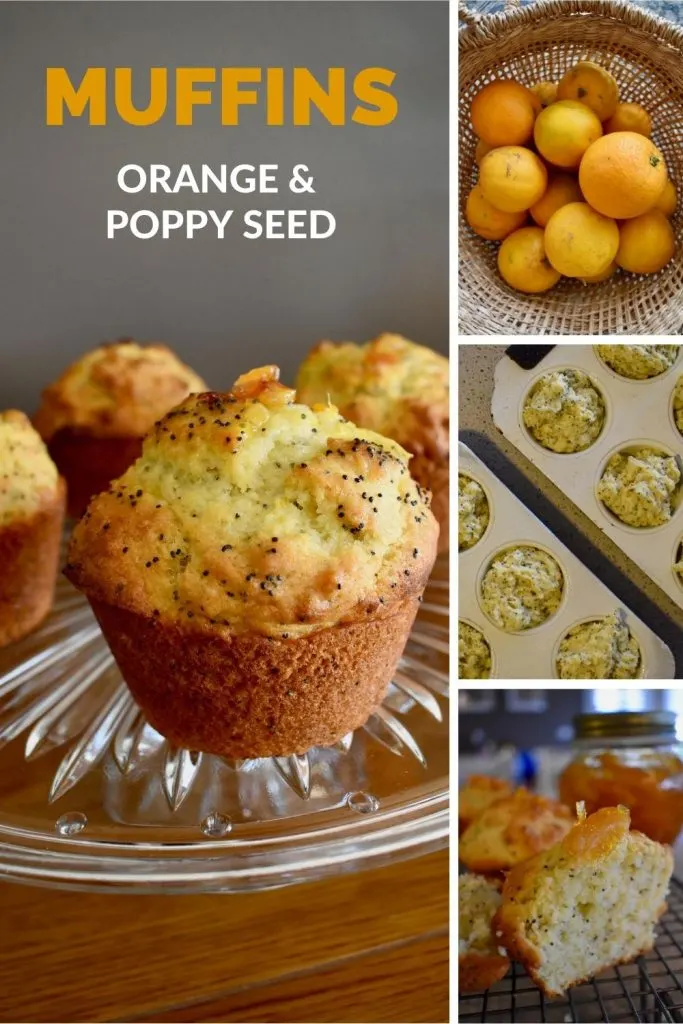 Finding the best cafe-style muffin recipe
So as a big fan of these cafe-style muffins, I set out to find the best muffin recipe out there.
First, of course, I went to Nana Ling's collection. With little success, I'm afraid.
Sorry, Nana Ling, but your muffin recipes just don't cut it in today's world.
I've tried several of her muffin recipes, including one she'd sent in to her local paper, but the result are often too dry or too dense.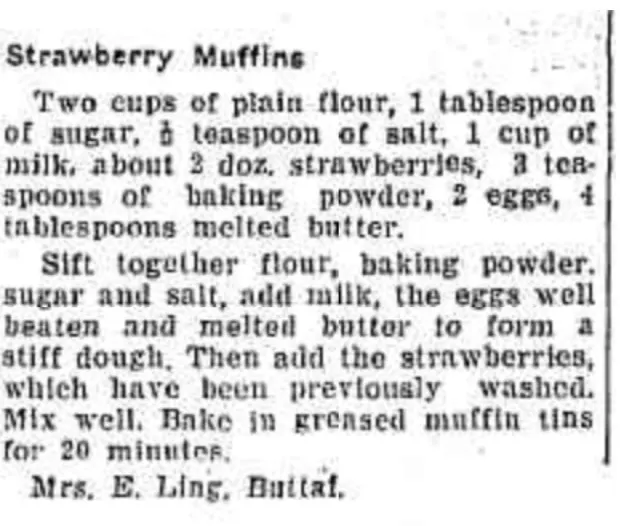 This one sent in to Nana Ling's local paper was not a winner at all. But at least I now know what I'd bake for her if I could time travel. I'd take along a warm batch of my Orange and Poppy Seed muffins to share!
Over the years, I've tried quite a few modern muffin recipes from cookbooks and the web. I've found some nice recipes, but never quite nailed it.
So, I turned to Google and researched my way around what makes a perfect muffin to come up with my own recipe. It's based on this research, the many recipes I've tried over the years and my extensive experience in sampling this product in cafes!
Some of the "secrets" to great muffins that I've incorporated in this recipe, include:
adding yoghurt along with the usual milk, for added moisture
using both oil and butter, oil to get the outer crispiness and butter for flavour
using fresh orange juice and zest, for that real orange flavour
avoiding any over-mixing, to avoid gluten formation which can negatively affect the texture of your muffins
baking at a higher temperature before lowering the temperature, to get a nice rise and crispy muffin top.
I'm so pleased with the results and, best of all, this recipe is so, so simple.
Let's make muffins
Before you get to sit down with a cuppa and sink your teeth into a freshly baked muffin, there are a few steps to get through.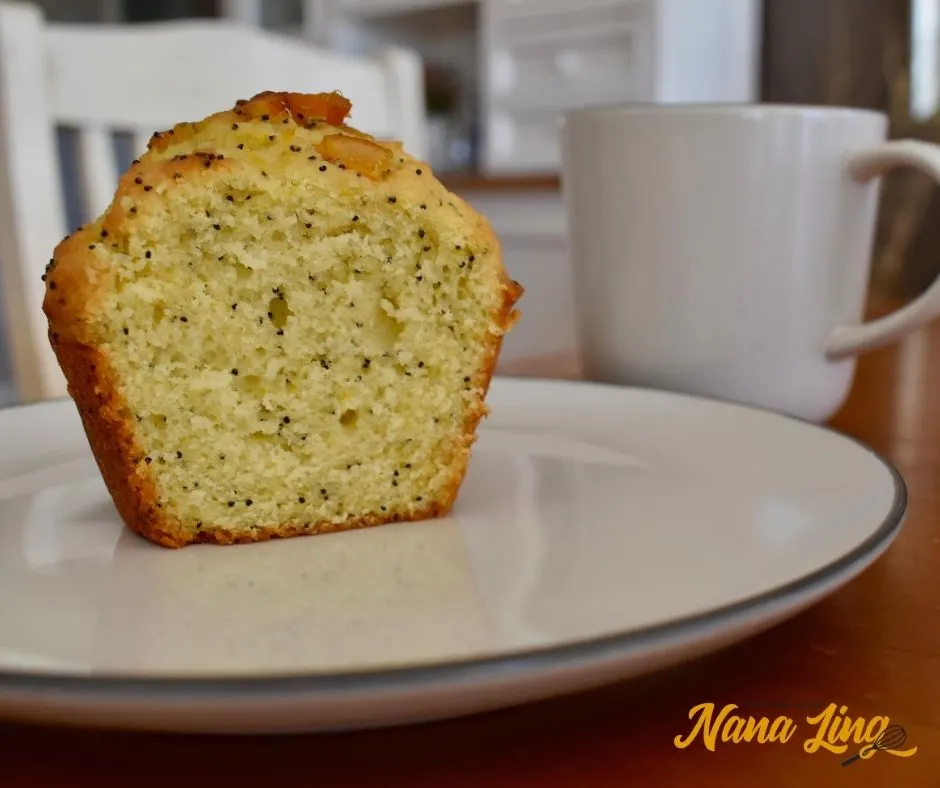 But not too many, I promise.
First, you'll need to make sure you have the right tins. You can use a cupcake size tin, to make 12 muffins, or a larger muffin tin (usually measuring about 35 x 26cm/9 x 4cm) to make 6 larger muffins. There are cooking times for both in the recipe below.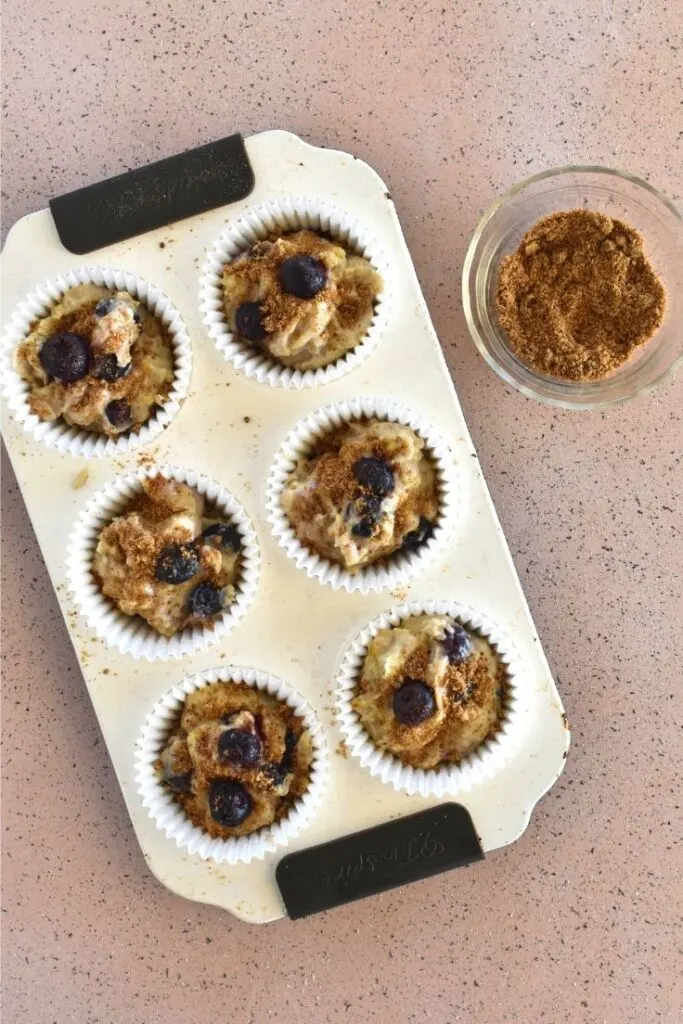 Then make sure you have everything on the ingredient list:
SR flour (I've been told by a reader that this recipe also works well with gluten free SR flour) (and SR flour is simply 1 cup plain/all purpose flour + 1 teaspoon of baking powder)
caster sugar
poppy seeds
milk
greek or natural yoghurt
vegetable oil
butter
eggs
an orange
marmalade.
Next, you simply need to add the dry ingredients to the mixing bowl, and then all the wet ingredients (apart from the marmalade). Mix just enough to combine and then spoon mixture into greased muffin tins. You can also sprinkle a few extra poppy seeds on the muffins at this point.
During the baking process, you need to remember to do just two things. First, this recipe requires you to lower the temperature of the oven after 5 minutes. Set a timer so you don't forget!
Second, get the marmalade ready for glazing the muffins as soon as they are taken out of the oven. You may need to warm the marmalade slightly so it will spread and cut any larger chunks of rind.
Once you've glazed the muffins, allow to cool a little before gently easing the muffins from the tin. They should slide out easily.
The next part is easy, too. Put the kettle on because it's time to sample your homemade muffins.
Orange and Poppy Seed Muffin FAQs
Q. How long will the muffins stay fresh?
A. The muffins are best eaten within a few days. Store them in a container that breathes a little or a paper bag.
Q. Can I freeze the muffins?
A. You sure can. Wrap or place in a freezer bag and store for up to three months. When you'd like a muffin, simply allow to thaw to room temperature or thaw and heat in a microwave, oven or air fryer.
Q. Can the poppy seeds make me high? Are they safe to eat?
A. Poppy seeds sometimes contain trace amounts of opiates, since they come from the seedpod of the opium poppy. During harvesting the seeds can absorb the opium extract (which is used to make morphine, codeine, heroin and the like).
Since it's a trace quantity at most, and you are eating such a small quantity, you won't experience any opioid effects – however it can be enough to produce a false positive to a drug test so keep that in mind.
Q. Do you have any other muffin recipes?
Yes! I also have recipes for Savoury Muffins, Lemon Muffins, Raspberry and White Chocolate Muffins, Blueberry Muffins, Chocolate Zucchini Muffins, and Banana Choc Chip Muffins.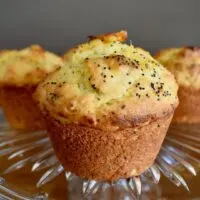 Orange and Poppy Seed Muffins
An easy recipe for Orange and Poppy Seed muffins that'll taste even better than your local cafe's.
Print
Pin
Rate
Servings:
6
large muffins
Ingredients
2 1/2

cups

SR flour

(or 2 1/2 cups plain/all purpose flour + 2 1/2 teaspoons baking powder)

3/4

cup

caster sugar

1

tablespoon

poppy seeds

(plus an optional extra teaspoon for decorating)

1/4

cup

milk

1/2

cup

greek or natural yoghurt

(unsweetened)

1/4

cup

vegetable oil

75

grams

butter

(melted)

2

eggs

(beaten)

1/4

cup

fresh orange juice

(from approximately one orange)

2

teaspoons

fresh orange zest

(from approximately one orange)

1/4

cup

marmalade

(for glazing)
Instructions
Pre-heat oven to 220 degrees celsius (fan-forced).

Sift flour into large mixing bowl. Add sugar and poppy seeds and stir to combine.

Add remaining ingredients, apart from the marmalade, and stir gently to combine. Don't over-stir.

Prepare muffin tin by greasing well or spraying with oil. If you have the large cafe-style muffin tin, this mixture makes 6 muffins. If you have a cupcake-size tin, it makes 12 muffins.

Spoon mixture into tins. If desired, sprinkle a small amount of poppy seeds on each muffin, with the optional extra poppy seeds, and place into oven.

Cook for 5 minutes before turning oven temperature down to 190 degrees celsius (fan-forced). If you're using a smaller cupcake tin, bake for a further 10-12 minutes (or until a metal skewer inserted into a muffin comes out clean). If using a cafe-style larger muffin tin, bake for a further 18 minutes (or until a metal skewer inserted into a muffin comes out clean).

Remove from oven and use a brush to glaze the muffins with marmalade. You may need to heat your marmalade a little in the microwave first to make it runny and also use kitchen scissors to chop any larger pieces of rind, depending on the style of marmalade.

Allow to cool for a few minutes before easing each muffin from the tin and placing on a cooling rack.
Nutrition
Calories:
504
kcal
|
Carbohydrates:
68
g
|
Protein:
10
g
|
Fat:
22
g
|
Saturated Fat:
15
g
|
Cholesterol:
83
mg
|
Sodium:
122
mg
|
Potassium:
144
mg
|
Fiber:
2
g
|
Sugar:
27
g
|
Vitamin A:
429
IU
|
Vitamin C:
6
mg
|
Calcium:
70
mg
|
Iron:
3
mg