Super simple and delicious Homemade Orange Marmalade recipe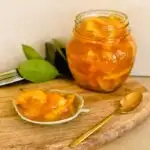 Looking for a simple yet wonderful homemade Orange Marmalade Recipe? You've found it!
Orange Marmalade is the perfect spread for toast, croissants and other breakfast favourites. This recipe includes plenty of rind to highlight that bitter and sweet balance that makes marmalade so wonderful.
Best of all, this recipe is suitable for home cooks who have absolutely zero jam-making experience. And you'll have your two medium jars of marmalade in under an hour!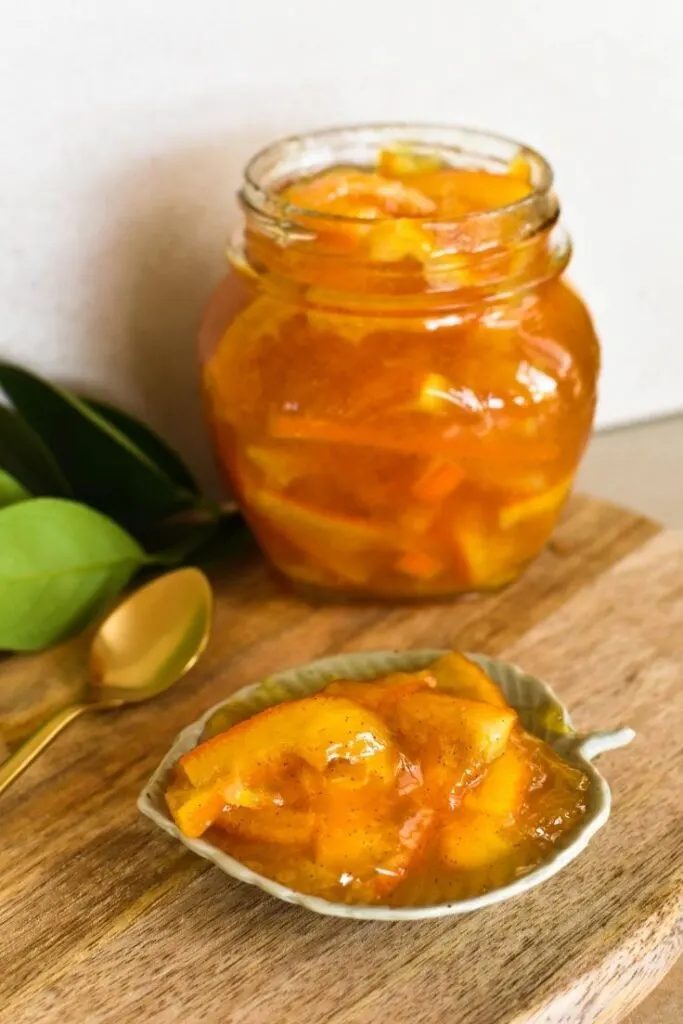 Making Orange Marmalade (the easy way!)
Making jams and marmalades can be tricky, and I've ended in a hot and sticky mess several times following the "traditional" methods.
While I love "traditional" I also love "easy", and I love having more time to do other things. Because there is always so much to do!
And who wants to spend hours making jam only to end up with toffee? Not me.
So I've cut all the corners here to make this recipe as simple as possible while still achieving that unbeatable homemade taste.
You'll end up with about 700-800 mls of marmalade which will fill about two medium jars.
The ingredient list
To make this marmalade you'll need one 500 gram packet of jam setting sugar, vanilla bean paste (or vanilla extract) and two large oranges.
You'll also add water to these ingredients.
Which oranges make the best marmalade jam?
The answer to this question really depends on your own preferences.
If you prefer your marmalade more sweet than bitter, use a sweet orange variety such as Navel, Valencia or a blood orange.
For those who love a more bitter marmalade, choose Seville oranges.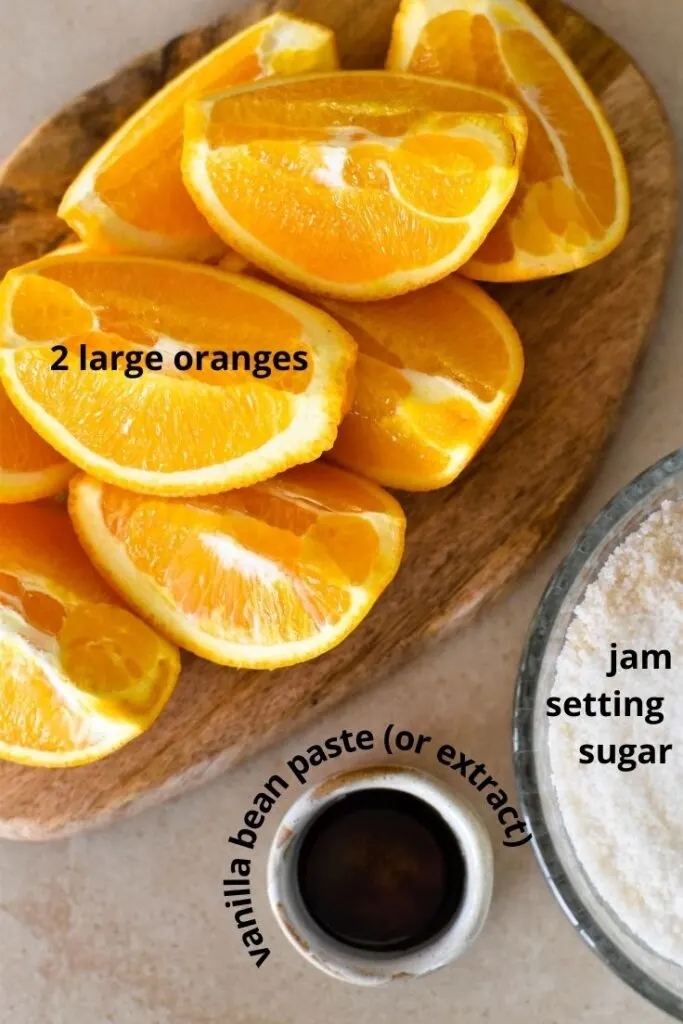 Orange Marmalade: the method
As I've mentioned, I've attempted to make this recipe a real breeze with guaranteed results.
Some of the simple steps include:
using the dishwasher to sterilise the jars (if you have one, of course – otherwise boil and allow to air dry)
using jam-setting sugar (available at most supermarkets)
cutting the oranges into quarters, removing the middle pith and ends (along with any stray seeds) and then simply slicing finely.
The trickiest part is knowing when the marmalade reaches setting point. It should be around the 20 to 30 minute mark after you add the sugar. You'll see it change from watery to a more glossy, thick consistency.
Be sure to carefully observe the consistency as it cooks, as the best way of getting to know when it's ready is knowing what it should look like.
If you take the marmalade off the heat a little early and it doesn't set properly, remember that you can simply put it back in the saucepan and cook a little longer.
The result: citrus bliss!
By following this recipe you should end up with two medium jars of wonderfully chunky Orange Marmalade.
Every time I enjoy some chunky Orange Marmalade, I think of Melbourne.
I wasn't really a fan of marmalade until I tried homemade-style marmalade at a bakery in Melbourne about 15 or so years ago.
Before the kids came along, my husband and I loved to visit Melbourne for the weekend. Who doesn't love Melbourne, with its laneways, brilliant coffee, eclectic shopping options and overall vibe.
And the food!
I may not get to venture as frequently or far these days with the kids in tow, but this homemade Orange Marmalade takes me on an adventure every time I sit down to enjoy it.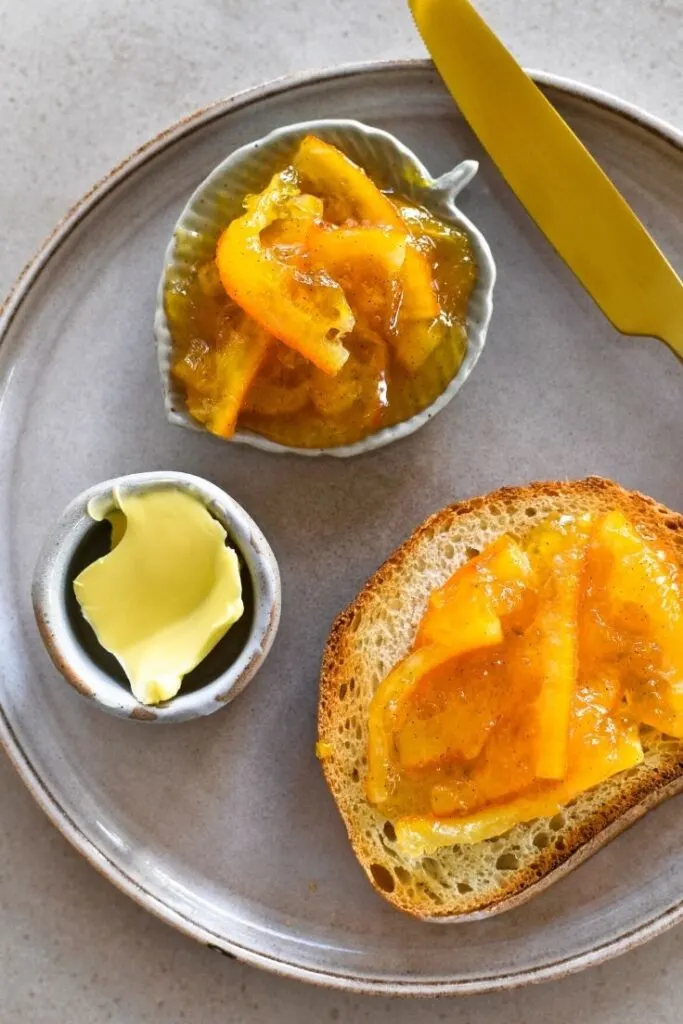 Enjoying and storing your marmalade
Your marmalade should last a few months in the pantry until opened, or even longer if stored in the fridge.
It's a great spread for toast, crumpets, croissants and more.
It's also an ingredient in Orange Marmalade Cookies and Orange and Poppy Seed Muffins.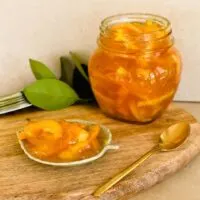 Orange Marmalade
Super simple and delicious Homemade Orange Marmalade recipe
Print
Pin
Rate
Ingredients
500

grams

thinly sliced orange

(2 large oranges)

1

teaspoon

vanilla bean paste or extract

2 1/2

cups

jam setting sugar

(500 grams)

2

cups

water
Instructions
Sterilise two medium jars (you can use the dishwasher and then allow to air dry if it's still a little wet.)

Wash and dry oranges. You'll need about 2 large or 3 medium oranges.

Chop oranges into quarters and then slice off and discard the middle pith and very ends of the orange quarter. Remove any visible seeds, too.

Thinly slice the quarters until you have 500 grams and then place into a saucepan.

Bring to the boil. Simmer for 10 minutes, stirring every now and then.

Take off heat, add sugar and stir before returning to heat.

Bring to the boil again and then adjust so the mixture is simmering at a medium pace, not furiously and not gently.

Allow to simmer for about 20-30 minutes, stirring occasionally. You'll know the jam is ready when it loses its watery appearance and starts to look shiny and "grab" the bottom of the saucepan a little as you stir.

Pour into the jars and seal with a lid.

Store marmalade in fridge.
Nutrition
Calories:
1095
kcal
|
Carbohydrates:
281
g
|
Protein:
2
g
|
Fat:
1
g
|
Saturated Fat:
1
g
|
Sodium:
14
mg
|
Potassium:
453
mg
|
Fiber:
6
g
|
Sugar:
274
g
|
Vitamin A:
563
IU
|
Vitamin C:
133
mg
|
Calcium:
107
mg
|
Iron:
1
mg