The sweetest treat around: Scottish Tablet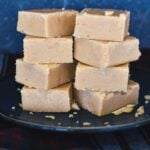 The sweetest treat around has to be Scottish Tablet.
If you love a little sugar hit or have a connection to Scotland, you may have already come across this wonderful creation that's not quite fudge and not quite candy.
If you haven't, immediately collect the ingredients and whip up a batch today.
You really have to experience this melt-in-your-mouth sweet indulgence yourself to know why people from Scotland to Australia and beyond fall in love with it.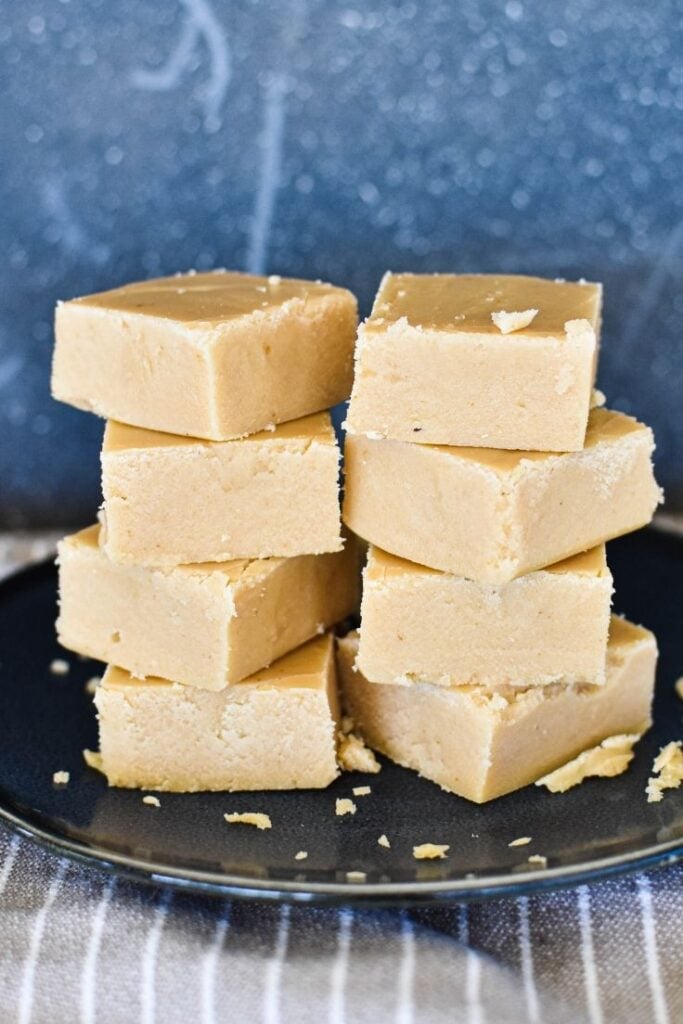 Tablet: a Scottish tradition
Scottish Tablet can be traced back to the 1700s, and was reportedly made with sugar and cream in the early days.
Fast forward a few hundred years, and it's now generally made with sugar, condensed milk, milk and butter.
I've made it with these ingredients before, however I recently discovered a slightly different recipe in a community cookbook form my local area in the Hunter Valley, Australia.
This recipe uses golden syrup instead of butter. And I found it to be a little easier to get that hard-to-describe texture that Scottish Tablet is famous for.
It may not sound overly appetising, but it's a slightly powdery texture that melts in your mouth when you gobble it down. It's not grainy or sugary at all (unless you haven't dissolved the sugar properly – more on that later) but it's not as creamy as fudge.
The original recipe: Scottish Tablet from Kurri Kurri
The recipe on which I've based my Scottish Tablet recipe is from a community cookbook celebrating Kurri Kurri's 75th anniversary.
Kurri Kurri is a small town in the coalfields area of the Hunter Valley in NSW, Australia.
Much of my family have lived in or around the Kurri Kurri area for many generations.
And at least two of my ancestors that settled here were originally from Scotland. On my Mum's side we go back to the McDonalds, with a shepherd of the Scottish Highlands. And on Dad's side we go back to the Peacocks, with a miner from Glasgow.
In fact many people in the area can trace their ancestry back to Scotland, with Kurri Kurri having a greater percentage of people with Scottish ancestry than the rest of NSW (7.8% compared to 5.9%).
So I guess it was no surprise to find a recipe for "Scots Vanilla Tablet" in this recipe book from Kurri Kurri.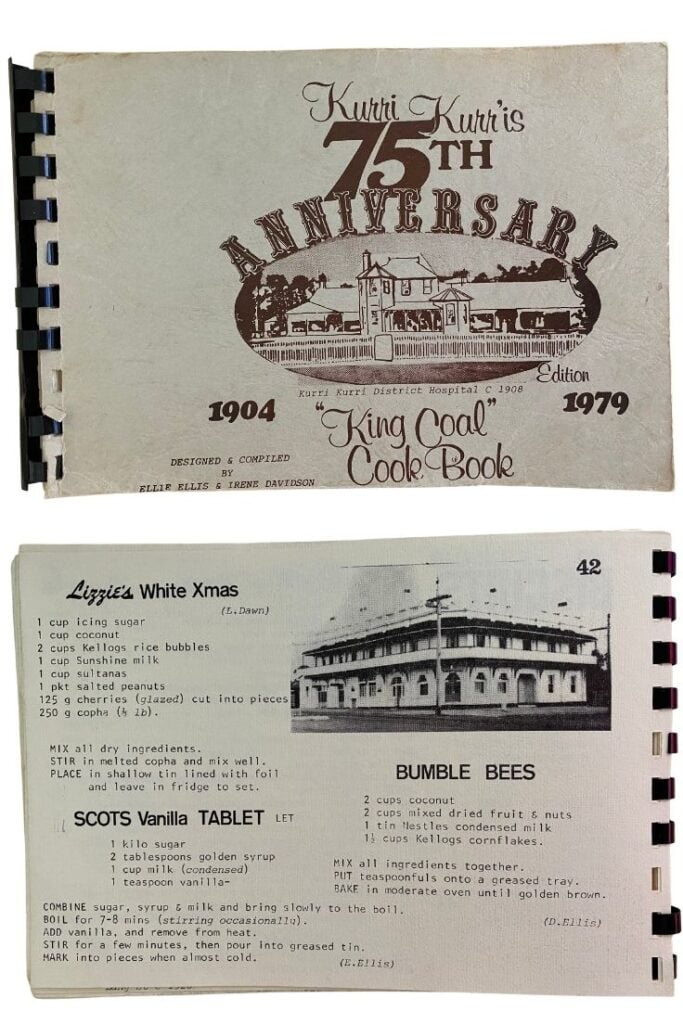 Note: If you're going to make this recipe, scroll to the end for the recipe card. This original recipe above does contain an omission (there's no milk listed, only the condensed milk and let me tell you it definitely will be a disastrous exercise without the milk). I've corrected this typo by adding in the milk and included more precise instructions in the recipe card at the bottom of this post. Please, please keep scrolling and read this post and the recipe card before attempting the recipe.
The ingredients
You'll need a whole kilo of sugar for this recipe.
Yes, you read that correctly.
Use caster sugar as dissolving the sugar before you boil the mixture is a must to get the right texture. If you use larger sugar granules this process may not go as smoothly.
You'll also need:
condensed milk
full cream milk
golden syrup
vanilla extract.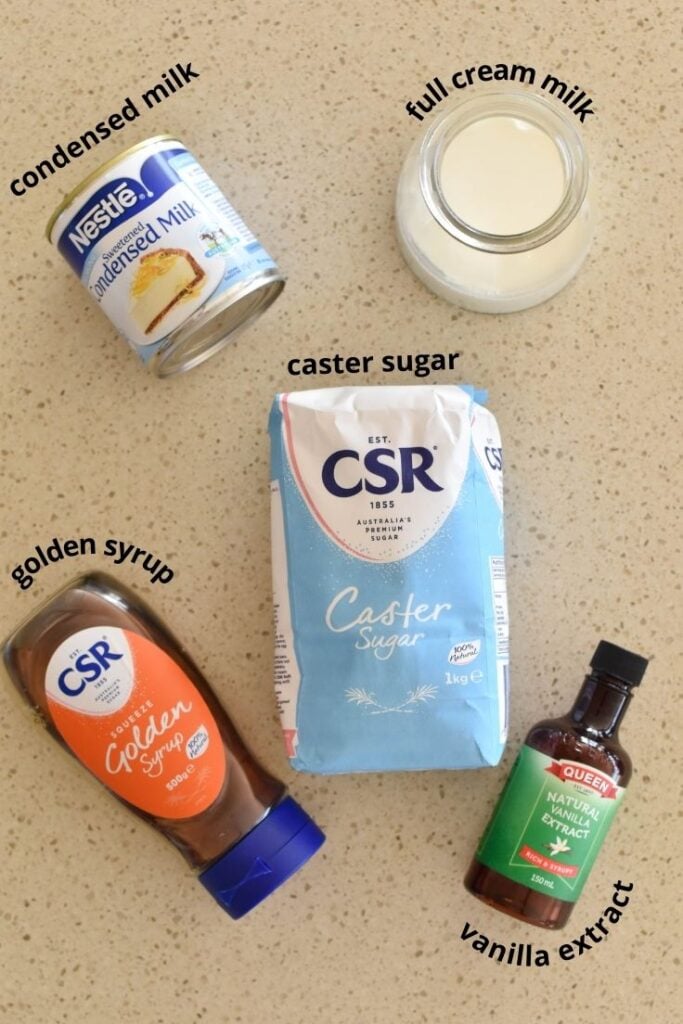 The method, it's all in the method
This is one of those recipes where success or failure lies with the method.
It's not a difficult recipe, but you do need to read through the instructions carefully before launching into it.
The recipe starts with adding all of the ingredients, apart from the vanilla extract, into a large saucepan.
Use a saucepan that's larger than you think you'll need as the mixture froths up a lot and expands during the cooking process.
Okay, so now you stir these ingredients over a very low heat to combine them and dissolve the sugar.
Keep stirring until the sugar is dissolved.
Go slowly, you don't want to burn the sugar. Turn the heat up a little if necessary to completely dissolve the sugar, and then slowly bring the mixture to the boil. I emphasise the word "slowly" here.
Once it's boiling, you'll need to continue boiling for about 10-15 minutes. Continue stirring from time to time.
If you have a sugar thermometer, the temperature of the mixture should reach 120 degrees celsius when it's ready to take off the heat.
Other ways to gauge whether it's ready is to note the colour (it'll change to a more golden colour quite quickly when it's near to ready) or by dropping a teaspoon of the mixture into cold, iced water (after about 5-10 seconds it should feel like a soft ball).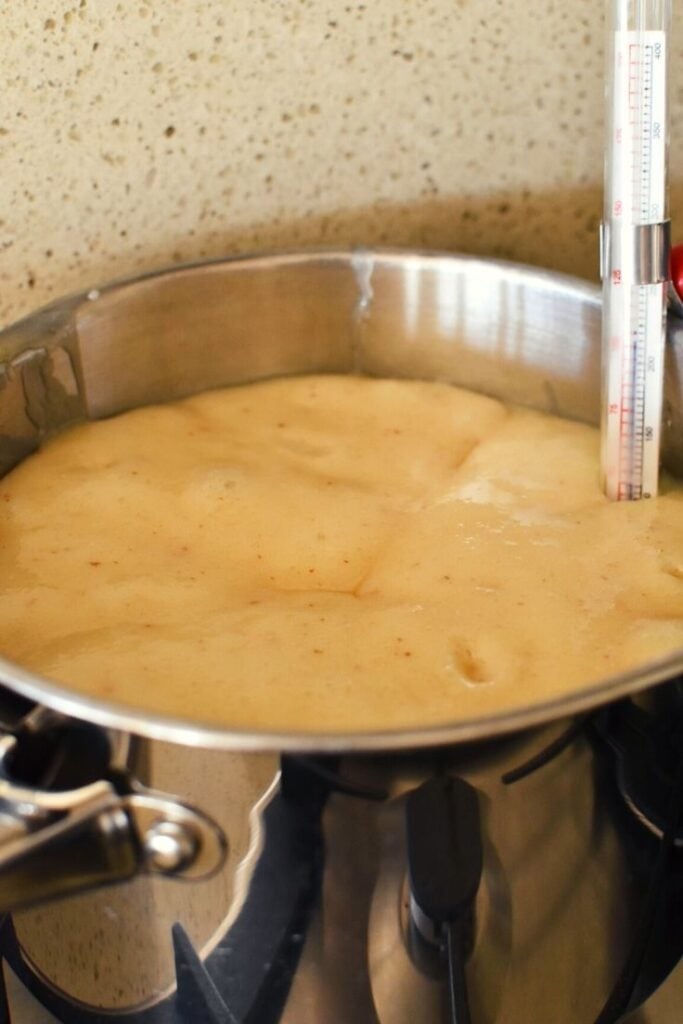 Once you take the mixture off the heat, stir through the vanilla extract.
Now, the fun part.
And by fun, I mean beating the mixture for 10-15 minutes.
That's right. If you want to taste the wonders of Scottish Tablet, you need to earn it.
You need to stir the mixture with a wooden spoon for 10-15 minutes, until it becomes so thick that you can hardly get the spoon through it.
If you stop stirring for a little rest (and unless you're an Olympic athlete I predict you'll need a few little breaks) and the mixture becomes smooth on top quite quickly, you need to keep going.
As you're getting closer, the mixture will start to keep its shape when you stop beating and start to "set" on the upper edges of the bowl.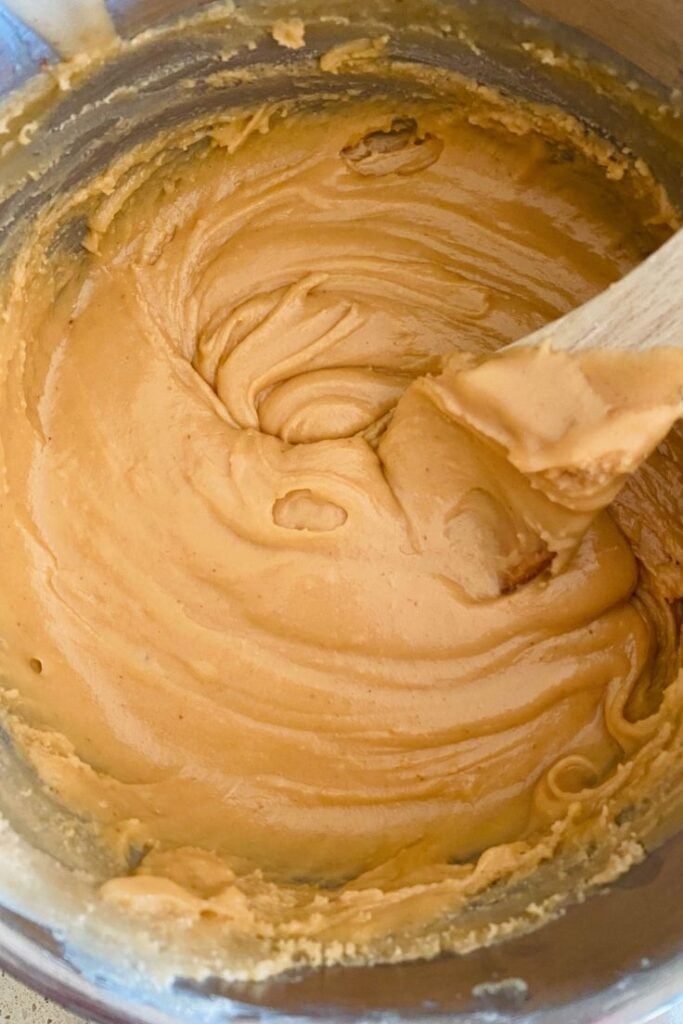 Finally, when you can hardly get the spoon through the mixture, pour it into a greased tin.
Use a spatula to spread it evenly to the edges of the tin and smooth the top as best you can.
Done!
You've earned your reward, but you're going to have to wait at least 6 hours for it to set first. Ideally, overnight.
Once it is set, cut it into tiny squares and enjoy that first piece.
And then share the sweetness around.
Storing Scottish Tablet
Scottish Tablet is best stored in something that is not completely airtight, for example a cookie jar or tin.
It should last for up to 2 weeks given the sugar acts as a preserver, so it's great to make ahead for a party or as a gift.
You can also freeze Scottish Tablet for up to a few months. Thaw completely before eating.
Tips and troubleshooting
Be prepared
My biggest tip here is to read the entire post and recipe card below. The method is so important, so get everything clear before you start.
Grainy and sugary? Not set properly?
If your Scottish Tablet tastes sugary and grainy, or doesn't set, you can pop it back in the saucepan, melt it down slowly and boil it a little longer.
I can't get the recipe to work
It's most likely because you're bringing the mixture to the boil too fast and not dissolving the sugar properly first (in which case, slow down) or it's not reaching setting point (in which case buying a sugar thermometer might help).
Can't I just use an electric mixer to beat the mixture?
Now some people suggest using an electric mixer to beat the tablet mixture and say it is successful.
You could try this, but I personally like to burn off a few calories before I even eat this stuff. Remember, there's a whole kilo of sugar in there!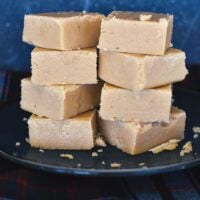 Scottish Tablet
The sweetest treat around: Scottish Tablet
Print
Pin
Rate
Ingredients
1

kilo

caster sugar

1

cup

condensed milk

1

cup

full cream milk

2

tablespoons

golden syrup

1

teaspoon

vanilla extract
Instructions
Grease a slice tin (approx 28 x 18cm) and line with baking paper, leaving paper overhanging at sides to assist with removal of the tablet later.

Add all ingredients apart from the vanilla essence in a large saucepan. Mix to combine and then put on stove over low heat.

Stir until the sugar is dissolved, turning the heat up to low-medium if necessary.

Slowly bring the mixture to the boil and then boil for 10-15 minutes, stirring from time to time and turning down the heat if necessary to maintain a fast, steady boil.

If you have a sugar thermometer, take the mixture off the heat when the temperature of the mixture reaches 120 degrees celsius (248 degrees fahrenheit). Otherwise, watch the mixture as it changes to a more golden colour around the 8-10 minute mark.

Once you've take the mixture off the heat, stir in the vanilla extract.

Now, get ready cause this is the hard part. Stir the mixture vigorously for 10-15 minutes or until it thickens so much you can hardly continue to stir it.

If the mixture becomes smooth after you stop stirring for a few seconds, keep going. You want it to hold its shape when you stop stirring.

Pour the mixture into the slice tin and spread out evenly with a spatula, smoothing the top as best you can.

Allow to set for at least 6 hours, preferably overnight.

Ease the entire slab from the tin using the baking paper once set and then cut into small squares.
Notes
The method is critical with this recipe, please read the entire post and recipe card before attempting it to ensure success.
Nutrition
Calories:
54
kcal
|
Carbohydrates:
9
g
|
Protein:
1
g
|
Fat:
1
g
|
Saturated Fat:
1
g
|
Polyunsaturated Fat:
1
g
|
Monounsaturated Fat:
1
g
|
Cholesterol:
5
mg
|
Sodium:
21
mg
|
Potassium:
61
mg
|
Sugar:
9
g
|
Vitamin A:
51
IU
|
Vitamin C:
1
mg
|
Calcium:
48
mg
|
Iron:
1
mg