A homemade tomato sauce that tastes like the sauce you remember from childhood.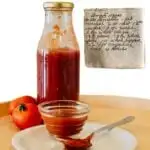 This Tomato Sauce recipe will take you back to a time when the internet, Uber and Insta didn't exist – but tomato sauce tasted a whole lot better.
Remember what tomato sauce used to taste like?
You will once you cook up a batch of this!
Enjoy your homemade tomato sauce slathered on a meat pie, serve it with hot chips or store it away for your next sausage sizzle.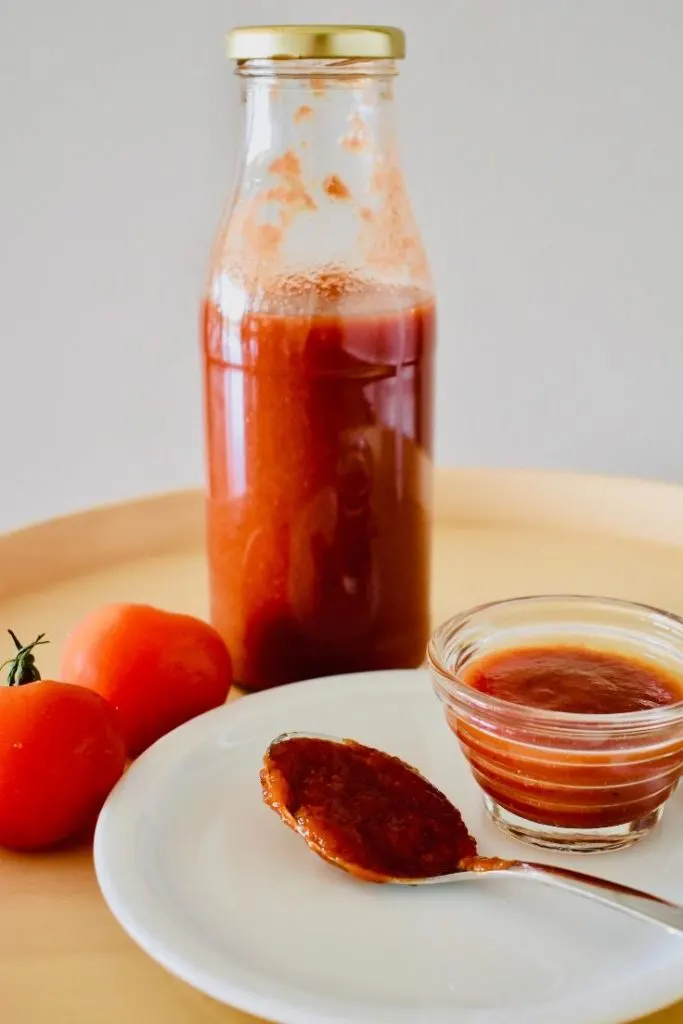 An old-fashioned Tomato Sauce recipe
I'm a long-time tomato sauce fanatic.
As a child, I had it with EVERYTHING. I refused to eat many things without it.
I remember Mum having to go to our neighbour's house one night to borrow a bottle of sauce because we'd run out and I had a meltdown.
I've never quite got tired of tomato sauce and still enjoy it, especially with hot chips or on a sausage sandwich.
One of my kids has inherited my tomato-sauce-loving gene, too.
And I always make sure we have a spare bottle of tomato sauce in the pantry.
So I was quite keen to test out this homemade tomato sauce recipe recorded by my great grandmother at least 80 years ago.
With a haul of lovely locally-grown tomatoes from my local farmer's markets, it seemed the perfect time to cook up a batch of Nana Ling's tomato sauce.
UPDATE – I've made this sauce many times since, and it's one of the most popular recipes on the blog!
Ingredients for homemade Tomato Sauce
To make this sauce, you'll need:
tomatoes
white wine vinegar
salt
caster sugar (superfine sugar)
garlic
ginger
cloves
allspice
peppercorns
cayenne pepper.
Some people also like to add an onion to this recipe.
I like to make it exactly as Nana Ling recorded it, without the onion – but each to their own!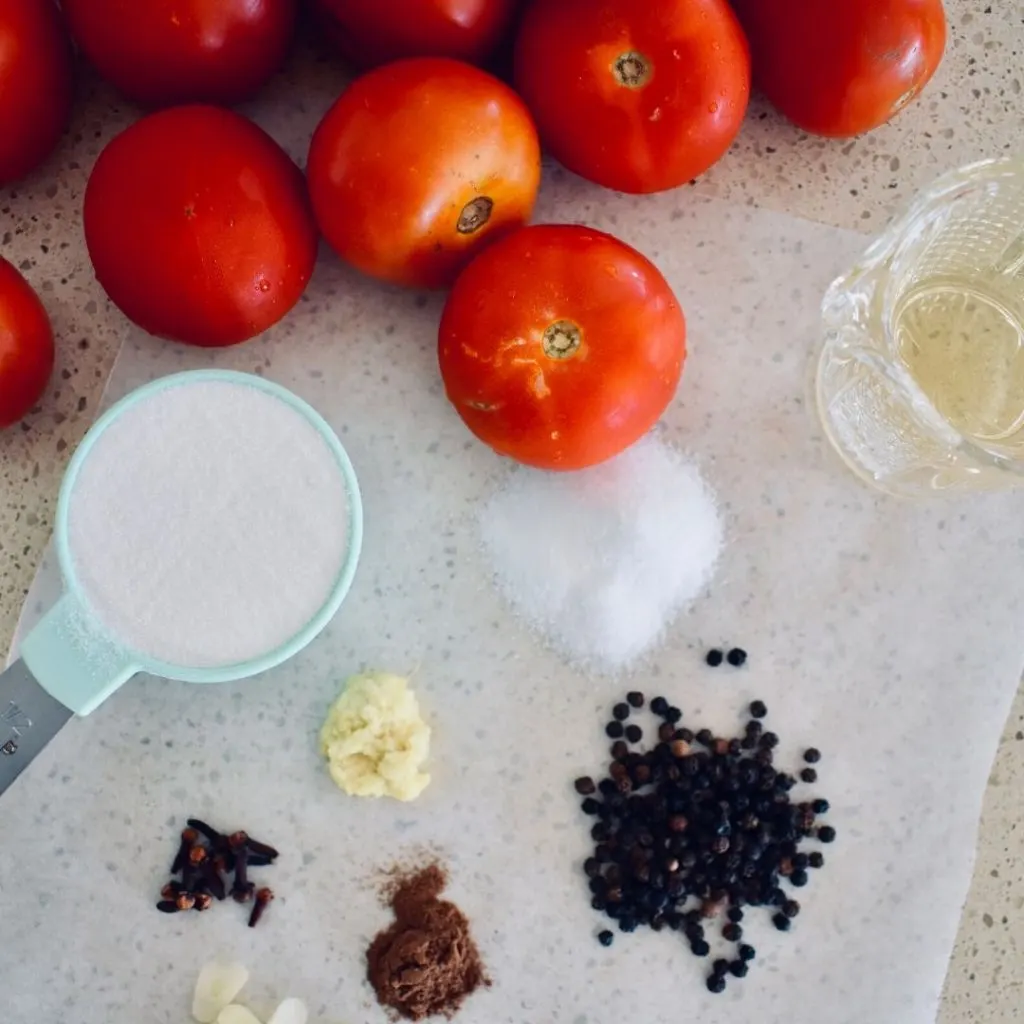 Cooking up this Australian Tomato Sauce Recipe
Making this tomato sauce is quite simple once you've sourced some lovely, ripe tomatoes and checked to make sure you have all the spices and other ingredients on hand.
The other ingredients, vinegar and sugar, you probably already keep in your pantry.
How to make Tomato Sauce
Chop the tomatoes roughly and place into a large saucepan. Then add the rest of the ingredients and bring to the boil.
The sauce takes around 2–3 hours of simmering to reduce. Keep a check on it and watch the how-to video to see the consistency of the mixture you're aiming for.
Given the variability of the tomatoes, it's difficult to give a precise cooking time.
Once cooked, there are two options to process the sauce.
Option 1 – Sieving the sauce
Then you just need to run the mixture through a sieve, pressing down with a spoon, to extract the beautifully rich and tasty tomato sauce.
Bottle it straight away in a sterilised bottle or jar and store in the pantry or fridge.
This is how the sauce is made according to Nana Ling's instructions and this is how I like to make it.
Option 2 – Blending the sauce
Many readers have commented that they simply blend the sauce in a food processor or chopper once it's cooked.
Many prefer this method, since it's much easier.
If you do opt to blend the sauce, just keep in mind that it may have a spicier kick to it given all of the spices are blended into the sauce.
The Tomato Sauce time machine
I hadn't realised how much tomato sauce had changed over the years until I sampled Nana Ling's tomato sauce recipe. A recipe she'd jotted down in her beautiful handwriting back in 1941.
One tiny taste and I was immediately transported back to my family's dinner table in the 1980s.
I could see our old dinner table covered with a seersucker tablecloth. I could also see Mum's hanging pot plant stand in the corner of the dining room (which fell down on the dinner table one night and saved me from eating a meal I wasn't particularly enjoying). And on the table was a glass bottle filled with deep red tomato sauce.
These days, tomato sauce seems brighter and thinner.
And it may be in a super convenient squeeze pack now, but the taste just isn't quite the same. It doesn't pack a tomato punch the way the good old-fashioned tomato sauce did.
If you want tomato sauce that's thick, full of tomato flavour and can even take you back in time, keep scrolling for Nana Ling's Tomato Sauce Recipe.
You can also find other wonderful condiments and conserves from the Cooking with Nana Ling collection here (and if you still have heaps of tomatoes, check out my Tomato Recipes collection).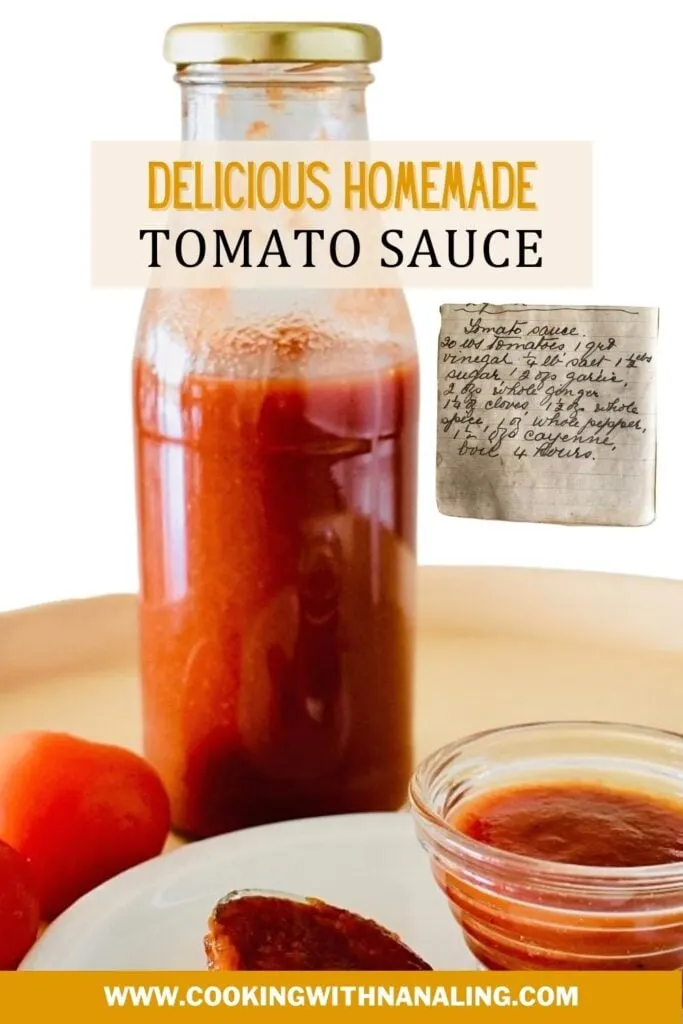 Recipe FAQs
What are the best tomatoes for Tomato Sauce?
You really can use any type of tomato here, however roma tomatoes and other "paste" tomatoes that have fewer seeds are perfect for making sauce.
I also like to use heirloom tomatoes and have made this recipe up with cherry tomatoes when i had an abundance of those.
How to store Tomato Sauce
"Where do you store tomato sauce?"
It's a controversial question, indeed!
I store my sauce in the fridge once it's opened. Others store it in the cupboard. Which way is the right way?
Well, even the experts at Australia's Choice can't agree.
They say that tomato sauce is high enough in sugar and salt to be shelf stable, even after opening. However, bacteria is more of a risk in a warmer environment.
Some are willing to take the risk, saying cold sauce is a crime and impacts the flavour.
So, there seems to be no right and wrong.
If you're risk-averse and don't mind cold sauce, continue to store it in the fridge.
If you're a tomato sauce aficionado who insists on enjoying it at it's room-temperature best, go ahead.
Just keep in mind that if you are making homemade tomato sauce and are not familiar with how to properly can/preserve sauces, store in the fridge to be safe.
What do you store your sauce in?
Go for an airtight glass container to maximise it's shelf life.
Once you've opened it, you can pour it from there or transfer it to a squeeze bottle – yes, the ones we had in the 80s are still around today if you look hard enough.
Nana Ling's Tomato Sauce recipe
Keep scrolling for the tested and tweaked version.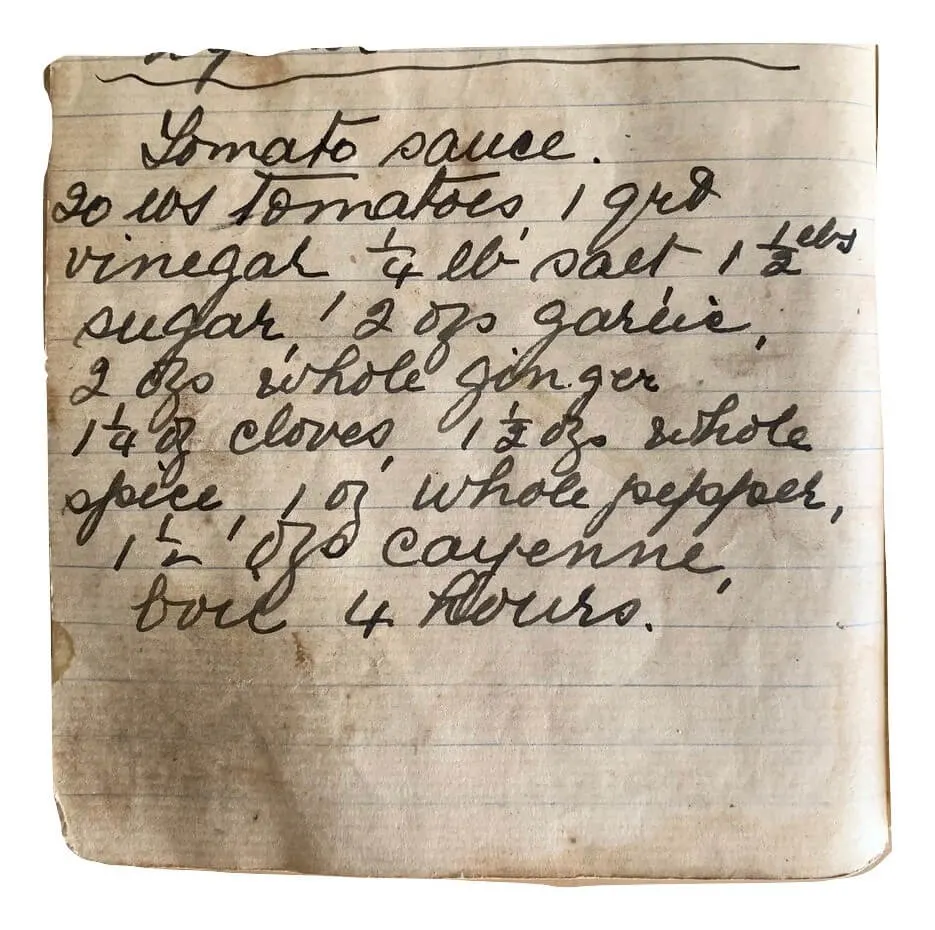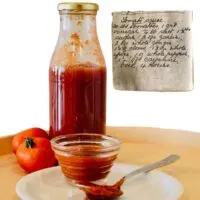 Tomato Sauce Recipe
A homemade tomato sauce that tastes like the sauce you remember from childhood.
Print
Pin
Rate
Ingredients
1 1/2

kilos

tomatoes

roughly chopped

2/3

cup

white wine vinegar

3

teaspoons

salt

1/2

cup

caster sugar

1

clove

garlic

sliced thinly

1

teaspoon

fresh ginger

grated (or 1/4 teaspoon ground dried ginger)

1/2

teaspoon

whole cloves

(or 1/4 teaspoon ground cloves)

1/2

teaspoon

allspice (ground)

3

teaspoons

black peppercorns

1/8

teaspoon

cayenne pepper

1

onion

(optional, I personally don't add it in and it wasn't in the original recipe but some readers prefer this recipe with onion)
Instructions
Place all ingredients in a large saucepan and bring to the boil, stirring.

Simmer for 2-3 hours, partly covered and stirring from time to time.

Watch the video above in the post to see the consistency of the tomato sauce once cooked. If the sauce hasn't achieved the desired consistency, continue to simmer uncovered until it reaches the preferred consistency.

Strain half of the mixture through a coarse sieve into a bowl, and then the other half. Use a spoon to push sauce through the sieve and extract as much liquid as possible. Discard solids.

Alternatively, blend the cooked sauce in a food processor or chopper (but keep in mind the sauce will have a spicier kick).

Pour hot mixture into a medium-sized sterilised bottle and seal.

Store in fridge or a cool and dark place (depending on the process you used to can the sauce). If you are not familiar with how to properly preserve sauces, store in the fridge to be safe.

Once opened, store in the fridge.
Notes
Makes 400–500 ml. Double, triple or increase quantities in recipe to make a larger batch of sauce.
Nutrition
Calories:
23
kcal
|
Carbohydrates:
6
g
|
Protein:
1
g
|
Fat:
1
g
|
Saturated Fat:
1
g
|
Sodium:
350
mg
|
Potassium:
12
mg
|
Fiber:
1
g
|
Sugar:
5
g
|
Vitamin A:
9
IU
|
Vitamin C:
1
mg
|
Calcium:
3
mg
|
Iron:
1
mg