A trifle inspired by Black Star Pastry's famous Watermelon Cake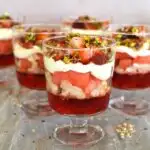 This Watermelon and Rosewater Trifle creation is inspired by Black Star Pastry's Insta-famous Watermelon Cake.
I've followed their unbeatable combination of watermelon, strawberries, cream, almond dacquoise cake and rosewater – and added a strawberry rosewater jelly layer. As you can see, it's transformed here from cake to trifle quite nicely.
If you know and love the popular Watermelon Cake, you're sure to love this festive trifle.
And if you've never sampled Black Star Pastry's Watermelon Cake, well you're missing out. But you don't need to any longer.
Follow this recipe and get set for something wonderful. This amazing flavour combination is out of this world.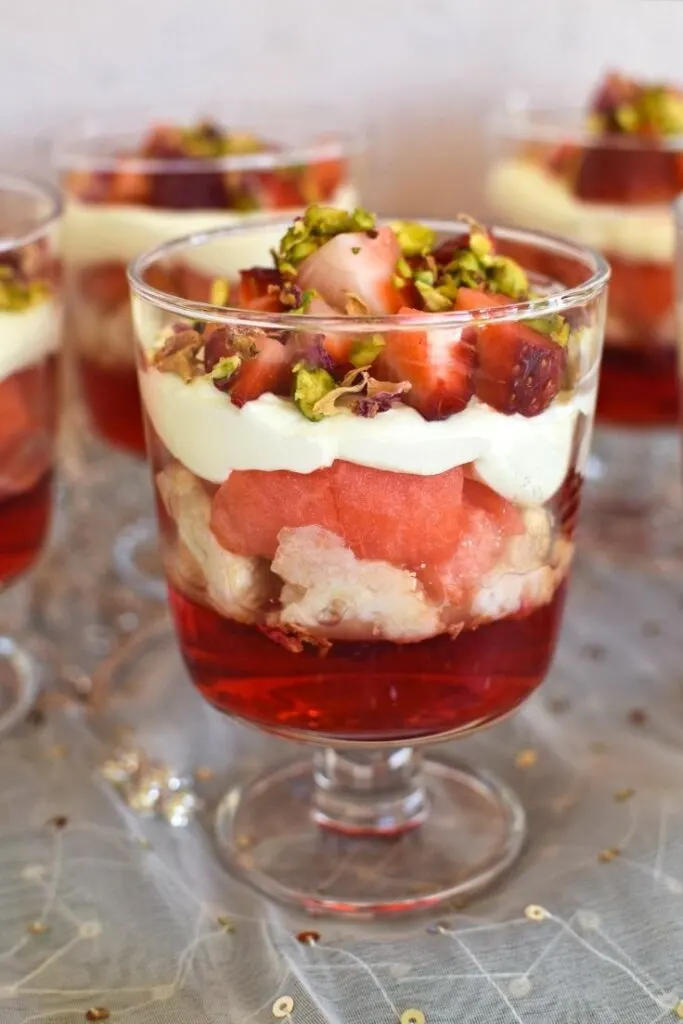 Making these pretty and festive individual trifles
This recipe makes six individual trifle desserts. You could easily convert the recipe to make just one larger trifle bowl, though.
So, let's make this trifle layer by layer.
I'll go over the basics here and leave the quantities and precise method for the recipe card which you can find at the bottom of the post.
To start, you'll need six small trifle bowls. Large wine glasses make a good substitute if you don't have trifle bowls.
First layer: strawberry rosewater jelly
Use a few of your strawberries in the first layer, thinly sliced, and some of the rose petals. Pour over the jelly mixture (to which you've added some rosewater) and place into the fridge to set.
Second layer: almond dacquoise cake
This is an easy and quick cake to whip up.
You start by beating the egg whites and then adding sugar while you continue to beat until stiff peaks form. Yes, like making meringue.
Fold in the almond flour (make sure it's almond flour rather than the courser almond meal) and icing sugar and then bake until a golden colour.
Once cool, break up the cake and add it as your second trifle layer.
Third layer: watermelon cubes
This layer is easy! Add the watermelon cubes and then sprinkle with remaining rosewater.
Fourth layer: cream
Whip up your cream with a little icing sugar and pipe it into the glasses as the next layer.
Fifth layer: chopped strawberries, pistachios and rose petals.
Finally, chop up the remaining strawberries and add these, along with the pistachios and rose petals, as the finaly lovely layer of your trifles.
Store these in the fridge and enjoy them within a couple of days.
Love your trifles?
You might like to try our other trifle recipes: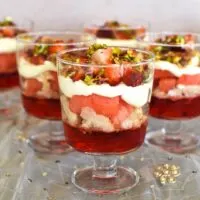 Watermelon and Rosewater Trifle
A trifle inspired by Black Star Pastry's famous Watermelon Cake
Print
Pin
Rate
Servings:
6
individual trifles
Ingredients
3

egg whites

90

grams

almond flour

90

grams

icing sugar

80

grams

caster sugar

85

grams

strawberry jelly crystals

(1 packet Aeroplane jelly)

1

teaspoon

rosewater

2

tablespoons

edible dried rose petals

250

grams

strawberries

1

tablespoon

rosewater

2

cups

cubed (approx 1cm x 1cm) watermelon

300

ml

thickened cream

(heavy cream)

2

tablespoons

icing sugar

1/4

cup

pistachio kernels, roughly chopped
Instructions
Layer 1: Jelly
Slice three of the strawberries and distribute evenly among six trifle (or wine) glasses. Sprinkle 1 tablespoon of the rose petals evenly among the six glasses.

Make up jelly according to packet instructions but with 50ml less cold water (to create a thicker jelly). Also add 1 teaspoon of rosewater to the jelly mixture.

Pour 1/6 of the jelly mixture into each cup and place into the fridge to set.
Layer 2: Almond Dacquoise Cake
Grease and line (with banking paper) a standard slice tin (approx 28 x 18cm).

Pre-heat oven to 190 degrees celsius (fan-forced).

Combine almond flour and icing sugar.

Whisk egg whites until soft peaks form.

Gradually add sugar and whisk again until stiff peaks form.

Fold through almond and icing sugar mixture.

Pour into tin and bake for 15 minutes or until a light golden brown colour.

Break into pieces and then place pieces on the set jelly layer of each trifle cup.
Layer 3: Watermelon
Arrange watermelon cubes on top of the cake layer. Using the remaining 1 tablespoon of rosewater, sprinkle over the cake layer.
Layer 4: Cream
Whip cream and icing sugar until thick.

Using a piping bag, add a cream layer on top of the watermelon layer.
Layer 5: Strawberries, pistachios and rose petals
Chop remaining strawberries and add these along with pistachios and remaining rose petals as the final layer of the trifle.
Nutrition
Calories:
482
kcal
|
Carbohydrates:
54
g
|
Protein:
8
g
|
Fat:
28
g
|
Saturated Fat:
12
g
|
Polyunsaturated Fat:
1
g
|
Monounsaturated Fat:
7
g
|
Cholesterol:
69
mg
|
Sodium:
50
mg
|
Potassium:
246
mg
|
Fiber:
3
g
|
Sugar:
44
g
|
Vitamin A:
1042
IU
|
Vitamin C:
30
mg
|
Calcium:
84
mg
|
Iron:
1
mg