The ultimate festive treat: old-fashioned Ambrosia Salad.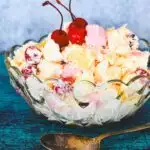 Ambrosia Salad is the old-fashioned fruit salad that takes its name from Greek mythology.
Ambrosia is the food and drink of the Greek Gods, and this exceptional little salad is deserving of its name. Its vibrant colours, luscious fruits, and creamy texture has made it a timeless dessert that evokes fond memories of family gatherings and celebrations.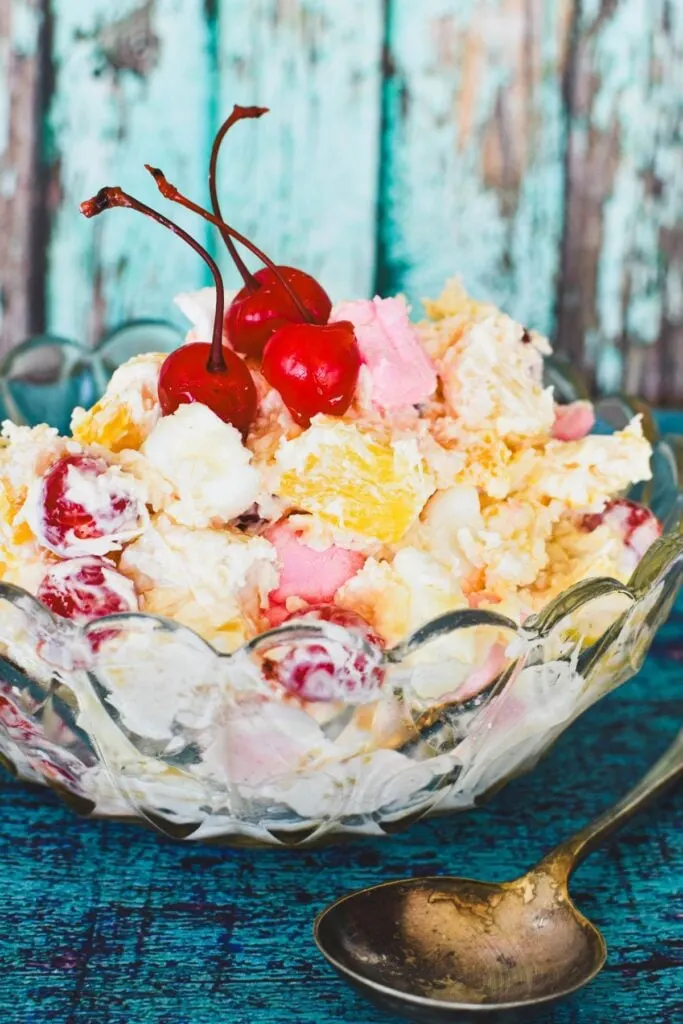 Classic Ambrosia Salad Recipe
Ambrosia Salad, sometimes called Ambrosia Fruit Salad of Creamy Fruit Salad, is considered a Christmas tradition in the United States, particularly in the South, where it first started appearing in cookbooks in the late 1800s.
It may have taken a few decades, but the good news eventually spread to Australia, with the recipe appearing in Australian newspapers from the early 1900s.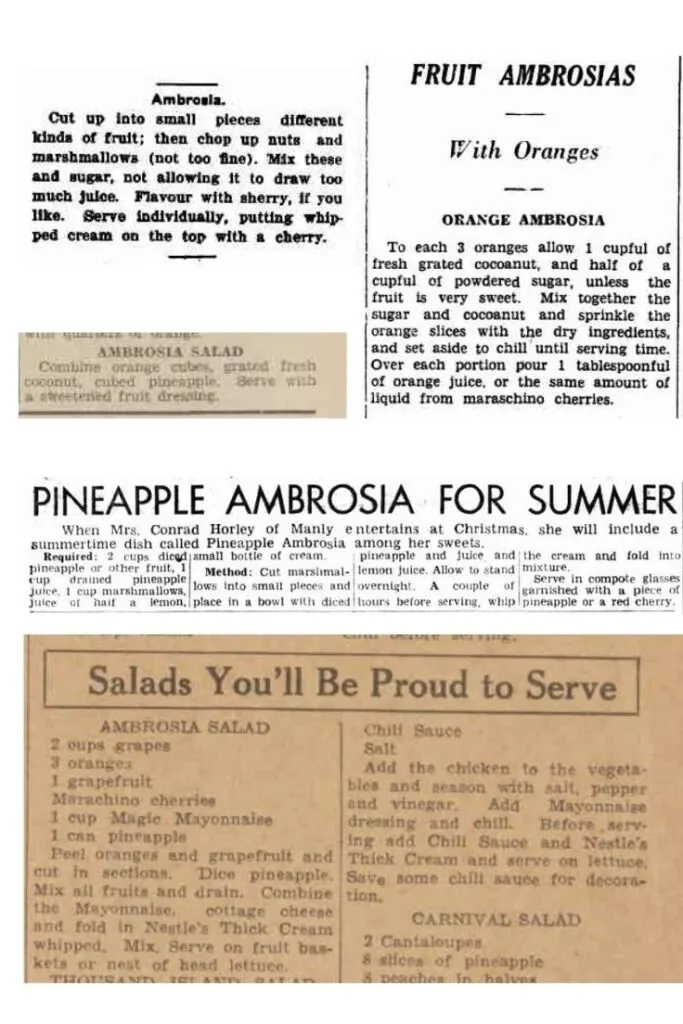 For me, the best Ambrosia Salad is the one my Nan Mac made when I was very young and then popped up now and again at parties throughout my childhood.
When I decided to make it up to record it here in the blog, I hadn't seen it for a while – but I have never forgotten the joy of Ambrosia Salad.
Ingredients for Ambrosia Salad
There are many versions of this recipe, however common ingredients include pineapple, coconut and marshmallows.
And there's usually another fruit in there somewhere.
The dressing is generally a creamy one, but again there are a variety of things used to make the dressing.
This recipe uses many of the usual ingredients and one ingredient that I found in recipes from the 1930s: maraschino cherries.
Ambrosia Salad has always been served at special events, and the cherries add that little extra that makes the salad seem so festive. They add the wow factor to something that is already amazing.
Can you use glace cherries instead?
Well, technically you could. However, maraschino cherries are quite distinct and just so wonderful. I recommend sticking with the maraschino cherries.
Find them in the cocktail section of liqueur stores or specialty stores.
I also use a whole orange in this recipe, as the citrus gives the salad a lovely lift.
The cream dressing I've chosen is just light sour cream.
I think this balances out the flavours a lot better than a sweeter cream.
Ingredient quantities can be found in the recipe card at the end of this post.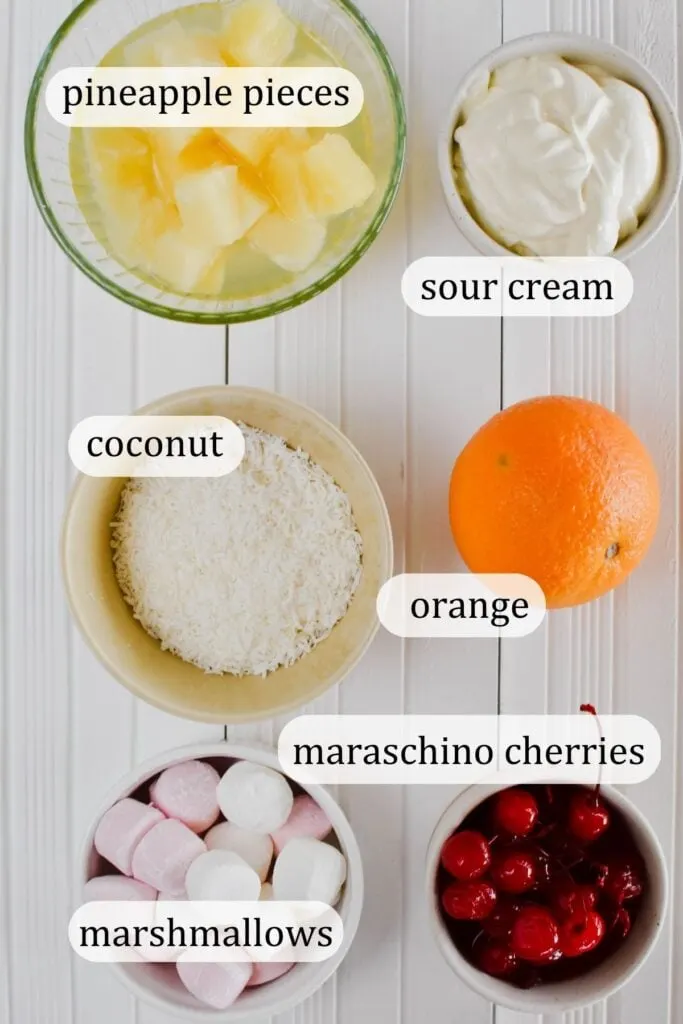 How to make Ambrosia Salad
You can literally put this Easy Ambrosia Salad together in 10 minutes.
First, gather up all of the Ambrosia Salad ingredients.
Chop up the orange.
Halve the marshmallows (unless you're using mini marshmallows).
Drain the pineapple.
Drain the cherries.
Take the stems off the cherries (apart from a few that you'll reserve for decorating).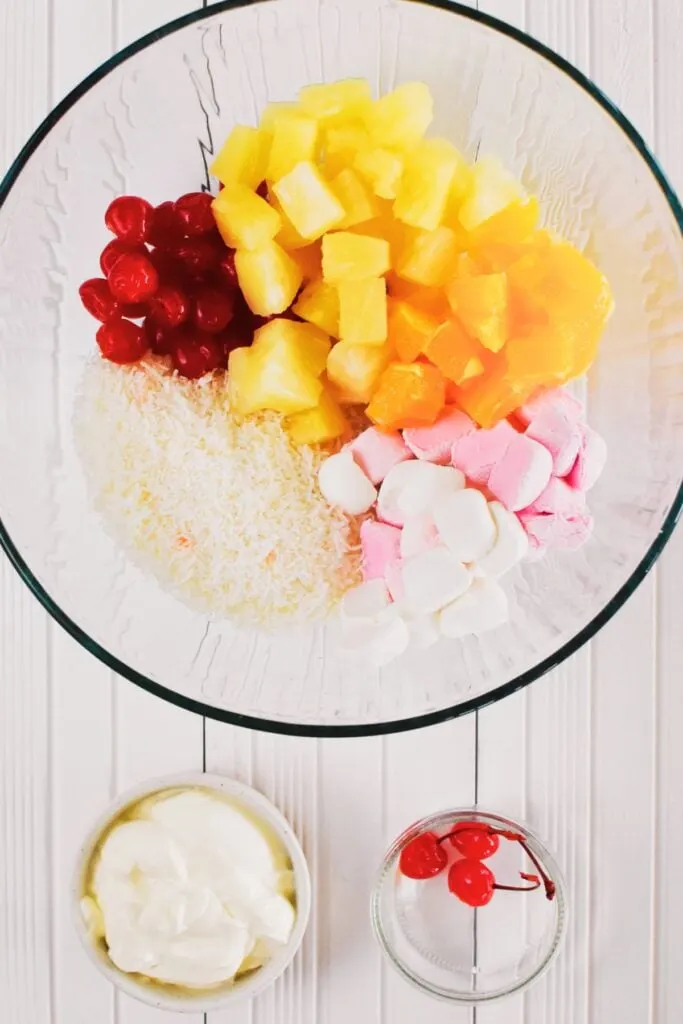 Mix it all together.
Chill and decorate with cherries before serving.
This salad tastes even better the next day, so make it in advance if it suits the occasion.
Ambrosia Salad: substitutions and variation ideas
Another of the many beauties of Ambrosia Salad is its versatility.
It's so easy to put your own stamp on this classic dessert.
Here are a few popular additions you can consider:
Nuts: add pecans, walnuts or almonds for a satisfying crunch
Substitute orange for other seasonal fruits such as strawberries, grapes or mango pieces.
Add some citrus zest to the sour cream for added tang
Substitute part or all of the sour cream for whipped cream or cool whip.
Festive Ambrosia Salad
Ambrosia Salad is particularly popular at Christmas and on other celebratory occasions.
Here, I've scooped the salad into individual cups and decorated each with a cherry.
Set aside about six cherries instead of three if making up as individual desserts as you'll have enough salad for six generous servings.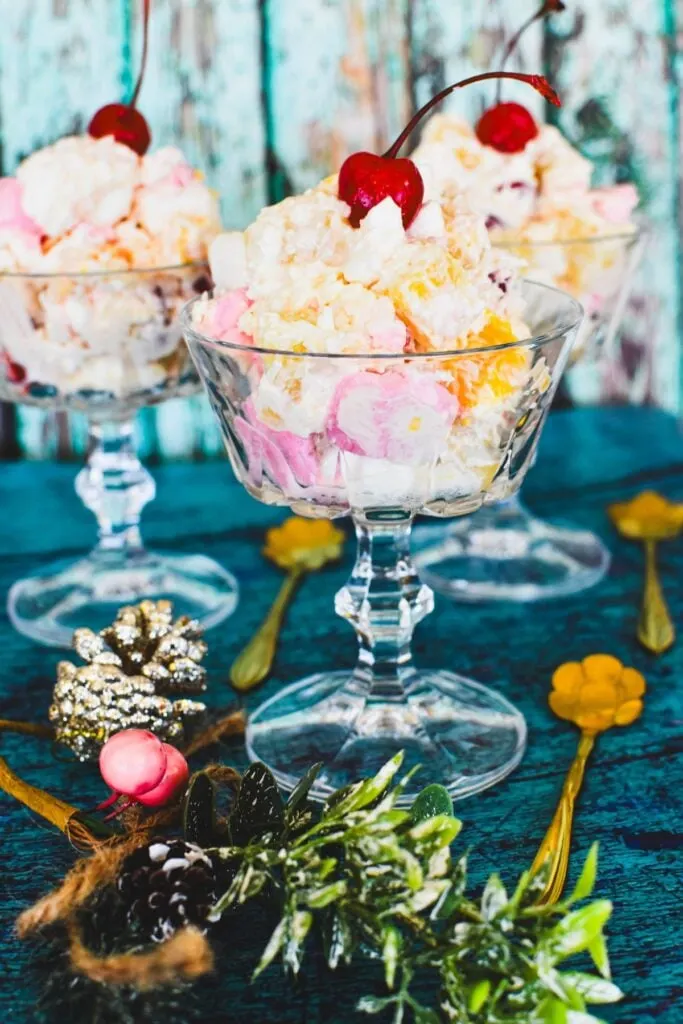 Ambrosia Salad FAQs
How long will Ambrosia Salad last?
The salad lasts a few days in the fridge. Keep it in an airtight container.
Can I make it up in advance?
You sure can. Make it up a day before so the flavours can develop.
Can I substitute the ingredients?
You could, this is just my preferred version of the salad.
Look at the newspaper clippings above in the post to get some variation ideas.
Do you have any other awesome salad recipes?
If you like this salad, you might also like Potato Salad, Beetroot Salad, Heavenly Hash, Curried Rice Salad and Broccoli and Cauliflower Salad.
You can also browse the entire Christmas Recipe collection here.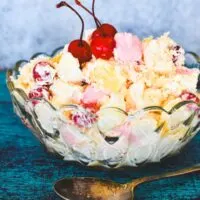 Ambrosia Salad
The ultimate festive treat: old-fashioned Ambrosia Salad.
Print
Pin
Rate
Ingredients
1

large

orange

440

grams

canned pineapple pieces

100

grams

marshmallows

1

cup

coconut flakes or shredded coconut

(unsweetened)

225

grams

maraschino cherries

250

grams

light sour cream
Instructions
Peel orange and remove pith and seeds. Chop into small pieces.

Drain pineapple pieces and cherries.

Chop marshmallows in half.

Remove stems from all cherries except a few (for decorating).

Add orange pieces, pineapple pieces, marshmallows, coconut flakes and cherries (apart from few with stems) and sour cream in a large bowl. Stir well to combine.

Chill before serving and decorate with remaining maraschino cherries.
Notes
If serving in six individual portions, set aside six cherries to decorate each cup of salad.
This salad tastes even better the next day!
Nutrition
Calories:
162
kcal
|
Carbohydrates:
25
g
|
Protein:
2
g
|
Fat:
7
g
|
Saturated Fat:
5
g
|
Polyunsaturated Fat:
0.2
g
|
Monounsaturated Fat:
1
g
|
Cholesterol:
7
mg
|
Sodium:
28
mg
|
Potassium:
160
mg
|
Fiber:
3
g
|
Sugar:
19
g
|
Vitamin A:
130
IU
|
Vitamin C:
12
mg
|
Calcium:
54
mg
|
Iron:
0.5
mg