An old-fashioned Christmas Cake Recipe from 1941 with fruit, chopped walnuts, spices and rum.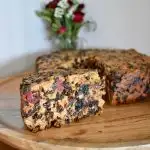 This Christmas Cake Recipe is from Nana Ling's handwritten collection and dated 5 December 1941.
It's a little slice of history and – today – a cake to make your Christmas extra special.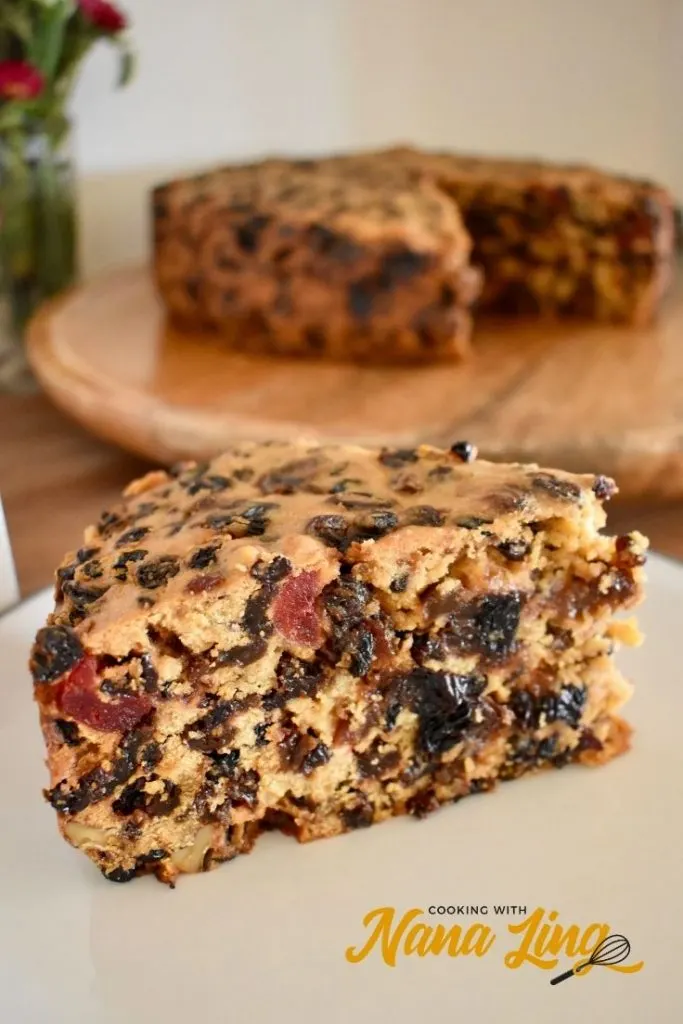 A slice of history
This recipe was recorded by Nana Ling just two days before the attack on Pearl Harbour. This event, which killed and injured thousands of Americans, is still remembered today.
We remember it because it changed the course of history. While Nana Ling was carefully writing out yet another recipe for Christmas Cake to add to her collection, the US was about to formally enter into World War II.
Whenever I sit down to pore over Nana Ling's handwritten recipes, my thoughts are often drawn away from the recipes as I wonder about her life. What would it be like to step back in time to the days when these tired pages were crisp and new?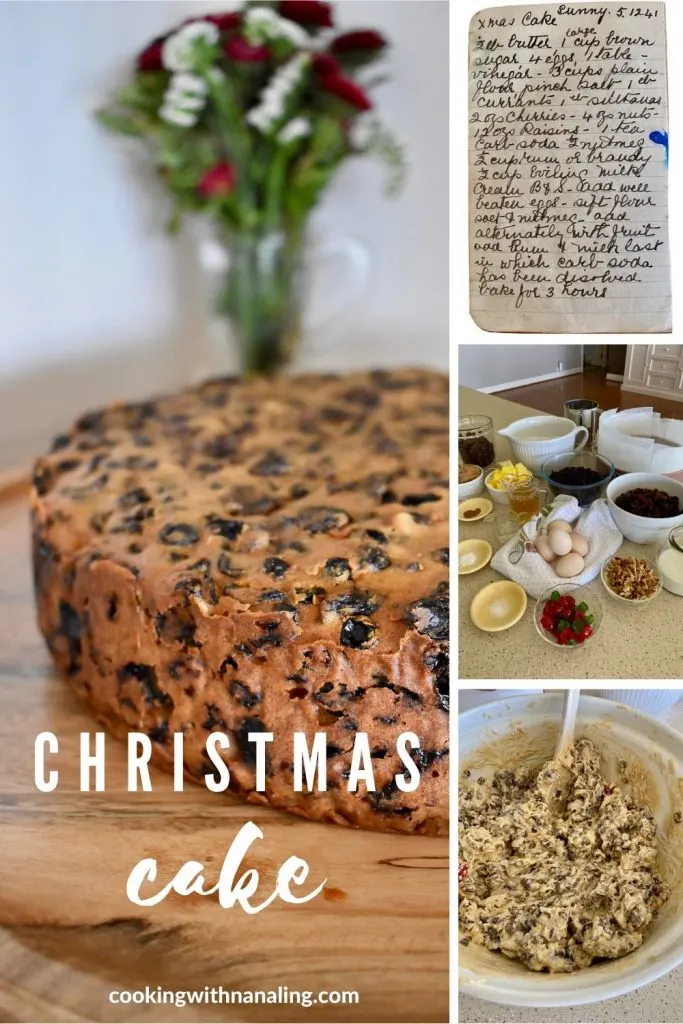 After a year we'd all rather forget, I still think most of us have experienced only a small taste of the troubles that were part of Nana Ling's times.
She lived through many major global events, including two worlds wars, the Great Depression and the Spanish flu.
So, although it's been one of the worst years many of us have experienced, I don't fancy travelling back through time to the brink of the Pearl Harbour attack.
Instead, I'll stay in 2020 and enjoy the tiny slice of history that Nana Ling left behind. A Christmas Cake recipe that's loaded with fruit, nuts and rum.
Because no matter what's going on in the world, a slice of this cake will make things seem better. Even if for just a moment.
And I'm hopeful that the years ahead for us will be brighter than the years that followed Nana Ling's original recording of this recipe.
Nana Ling's Christmas Cake: ingredients for success
So, to get started with this recipe you'll need these ingredients:
butter
brown sugar
eggs
plain flour
nutmeg
salt
sultanas
raisins
glace cherries
bicarb soda
rum or brandy
white vinegar
hot milk.
Yes, all the usual suspects plus a few surprises. The hot milk and vinegar are ingredients I'd never used in a fruit cake before.
Apparently vinegar fruit cakes were popular in years gone by. Celebrity baker Dan Lepard, in an article published in The Guardian, says:
"Vinegar cakes are part of our baking tradition, yet they seem to have dropped off the modern repertoire… I use vinegar in breads and crumpets to give a quick sour flavour, but it's in cakes that it really tickles me. In the US, they make a great fuss about their vinegar fruit cakes, which were popular here during rationing because the acidity mellows the starch and makes the texture seem softer and richer…"
Yes, after sampling this cake I have to say that vinegar in fruit cakes quite tickles me, too! This Christmas Fruit Cake really is one of the loveliest I've ever made.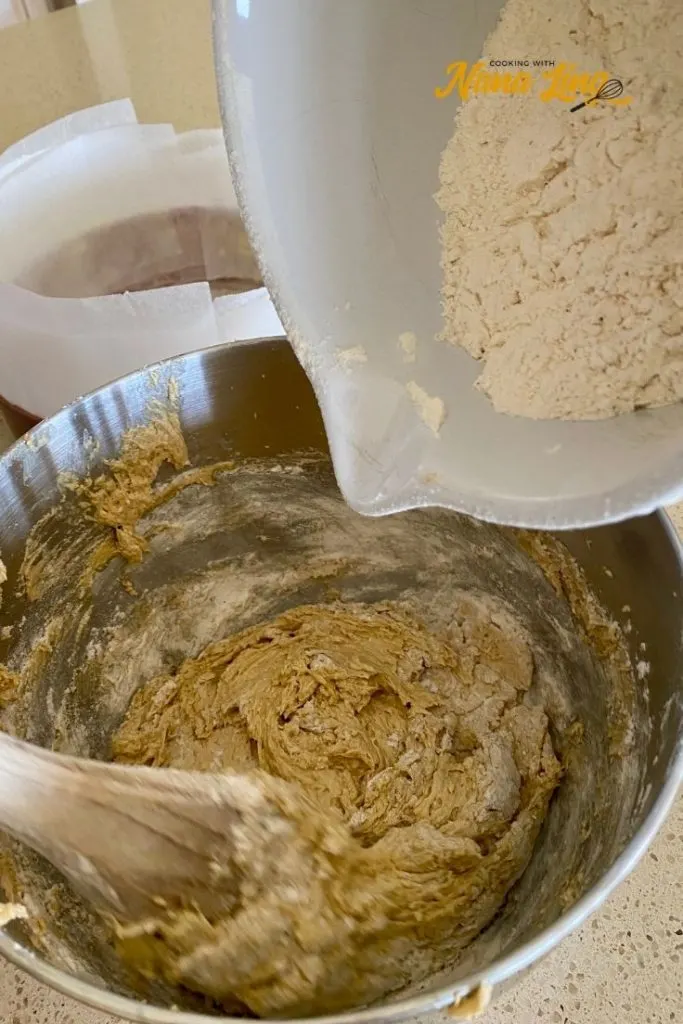 Let's make this "vinegar fruit cake" Christmas Cake
With the vinegar to soften and richen this cake, there's no need to soak the fruit or do any other prep work.
It's simply a case of creaming the butter and sugar, adding the dry ingredients and fruit and then mixing in the wet ingredients.
It's preferable to weigh out the ingredients, though I've also included the cup measurements.
Remember to weigh out the ingredients yourself and not rely on the weight stated on the package. Sometimes the weight on the packets of dried fruit are not accurate. My packet of sultanas was about 40 grams over the stated weight.
Once the mixture is ready, pour it into a prepared round tin. Your tin should be about 24 cm in diameter and lined with three layers of baking paper. If your tin size is a little different, that's fine. However, keep an eye on the cooking time as the size of the tin may affect the cooking time.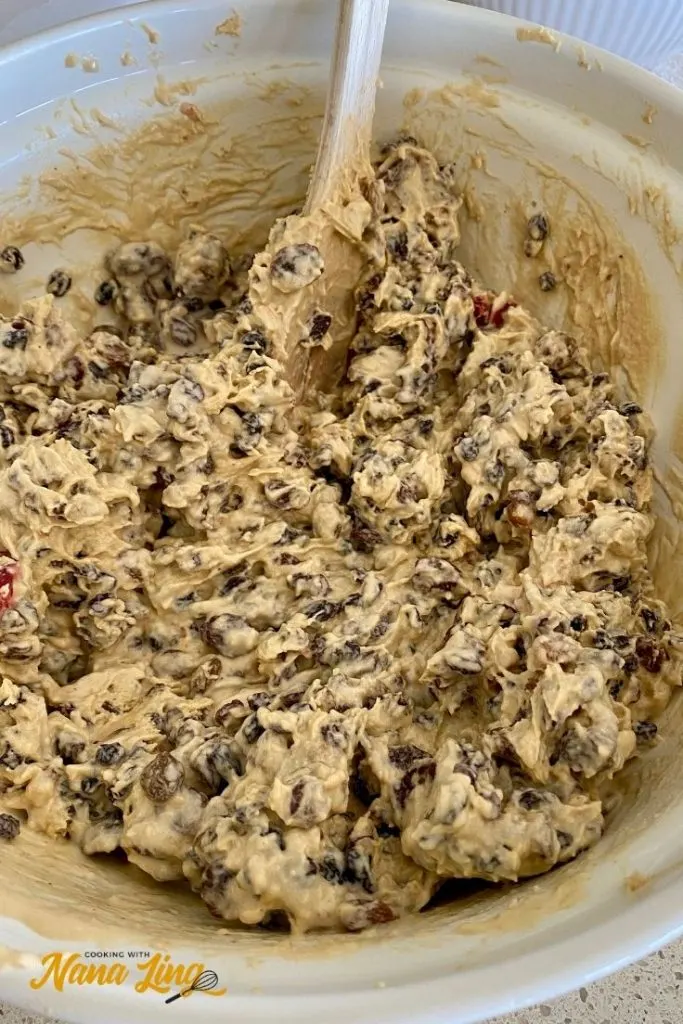 I cooked my cake in a slow oven for two and a half hours, which was perfect.
All ovens are different though, of course, so keep an eye on these three things as the cake is cooking:
1. The colour: is it a lovely golden colour?
2. If the colour tells you it's ready, open the oven door and carefully and gently press in the middle of the cake: does it feel firm or sink easily?
3. If it feels firm, remove the cake from the oven and insert a metal skewer in the centre of the cake: does it come out clean?
If the answer is yes, it's time to take the cake from the oven. If not, back into the oven it goes.
Once the cake is cooked, brush down with your preferred alcohol and place aluminium foil over the top of the cake before wrapping in a clean tea towel of cloth.
Leave to cool at least a day or two before enjoying. More storage instructions can be found below.
Love this Christmas recipe? Head over here to discover more of Nana Ling's magical Christmas recipes.
Nana Ling's Christmas Cake recipe
Keep scrolling for the tested and tweaked version.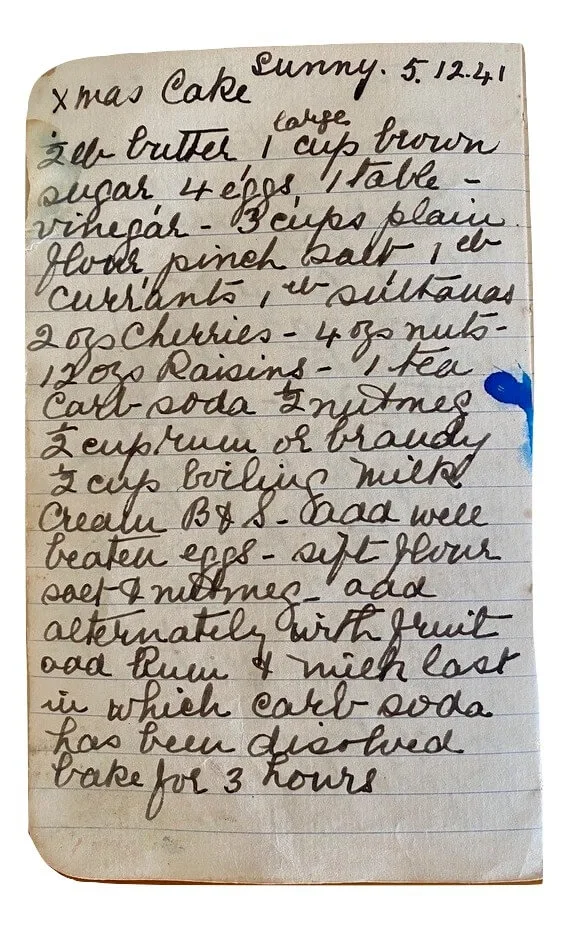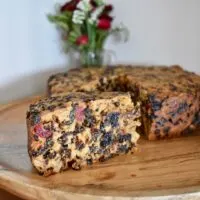 Christmas Cake
An old-fashioned Christmas Cake Recipe from 1941 with fruit, chopped walnuts, spices and rum.
Print
Pin
Rate
Ingredients
225

grams

butter

1

cup

brown sugar

(200 grams)

4

eggs

3

cups

plain flour

1/2

teaspoon

nutmeg

pinch

salt

450

grams

currants

(3 cups)

450

grams

sultanas

(3 cups)

340

grams

raisins

(2 cups)

90

grams

glace cherries, halved

(2/3 cup)

90

grams

walnuts, chopped

(2/3 cup)

1

teaspoon

bicarb soda

1/2

cup

rum or brandy

(plus a little extra to brush over the cake once it's out of the oven)

1

tablespoon

white vinegar

1/2

cup

hot milk
Instructions
Pre-heat oven to slow (150 degrees celsius or 140 degrees celsius, fan-forced)

Line a round cake tin (approx 24cm in diameter) with 3 layers of baking paper.

Cream butter and sugar until the mixture is pale and creamy. Beat on med-high if using a stand mixer.

Add eggs and beat again (on med if using a stand mixer).

Sift flour, salt and nutmeg.

Add dry ingredients to mixture alternately with the fruit and nuts, stirring to combine.

Mix hot milk with vinegar and rum. Add bicarb soda and dissolve. Add to the mixture and stir well to combine.

Pour mixture into cake tin and use the back of a dessertspoon if necessary to spread the mixture evenly in the tin.

Bake in a slow oven for 2 1/2 hours or until golden in colour and a skewer inserted into the middle of the cake can be removed without any cake sticking to it.

Remove the cake from the oven and brush the top with a little extra rum or brandy. Place foil over the top of the cake and then wrap in a clean towel.

Leave the cake to cool for at least 24 hours, preferably a few days.

Remove the cake from the tin and wrap in foil and a clean tea towel. Store in a cool, dark place for up to 3 weeks. Store in the fridge for up to 2 months and in the freezer for a year. (Always use your own judgment though, these times are a guide only).
Nutrition
Calories:
140
kcal
|
Carbohydrates:
24
g
|
Protein:
2
g
|
Fat:
4
g
|
Saturated Fat:
2
g
|
Cholesterol:
18
mg
|
Sodium:
51
mg
|
Potassium:
183
mg
|
Fiber:
1
g
|
Sugar:
13
g
|
Vitamin A:
111
IU
|
Vitamin C:
1
mg
|
Calcium:
21
mg
|
Iron:
1
mg