Best ever curried sausages recipe. Just like grandma made!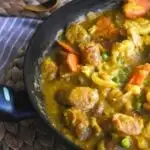 Curried Sausages might just be the ultimate retro winter dinner option.
For many Aussies, this dish – made with Keen's Curry Powder – was on regular rotation on dinner menus throughout the 1980s and 1990s.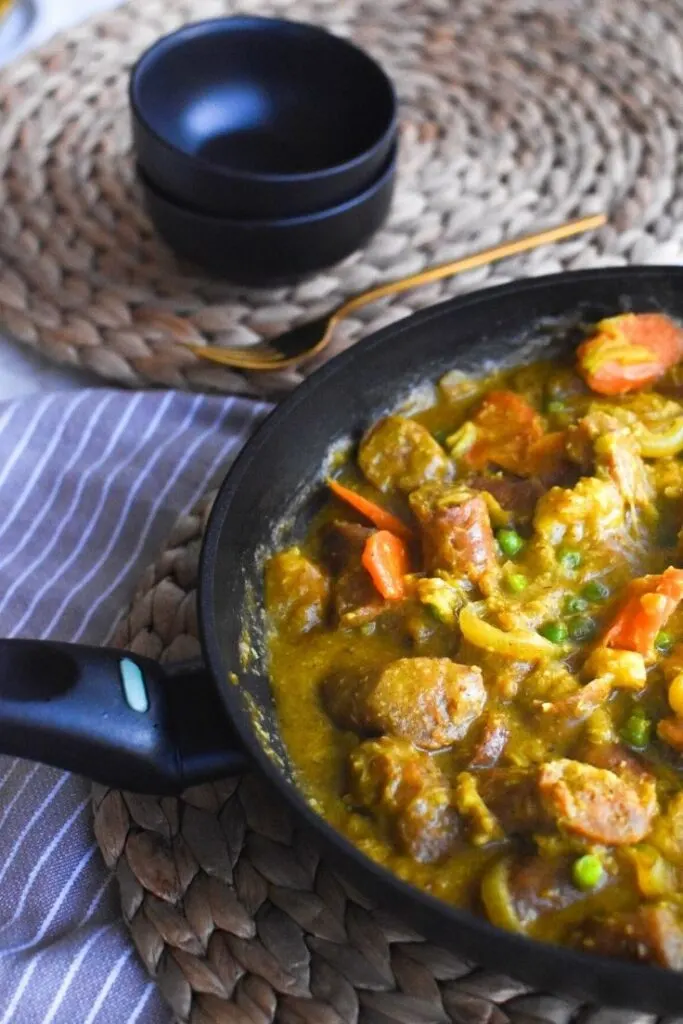 But did you know it goes way, way back and was hugely popular throughout the 1920s, 1930s and 1940s, too?
My research covering old Australian newspapers revealed many hundreds of mentions of this dish during this time period.
And some of these really old fashioned curried sausages recipes had a few secret ingredients that have been forgotten in the recipes that are around today.
Until now! I've added Nana's secret ingredients back into this dish to create the BEST ever curried sausages recipe.
Nana's secret ingredients
This recipe has all the regular ingredients: thin beef sausages, onions, peas, carrots, Keen's curry powder, flour and stock. Tick, tick, tick.
So, what are the secret ingredients that add a dash of nostalgia to this recipe?
Here they are.
A little desiccated coconut, a grated apple and a chopped banana add the sweetness and flavour which elevate this recipe to a whole new level of retro goodness.
While we're talking secrets, I want to mention another secret to success with this recipe.
Always use good quality thin beef sausages.
I was so thrilled when I moved to Maitland and found an old school butcher who makes sausages that taste like they used to taste when I was a kid. (And he even gives the kids a free frankfurt when they're with me. Remember when they all did that?)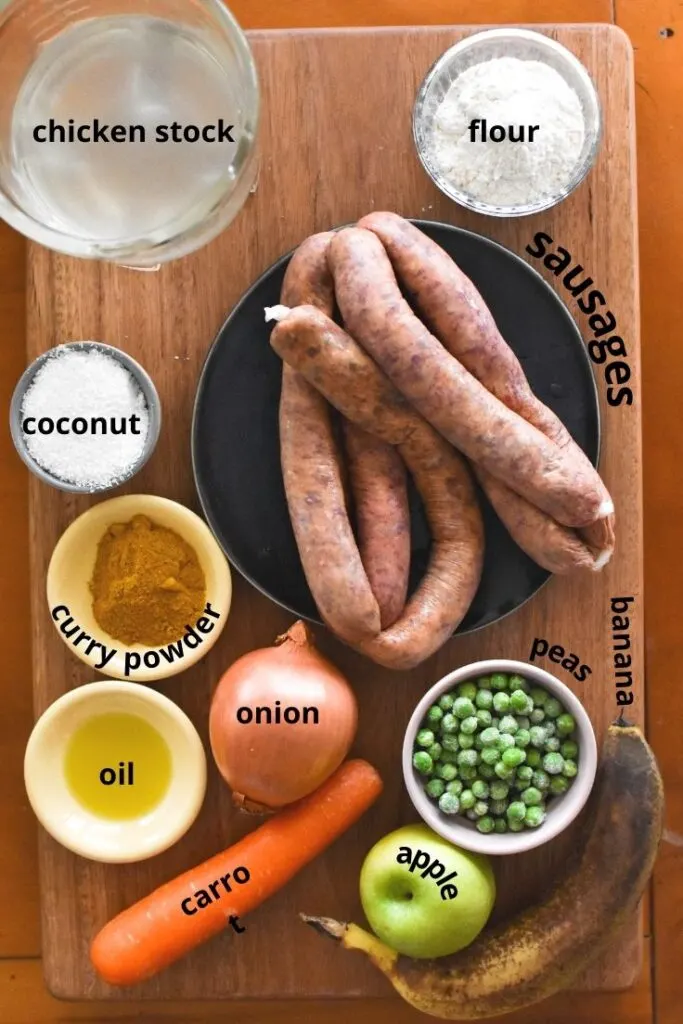 Making curried sausages
This dish doesn't take long to prepare at all and is a great weeknight dinner.
It also freezes well, so is perfect to make up and freeze in portions.
The recipe card at the end of this post contains all of the ingredients, quantities and detailed instructions. But I'll run through the basic steps you need to follow here, too.
First, you cook the sausages in a large frying pan for about 5 minutes or until browned. You then remove the sausages, slice into pieces diagonally and set aside.
Next, you cook the onion until translucent before adding the curry powder and flour. You stir this over medium heat for a couple of minutes to cook the flour before adding the coconut.
Now it's time to add the stock, carrot, peas, apple and banana and simmer for 2-3 minutes. The sauce should start to thicken.
Then, add the sausages and simmer for another 10 minutes, or until the sauce thickens and sausages are cooked through. Finally, you can add salt and pepper to taste.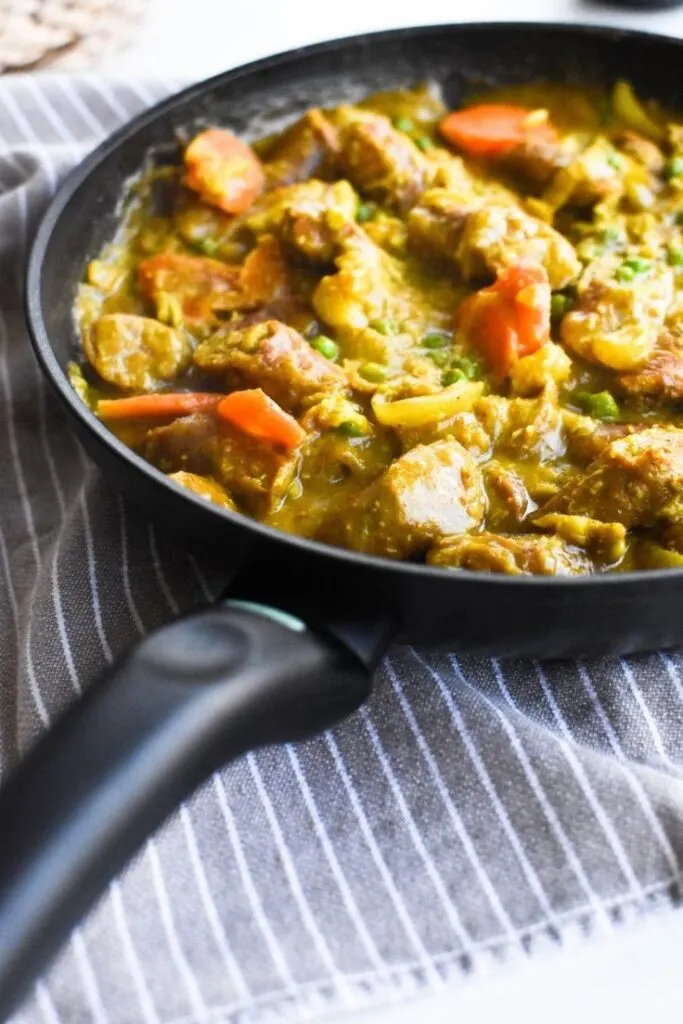 Serving Curried Sausages
Curried Sausages and mash is hard to beat! Though it's also pretty awesome served with fluffy rice.
are perfect served with rice or mashed potatoes.
It's not a hot curry by any means and is something that the whole family can enjoy.
You could also serve this with a side of green vegetables. But the good thing about this recipe is that it already contains veges so you don't need to feel guilty if you don't have time to create a vegetable side.
You could also experiment with variations on the recipe. Use plant-based sausages for a vegetarian dish, experiment with the veges you add (celery, beans or zucchini would work well), or up the curry quantity a bit if you like something a bit spicier.
The recipe for Old Fashioned Curried Sausages
I've based this recipe on the basic curried sausages recipe that is around these days and some of the recipes I found in old newspapers from the early to mid 1900s.
The recipe in the newspaper clipping below is one of the old recipes that inspired this recipe.
Remember, you'll need to keep scrolling past this clipping to find the Cooking with Nana Ling version of Curried Sausages below.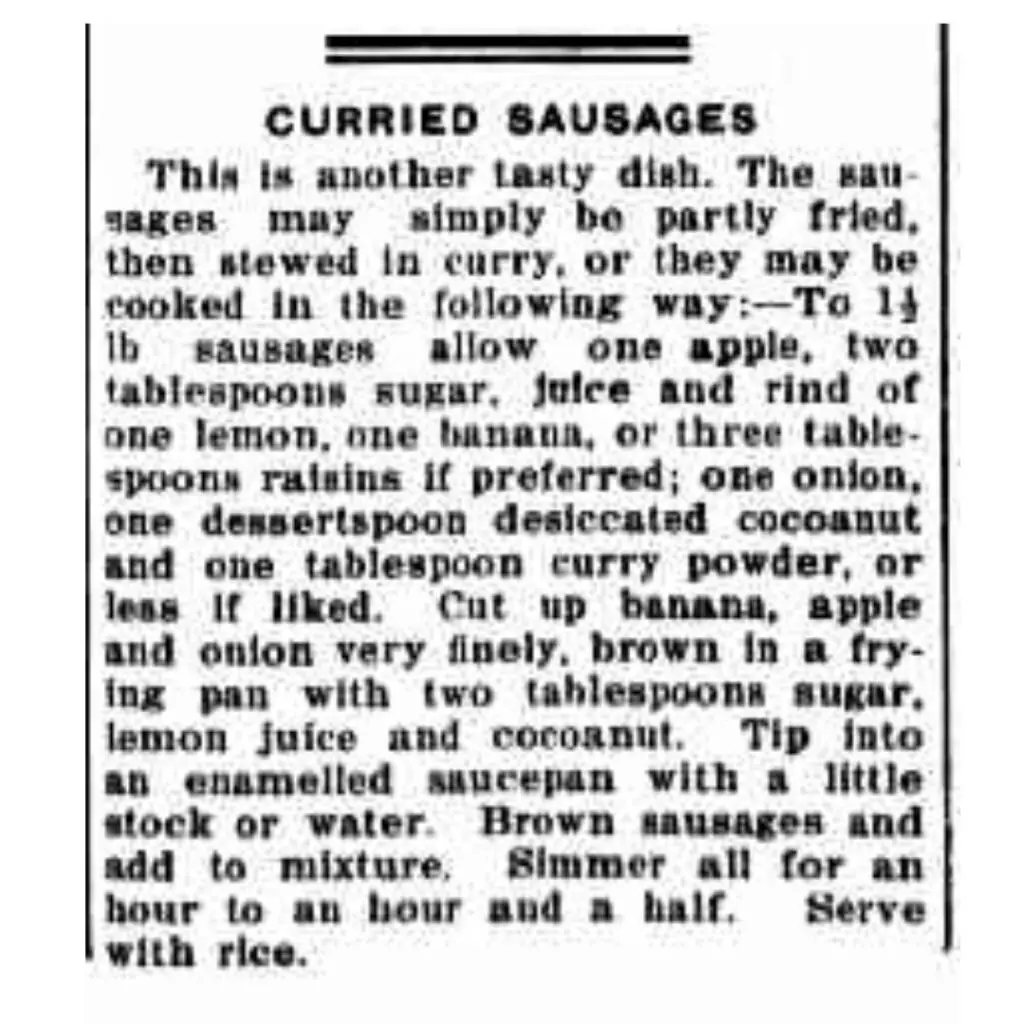 Aussie Curried Sausages FAQs
Q. How long does this dish last in the fridge?
You can store this dish in the fridge for a couple of days.
Q. Can I freeze Curried Sausages?
You sure can. The only thing better than a curried sausages meal is when you already have it made and portioned up in the freezer. Curries Sausages should be fine for up to 3 months in the freezer.
Q. Can I use any type of sausage?
You can use other types of sausages, thick, pork, chicken… the options are endless. But to get that old-fashioned retro taste, use the thin beef variety.
Q. Can I make it in the slow cooker?
You can, though you'd need to cook the sausages a little first. Which is a bit of mucking around! I recommend following this stovetop method as it's quick and easy.
Q. Do you have other quick, easy and delicious family meals?
Absolutely. The Retro Apricot Chicken recipe is very popular. As is the Easy Spaghetti Bolognese, Keen's Chicken Curry and Zucchini Slice.
Q. What about sweet Aussie retro recipes?
I have plenty of those. Try Ambrosia Salad, Golden Syrup Dumplings, Classic Trifle, Sticky Date Pudding and the ultimate Aussie dessert: Pavlova.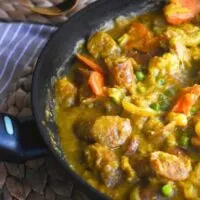 Curried Sausages
Best ever curried sausages recipe. Just like grandma made!
Print
Pin
Rate
Ingredients
600

grams

thin beef sausages

(6 or 7 sausages)

1

medium

onion

sliced

1

tablespoon

olive oil

1

carrot

peeled and slice diagonally

1/2

cup

peas

1

apple

grated

1

banana

chopped into cubes

1

tablespoon

Keen's Curry Powder

3

tablespoon

plain flour

1/4

cup

desiccated coconut

2 1/2

cups

chicken stock

(625 ml)

salt and pepper

to taste
Instructions
Heat half of the oil in a large frying pan over med-high heat.

Add the sausages and cook for 5 minutes or until browned. Remove sausages from the pan and slice into pieces diagonally. Set aside.

Add the remaining oil to the frying pan and cook onion over medium heat until translucent.

Add curry powder and stir over heat until onion is well coated. Add flour and stir over heat for a couple of minutes. Add coconut and stir to combine.

Pour stock into frying pan and stir over heat for 30 seconds.

Add carrot, peas, apple and banana and simmer for 2-3 minutes.

Add sausages and simmer for 10 minutes, or until sauce thickens and sausages are cooked through. Add salt and pepper to taste.
Nutrition
Calories:
683
kcal
|
Carbohydrates:
31
g
|
Protein:
29
g
|
Fat:
49
g
|
Saturated Fat:
17
g
|
Polyunsaturated Fat:
6
g
|
Monounsaturated Fat:
21
g
|
Trans Fat:
1
g
|
Cholesterol:
113
mg
|
Sodium:
1185
mg
|
Potassium:
875
mg
|
Fiber:
5
g
|
Sugar:
14
g
|
Vitamin A:
2862
IU
|
Vitamin C:
16
mg
|
Calcium:
48
mg
|
Iron:
3
mg