A delicious yeast-free bread that's quick and simple to make.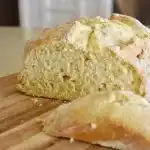 Irish Soda Bread is one of the easiest breads to make at home.
With no yeast required, no waiting for the bread to rise and very little kneading involved, it's a simple task to bake up this wonderfully comforting and tasty bread.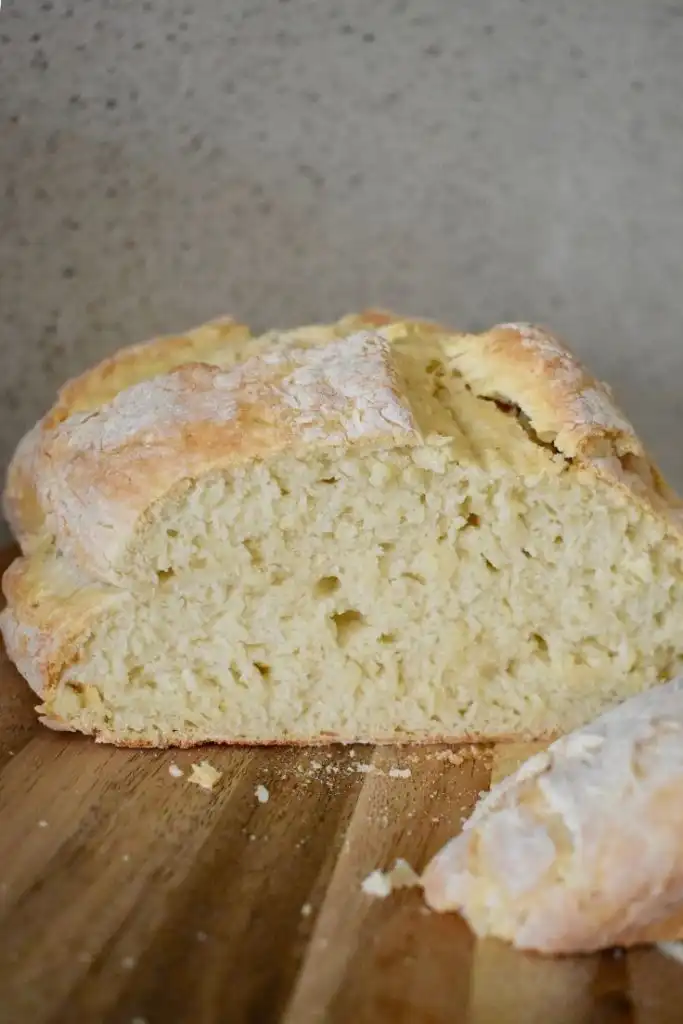 The history of soda bread
While it was the American Indians who first used soda to leaven bread, it's the Irish who took this method and made it their own.
Bicarb soda was introduced in Ireland around the 1840s, the time of the potato famine.
At that time, yeast was a luxury ingredient that was often too expensive for most families to afford, and so bakers in Ireland began experimenting with alternative ingredients to make bread.
They discovered that baking soda, when combined with sour milk (or buttermilk) created a chemical reaction that would cause the bread to rise.
Using this new ingredient, Irish Soda Bread became an easy and affordable way to put bread on the table and fill empty tummies – and it quickly became popular throughout Ireland.
It's crunchy crust, rustic appeal and wholesome taste means it's just as loved today.
Despite its humble origins, it's become a beloved part of Irish cuisine and a symbol of Irish heritage.
In recent years, Irish soda bread has gained popularity around the world, with many bakeries and restaurants featuring their own unique takes on this classic bread.
Irish Soda Bread in Australia
Irish-born Aussies arrived with the first fleet in 1788, and have been an influential part of the Australian population since.
In fact one commentator suggests that "Australia remains the most Irish country in the world outside Ireland."
So it's no surprise that recipes for Irish Soda Bread go right back to the earliest days of European settlement.
The newspaper clippings below show recipes from the early 1900s, including one "from Ulster", the region more commonly known now as Northern Ireland.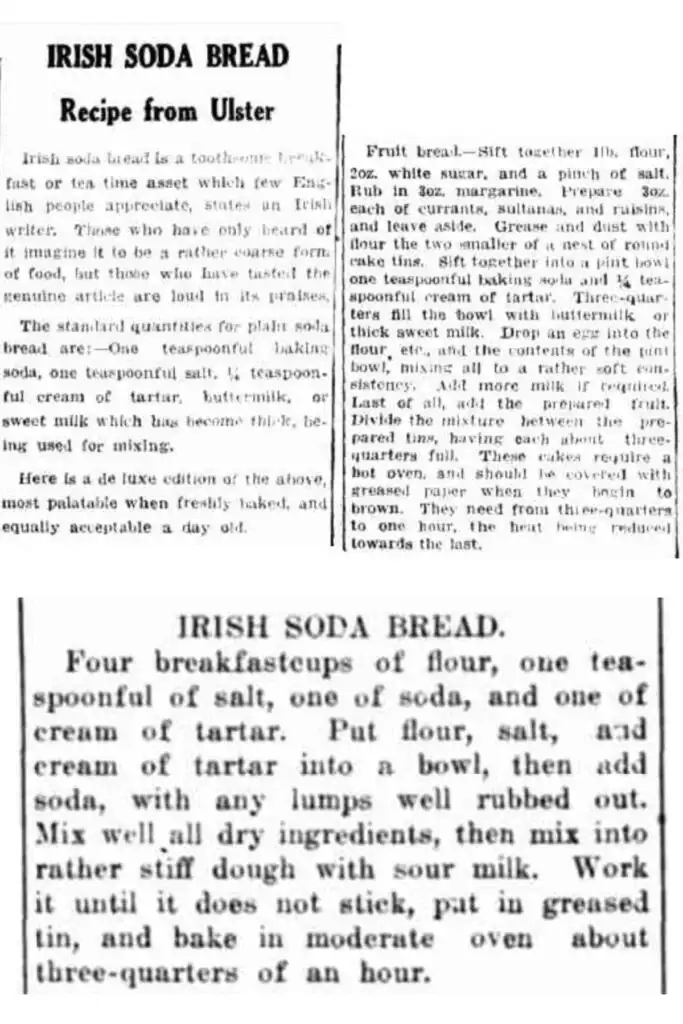 I absolutely love this quote from the first recipe above:
"Irish soda bread is a toothsome breakfast or tea time asset which few English people appreciate, states an Irish writer. Those who have only heard of it imagine it to be a rather coarse form of food, but those who have tasted the genuine article are loud in its praises."
So, let's get on with making this "toothsome" bread!
Ingredients for Irish Soda Bread
To make this bread, you'll need these kitchen staples:
plain flour (all-purpose flour)
salt
bicarb soda
cream of tartar
butter
buttermilk or sour milk.
If you don't have sour milk or buttermilk on hand, you can use fresh milk with a little lemon juice or vinegar added to the milk.
Note that all ingredient quantities can be found in the recipe card at the bottom of this post.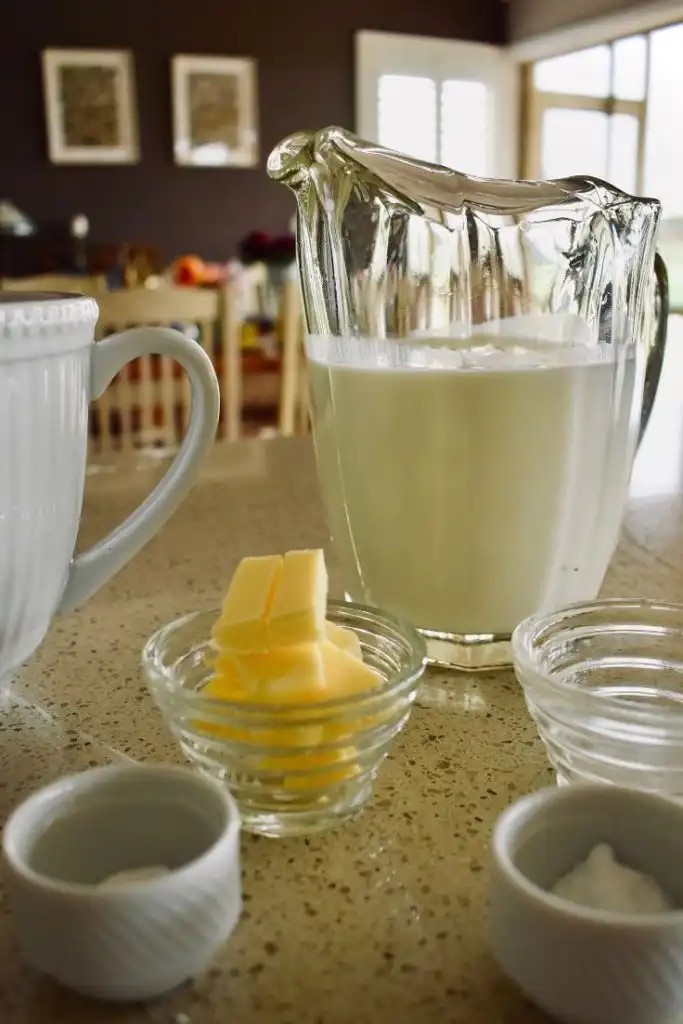 How to make Irish Soda Bread
Start the bread-making process by pre-heating your oven to 180 degrees celsius (fan-forced).
The method for this bread is so simple. You just sift the dry ingredients, rub in the butter and add the milk to form a firm dough.
You then knead lightly to form a round.
By lightly, I mean very, very lightly. The less you handle this dough, the better.
The cross
The final touch is marking a cross on the top of your bread with a sharp knife.
The cross has a symbolic meaning, and is meant to ward off evil.
It also has a practical purpose too, allowing the bread to cook in the middle.
Some like to make just a small cross while others practically cut the bread round into quarters before baking. I like to make the cross about an inch deep right across the bread.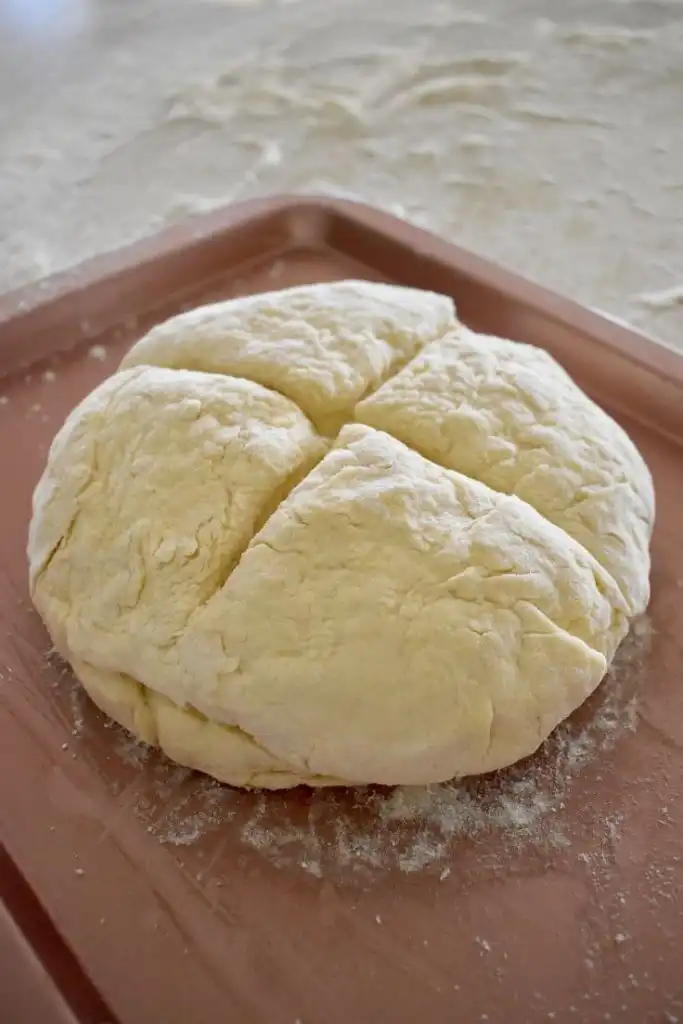 Once done, it's straight into the oven and you'll have fresh bread within the hour.
No wonder this yeast-free bread is still so popular today!
Variation ideas
I love this easy Irish Soda Bread recipe as it is – especially when the bread is served plain, straight from the oven, and generously smothered with butter.
But there are plenty of variations to try.
Irish soda bread was traditionally made with wholemeal flour, which was readily available and affordable in Ireland at the time. Try making it the original way!
Of course, over time, Irish soda bread began to evolve and take on new variations. Some bakers began using white flour instead of wholemeal, while others added ingredients such as raisins, nuts, or caraway seeds to create different flavours and textures.
You could also try adding other types of seeds, oats, ior cheese for a change. Get creative!
Just remember to include all of the basic elements that make this bread what it is: flour, salt, baking soda, and buttermilk.
How to enjoy Irish Soda Bread
As I mentioned above, I find it hard to resist this bread served warm with butter.
However, this bread is also perfect with soups, toasted with your favourite conserves or used to make a big, healthy sandwich.
Other recipes you may enjoy
If you'd like to try another easy bake-at-home bread, check out this Aussie Damper Recipe or this Banana Bread Recipe.
If it's traditional Irish fare you're after, you can't go past my Irish Apple Amber recipe.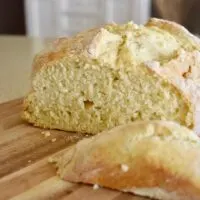 Irish Soda Bread
A delicious yeast-free bread that's quick and simple to make.
Print
Pin
Rate
Ingredients
4

cups

plain flour

(all-purpose flour)

1

teaspoon

salt

1

teaspoon

bicarb soda

1

teaspoon

cream of tartar

2

tablespoons

butter

(that's equivalent to 30 grams)

420

mls

buttermilk

(or use 400ml of fresh milk and top up with 20ml of lemon juice or white vinegar)
Instructions
Pre-heat oven to 180 degrees celsius (fan-forced).

Sift dry ingredients into a mixing bowl.

Chop butter and rub into dry ingredients.

Add as much of the buttermilk as you need to form a firm dough, stirring the milk in with a bread knife.

Knead gently on a floured surface and shape into a round about 17cm in diameter.

Place onto a greased tray and cook for 40 minutes.

Remove from oven and place on a cooling rack.
Nutrition
Calories:
191
kcal
|
Carbohydrates:
34
g
|
Protein:
5
g
|
Fat:
3
g
|
Saturated Fat:
2
g
|
Cholesterol:
9
mg
|
Sodium:
339
mg
|
Potassium:
133
mg
|
Fiber:
1
g
|
Sugar:
2
g
|
Vitamin A:
116
IU
|
Calcium:
47
mg
|
Iron:
2
mg