A classic Aussie pikelets (mini pancakes) recipe from Nana Ling.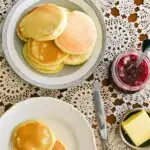 This Pikelets Recipe is from Nana Ling's handwritten recipe collection and dates back to around the late 1930s.
Pikelets are still a popular treat today, and the homemade version is so much tastier (and economical) than the store-bought variety. There's really no comparison!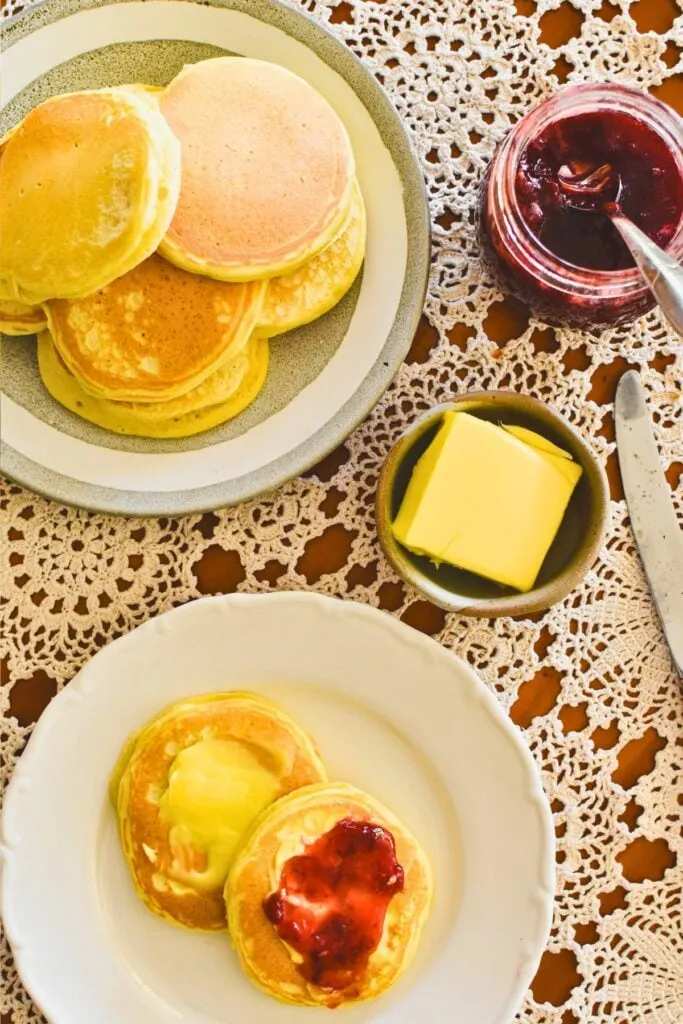 What are Pikelets (and where in the world do they come from)?
Pikelets are mini pancakes and are particularly popular in Australia. They're a great all-rounder – serve them as an after-school snack, lunch box treat, quick and easy morning tea or sneaky midnight snack.
My first memory of these small round treats is taking one from a huge plate at an end-of-year sports celebration. It was held at a local community hall and I can still see the dusty timber floors and feel the summer humidity.
The pikelets, piled high and smeared with butter, must have been great because more than 35 years later I can still see them sitting there and looking like a good option among all the other plates of home cooked food!
The Merriam-Webster Dictionary says "pikelet" comes from a Welsh word and describes a "small round thick pancake baked on a griddle and traditionally served on Christmas day in Great Britain."
In Australia, one of the earliest records of a pikelets recipe is from The Dawn in 1892. This publication was a feminist magazine.
Yes, back before the dawn of the 20th century it seems many women were fighting for equality while still running a house, making life happen and… feeding the kids, cooking up these little treats for the kids.
So long ago, but so familiar!

Why you'll love Nana Ling's old-fashioned Pikelet Recipe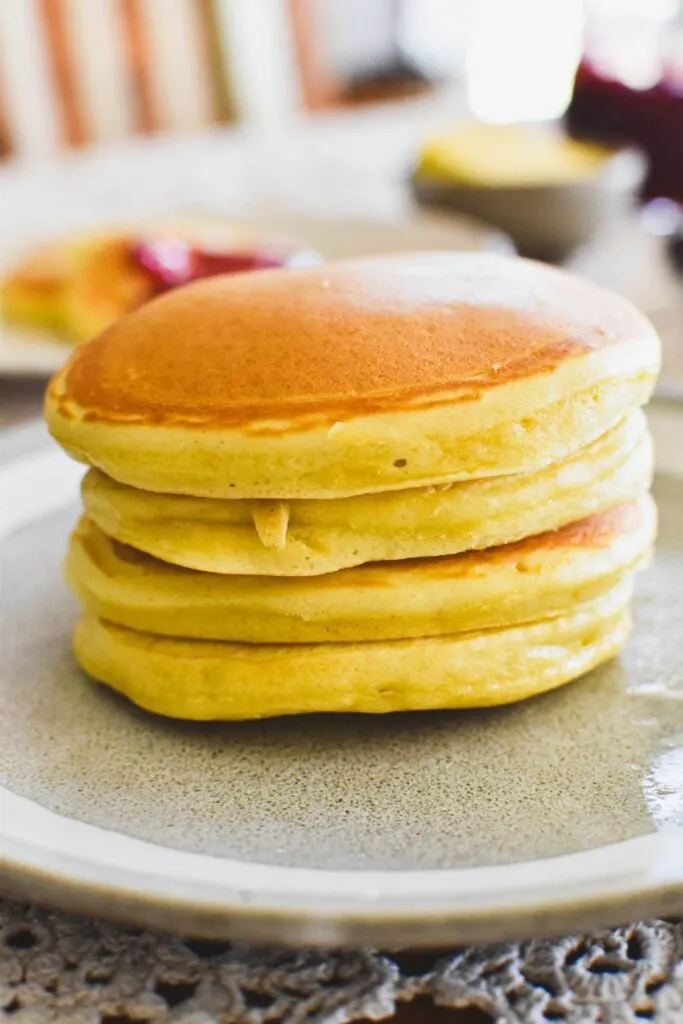 So, what makes this recipe a little special?
Apart from being more than 80 years old, it uses an ingredient I hadn't used before in pikelets. Golden Syrup. You can use honey as a substitute, but the golden syrup adds not just sweetness but that distinct caramel flavour which works so well here.
These pikelets are light, fluffy and sweet – after my youngest daughter gobbled up a few I told her that it was Nana Ling's 80+ year old recipe. "Ah, that's why they're so good," she said.
Like all pikelets, these ones are super versatile – eat them plain, with a generous swipe of butter and jam or drizzled with honey.
The Recipe for Pikelets
I've based my recipe on Nana Ling's original recipe, but have cut the quantities in half as the original recipe made a LOT of pikelets.
This recipe makes about 16, which I find perfect for a small family. You can, of course, multiply the quantities depending on how many you want to make.
Nana Ling's recipe (and her lovely handwriting) is pictured below. But please keep scrolling to the recipe card at the end of this post for the tested and tweaked recipe.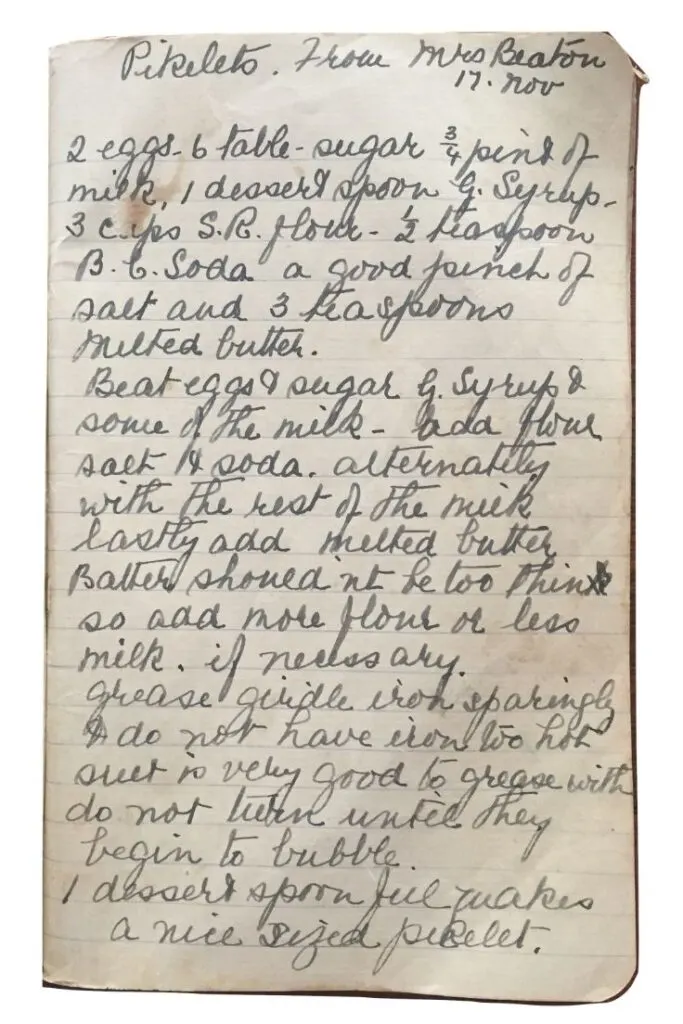 Ingredients for Pikelets
The ingredients you'll need are:
egg
sugar
milk
golden syrup
SR flour
bicarb soda (baking soda)
salt
melted butter.
That's right. This is a 3-ingredient recipe!
The ingredient measurements can be found in the recipe card at the end of this post.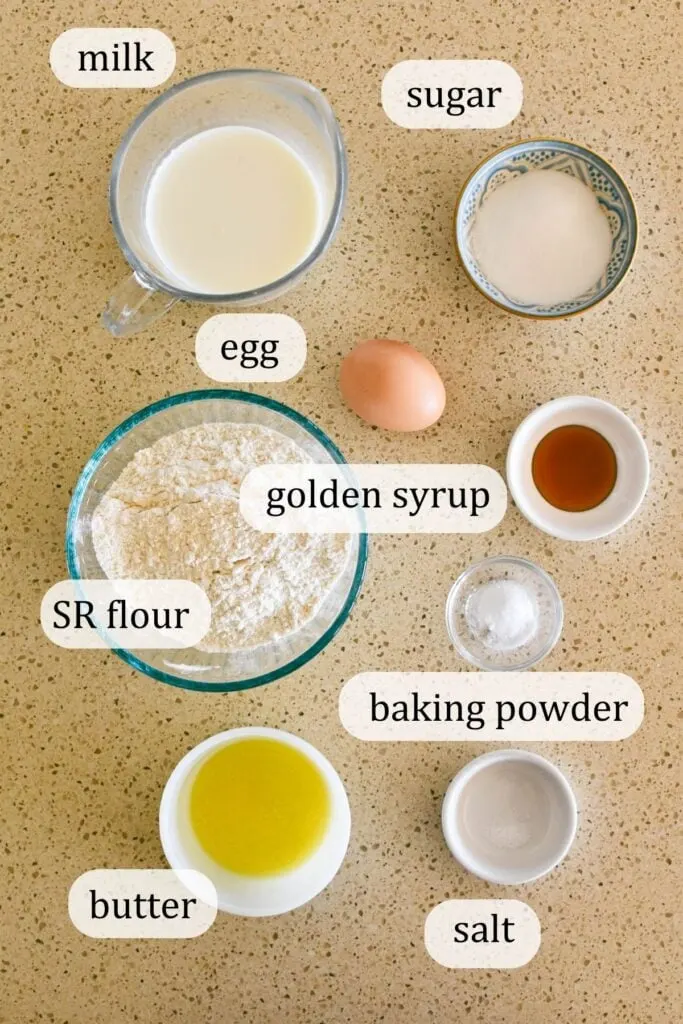 How to make Pikelets
Okay, so while they are pretty simple little snacks, they can be a little tricky to get right.
The step-by-step method can be found in the recipe card below. However, to help you churn out perfect little pikelets, you need to keep these 5 golden rules in mind:
Do not over-mix the batter. Whisk until just combined.
The batter should be a similar consistency to cake batter – not too thick and not too thin. When you pour the batter into the hot frypan, it should spread slowly.
Grease the frypan with butter sparingly before heating it.
Have the frypan over low-medium heat. You want them to cook slowly and evenly. You're aiming for an even, light golden colour.
Wait for bubbles to appear before turning to cook on the other side (see picture below for the amount of bubbles you should see just prior to flipping them).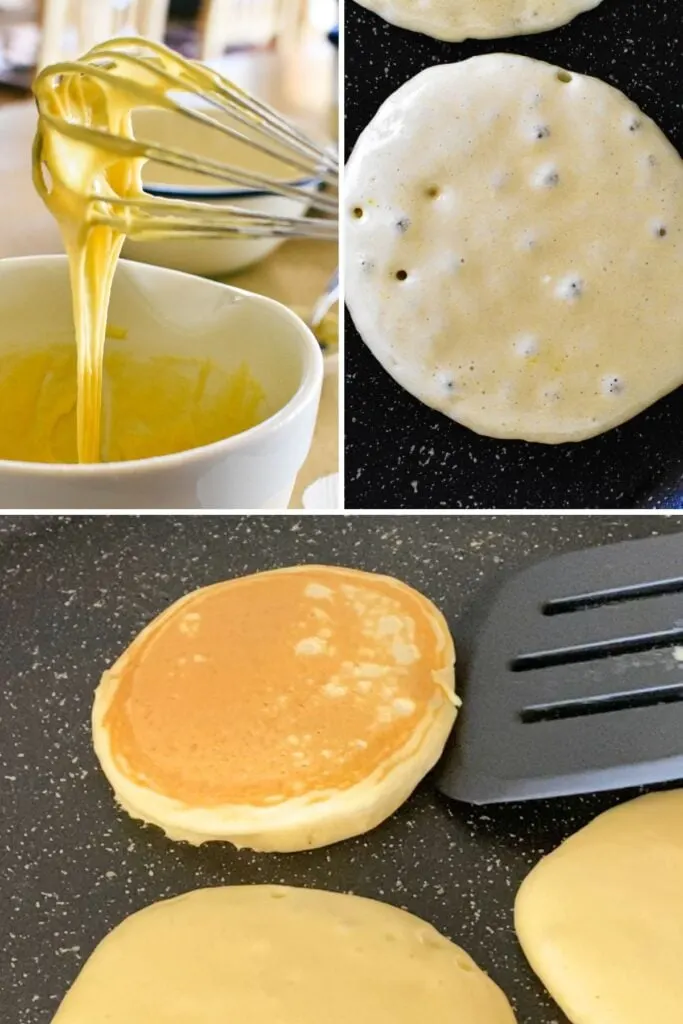 Enjoying Pikelets
Pikelets are best served immediately, still warm, or at room temperature.
Top with butter or butter and jam or just eat them as they are.
How long will they keep?
Store them in an airtight container (in the fridge or at room temperature) and they'll keep for up to a few days.
Can you freeze pikelets?
Leftovers can be frozen for up to 3 months provided you wrap them.
How to eat pikelets?
With your hands! Pick them up and gobble them down.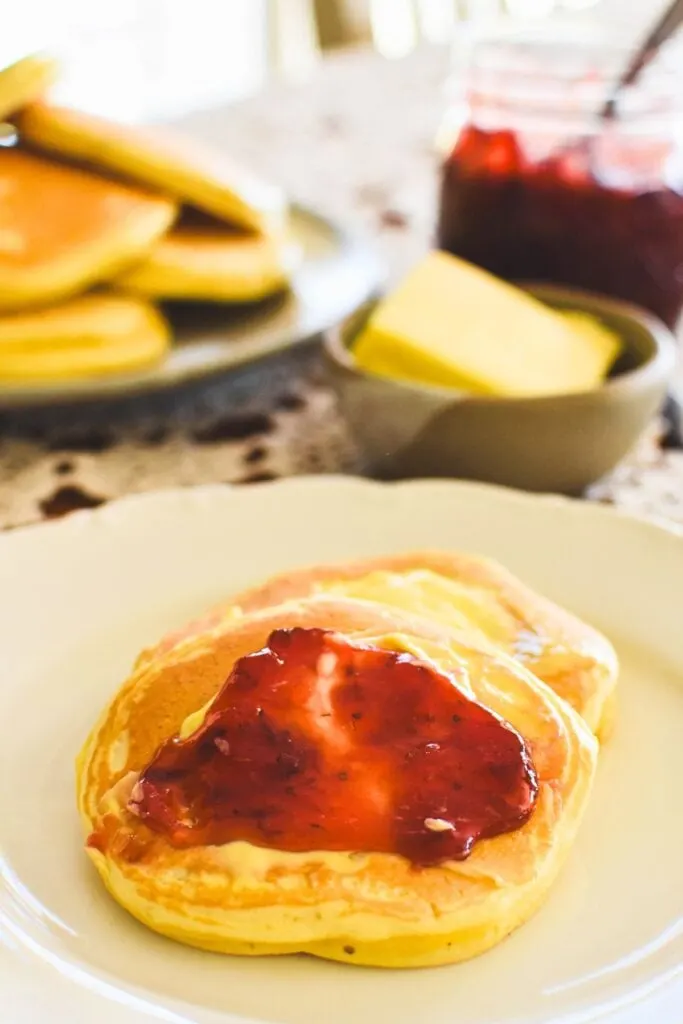 Other snack recipes you might like
If you love this recipe, you might also like Scotch Pancakes, Old fashioned Jam Drops, Apricot Balls, Arrowroot Biscuits, Cornflake Cookies, Banana Bread, Weetbix Slice, Savoury Muffins and Milo Biscuits.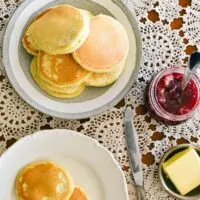 Pikelets
A classic Aussie pikelets (mini pancakes) recipe from Nana Ling.
Print
Pin
Rate
Ingredients
1

egg

3

tablespoons

sugar

(55 grams)

225

ml

milk

1

teaspoon

golden syrup or honey

1 1/2

cups

SR flour

(220 grams) ( or 1 1/2 cups plain flour + 3 teaspoons baking powder)

1/4

teaspoon

bicarb soda

(baking soda)

1

pinch

salt

2

teaspoons

melted butter

(10 grams)
Instructions
Beat egg, sugar, golden syrup/honey and 1/3 of the milk.

Sift flour, salt and baking powder together and whisk into the egg and sugar mixture alternately with the rest of the milk.

Lastly, add melted butter and stir through.

Grease frying pan sparingly and heat over low-medium heat – but don't have too hot.

Spoon tablespoons of batter onto the frying pan. Turn when they begin to bubble and cook on the other side until a light golden colour.
Nutrition
Calories:
70
kcal
|
Carbohydrates:
12
g
|
Protein:
2
g
|
Fat:
1
g
|
Saturated Fat:
1
g
|
Cholesterol:
13
mg
|
Sodium:
34
mg
|
Potassium:
34
mg
|
Fiber:
1
g
|
Sugar:
3
g
|
Vitamin A:
52
IU
|
Calcium:
18
mg
|
Iron:
1
mg