A super simple recipe for the most delicious mandarin jam.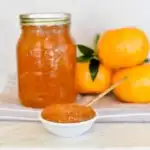 This is an easy Mandarin Jam Recipe (or Mandarin Marmalade) that will come in very handy when mandarins are in abundance.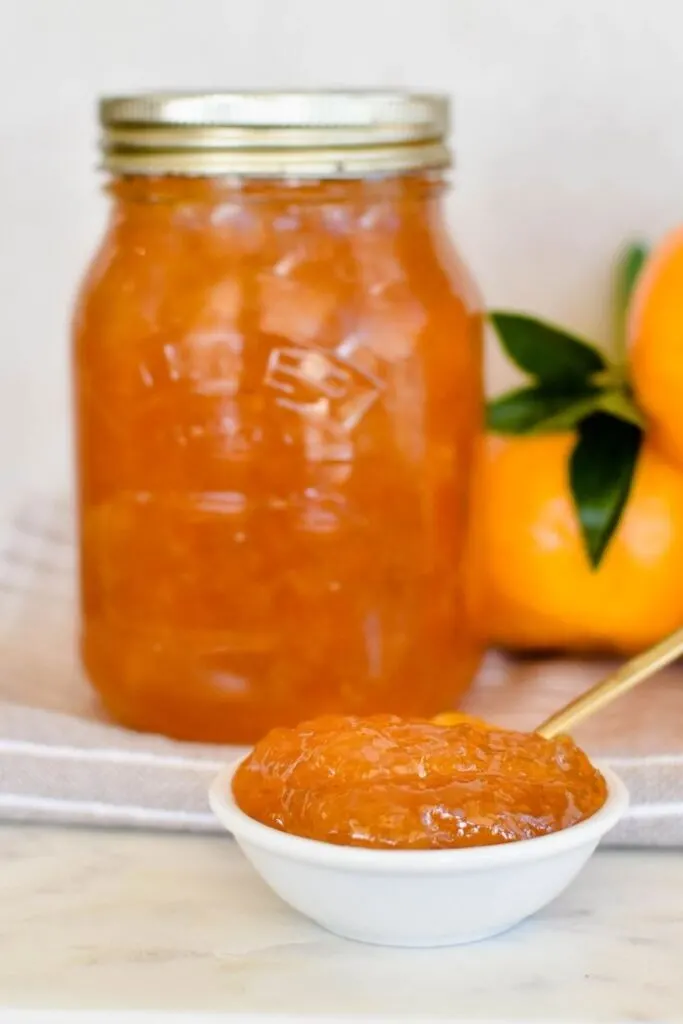 Why Mandarin Jam?
This Mandarin Jam will brighten up your breakfast time.
Whether you prefer toast, croissants or crumpets, homemade Mandarin Jam is the perfect accompaniment – and I can certainly vouch for the croissant and jam option!
It's also an easy-ish recipe and solves the dilemma of what to do when you have lots of mandarins.
When mandarins come into season, they sure make their presence known.
I often see many trees around the neighbourhood, loaded with fruit that sometimes goes uneaten, and there's an abundance of affordable fruit in supermarkets.
Mandarins are so easy to eat, with their perfect packaging and pull-apart segments, that they often are thought of as a lunch box food only.
There are plenty of ways to enjoy mandarins in cooking, both sweet and savoury, and the skin can even be dried and used to infuse flavour in dishes.
Today, though, we're making Mandarin Jam!
Recipe for Mandarin Marmalade
I started with Nana Ling's original Mandarin Jam recipe dated July 1941, but have updated it quite significantly.
So please keep scrolling right until the end to find the recipe card with the updated ingredient list and instructions.
The original recipe contains 9 cups of sugar. Whoa!
But after checking other recipes, I discovered the fruit to sugar ratio was correct.
I did, however, cut down all of the quantities to so the recipe makes one large jar of jam.
If you have heaps of mandarins and want to make more, just multiply the recipe accordingly.
So, ready to jam?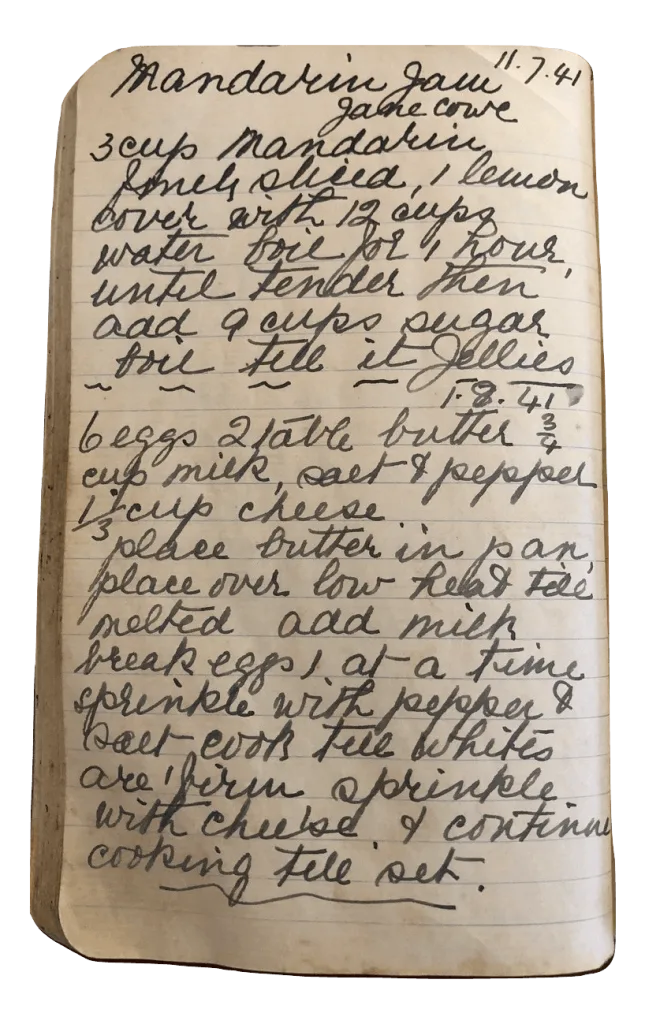 The ingredients for Mandarin Jam
You'll need the following to make up this Mandarin Marmalade:
about 4-5 mandarins
1/2 lemon
water
jam setting sugar.
Keep scrolling to the end of the post for exact quantities.
Which mandarins make the best jam?
All mandarins will make lovely jam, but those that are easy to peel with less seeds will make the process so much easier.
If you're planning to make jam, these two varieties are good options:
Sumo: seedless, sweet, large and easy to peel.
Imperial: few seeds, easy to peel and readily available.
This recipe calls for 2 1/2 cups of chopped mandarin, which is roughly 4-5 mandarins.
Here, I've used Imperial mandarins since they were readily available.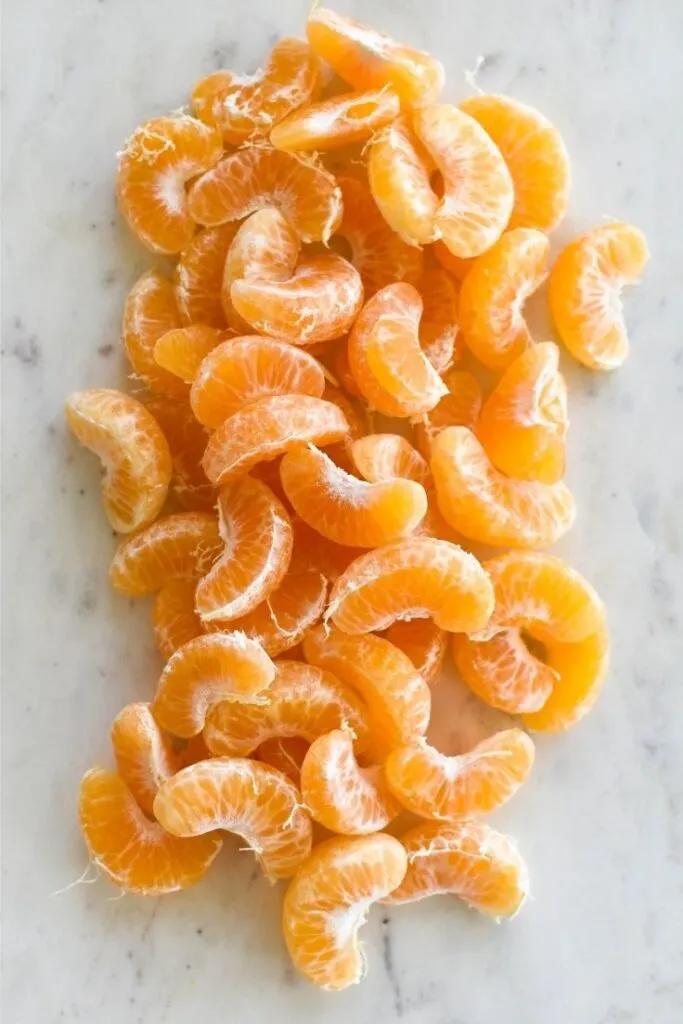 How to make Mandarin Jam
First you'll need to prepare your jam jar or jars.
Sterilise jam jars by placing in the dishwasher on the hottest cycle and allowing to air dry.
The next step is to chop your fruit.
Remove loose pith as you go along with seeds. Rest assured that any stray seeds will float to the top during boiling and can be removed.
You then add the water and boil for just 10 minutes.
Next, add the sugar.
We use jam setting sugar in this recipe as it makes the whole process so much easier.
Stir a little to dissolve the sugar and then bring to the boil again. Within 15-20 minutes your jam will be ready.
Working out when the jam has jellied can be tricky. If you're new to the process, check out my post on how to tell when jam is set for some detailed instructions on getting it right.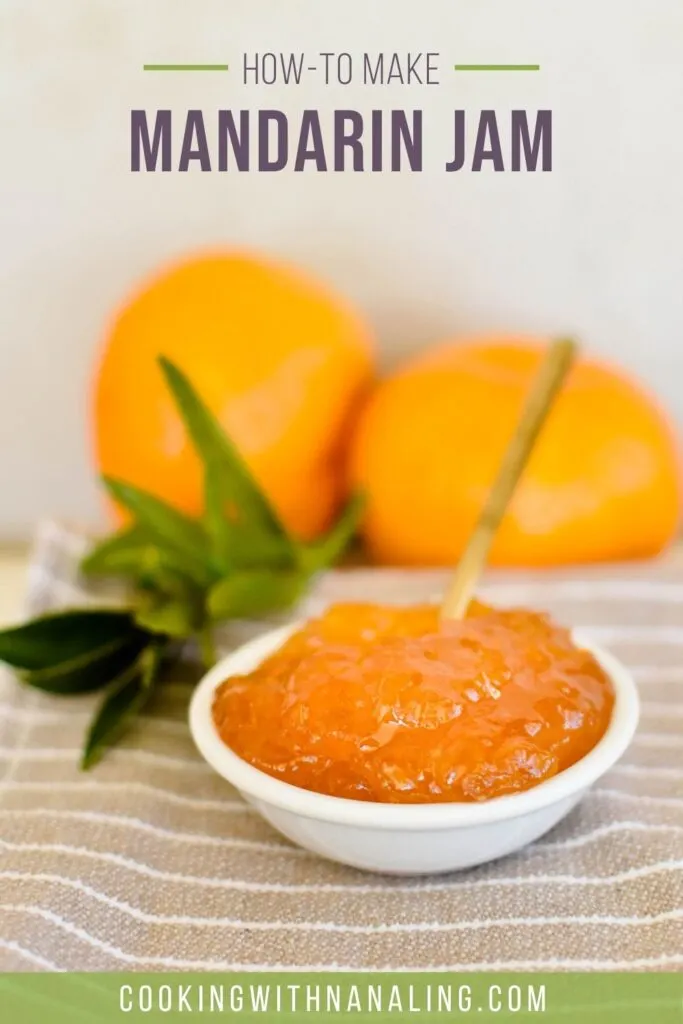 Love jams and marmalades?
Check out the strawberry, fig, lemon, rosella, peach and tomato jam recipes, too!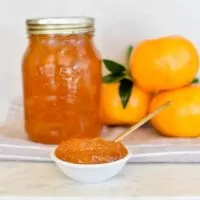 Mandarin Jam
A super simple recipe for the most delicious mandarin jam.
Print
Pin
Rate
Ingredients
2 1/2

cups

mandarin (peeled and roughly chopped and seeded)

(about 4-5 mandarins)

1/2

lemon (peeled, chopped and seeded)

2

cups

water

500

grams

jam setting sugar
Instructions
Peel mandarins, removing loose pith.

Chop mandarins roughly (breaking up segments into 4 or 5 pieces), removing any seeds. You can also remove any stray seeds later as they float to the top during boiling.

Place chopped mandarins into saucepan and add the lemon (also peeled, chopped and seeded).

Add water and place over heat. Bring to the boil and continue to boil uncovered for 10 minutes.

Add the sugar and continue to boil until the mixture jellies. This should take about 15-25 minutes, depending on the fruit and temperature. When ready, the mixture will start to thicken a little, turn a pale golden colour and will "grab" just slightly to the bottom of the saucepan when you stir the mixture.

Remember to use jam setting sugar!

Pour hot jam into a large sterilised jar. Seal with the lid and allow to cool to room temperature.

Refrigerate and enjoy for up to one month.
Nutrition
Calories:
2209
kcal
|
Carbohydrates:
570
g
|
Protein:
5
g
|
Fat:
2
g
|
Saturated Fat:
1
g
|
Polyunsaturated Fat:
1
g
|
Monounsaturated Fat:
1
g
|
Sodium:
39
mg
|
Potassium:
894
mg
|
Fiber:
10
g
|
Sugar:
552
g
|
Vitamin A:
3332
IU
|
Vitamin C:
159
mg
|
Calcium:
214
mg
|
Iron:
1
mg