An early version of this traditional and much-loved Australian/New Zealand biscuit.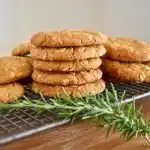 Anzac Biscuits are an iconic biscuit in Australia and New Zealand, known to have been baked by wives and mums and sent to the front during wartime.
We've long loved these crunchy and chewy biscuits, defined by their key ingredients – oats and golden syrup. There's also, traditionally, no egg in the recipe.
This recipe is Nana Ling's recipe from 1939. While I have hundreds and hundreds of recipes from her, I struggled to locate an Anzac Biscuits recipe.
I just knew she'd have one somewhere, though. As my eldest daughter says, "Nana Ling has a recipe for everything!"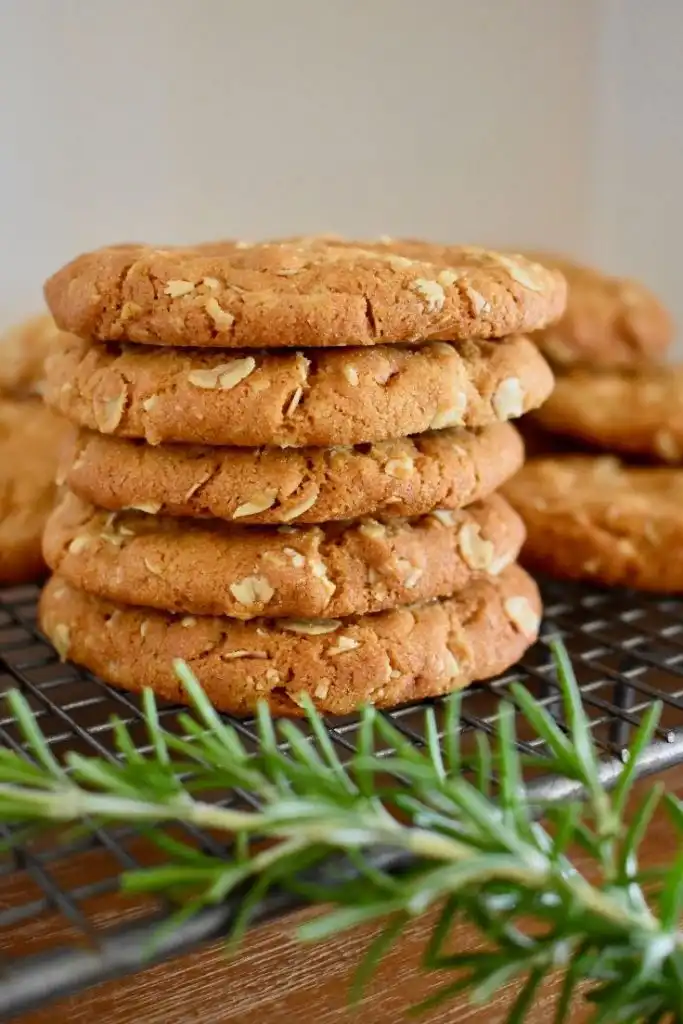 Searching for Nana Ling's recipe
So, I started searching for Nana Ling's Anzac Biscuits recipe in her handwritten books and clippings.
Despite plenty of searching I hit many dead ends.
But I just had this niggling feeling that she had this recipe somewhere.
It may have taken me many months, but I did eventually find her Anzac Biscuits recipe.
In the process, I got a lesson on the interesting history of this biscuit!
To understand the biscuit, though, you first have to understand the Anzac tradition.
The Anzac tradition
Anzac stands for the Australian and New Zealand Army Corps (ANZAC), established in World War I.
Our Anzac tradition is about the courage and mateship our Australian and New Zealand soldiers showed as they set out to capture the Gallipoli peninsula on the morning of 25 April 1915 during World War I.
That day is still marked with marches and a public holiday. We pause and reflect on this great sacrifice and the continuing loss and reality of war.
By the end of 1915 when our soldiers were evacuated from Gallipoli, 60,000 Australian soldiers had fought there and 8,000 had been killed.
One of the soldiers killed was Nana Ling's brother-in-law, Harold Bliss Ling.
He was killed in action on the Gallipoli Peninsula on 19 July 1915, aged just 25 years. Harold is buried at Shrapnel Valley Cemetery at Anzac Cove in Turkey.
Every Anzac Day, more than one hundred years later and more than 15,000 kilometres from his final resting place, members of our family remember Harold Bliss Ling.
I can't imagine the grief his family felt back then.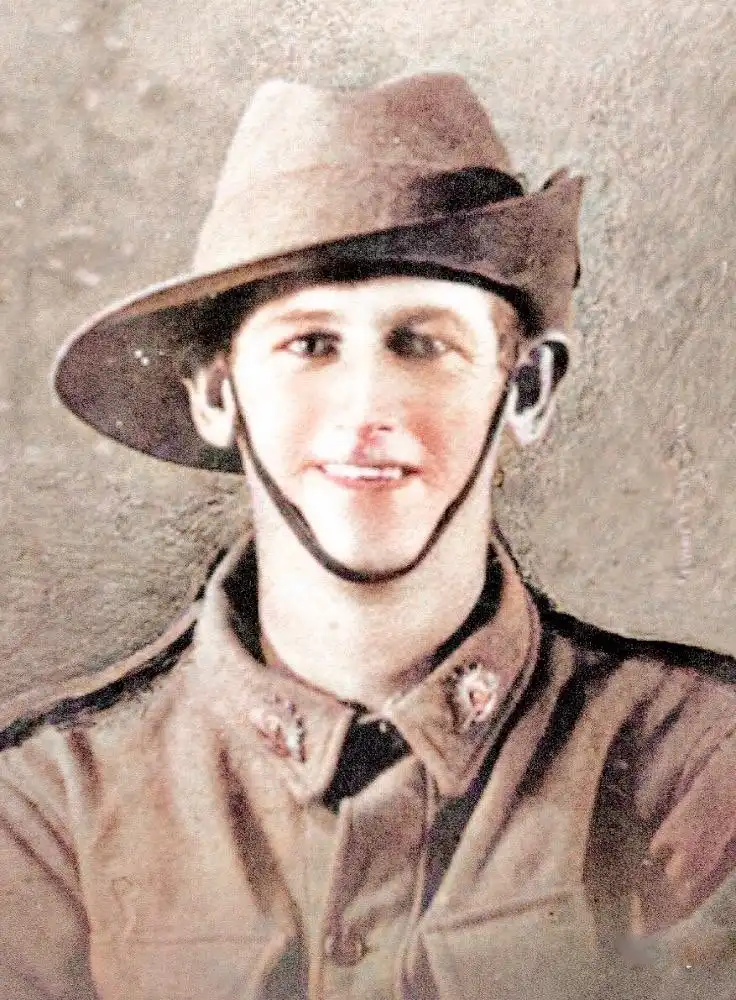 A biscuit with a history
It's so very well known now, but the Anzac Biscuit took decades to develop into what it is today.
Despite being closely associated with World War I, the Anzac biscuit "took many years for the biscuit as we know it to become entrenched in Australian society under that name," according to Dianne Rutherford, Curator in Military Heraldry & Technology at the Australian War Memorial.
Dianne says, that "while some families or communities may have made and sent what we now call Anzac Biscuits to the front in the First World War, it did not have the national cultural import that subsequent stories have given it."
She continues: "… the Anzac Biscuit as we know it does not appear to have come into publicly acknowledged existence until around 1919."
Dianne also says that there were several different recipes during the 1920s and 1930s, and that the biscuits were also sometimes called "Crispies" during that time period.
So, Anzac Biscuits were a relatively new thing during Nana Ling's time.
I knew she'd be on to it, though. She loved recording new and wonderful recipes – she had an early Pavlova recipe, an early Choc Ripple Cake recipe and often scribbled references to new products and ideas in the margins of her recipe books.
Where was her Anzac Biscuits recipe?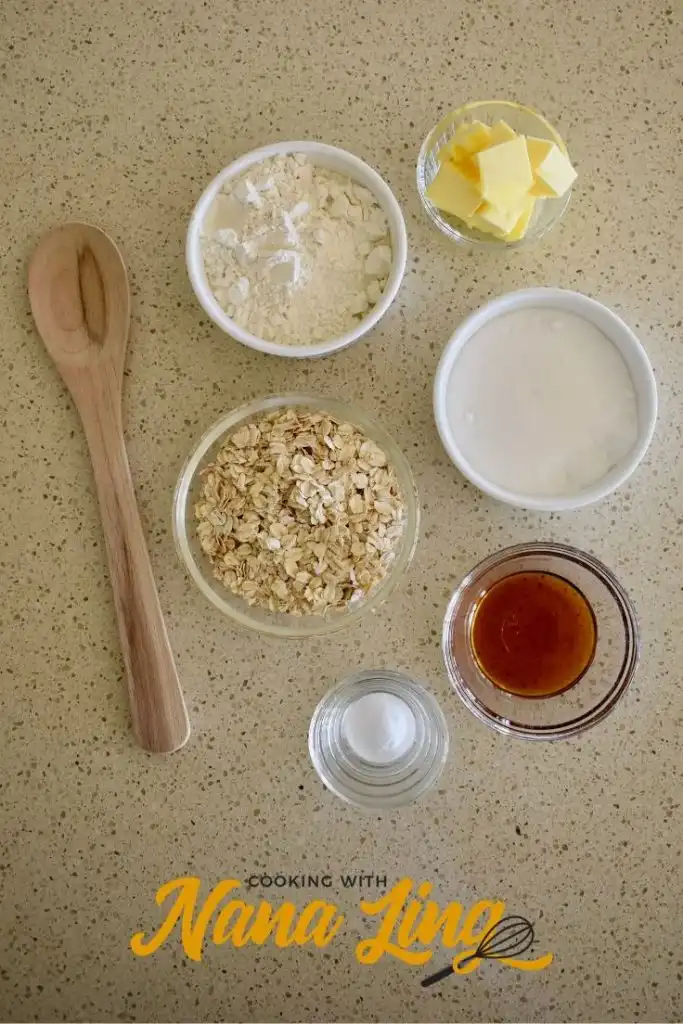 Finding Nana Ling's Anzac biscuits recipe
Of course, I found Nana Ling's Anzac Biscuits recipe when I wasn't looking!
Nana Ling was in the habit of sending recipes to her local paper, The Maitland Mercury. The paper held a weekly recipe competition and I've found a few gems from Nana Ling by searching through this paper on Trove.
On a whim, I decided to try to find more of her recipes by using slightly different search terms. I tried a new search string and came up with a recipe for "Brandy Snaps" that Nana Ling had sent in back in 1939. As I read through the ingredients and method, I realised it sounded very much like an Anzac Biscuits recipe. Strange!
I thought about it some more and was convinced there was some type of error with the title and it was in fact an Anzac Biscuits recipe.
So, to get confirmation I went to the experts.
The verdict from the experts: an early version Anzac Biscuit
I sent off an email to Dianne from the Australian War Memorial and she confirmed my hunch was right. She says in her opinion Nana Ling's recipe is "an Anzac biscuit variant recipe rather than a brandy snap recipe."
Finally. My hunch was right – Nana Ling did have an Anzac Biscuits recipe tucked away somewhere.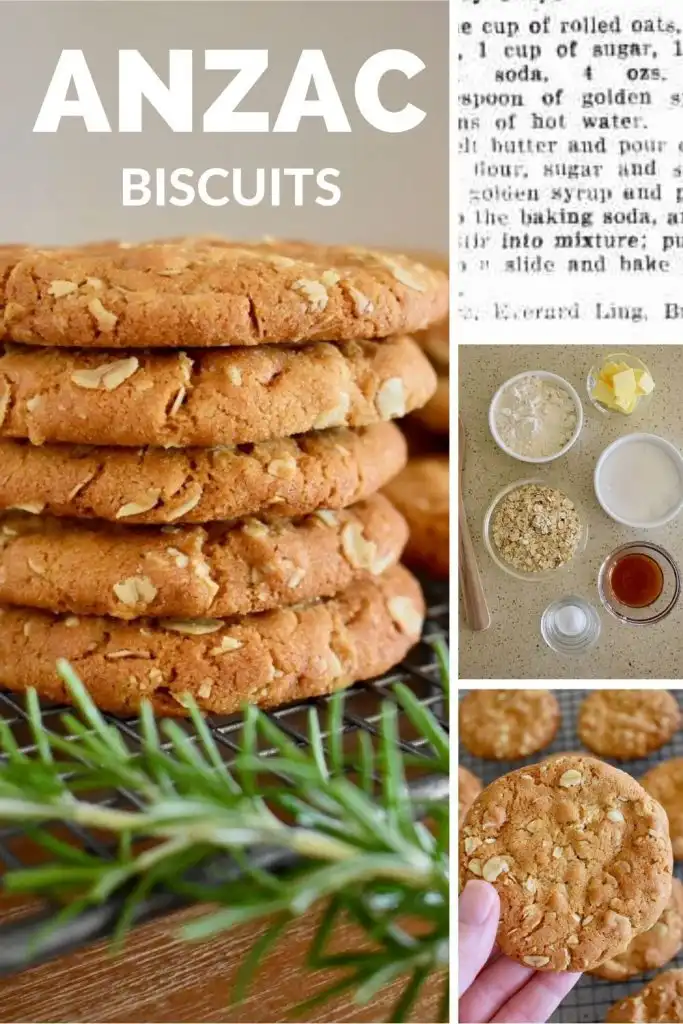 I did have to work a little harder than usual to find it. And it involved quite a few things falling into place.
First, I decided to use a new search term beyond the many I'd already used. The reason I'd never found this one was because the text recognition software had made a few spelling mistakes in Nana Ling's name. This meant it didn't come up when I searched specifically for her name.
I then had to look beyond the recipe name to realise it wasn't what it appeared to be.
Next, I had to get in touch with my contact at the Australian War Memorial and hope she had time to consider my enquiry.
When Dianne from the Australian War Memorial promptly responded to my email, I quite literally got goosebumps. She said:
"Hi Libby, this is quite spooky as I was just talking Anzac biscuits with a researcher yesterday when your email arrived!"
Another coincidence.
There have been many lucky coincidences along the way with this blog.
Things like finding this recipe despite the odds make me think that Nana Ling sometimes offers a bit of guidance from beyond. I think she really wanted this recipe to be found and recognised as an early Anzac Biscuit recipe.
A "truly traditional" Anzac Biscuit
Dianne, who's tested many other early Anzac Recipes, went on to explain how Nana Ling's recipe fits in with the timeline of the development of the Anzac Biscuit recipe:
"Regarding the ratio of oats: flour: sugar, in Nana Ling's recipe… if I have gotten the conversions correct, the butter content is similar to the 1920 Anzac biscuit recipe. I would have just said that the recipe Nana Ling called a brandy snap is an Anzac biscuit."
She also explained how it confirmed her understanding of the development of this recipe:
"The fact she did not call it an Anzac biscuit reinforces to me that even into the 1930s, the idea of the Anzac biscuit and what it entailed still hadn't fully solidified culturally.
The 1920s and 1930s, but especially the 1920s, is really when the biscuit developed and there were so many recipes and variants compared to today, and I think, but need to research further, that it was actually the Second World War that really cemented the Anzac biscuit to be what we know today."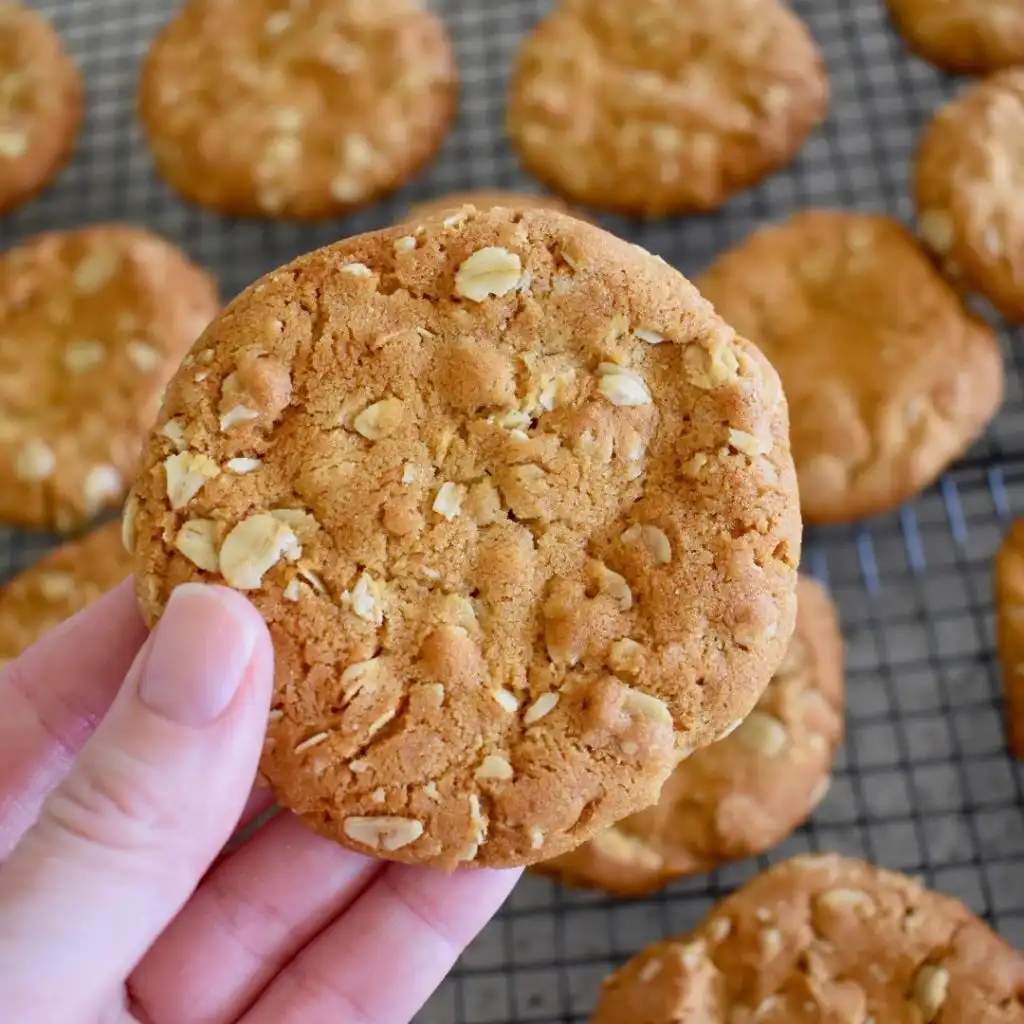 She also highlighted that the absence of coconut in this recipe is interesting. While we usually see coconut in today's recipes, it was in fact a "later addition" she says.
"A truly traditional Anzac biscuit does not have coconut, but the coconut version became the one variation that has remained in Australian baking parallel with the traditional recipe."
So, with a little researching, testing and tweaking, I'm so happy that I can add Nana Ling's Anzac Biscuit recipe to the Cooking with Nana Ling collection.
A big thank-you to Dianne Rutherford from the Australian War Memorial for generously sharing her knowledge. You can listen to Dianne talk more about Anzac Biscuits on Collected, the Australian War Memorial podcast.
You can also find Nana Ling's Soldiers Cake recipe (and another interview with Dianne Rutherford from the Australian War Memorial) here and an Aussie Anzac Slice recipe inspired by this Anzac Biscuits here.
Nana Ling's Anzac Biscuits recipe
Keep scrolling for the tested and tweaked version.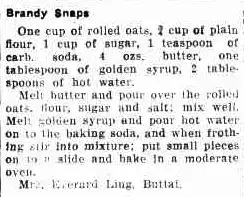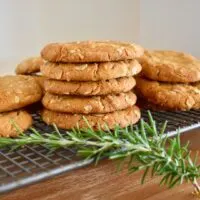 Anzac Biscuits
An early version of this traditional and much-loved Australian/New Zealand biscuit.
Print
Pin
Rate
Ingredients
1

cup

rolled oats

1

cup

plain flour

(all-purpose flour)

1

cup

caster sugar

1

teaspoon

bicarb soda

115

grams

butter

1

tablespoon

golden syrup

1

tablespoon

hot water
Instructions
Pre-heat oven to 160 degrees celsius (fan-forced)

Line two baking trays with baking paper.

Combine oats, flour and sugar in a mixing bowl.

Heat butter and syrup in a saucepan over low heat until melted. Remove from heat.

Mix bicarb soda and hot water and then add to the melted butter and syrup mixture. The mixture will froth up.

Add frothy melted mixture to dry ingredients and stir well to combine.

Roll tablespoonfuls of the mixture into balls. Place on lined baking tray and flatten a little with your fingers. Space apart to leave room for spreading.

Bake for 18 minutes or until a golden brown colour.
Nutrition
Calories:
122
kcal
|
Carbohydrates:
18
g
|
Protein:
1
g
|
Fat:
5
g
|
Saturated Fat:
3
g
|
Cholesterol:
12
mg
|
Sodium:
96
mg
|
Potassium:
21
mg
|
Fiber:
1
g
|
Sugar:
11
g
|
Vitamin A:
144
IU
|
Calcium:
4
mg
|
Iron:
1
mg