Could this be the perfect easy pavlova recipe? Based on one of the earliest recipes, expect smooth and fluffy marshmallow encased in a delicate, crisp meringue shell.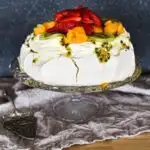 It's the wonderful dessert that both Australians and New Zealanders call their own.
This easy pavlova recipe creates pav perfection, with a smooth and fluffy marshmallow centre encased in a delicate and crisp meringue shell.
Top it with whipped cream and fruit, add a little ice cream if you like, and get your dessert spoon at the ready because this dessert always disappears fast.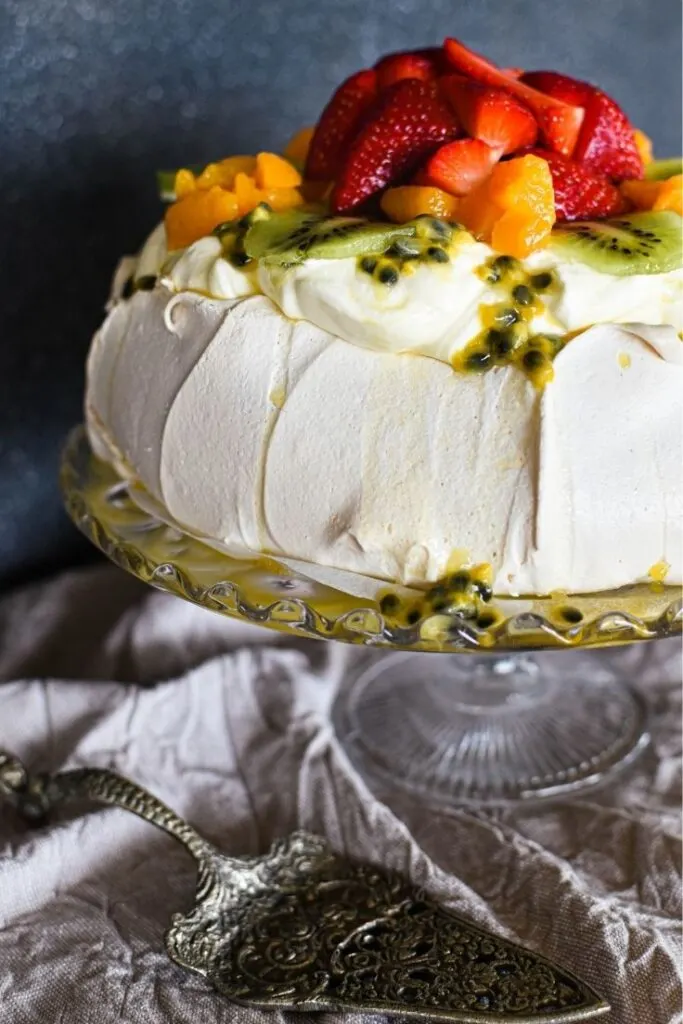 Pavlova: the dessert worth fighting for
This dessert not only sees family members fighting for the last slice, it's also been fought over for decades by Australia and New Zealand. Both countries claim it as their own.
Which country does it really belong to?
We may never know. Perhaps both.
Does it really matter?
Of course not.
What I do know is that when something tastes this good, we can all celebrate.
The one thing most sources do agree on is that it's named after the Russian ballerina Anna Pavlova who visited Australia and New Zealand in the 1920s.
Pavlova recipe: a new type of "cake"
Pavlova was initially named "Pavlova Cake" and was a more elaborate cake with layers of jelly and meringue made separately.
It gradually evolved into the pavlova we now see on modern tables throughout Australia, New Zealand and the rest of the world – especially at Christmas time.
Nana Ling wrote out this recipe by hand in October 1941. She's named it Pavlova Cake, but it's the recipe for what we now know and love as pavlova.
You can, however, tell it's something new and different for the time by the descriptive way she writes out the method:
"…turn off the gas when it is a deep creamy colour"
"…hard on the outside and like marshmallow inside"
She also talks about filling the hollow with cream and leaving it in the oven to cool. These are all things we continue to do today to create the perfect pav.
Creating the perfect pavlova
Here, I've used the exact ingredients Nana Ling lists in her original recipe. I've tweaked the cooking time slightly to suit modern ovens.
Pavlovas can be a little tricky, and prone to burning, cracking, collapsing and weeping.
To avoid these nasties and create something that looks wonderful and tastes even better, here are a few tips that I've found helpful:
Tip 1: It's all about the eggs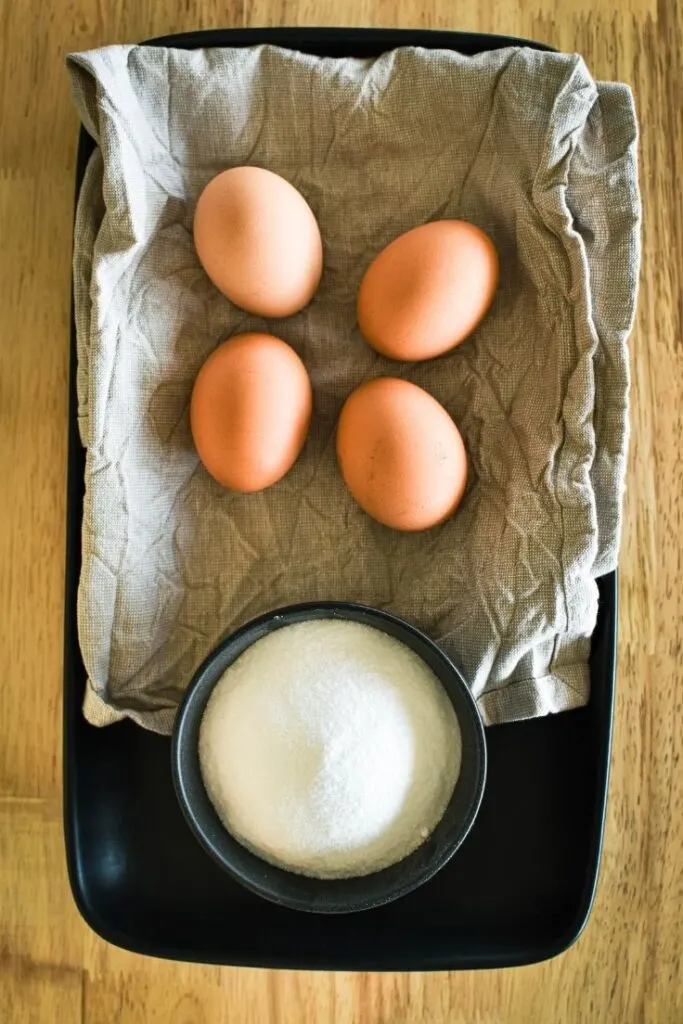 Use mid-sized eggs (60-65 grams) and don't let any of the yolk get into the white as you separate the eggs. Not a drop!
I find whites that I've frozen and thawed out or whites that have been separated out and left in the fridge for a day work every bit as good as completely fresh egg whites.
For best results, bring the whites to room temperature before whisking.
Tip 2: Make sure it's caster sugar
The smaller grains of caster sugar dissolve more easily into the mixture. If the sugar doesn't dissolve properly, it might leak from the pavlova during the cooking process. So make sure it's caster sugar you use when making a pavlova.
Tip 3: Whip it good (but not too good)
Use the medium-high setting and a whisk attachment to whip the whites and then beat the whites and the sugar.
Don't beat on the highest speed and don't keep beating and beating. More beating doesn't equal a better or fluffier pavlova. Instead, follow the instructions in the recipe card below, making sure you have a thick and glossy mixture with a smooth texture.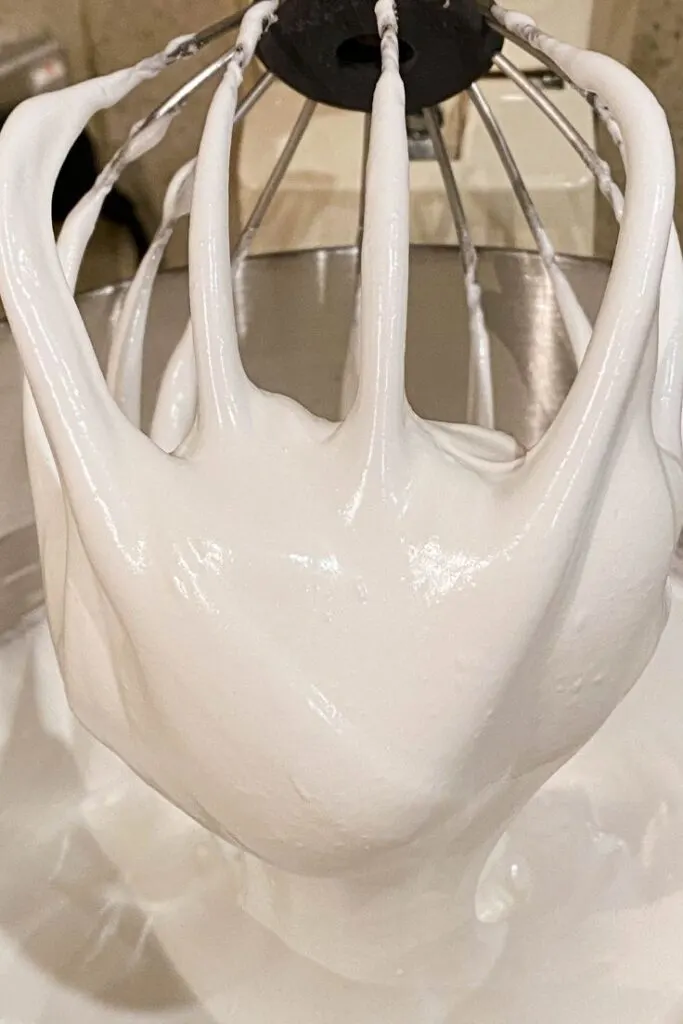 Tip 4: Get it into shape
When spreading the mixture onto the tray, you want a lovely rounded shape which is flat on top. Your edges should dome in a little towards the centre rather than looking straight like a cake. This helps create a strong and stable pavlova that won't collapse.
Tip 5: Get creative
I've decorated this pavlova with my own favourites. Fresh cream, chopped strawberries, peaches, passionfruit and kiwifruit.
You can also dust the edges with icing sugar.
Growing up, the pavs at our big family parties were always the thing that made me run to the table when someone shouted "dessert time". In one word, they were amazing – however I did have to dodge the banana that was often used to decorate.
But that's the great thing about this dessert. You can get creative and decorate your pavlova just how you like it.
How do you like to decorate pavlova? Do you have any secrets to the perfect pav that I haven't mentioned here? I'd love to hear from you in the comments below.
Troubleshooting: Pavlova problems and FAQs
Q. My pavlova cracked. What did I do wrong?
A. If it's just a few cracks, that's fine. Expect a few cracks.
However, make sure you leave your pavlova in the oven to cool if there are a few too many cracks.
Also, be sure not to make the cream for decorating too stiff or it will be harder to decorate without causing even more cracks. Use the cream when decorating to hold the existing cracks together.
Q. My pavlova looks too brown.
A. Your oven is too hot. Try turning it down a little next time.
Q. My pavlova collapsed, what can I do?
A. There are several reasons why your pavlova may collapse.
First, you may not have whipped the eggs and sugar well enough. Make sure you achieve the thick, glossy mixture and rub a little between your fingers to make sure the sugar is dissolved.
If you open the oven door too soon after it's cooked, you also risk a collapsed pavlova.
Q. Why doesn't your recipe use cornflour?
A. Nana Ling's original recipe from 1941 did not include cornflour and I've stuck to her exact ingredient list.
I've read various explanations as to why it is included, from preventing weeping to ensuring a marshmallow centre. This recipe works without the cornflour and in my book the pavlova tastes better since I can sometimes taste the cornflour in pavlovas that incorporate it as an ingredient.
Q. Can I use this recipe to make mini pavlovas?
A. I've adjusted this recipe and created a separate post for both mini pavlovas and a pavlova grazing board.
Storing Pavlova
You should make your pavlova the day before and then store it in the oven (or an airtight container) and then decorate it no more than a few hours before serving.
Store decorated pavlova in the fridge and enjoy leftovers (if there are any) the next day.
Pavlova doesn't freeze well.
Nana Ling's original Pavlova recipe
Keep scrolling for the tested and tweaked version in the recipe card at the bottom of this post. It contains more precise instructions that included in the original recipe.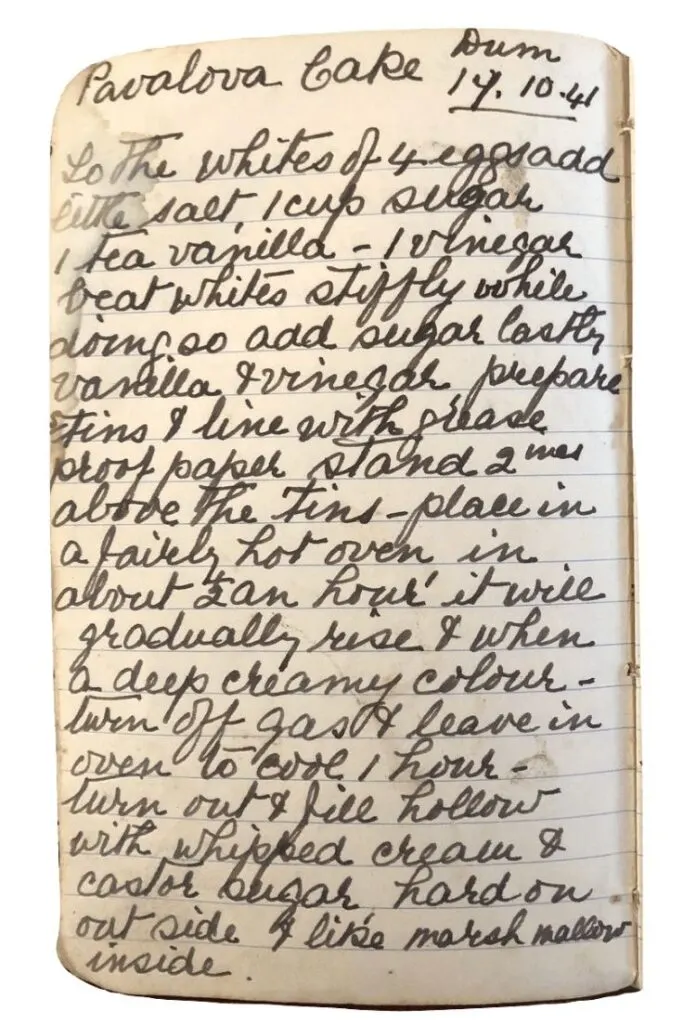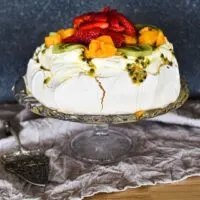 Pavlova
Could this be the perfect easy pavlova recipe? Based on one of the earliest recipes, expect smooth and fluffy marshmallow encased in a delicate, crisp meringue shell.
Print
Pin
Rate
Ingredients
Pavlova
4

egg whites

1

pinch

salt

1

cup

caster sugar

1

teaspoon

vanilla extract

1

teaspoon

white vinegar
Whipped cream
300

ml

thickened cream

1

tablespoon

icing sugar
Topping
1

mango

(or tinned peaches)

1

passionfruit

3-5

strawberries

1

kiwifruit

(or handful of blueberries)
Instructions
Preheat oven to 130 degrees celsius (fan-forced)

Line a baking tray, round bottom from a round springform pan or round pizza tray with baking paper.

Beat egg whites and salt on medium-high speed until the mixture forms soft peaks.

Add sugar gradually while mixing on low speed. Then return to med-high speed and beat for another two minutes. The mixture should look thick and glossy and there should be no granules when you rub the mixture between two fingers – if not, continue beating for another minute.

Return mixture to low speed and add vanilla extract and vinegar. Mix until combined.

Pour mixture onto the lined tray, creating a circle about 17cm in diameter. Using your spatula, brush up the sides of the circle towards an imaginary point about 50 cm above the centre of the pavlova. This will give the shape a slightly domed effect and help with the stability or your pavlova. Make sure the top of the pavlova is flat.

Place pavlova in oven and cook for 15 minutes before turning oven down to 100 degrees celsius (fan-forced) and cooking for another 45 minutes.

Turn oven off after cooking time elapses but DO NOT open the oven door. Leave the pavlova to cool in the oven for at least 6 hours, preferably overnight.

Once completely cool, remove from the oven.

To make the whipped cream, simply combine the cream and icing sugar and the beat until soft peaks form. Don't overbeat to form stiff peaks as you will risk crushing the pavlova as you decorate it.

Cut fruit to your liking (and substitute other fruits if you prefer banana, figs, raspberries or something else) and use a little creativity to make your pavlova truly special. Decorate with whipped cream and fruit just before serving.
Notes
Make sure you read the recipe card and the post for ALL the tips and instructions.
Use the ingredients listed and don't substitute the caster sugar for any other type of sugar.
I used a KitchenAid mixer and the whisk attachment for making this recipe.
I've adapted this recipe for Pavlova Nests and a Pavlova Grazing Board.
Nutrition
Calories:
265
kcal
|
Carbohydrates:
23
g
|
Protein:
2
g
|
Fat:
19
g
|
Saturated Fat:
12
g
|
Cholesterol:
69
mg
|
Sodium:
41
mg
|
Potassium:
112
mg
|
Fiber:
1
g
|
Sugar:
21
g
|
Vitamin A:
1012
IU
|
Vitamin C:
11
mg
|
Calcium:
35
mg
|
Iron:
1
mg