The Aussie classic. Sponge cake squares dipped in chocolate icing and rolled in coconut.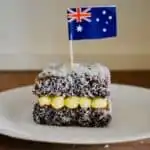 This Lamington Recipe delivers everything that is wonderful about the Aussie icon – perfect sponge cake and a rich chocolate sauce, all rolled up in plenty of coconut.
Here, we'll take a quick peek into the history of the Lamington before running through the steps involved in making up this Aussie treat that we've been enjoying for more than 120 years.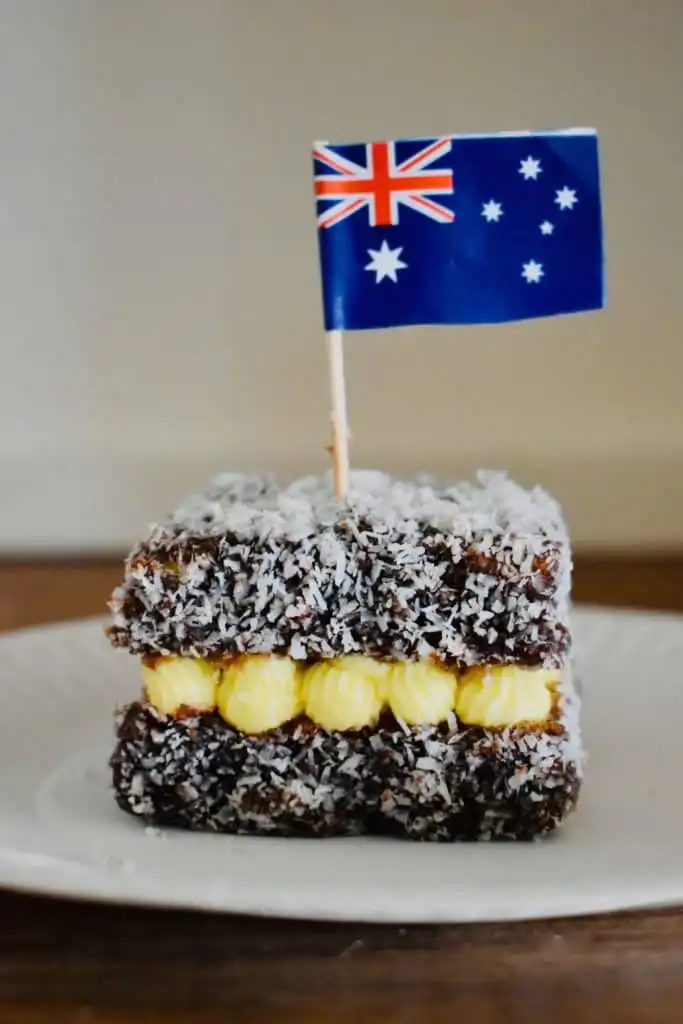 Lord Lamington and his clumsy cook
Today you can find Lamingtons in supermarkets, bakeries and cafes all throughout Australia. We LOVE them.
It's all thanks to Lord Lamington, the Governor of Queensland from 9 April 1896 to 19 December 1901. He's pictured here with Lady Lamington.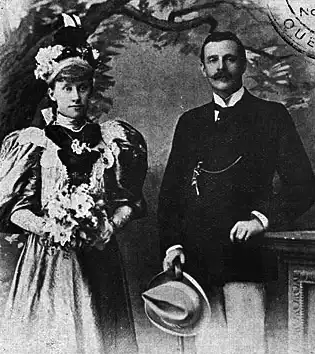 According to folklore, Lord Lamington was averse to waste. When a cook accidentally dropped a sponge cake into some melted chocolate (oops!) he suggested it still be eaten, but rolled in coconut to avoid messy fingers.
This story is not without its controversy.
Some suggest it was the Lord Lamington's chef, the French-born Armand Galland, who came up with this popular coconut-encased cake as a way to use up stale sponge.
Others suggest the Lamington was born in New Zealand. Yes, really!
I think we should all just agree to share this much-loved dessert, much like we should also do with the Pavlova.

Let's follow this Aussie Lamington Recipe
This recipe is best tackled in stages.
It's not a difficult recipe, but it is one where a little planning makes a big difference.
Stage One. Make the sponge cake.
The sponge cake can be made up the day before or even made up and then frozen until you need it.
Once cooled, the cake should be trimmed on all sides using a large serrated knife. Use the knife, or a cake leveller if you have one, to also even out the top of the cake.
Next, cut both of the sponge squares into nine smaller squares, so you'll end up with 18 pieces.
Do you see something starting to resemble lamingtons?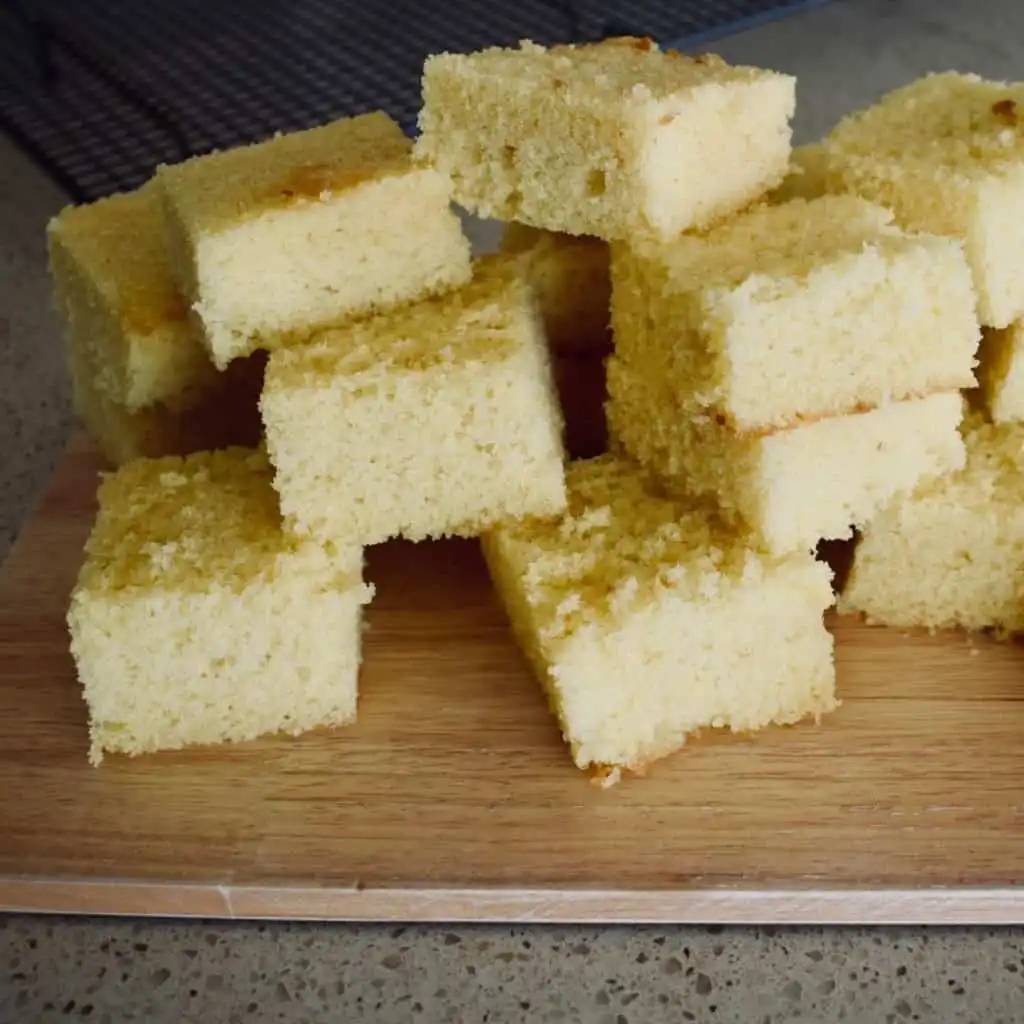 Stage Two. Make the secret sauce.
The chocolate sauce will make or break your Lamingtons. Nana Ling's chocolate sauce has a couple of secret ingredients to make sure there's more "make" than "break" happening.
First, there's an egg white in there. This helps set the icing and firm up your Lamingtons so they aren't too squishy.
Second, the original recipe contains a tablespoon of port or brandy in the chocolate sauce. You can choose to include this, which adds a "next level" richness, or leave it out for a family-friendly version.
Both options are included below in the recipe.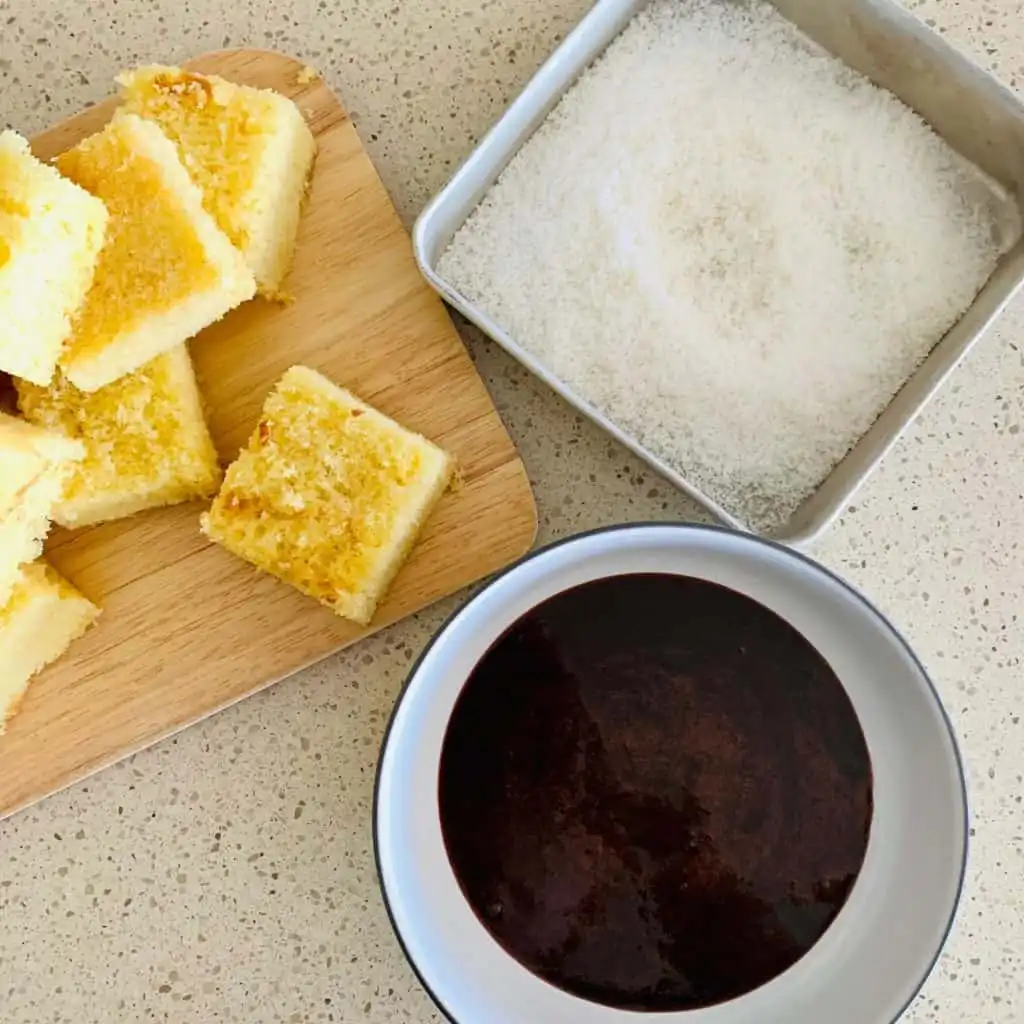 Stage Three. Dip and roll.
Now for the fun part.
Set up your kitchen bench with your sponge squares, chocolate sauce and bowl of coconut close to each other. Dip each square in the chocolate sauce, making sure all sides are covered evenly.
Remove the chocolate coated squares with two forks and allow to drain a little before placing in the bowl of coconut.
Coat each square completely in coconut and place onto a lined tray.
Once you've coated all of your Lamington squares and placed them on the lined tray, place into the fridge to set.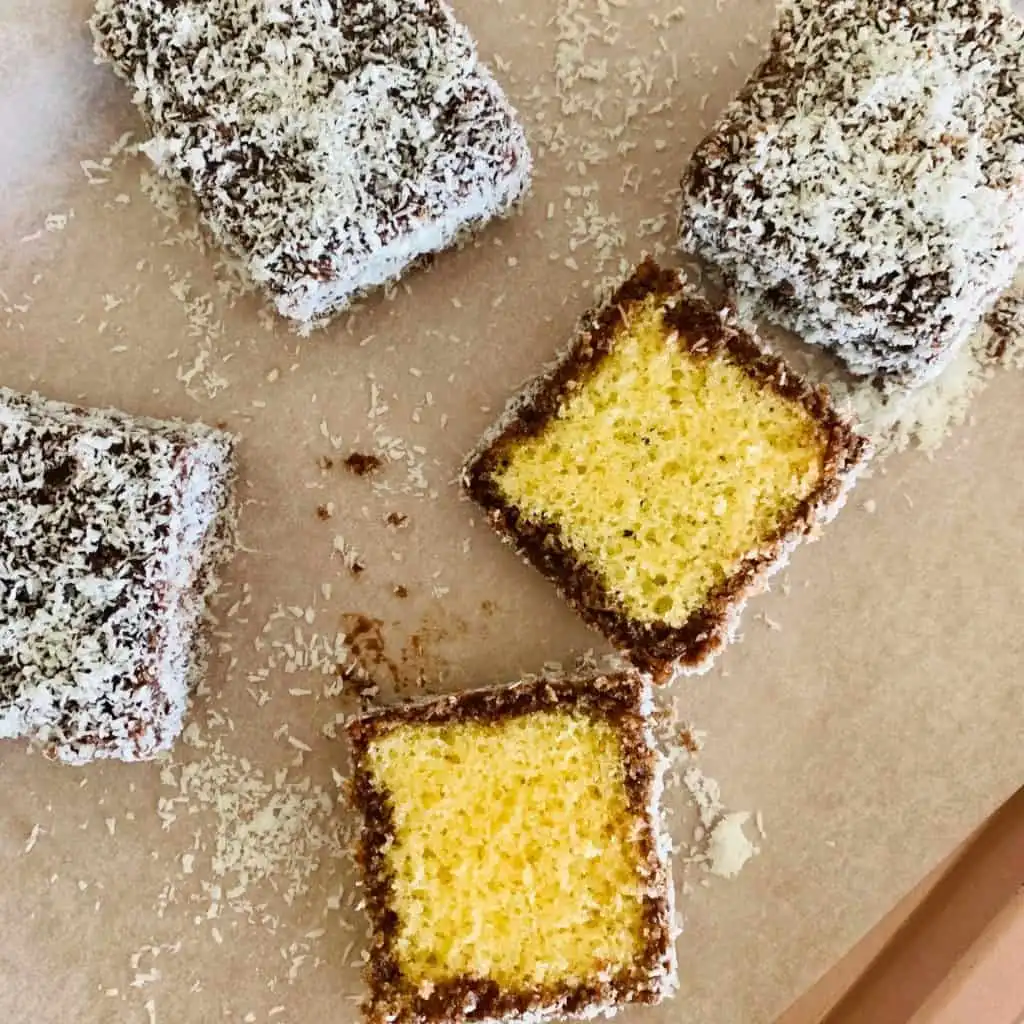 Stage Four. The Filling.
Okay, now for another controversy.
Many would say Lamingtons don't need a filling. I agree. They're absolutely perfect without anything else except perhaps a nice cuppa on the side.

However, some like to split the Lamingtons and add cream. Even more perfect!
Use Nan Mac's Mock Cream Recipe for a superb Lamington cream filling.
If you're making the Lamington Recipe using Nana Ling's alcoholic sauce variation (see recipe below) try adding a tablespoon or two of Bailey's to the mock cream for the ultimate treat – Boozy Lamingtons.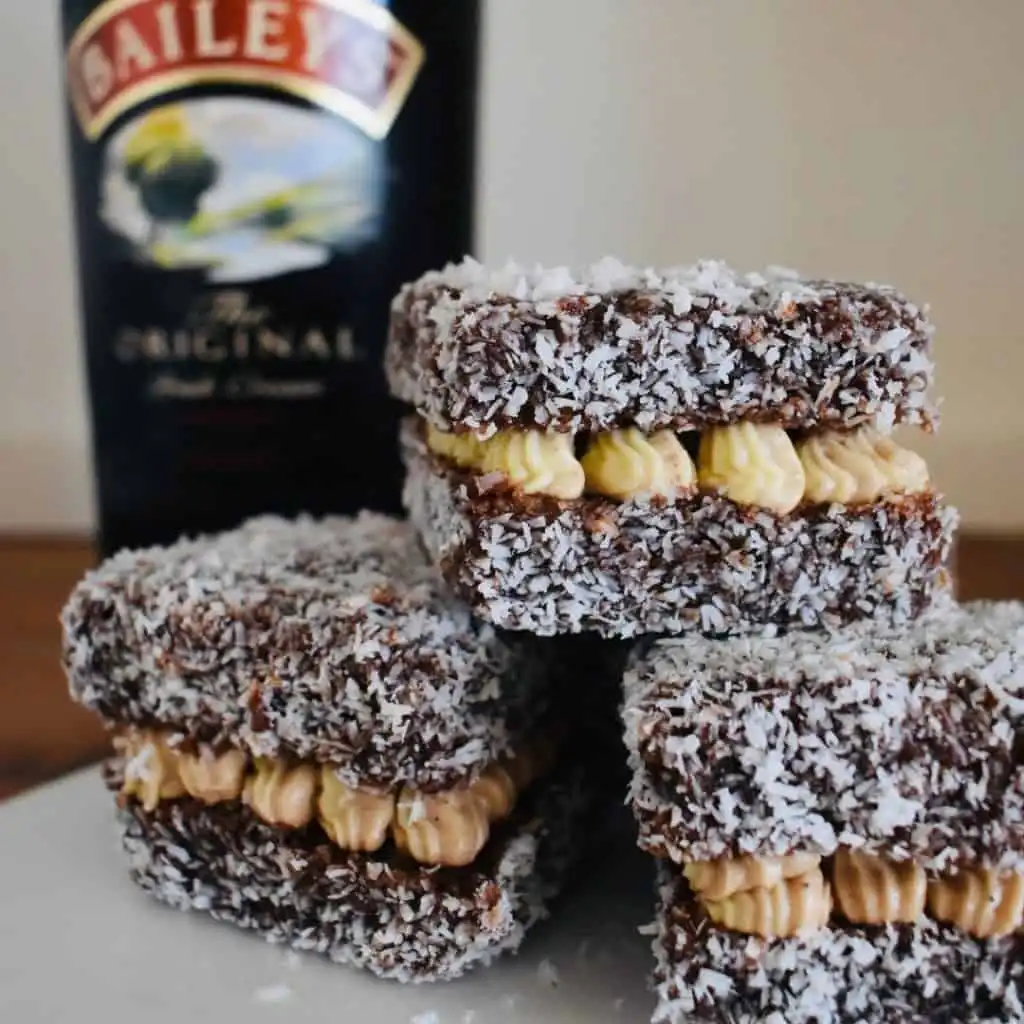 Some people like to add some jam with the cream too. I'm not one of those people. I'll look away if you decide to add jam!
Stage Five. Eat.
Ideally, you'll need to put your Lamingtons in the fridge to set before eating. That's in an ideal world. In my world, you taste test your Lamingtons before putting them in the fridge to set and then sharing them around.
Love Lamingtons and other bakery treats?
If you love these traditional Lamingtons, you might also like my Jelly Lamingtons.
With a jelly sauce replacing the chocolate sauce, these pretty (and delicious) little treats are very popular.
I also have plenty of recipes for bakery treats to make at home, including Cream Horns, Vanilla Slice, Rock Cakes, Chocolate Eclairs, Cornflake Cookies, and Hedgehog Slice.
Nana Ling's Lamington recipe
Keep scrolling for the tested and tweaked version.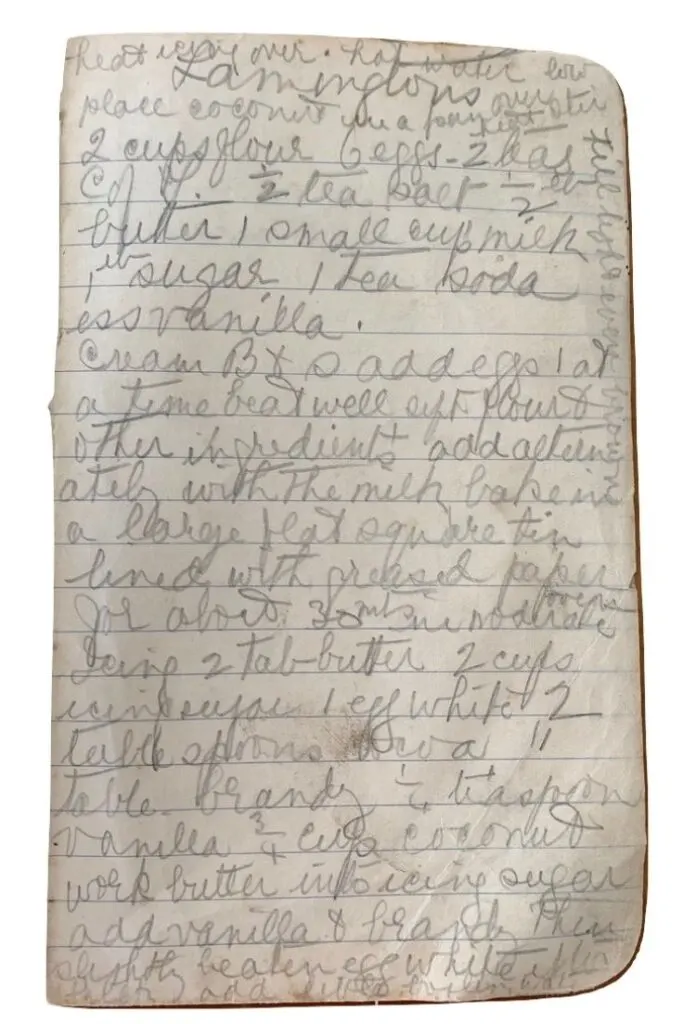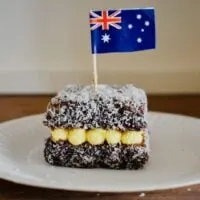 Lamingtons
The Aussie classic. Sponge cake squares dipped in chocolate icing and rolled in coconut.
Print
Pin
Rate
Ingredients
2

cups

plain flour

1

teaspoon

bicarb soda

2

teaspoons

cream of tartar

1/2

teaspoon

salt

2

cups

caster sugar

230

grams

butter

6

eggs

3/4

cup

milk

1

teaspoon

vanilla essence
Icing
2

cups

icing sugar

30

grams

butter

2

tablespoons

cocoa

1/4

teaspoon

vanilla essence

1

egg white, whisked a little

4

tablespoons

boiling water

(or 3 tablespoons of boiling water and 1 tablespoon of port or sherry for Nana Ling's boozy Lamingtons)

11/2

cups

desiccated coconut
Instructions
Pre-heat oven to 170 degrees celsius (fan-forced).

Grease two small square cake tins (20cm x 20cm approx) and line with baking paper.

Cream butter and sugar on med-high in a stand mixer.

Reduce mixer speed to slow and add eggs one at a time.

Add vanilla essence and beat on medium-high speed again for a minute or two.

Reduce mixer speed to slow and add a little of the sifted dry ingredients. Add a little of the milk and then keep adding dry ingredients and milk alternately until all the ingredients are combined.

Pour equal parts of the mixture into the two prepared cake tins.

Place in oven and cook for 35-40 minutes.

Remove from oven and allow to cool for 10 minutes before removing cakes from tins.

Once completely cool, trim the sides, top and bottom of the cakes and then cut each square into 9 smaller squares.
Icing
Combine all ingredients except the coconut in a saucepan. Heat very gently until the butter has melted.

Dip each cake square in the mixture, coating the entire surface.

Dip into a bowl containing the coconut, again coating the entire surface.

Place onto a lined tray. Once all squares are done, place into the fridge to set.

Store in the fridge and serve cold or at room temperature.
Cream filling
Use Nan Mac's mock cream recipe (link above).
Video
Nutrition
Calories:
494
kcal
|
Carbohydrates:
53
g
|
Protein:
6
g
|
Fat:
30
g
|
Saturated Fat:
23
g
|
Cholesterol:
87
mg
|
Sodium:
203
mg
|
Potassium:
259
mg
|
Fiber:
5
g
|
Sugar:
38
g
|
Vitamin A:
457
IU
|
Vitamin C:
1
mg
|
Calcium:
32
mg
|
Iron:
2
mg