Mars Bar Slice has been around for decades in Aussie home cooking, and was hugely popular in the 80's and early 90's.
While padded shoulders, perms and neon are best left as memories, this slice is in an entirely different category. It's just as good today – and I still find it hard to stop at just one slice.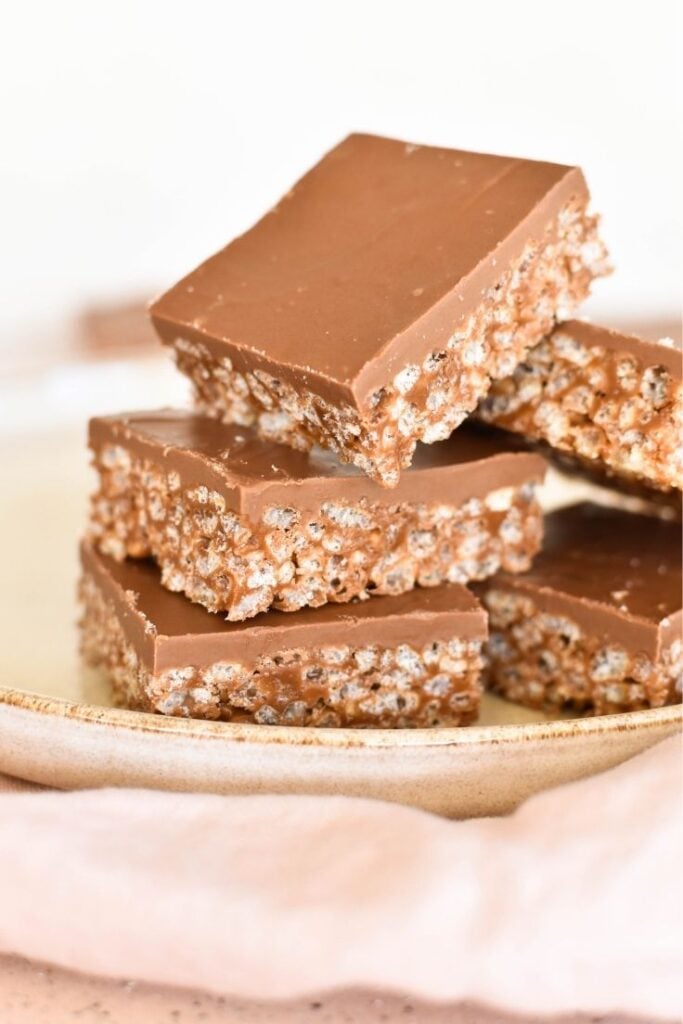 A time before Mars Bars
Mars Bars were not around when Nana Ling created her recipe books, at least not in Australia. I knew this before I started researching.
How?
Well if they had been around, Mars Bar Slice would have surely been in her recipe books along with all the other Aussie classics.
The Mars Bar was first made in 1932 in Slough, England, by Forrest Mars Sr, according to Wikipedia.
It hit Australian shores in the late 1940's, first being manufactured under licence by another company.

In 1979, Mars set up a manufacturing in Australia's Ballarat, a time when "the Mars Bar was the main product on the Australian confectionery market."
These days, it's still popular but has dropped to our third favourite behind Cherry Ripe and Cadbury Milk Chocolate bars.
Tips for perfect Mars Bar Slice
There are many slight variations of this recipe.
I've adapted this one from the the recipe my mum used when we were kids and others I've tried since then. I think I've created the ULTIMATE Mars Bar Slice recipe.
While it's a fairly straightforward process, keep these three tips in mind when preparing this no-bake slice.
1. Use good quality ingredients
There are only a few ingredients, so use the best. I use Cadbury chocolate, real Mars Bars, Kellogs rice bubbles, and brand name butter.
2. Use a whisk to get a super smooth melted mixture
When melting the butter, golden syrup and Mars Bars together over heat, the mixture can tend to be clumpy. I use a whisk to stir the mixture towards the end of the melting process and get a super smooth result every time.
3. Use a spoon for an even finish
After pressing the mixture into the tray, use the back of a metal spoon to flatten the slice evenly on top.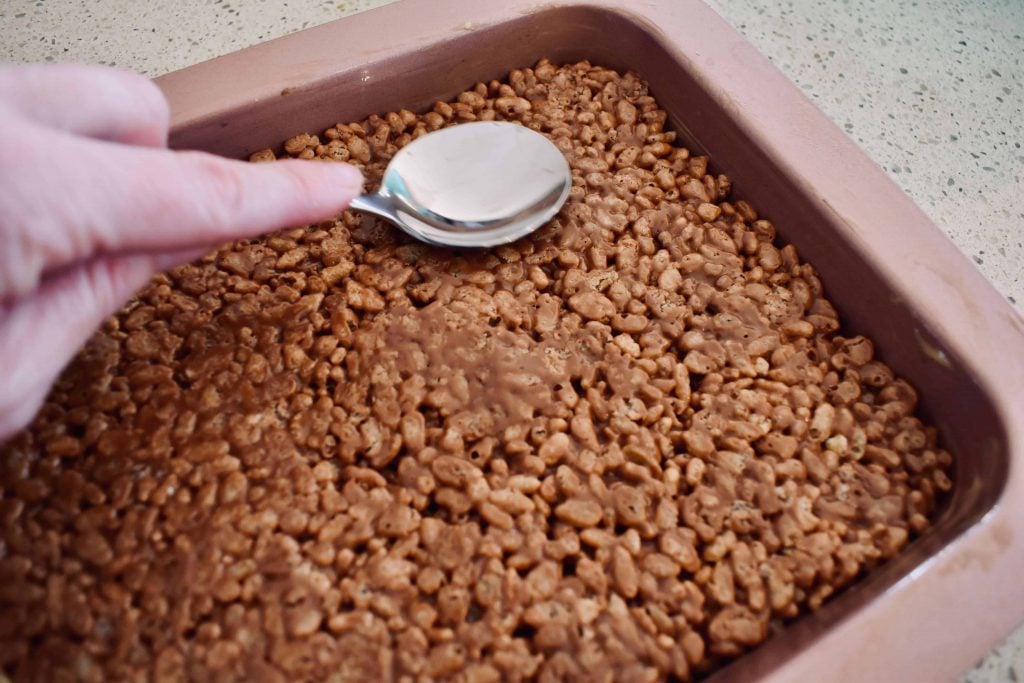 Mars Bar Slice FAQs
1. Why does it taste so damn good?
It's that simple but unbeatable combo of rice bubbles, melted Mars Bars and butter… all topped with a layer of chocolate.
2. How many Mars Bars do you need for the slice?
If you're a Mars Bar lover like me, make sure you buy your four Mars Bars just before you make the slice. Otherwise, consider buying five!
3. Can you freeze Mars Bar slice?
You could, and I imagine it would be okay for a month or two. I've never tested this though because this slice gets gobbled up too quickly in our house.
4. Where do you store it?
It's best stored in the fridge, especially during the summer months.
However it is okay out of the fridge for a while if you're planning to take it to a party to share, for example.
5. How long does this slice last in the fridge?
It will last at least a week stored in an airtight container in the fridge.
6. How long does Mars Bar Slice last in your house?
If it lasts more than a few days, you're doing well!
7. Are there any other slices as good as this?
This is surely a winner, but you can check out our amazing Cherry Ripe Slice, Caramel Slice and other wonderful slices here.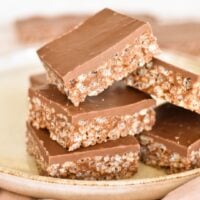 Mars Bar Slice
A four-ingredient, no-bake slice recipe that everyone will love
Print
Pin
Rate
Ingredients
4

Mars bars

(53 gram bars)

3

cups

rice bubbles

60

grams

butter

2

teaspoons

golden syrup

180

grams

milk chocolate

(add another 60 grams if you like the chocolate a little thicker)
Instructions
Grease a slice tin (around 27 x 17cm) with butter and then line with baking paper, leaving extra on each side (to pull the slice from the tin once cooked).

Measure rice bubbles into a large mixing bowl.

Break mars bars into pieces with your hands and put into a saucepan. Add butter and golden syrup.

Place saucepan on medium heat while stirring to combine.

Keep stirring until the mixture reaches a smooth, runny consistency. Use a whisk to stir the mixture towards the end of the process to help get that completely smooth consistency. The mixture should resemble melted chocolate, with no lumps.

Add mixture to rice bubbles and stir quickly to combine.

Spread out mixture in the slice tin, spreading evenly to the edges and then pressing into the tin with the back of a metal spoon. Place in fridge for 1/2 hour.

Melt chocolate in the microwave using 15 second bursts. (check and stir after each burst).

Pour melted chocolate over the slice and angle tin from edge to edge to help chocolate reach each side and corner of the slice tin.

Place in fridge for 15-30 minutes. Ideally, the chocolate shouldn't be completely set when cutting (it will crack as you're cutting if it's too hard).

Once set, remove slice from tin by lifting edges of baking paper, cut into squares and return to the fridge. (And if you've left the slice in the fridge for longer, just let the slice rest at room temperature for half an hour before cutting into squares.)
Nutrition
Calories:
87
kcal
|
Carbohydrates:
10
g
|
Protein:
1
g
|
Fat:
6
g
|
Saturated Fat:
3
g
|
Cholesterol:
6
mg
|
Sodium:
45
mg
|
Potassium:
31
mg
|
Fiber:
1
g
|
Sugar:
6
g
|
Vitamin A:
355
IU
|
Vitamin C:
2.6
mg
|
Calcium:
3
mg
|
Iron:
1.5
mg