Nana Ling's prize winning punch recipe.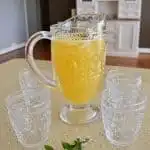 Nothing says summer (and party time) like punch. Ceylon Punch recipe is a non-alcoholic punch recipe, too, so everyone can enjoy it.
It's also a little bit special.
Eighty years ago, my great Nana Ling entered it in a weekly recipe competition with her local paper, The Maitland Mercury, and it won!
Yes, this is a prize-winning punch recipe.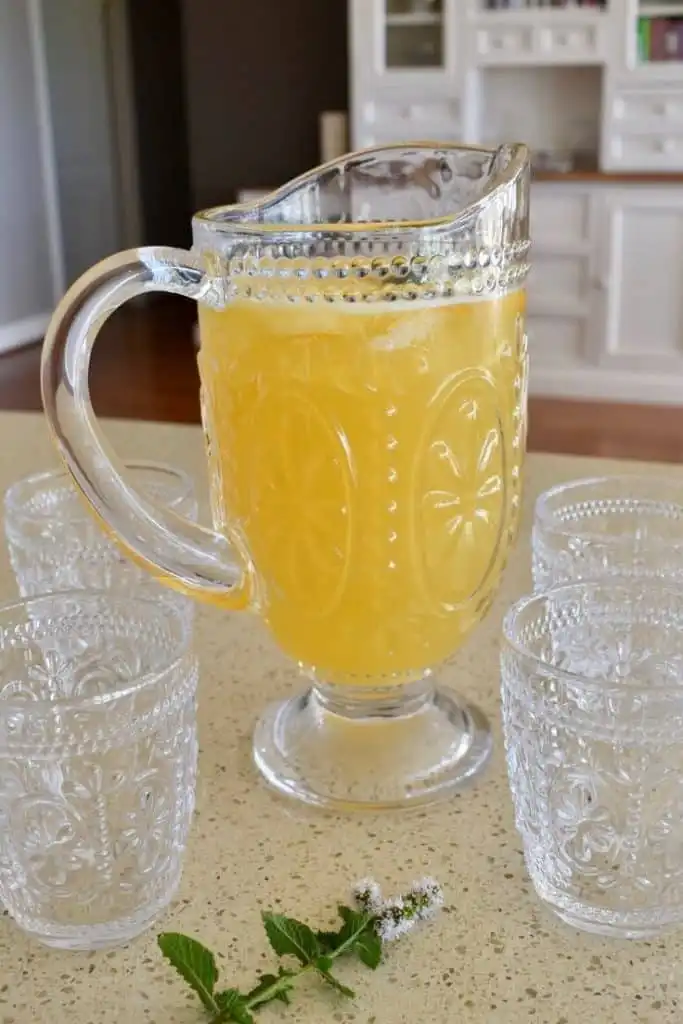 Celebrating with punch
Punch has long been a celebratory drink.
Our big family parties in the 80's definitely weren't complete without a giant punch bowl in the middle of the table and Nan Mac's Mock Chicken.
So, what better way to celebrate my return to the Hunter Valley (after nearly 20 years in Sydney) than with Nana Ling's Prize-winning Punch recipe.
Back home in the Hunter
A few weeks ago, I made the 165 km move from Sydney back to the Hunter Valley. It's only been a few weeks, but already I'm completely at home again in the Hunter Valley.
And my Sydney-born-and-bred husband and our two girls are also happily transitioning from the city to the wider open spaces and more relaxed pace in the Hunter.
When I started this recipe blog, which is based around my great grandmother's handwritten recipe books, I had a great feeling that it was something worth doing and something that might bring happiness and who knows what else.
I felt like it was closing a gap, helping me feel closer to my family history and the basic, good things in life – like home cooking.
It has made me happy. I've learnt so much and I love hearing from people – all around the world – who are enjoying the recipes.
It has indeed led to "who knows what else", namely a TV appearance and being featured on my favourite podcast.
What I gradually realised, was that it also seemed to be gently leading me on a path back to my childhood home (and Nana Ling's home), the Hunter Valley in NSW, Australia.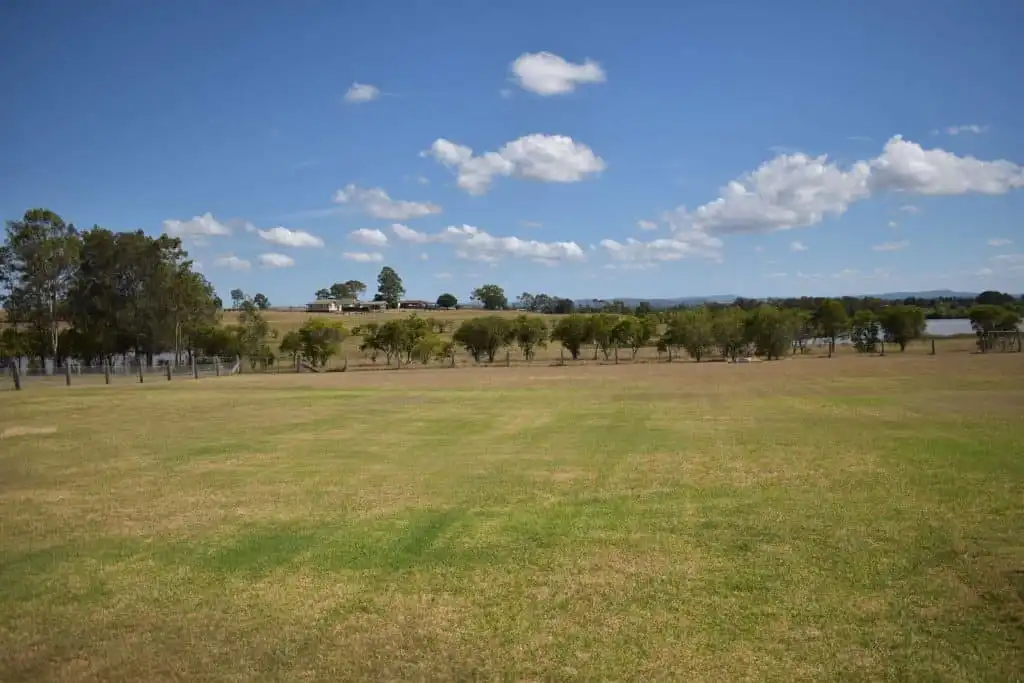 Back to where it began
Within 12 months of starting the blog, my family is making a new start in Maitland. The place where Nana Ling started carefully recording recipes by hand in small black notebooks.
Nana Ling likely purchased these notebooks from "Sydney Arcade" (she loved keeping records and has this location handwritten on the inside cover of the books ). In her beautiful handwriting, she recorded hundreds of recipes over many years from her home on a property in Maitland.
Back in Sydney, nearly 80 years later, I pulled out the recipe books which I'd inherited and started carefully re-recording her handwritten recipes (and others, like this Punch recipe, that she entered in newspaper competitions) on this blog.
Now, I feel like the circle is complete again as I continue to bring her recipes back to life from my new home on a small acreage in Maitland.
I can't wait to keep cooking and see where else this blog leads me.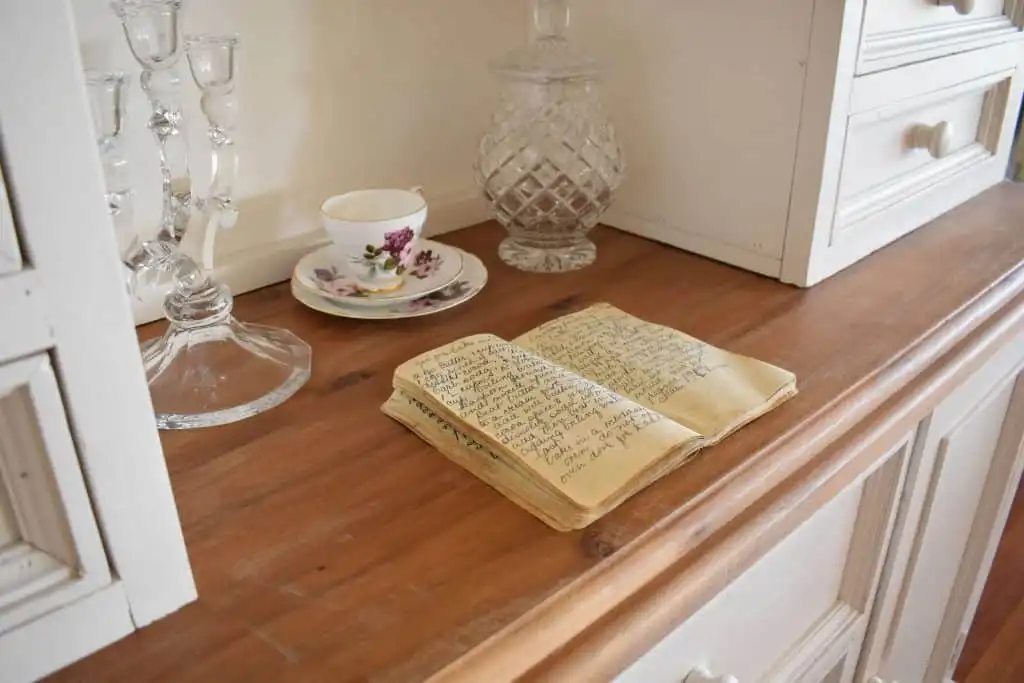 (oh, and I'm bursting with excitement that my kitchen has an island bench that the girls can now sit at and help me re-create the recipes!)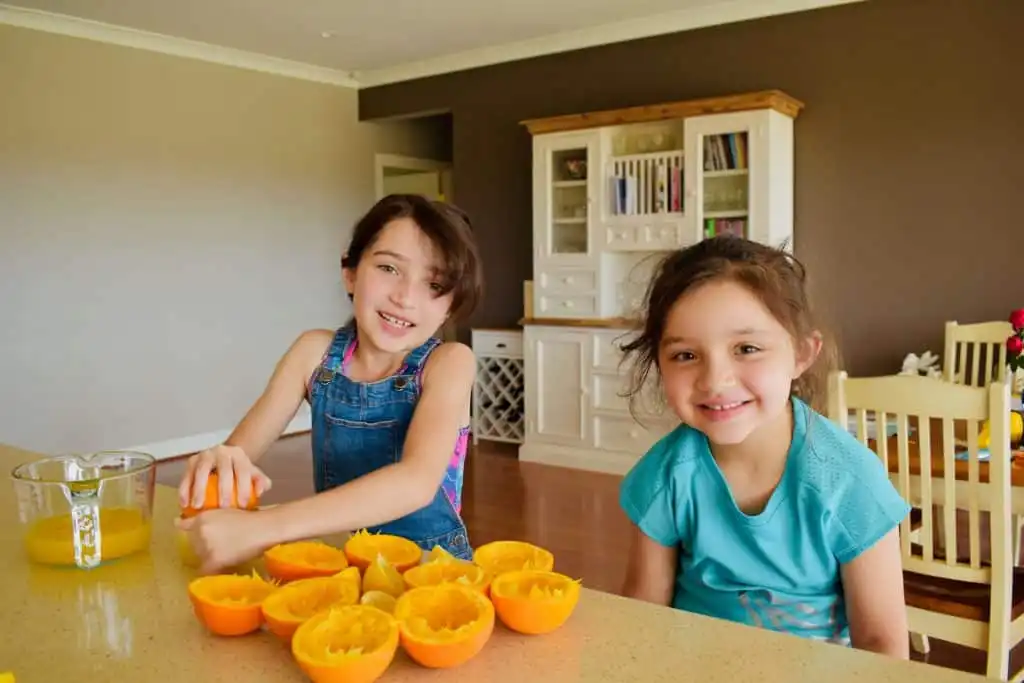 Nana Ling's prize-winning Ceylon Punch recipe (as it appeared in The Maitland Mercury on 14 November 1939)
Keep scrolling for the tested and tweaked version.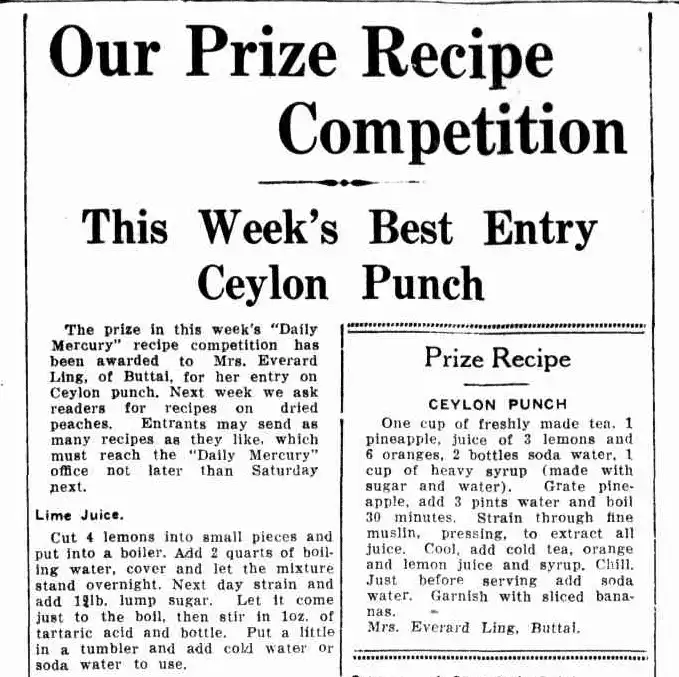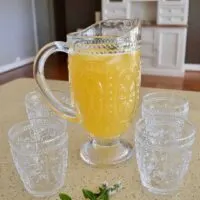 Ceylon Punch
Nana Ling's prize winning punch recipe.
Print
Pin
Rate
Ingredients
1

cup

freshly brewed ceylon tea

(or any other tea you enjoy)

1

pineapple

6

oranges

3

lemons

1 cup

caster sugar

1.1

litre

bottle of soda water
Instructions
Combine sugar and 1 cup of water in a saucepan and stir over heat until boiling. Simmer for 5 minutes and then set aside sugar syrup to cool.

Grate pineapple. Add 1.7 litres of water and then boil for 30 minutes. Allow to cool a little and then strain using a muslin cloth. Retain the juice.

Juice the lemons and oranges.

Combine tea, sugar syrup, pineapple juice, lemon and orange juice. Chill.

Add soda water and ice cubes before serving. Garnish with lemon and orange slices and a little mint.
Nutrition
Calories:
92
kcal
|
Carbohydrates:
24
g
|
Protein:
2
g
|
Fat:
1
g
|
Saturated Fat:
1
g
|
Sodium:
2
mg
|
Potassium:
294
mg
|
Fiber:
4
g
|
Sugar:
17
g
|
Vitamin A:
236
IU
|
Vitamin C:
102
mg
|
Calcium:
52
mg
|
Iron:
1
mg