An old-fashioned pudding that's sweet, light and oh-so-lovely.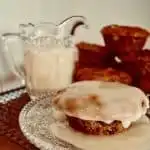 This old-fashioned carrot pudding recipe was recorded by Nana Ling on 17 October 1939. Nearly 80 years later, I can say that this recipe definitely stands the test of time.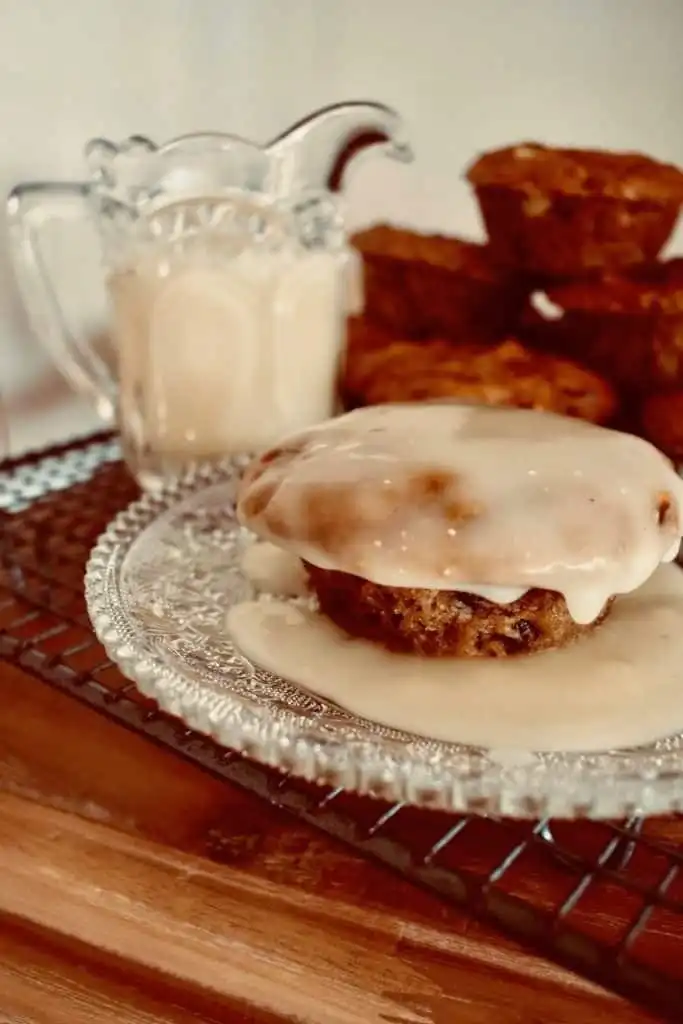 Carrots and pudding: a winning combo?
I found this recipe after picking up this wonderful little bunch of carrots at my local farmers market.
After adding half of the carrots to a vegetable soup, I was wanting to do something a little more special with the leftover carrots.
Like always, my Nana Ling had a few ideas on how to turn carrots into something sweet and wonderful.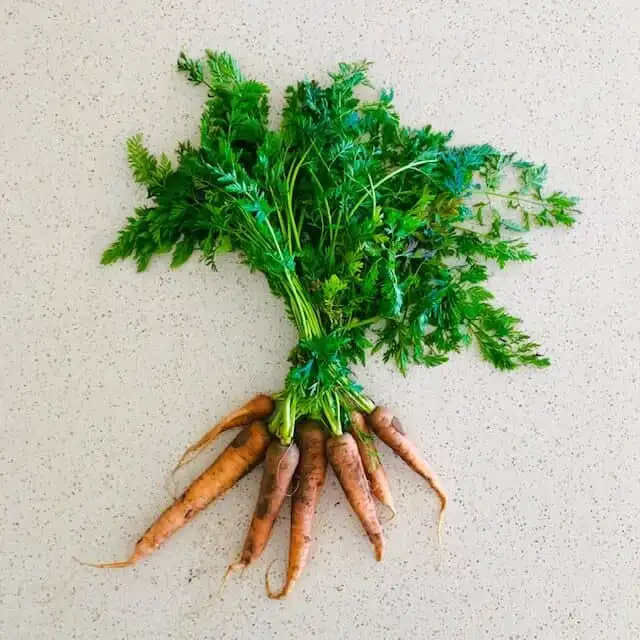 I have to admit that I was curious but not overly confident about this recipe. Carrots and pudding… hmmm.
But then carrot cake is hugely popular, so why not carrot pudding?
A few tweaks and… magic happens!
Often, Nana Ling's recipes are a little tricky to decipher. But I'm learning to speak her language as I continue to make my way through her recipe collection. And I enjoy the thrill of solving the puzzle.
This recipe called for a "small cup" of milk. She's confused me with this one before, but previous recipes (and disasters) have taught me that it is usually roughly equivalent to 3/4 of a metric cup.
So, with a little guess-timation and fingers firmly crossed, I cooked this recipe with a few little tweaks.
And the result was… fabulous!
These mini carrot puddings are light, sweet and moist. A little like carrot cake crossed with Christmas pudding.
I've paired them here with a warm vanilla sauce but they'd be equally lovely with custard. Serve them warm on a crisp winter afternoon, then curl up on a sofa with a book. That would be ideal, right? It's not quite how I enjoyed them. It was more like, sneak away from the kids for a few moments, scoff one down and then face the mess you've made in the kitchen. But they were absolutely divine and still managed to take me away, briefly, to a blissful place.
If – like me – you're an Aussie, you could also cook them up on a stinking hot Christmas day. It's hilarious that we still continue with this English tradition despite the heat. But at least these mini carrot puddings are a whole lot easier to prepare than the traditional plum pudding!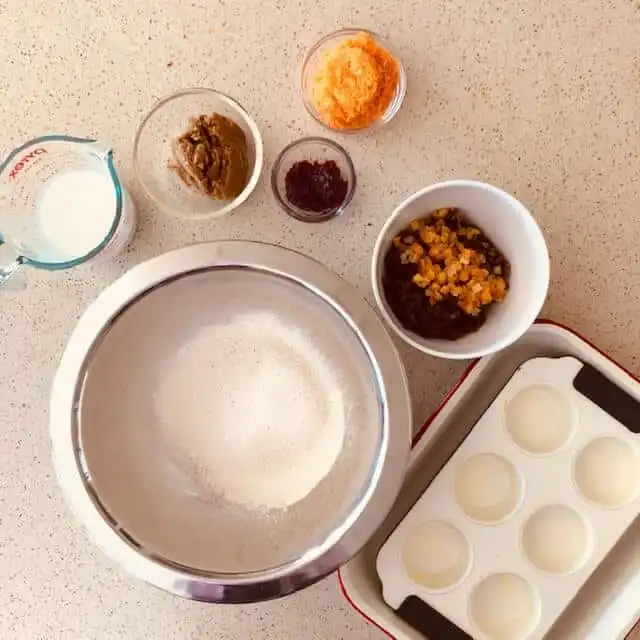 Nana Ling's Carrot Pudding recipe
Keep scrolling for the tested and tweaked version.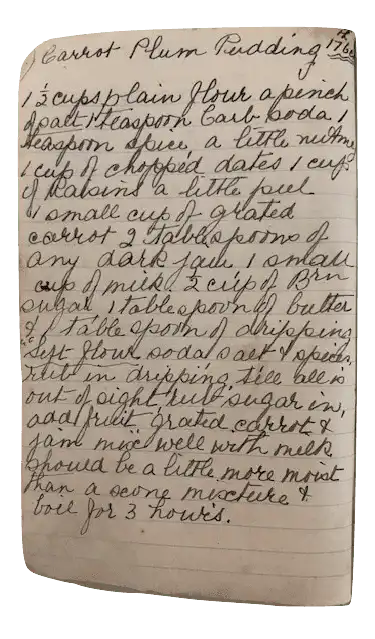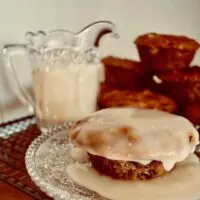 Carrot Pudding
An old-fashioned pudding that's sweet, light and oh-so-lovely.
Print
Pin
Rate
Servings:
12
mini puddings
Ingredients
Sweet Carrot Pudding
1 1/2

cups

SR flour

1

pinch

salt

1

teaspoon

bicarb soda

1

teaspoon

mixed spice

1/4

teaspoon

nutmeg

1

cup

finely chopped dates

1

cup

sultanas

1/4

cup

chopped mixed peel

3/4

cup

finely grated carrot

2

tablespoons

raspberry jam

(or any other dark jam)

3/4

cup

milk

1/2

cup

brown sugar

40

grams

butter
Warm Vanilla Sauce
1/2

cup

sugar

2

tablespoons

cornflour

1/4

teaspoon

salt

2

cups

cold water

50

grams

butter

50

grams

Philadelphia cream cheese

1

teaspoon

vanilla essence

1

pinch

nutmeg
Instructions
Sweet Carrot Pudding
Preheat oven to 170 degrees celsius (fan-forced).

Sift flour, salt, bicarb soda and spices into a large bowl.

Add dates, sultanas, peel and carrot and stir to combine.

Combine milk and jam and whisk to combine.

Mix butter and sugar in a stand mixer on med-high for 3 minutes.

Add milk and jam along with butter and sugar mixture to the bowl and stir all ingredients well to combine. The mixture should be a little more moist than scone mixture.

Spoon mixture into well-greased patty tins (12 cups, unlined/no cases.)

Sit patty tins into a larger baking tray and add water to the bottom of the tray so the bottom 1/3 of the patty tins are sitting in water.

Place trays into oven and cook for 30 minutes.

Once removed from the oven, allow to cool for 10 minutes before easing each pudding out of the tin to serve. (Or allow to cool completely and warm to serve later – or enjoy cold if you prefer!)
Warm Vanilla Sauce
Whisk sugar, cornflour, salt and water in a saucepan. Heat, continuing to stir regularly, until thickened.

Remove from heat and stir in remaining ingredients.

Add warm sauce when serving puddings.
Nutrition
Calories:
302
kcal
|
Carbohydrates:
56
g
|
Protein:
3
g
|
Fat:
8
g
|
Saturated Fat:
5
g
|
Cholesterol:
22
mg
|
Sodium:
233
mg
|
Potassium:
251
mg
|
Fiber:
2
g
|
Sugar:
38
g
|
Vitamin A:
1605
IU
|
Vitamin C:
1
mg
|
Calcium:
48
mg
|
Iron:
1
mg